Features:
Items Name: Block artist brush with wood handle
Items No.: B-14
Brand: G.SB
Style: Block artist brush
Material: White bristle/beech
Size: 100*30mm, Nap: 70mm
Range of Application: Double color iridescence
Applied Environment: Interiors&Exteriors Walls
Packing: White box+sticker
Remark: 68g hair ,90% long hair
Our sample policy:
Sample order is acceptable. We can supply the sample if we have ready parts in stock, but the customers need to pay the sample cost and the courier cost.
Packaging & Delivery
Each piece packed in the double blister with color paper (we design a logo for a client to promote their brand name in the local market).
Port: RongQi
Lead Time:
| | | |
| --- | --- | --- |
| Quantity(Pieces) | 1 - 1000 | >1000 |
| Est. Time(days) | 40 | To be negotiated |
we are strict with the package and the quality, we promise the customer the best services.
Payment terms:
1. The price above is EXW price. If the order value is over USD6000, it can be same as FOB price.
2. We will offer documents as: invoice, packing list, B/L, CO. If customer needs other certification, we need to charge customer the extra cost.
3. The delivery time will be 30-40 days after receiving deposit.
4. Payment term: 50% deposit, 50% paid upon copy of shipping documents.
A specialty decorative paints brush used for applying two-tones effects and colors in G.SB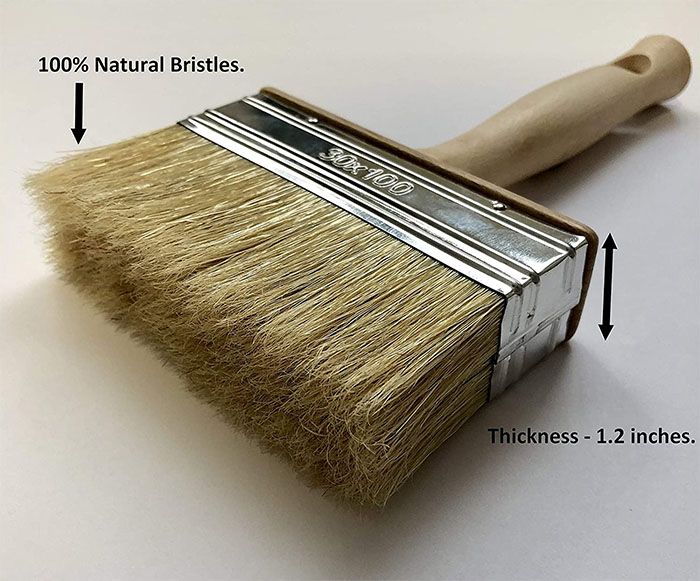 4 inch Professional Stain Block Artist Paint Brush with Beech Wood Handle - 100% White Bristle Brush
About this item
Brush Specs: 4" wide x 1.2" thick, soft synthetic filament blended with natural 100% white bristle. Hold more stain/sealer and paint smoothly, making your home improvement job a breeze.
Selected Premium Large Stain Brush: for all paints and stain/ sealant. No loss of bristle. This stain brush can also be used for dusting, waterproofing, masonry and heavy-duty painting projects. A soft Utility Attachable Paint Brush.

Wide and Thick Deck Brush: easily apply stain/ sealer in between planks, cracks and back-brushing, simplify your painting tasks, either on rough or on smooth surface, for exterior or indoor, thick or thin coat.Easy to Clean in proper way. Resistant to all solvent.

100% NATURAL BRISTLES: The natural bristle paint brush is more wear-resistant, it soaks up the paint well and gives it away, while easily and smoothly applying paint to the walls and another projects. Pig hair is a cone, at the end of which a splitting occurs, which is a corolla. Thanks to these characteristics, the natural bristle paint brush perfectly absorbs paint and holds it on it. Another important indicators of natural bristles are elasticity and accuracy of paint application.

SUITABLE FOR: Natural bristle brushes work effectively with all types of paints. Suitable for painting with acrylics, chalk, oil paints, latex, stains, watercolors, waxes, varnishes, glue and etc paints.
GOOD WITH: Both external and internal projects: walls, windows, doors, garage, furniture, garden accessories, other accessories, jambs, wardrobes, fences, terraces, crafts. Also suitable for creative projects both on paper and other materials.
Painting is a time consuming hard job. To make and supply easy-to paint painting tools is always our aim to pursuit. K brand Paint brush series have been tested and proven to work with watercolor, acrylic, latex, epoxy, varnish, oil based coating for exterior and interior staining projects. Suitable for anti-rust paint, water-based and oil-based paint and all kinds of mixed paint. They can be widely used for the smooth, semi-rough and rough surfaces.
G.SB was founded in 2003,The company has always been committed to the spirit of excellence of our ancestors,the pursuit of cost -effective products,through technological innovation,continuous improvement of quality,through first-class Team Management To reduce the cost of products for more than 100 countries to provide the best products ,we always adhere to the eyes and hands for the customers to choose safe and environmentally sound
4 inch 5 inch 6 inch artist brushes for all painters selected, 100% polyester bristles,blue plastic hand with metal ring with extension pole,it is power handy paint brushes for all painters works speeder than other deck brushes and applicator tools on all paint sundries markets! Load up, back brush and coat between cracks in the one action!
more speed application of paints, stains, sealers to rough or smooth surfaces. Great Value -it is a painters professional class paint tool - Do it standing up - Gets between cracks - No pad replacement - Won't leave foam or wool behind - Suitable for rough and smooth surfaces - Achieve an even professional finish - Universal thread suits most screw in poles.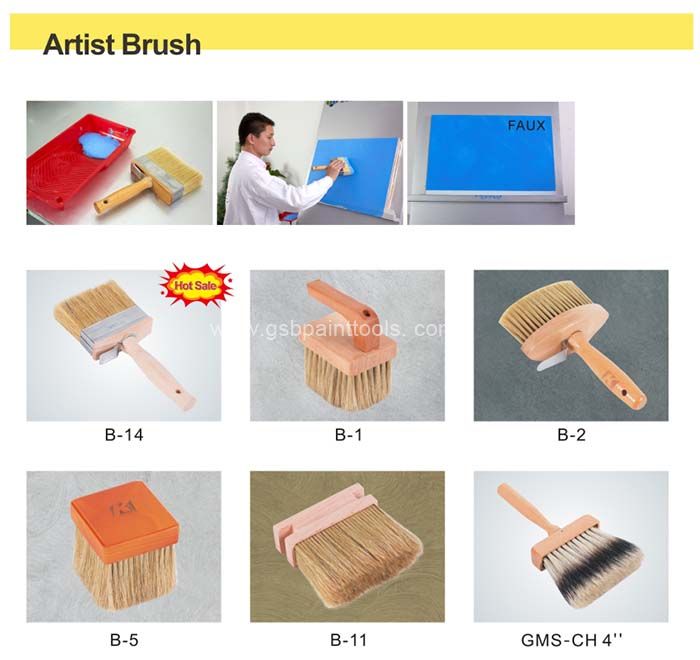 K brand is an china brand and our business focus is simple, 'supply the best quality brushes on the market while giving the best customer support and service'. And K brand brushes are sold to many countries around the world and have a strong following with customers who are focused on quality and performance.Quality never goes out of fashion so choose our brushes for better value and results!
This brush is amazing. I've used a lot of different tools over the years for deck staining, from brushes, to rollers and pads, to a sprayer, and all had good and bad features. This brush is 100% good, IMHO. The brushes I've used in the past, even the nice ones, just don't hold the stain like this, nor put it down as smoothly.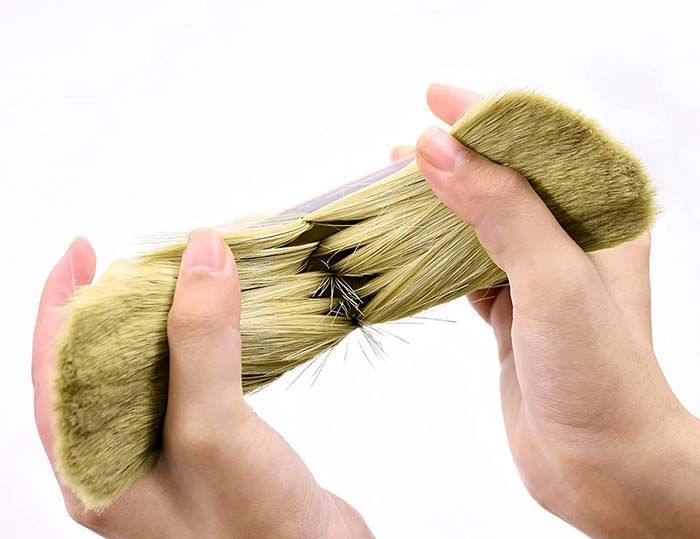 Synthetic filament vs Natural bristles:
Synthetic refers to man made materials while natural refers to the hair of animals. The majority of our solid round tapered filament is composed of 70% PET and 30% PBT, where as PET is a more stiff polymer, and PBT has more flex to give a medium stiffness action. Our natural bristles are made of premium China hog bristle, being white or black. Bristles have naturally flagged tips and work best with oil based paints due to them absorbing water from water based paints and deteriorating. Filaments continue to be designed like natural bristles with things like machine roughing or manufactured flagging. The most important aspect of filament is they will not absorb water and degrade as fast as bristles, but will in fact absorb solvents from oil based paint and deteriorate. A key rule of brush selection is made by your choice in paints you will use water based or oil based.
This is a big brush, densely built with tens of thousands of bristles (I think - I didn't count them) and it does a superb job. Cleaning with mineral spirits was a breeze, changed three times until the solvent in the can came away clear, shook it out well, dried it gently and it was done. Some have commented that it did not work well to attach to an extension handle, which I didn't try to do. My bad, I bent back a few of the bristles staining below the bottom railing, which is a tight space, but it needed doing. I trimmed those few (8 or 10 hairs) off at the metal band and it looks brand new again. The price was good for me, and it works, it cleans up extremely well, it doesn't seem to shed bristles, and, with the sturdy storage box provided, I expect to be using it for years, which makes the price more bargain.
Which bristles should I choose?
Brushes with SYNTHETIC BRISTLES are best used with all water- and oil-based paints, enamels, and glazing paints. Synthetic bristles are durable. By combining long, short, straight and curved birstles, the desired firmness and paint-holding ability is obtained. Synthetic bristles don´t draw up water in the same way as a brush with natural bristles, but instead retain their firmness throughout the painting work.
Brushes with NATURAL BRISTLES should be used with oil-based paints and enamels. Natural bristles draw up water and lose their firmness and are therefore not suitable for use with water-based paints. Brushes with MIXED BRISTLES can be used with all water- and oil-based paints, enamels, and glazing paints. Mixed bristles contain a mixture of synthetic and natural filaments, thereby combing the best qualities of these materials in order to create an all-round brush suited to all types of painting.
What paint brush should I use?

For all painting, it´s important to choose the right brush for the type of paint being used. Also the handle is important. The ergonomics needs to be designed so that the handle feel soft and comfortable in the hand.
We are professional manufacturer of paint brushes , which have a complete range that covers all needs. Professional painters, with stringent requirements, comprise a demanding group that feel at home among our quality brushes and tools. Home decorators, wanting a professional result, have all the opportunity to find the product they want. To the cost-conscious B2B buyer, looking for brushes and tools for simpler tasks, we can happily offer a broad range of products offering great value for money.