about us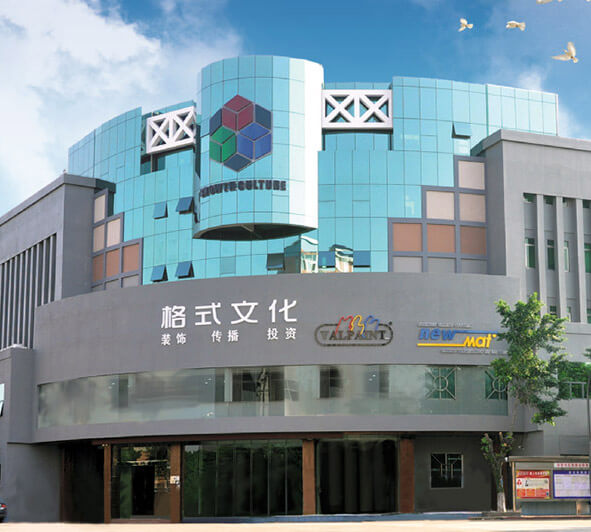 G.SB Paint Tools Co., Ltd. is a professional manufacturer of decorative paint tools - Paint Tool manufacturers & suppliers , having 18 years experience in researching paint tool and developing different decorative paint tools. Besides of decorative paint tools, we are professional purchaser of normal paint tools like fabric rollers, brushes, trowels and masking tapes…
We have the wide range of decorative paint tools which are used for different decorative paint. No matter you are paint factory or wholesalers, you can buy tools from us with nice package with your brand name and logo. We have the strong R&D ability and Quality Control in manufacturing to develop new tools according to your description and your requesting wall finishing.
Till 2013, our products are sold to more than 50 countries all over the world, and it is increasing positively every year.
Since December of 2013, G.SB becomes one of subsidiaries of GROWTH DECORATION & INVESTMENT CO., LTD. Under the organization of Growth, we will offer more products and service to you, besides of paint tools. Maybe you can find a new starting point of your business from here.
Welcome to Growth, welcome to G.SB! We locate in Ronggui region of Shunde city. It is only 5 minutes far from Rongqi sea port, and 60 minutes from Guangzhou Baiyun International airport. -Strong brand equity within our market segments - OEM / ODM SERVICES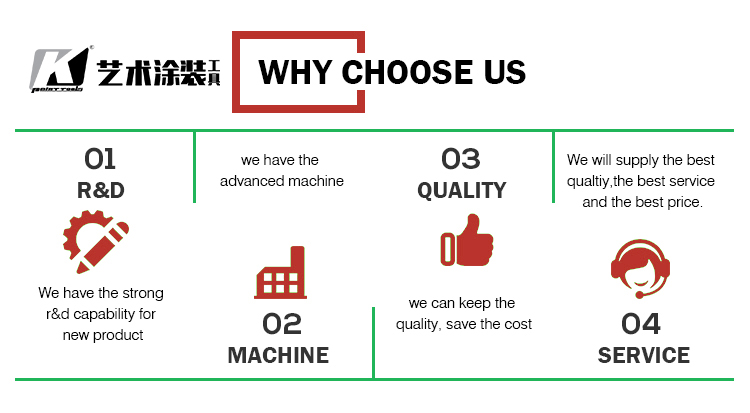 Why Choose G.SB?

Only the finest raw materials are used, without exception. From formulation to production, each step in our production process represents a standard for hand craftsmanship and quality unmatched in the industry.High-quality decoration paint tools are one of the most important art supplies of an decoration paints' trade.

Their design and manufacture demands precision, patience and skill. Therefore you can rest assured that every G.SB decoration paint tool is designed to meet the requirements of discerning artists. Each decoration paint tool is made from the finest materials, individually hand-crafted from start to finish by makers.

For us, Quality is customer specific. It's about knowing what is right and what is wrong. Customers differ in their expectations of quality. Our Quality System was designed to cater for this variation. We understand that good communication is the best way to achieve the Quality Standard our customers expect.

We have been in business over 18 years. The business is run by people who have been professionally trained. We know what we are doing and understand what our Customers do.We would love to discuss your projects and how we can partner with you. G.SB also provides outstanding customer service and technical support to ensure that the entire experience for any customer -- professional or consumer -- is an exceptional one.

G.SB is committed to helping its clients reach their goals.Our strong sense of identification with client projects means that we are constantly striving to provide solutions.This sense of identification also means we value and promote seamless interaction with clients' own teams, and ensure the best value is obtained from their Purchasing budget.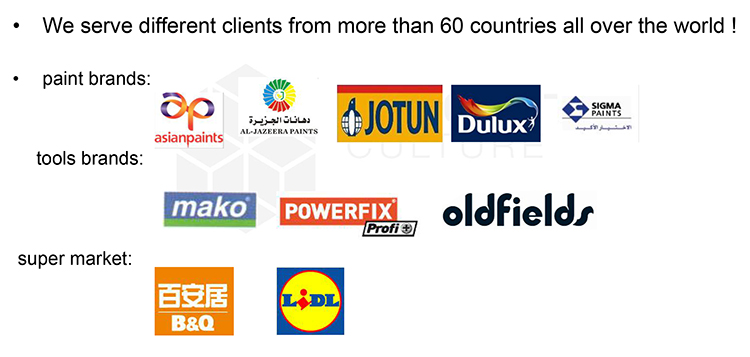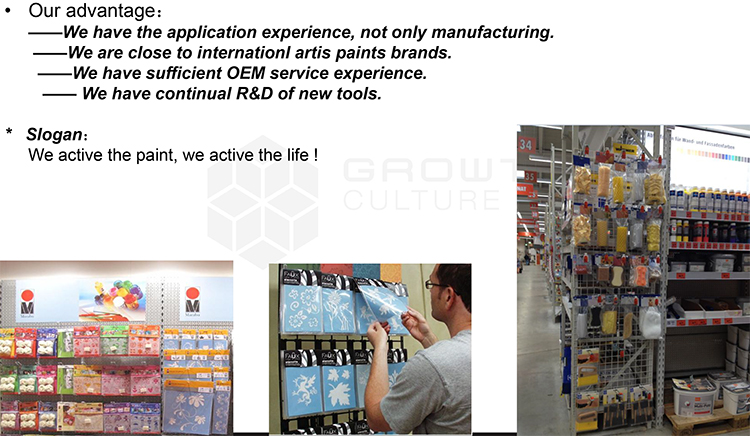 Creating new value through innovation in manufacturing
Since the beginning our mission has always been to build a sustainable business in the decoration paint tools industry both for our customers and for all the parties involved in the production flow.Substantial investments, remarkable progress inProduct Styling & Design, backed up by Research & Development, have powered our company's constant growth since then.
One of the advantages common to G.SB products ranging from all decoration paint tools like soft pattern rollers ,rubber rollers,sponge stamps ,dragging tools ...etc. is a superior quality standard that responds to customers'trust. Regarding quality control,the principles are included in the Basic Quality Policy, and G.SB established the Quality Control Directive as its basic rules foractual management to be jointly applied by all companies of G.SB .
While every product is intensively investigated throughout our manufacturing processes, finished products are further comprehensively checked, realizing the strictest quality control system. As a result, the consistent product quality of "Made byG.SB"is ensured worldwide.We differentiate ourselves through superior customer service and aim to delight all of our customers with outstanding products.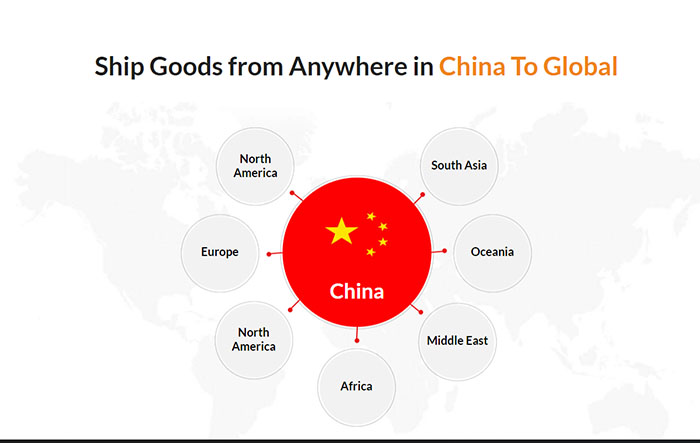 Commonly Asked Questions

Q:Do you have your own factory?
A:We have our own factory.
Q:Do you have your own brand? Or OEM is available?

A:We have our own brand "K brand " and we can also provide with OEM.
Q: who are we?

A:We are based in Guangdong, China, start from 2003,sell to Southern Europe(20.00%),Eastern Europe(15.00%),Mid East(15.00%),South America(12.00%),Western Europe(10.00%),Eastern Asia(10.00%),North America(5.00%),Southeast Asia(5.00%),Africa(5.00%),Northern Europe(3.00%). There are total about 101-200 people in our office.
Q:what can you buy from us?

A:Artist Paint tools,Scraper,Paint Brush,Paintable Wallpaper Border,Paint Roller
Q:why should you buy from us not from other suppliers?

A:G.SB PAINT TOOLS CO., LTD is a professional manufacturer of decorative paint tools, having 10 years experience in researching and developing different decorative paint tools. Besides of decorative paint tools, we are the professional purchaser of normal pa
Q:what services can we provide?

A:Accepted Delivery Terms: FOB,CFR,CIF,EXW,CIP; Accepted Payment Currency:USD,GBP; Accepted Payment Type: T/T,L/C,D/P D/A,Credit Card,Western Union,Cash;
Language Spoken:English,Chinese,Spanish,Japanese,Portuguese,German,Arabic,French,Russian,Korean,Hindi,Italian
Q: Could you make our own design logos?

A: Yes, we can. We have strong R&D team here to help. Please show your design and logos to our sales team first. MOQ of your own design is 1000-2000 pieces if you afford the cost of molds. MOQ of your own design is 10000 pieces if you don't afford the cost of molds.
Q: Could you send me some samples?

A: Yes, we can offer some pieces of samples for your evaluation. But the expense of sample and delivery will be charged to the requester.
Q: Could you send me all your catalog and price list?

A: Yes, we have more than hundreds of products. It's really too hard for us to send you all our catalog, we can offer you the price list which you want.
Q: Have the items in stock?

A: For most items, we have in stock and will arrange prompt delivery and for large quantity,we will calculate delivery time accordingly.