Features:
Items Name: Spiked Shoes
Items No.: GS-DX06
Brand: G.SB
Style: Shoes
Material: Plastic
Size: 10*2.8cm
Range of Application: Non-slip, foot guard
Applied Environment: Inside and outside the floor
Packing: customer-made box
Our sample policy:
Sample order is acceptable. We can supply the sample if we have ready parts in stock, but the customers need to pay the sample cost and the courier cost.
Packaging & Delivery
Each piece packed in the double blister with color paper (we design a logo for a client to promote their brand name in the local market).
Port: RongQi
Lead Time:
| | | |
| --- | --- | --- |
| Quantity(Pieces) | 1 - 1000 | >1000 |
| Est. Time(days) | 40 | To be negotiated |
we are strict with the package and the quality, we promise the customer the best services.
Payment terms:
1. The price above is EXW price. If the order value is over USD6000, it can be same as FOB price.
2. We will offer documents as: invoice, packing list, B/L, CO. If customer needs other certification, we need to charge customer the extra cost.
3. The delivery time will be 30-40 days after receiving deposit.
4. Payment term: 50% deposit, 50% paid upon copy of shipping documents.
Description:
This spike shoe is made of high-quality raw materials, which is stronger, stronger and more durable than ordinary spike shoes.
Material: The sole is made of polypropylene, imported high-quality raw materials are formed at one time, with high strength and good toughness.
The shoe nails are galvanized steel nails, which are not rusty, have high hardness and are durable.
Purpose: Used in the construction of self-leveling cement, epoxy ground and plastic runway, sports field construction process into the construction site, will not leave traces.
Warm reminder: When using spiked shoes, pay attention to the height of walking, be careful of tripping, pay attention to safety and protect the floor.
Deal While Installing Epoxy Floors:
The Spiked Sandals are a must use with safety shoes while working in your garage with epoxy flooring. It is simple and easy to adjust by the hook and loop tape straps. All you have to do is secure it at the toe and ankle for a snug fit on your safety shoes.
【SIMPLE & EFFECTIVE LAWN AERATOR】Lawn aeration shoes can easily achieve the necessary soil aeration, allowing water, fertilizer and air to penetrate into the grass roots, improving the health of the lawn, and achieving a greener, healthier and more beautiful lawn And grass. No need to invest in complex equipment or huge cost to maintain a good lawn.
【REINFORCEMENT & ANTI-BREAK BASE】Many Lawn Aerator Shoes on the market break easily and hurt ankles. We have improved this defect - Our plastic base comes with bumps on the bottom, ensuring that the spikes are firmly locked in place. More durable, sturdy, longer service life, improved stability and safety.
【One Size Fits All】Whatever your shoe size is, Our aerator shoes come with adjustable hook and loop strap for the exact right fit, you can take them on and off in a snap, super convenient and stable to make lawn maintenance a breeze! Ideal Garden Shoes for Men & Women!
【MORE FUN & CONVENIENT AERATION】You can get a good exercise and more fun with this shoes, you don't need other heavy and expensive machines around your yard. The ergonomic design ensures that the shoes stay firmly on your feet and the sharp nails make it easy to dig the soil for effective aeration.
Are you worried about shoe base broken?
-Maintaining the perfect lawn can be time-consuming and expensive, but still unable to maintain a healthy and long-lasting green lawn. K Brand lawn aerator shoes provide you with an ideal soil aeration method, which can provide a convenient and effective aeration method in your own time!
-You only need to put on our shoes and walk directly on the lawn to loosen the soil and bring vitality to your lawn. We spent several months researching your feedback and integrating your suggestions into a pair of lawn shoes to solve all your problems and provide you with a perfect experience!
For convenience and safety, we made the following two improvements That Will Make Aerating Your Lawn A Breeze:
1. All New Unique Design With Hook & Loop Straps for More Convenient Use: K Brand lawn aerator shoes abandon the cumbersome design of 4 or 5 straps and buckles, no more complicated straps. After assembly, you can put it on directly and attach the hook & loop closure. super convenient and stable, getting an aerated, healthy lawn has never been easier!
2. Sturdy base and spikes: Many cheaply-made lawn aerator sandals on the market will start to break after a few steps. However, our base is made of sturdy plastic, which can provide good heel support and is strong and durable. Each hole of the base extends with Bulge to increase the force-bearing area of the nail and prevent damage and any messy accidents during use.
Notes:
- During your first use, take small steps to test out the shoes. Once you're comfortable, walk around as you normally would.
- We recommend irrigating your lawn before using the aerator shoes.
Adjust the Straps Instructions:
1. Install the spike on the gunite spiked shoes
2. Put your shoes on the shoes and adjust the tri-glide in the middle of your shoes;
3.Tie the strap through the tri-glide ;
4. Pull the strap until feel tight;
5. Repeat the step to the other strap.
Customer Rivews:
The green plastic is pretty thick and sturdy, I imagine they can handle quite a bit of use. The spikes are also thick and look to be able to handle some wear. Definitely a must have when working with epoxy floors!
Constructed of durable, green solvent-resistant polypropylene. Features a snap-lock buckle system and 13 specially placed, sharp-tip 3/4 inch spikes per shoe. 3/4" short spikes is perfect for Epoxy floor installation, and other overlays, cover application.
To begin with, for the price, you get some basic spike sandals - there's nothing fancy here. Piece of plastic, with metal spikes and 2 straps to hold them in place. They were simple and got the job done - with a few modifications.
I took others' advice and used some Loctite when installing the spikes and nuts. It was the gel super glue version - the cheap stuff, honestly. I let them cure for a few days since I wasn't really ready to lay down the epoxy at that specific time anyway.
Also, when it came time to strapping them on - I used a 2nd pair of shoes and married it together with the spike sandals by taking the ankle strap and running it through the sleeve on the upper-tongue of my shoe. Then, the secondary strap by the toes, I ran that through the shoe laces towards the bottom.
This really helped stabilize the sands and essentially made it "one" with my 2nd pair of shoes. I wore them the entire time while laying down epoxy for a 3 car garage (2 car, and seperate 1 car). I had a helper who helped with cutting in the edges and passing me tools back and forth, etc.
Also - random tip if you're getting ready to DIY your own epoxy garage. For the flakes - take a strainer like you would use for pasta. Dump your flakes into it, and gently shake back and forth while dropping the flakes. The strainer helps to evenly distribute the flakes in a random pattern - but most importantly, EVENLY. It worked like a charm!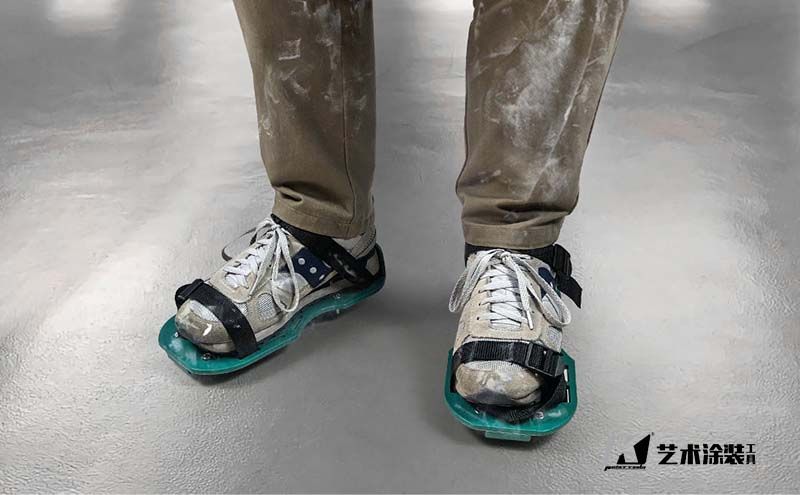 Customer questions & answers:
Question: Can these also be used for lawn aerating?
Answer: No the spikes are not long enough.
Question: Well it work on pli dek ?
Answer: We would not recommend on pli dek. It is for use on epoxy flooring products or other products that are thin and not viscous.
Question: How would these work for weedeating a steep bank?
Answer: It wood definitely be better than tennis shoes but, the design of the spikes may not dig in as far as you would like. This is designed to walk on a flat floor that has a thin coating of floor adhesive or the likes.