Features:
INNOVATIVE POWER IS OURg QUALITY:
Providing affordable, innovative products and concepts at the right time is our mission of building the K-Brand paint tools brand and providing our products. All tradesmen and DIY experts know that having the right tool for the job will make their life easier and giving them a professional ability to finish as required.
About This Item
This spray gun can adjust the material flow and spray pattern for full coverage and prevent overspray, it provides superior finish on common projects such as interior and exterior Walls, ceiling, fence, cabinet, furniture, deck, DIY crafts etc. What's more, it's easy to take apart for thorough cleaning, it's incredibly efficient!
【1600W Paint Gun】 There are numerous applications for this HVLP electric paint gun such as interior and exterior walls, cabinet, furniture, ceiling, crafts, fences, etc. The spray paint gun is applicable for many common materials such as stain, thinned chalk, varnish, enamel, sealer, vinyl etc. Ideal for house decoration, dedicated crafters and DIY lovers.
【Efficient and High Quality】 The HVLP spray paint gun is more efficient and performs well in providing nice even coat, ideal for applying a superior finish on household projects fine finishing. With this spray painter, you can achieve better job more efficiently!

【Ergonomic design】 The special designed soft grip makes hand comfortable. Unique shape of the container makes it easier to go. The hanging hook makes it convenient to storage. The paint gun provides precise control by adjusting the control knob to match the needed flow-rate, avoiding overspray to the largest extent.

【4 Nozzles】 The spray gun has 3 patterns by adjusting the air cap, round, vertical oval and horizontal oval. And it equipped with 4 nozzles 1.0mm/ 1.8mm/ 2.2.6mm/ 3.0mm) which can meet the requirements from fine to thick painting, so that it can be suitable for almost all common home painting work.

Excellent surface quality; smooth, even, flat and dense spraying coating;

This machine uses the principle of low pressure and high flow spraying, which presents a good performance on the coating and increases the mechanical bite of the coating and the wall. Against the traditional roller coating, better solve the problem of coating bubbles, coating scars, etc...

Coating utilization rate of 80% or more, as opposed to traditional pneumatic spraying have more saving raw materials;

The coating rebound is less, which greatly improves the working conditions and is more conducive to the health of the construction personnel;

Easy to use, less working noise. Fast loading, quick dismantling and fast washing;

Lightweight and stable tie rod support plus base rollers, portable and easy to carry to the construction site.
How to choose the 4 different nozzles?
| | | | |
| --- | --- | --- | --- |
| Φ1.0mm nozzle for thin paint, fine painting, such as windows and doors these home projects. | Φ1.8mm nozzle for thin paint, fine painting such as desks, chairs, stairs these projects. | Φ2.6mm nozzle for medium viscosity paint, it can be used for fences, interior walls , deck etc. | Φ3.0mm nozzle for projects which use thick paint, rough painting, high speed painting. |
Unique in design, Powerful in function, Stable in performance, Easy to use.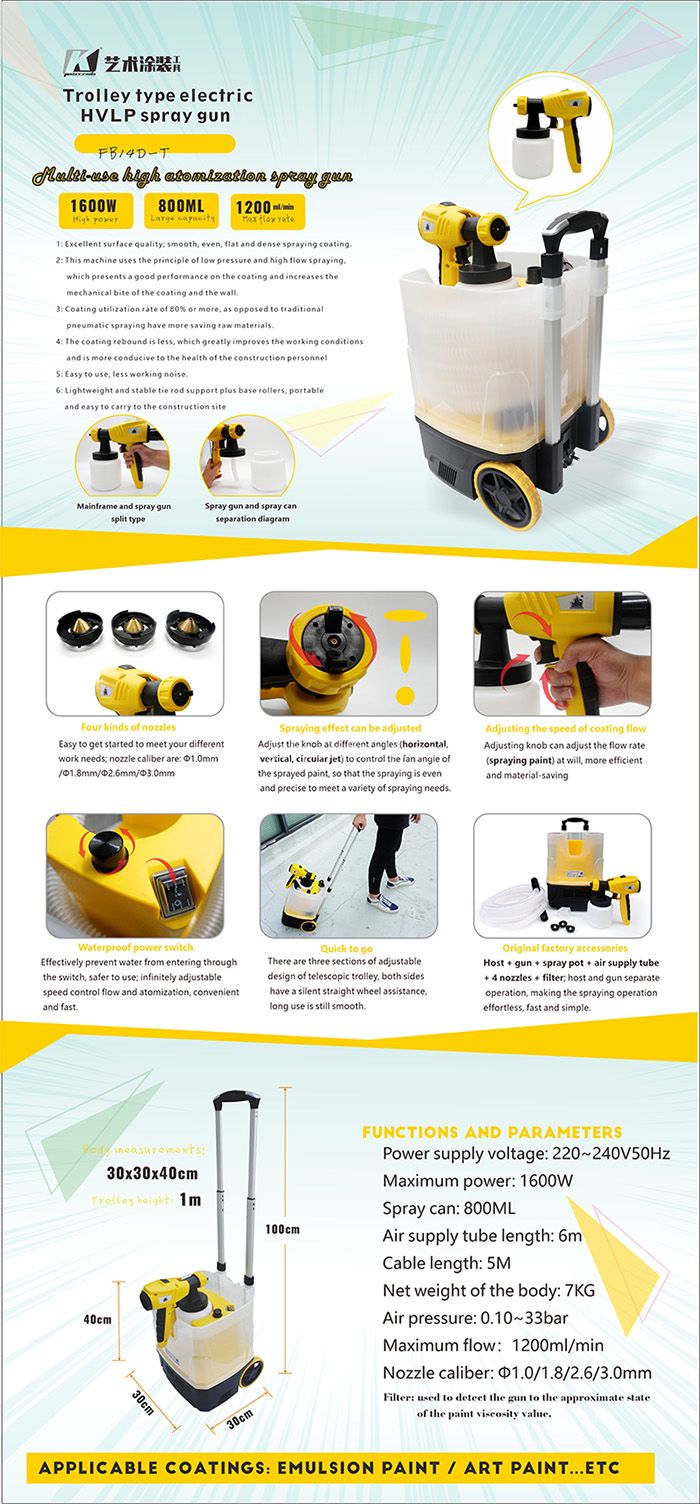 An HVLP Paint Sprayer is a high-volume, low-pressure spray gun that is immensely popular at the moment. The reason for its popularity is because it gives you paint at a high volume using low pressure. Therefore, you will find more paint landing on your project with a lot less bounce back and overspray.
This, by definition, is a High-Volume, Low-Pressure Spray Gun. This particular sprayer is not much different from the ordinary spray gun, which uses a compressor. The compressor supplies the air the gun needs to function. In this case, the HVLP Gun only needs low pressure (LP) to operate. The air supply it uses is High Volume (HV) which atomizes the paint and propels it at low pressure.
However, when using an ordinary spray gun that is connected to a compressor, you will find that it propels your paint quite forcefully. This means that there will be a lot of oversprays, leaving less than 25% of your paint on your project. With the HVLP gun, the paint is dispensed at a high volume but using a low pressure, which causes less overspray and you end up with a far better finish.
The HVLP Spray System has two different options. The one is a 'dedicated system' which makes use of a turbine. This dispenses the paint in an aerosol fine spray to give you a great finish. This type of HVLP Spray System is portable and small but can be very costly. The second type is a conversion system, which converts the high air pressure that the compressor produces into low pressure. This will then generate a low volume and supplies a paint spray that is easier to control.
This Paint Sprayer may not have a standard or regular design, but it is by far the best High-Volume Low-Pressure Paint Sprayer available. It comes with an adjustable pattern fan control that can give you a small circular spray, or a spray that is a lot wider. With this amount of flexibility, you will be able to do all kinds of projects with greater ease.This is a non-bleed product, which means that as soon as you release the trigger, the paint stops flowing, so you do not have to clean up any unexpected mess. Another advantage is that the overspray is minimal as compared to many other spray guns, which is a bonus.
Why is it that many people prefer this product? Mainly because of its strong and sturdy body. The spray gun also provides you with precise uniform spray. Due to its reliability and durable design, ensures the HVLP Sprayer can last for an exceptionally long time.This type of paint sprayer is specially designed for anyone that has no or little experience with spray painting. With this in mind, you will find this paint sprayer has everything you need to make it easy to use.
This includes easy assembly and cleaning. The system is also light and easy to be carried around and comes , which is perfect for all those home painting projects. Because it is small and compact it is also easy to store. It is a very robust long-lasting sprayer that is equipped. This sprayer has an on-board storage system where it can store the gun, cord, and hose in the body of the unit.
The system is also equipped with an easy to carry handle, making it effortless to move around. All these amazing features make this sprayer a very convenient product and well-liked by all its users. One major advantage of this paint sprayer is its flexibility when in use. You can change the spray pattern easily and quickly while spraying.
Pros:
Less waste
Much easier to control
Less overspray in comparison to other spray guns
Compact and portable
The HVLP Sprayer produces less pollution
Large selection
Fewer materials are consumed
Non-bleed with little overspray, making cleaning up a lot easier
The body is strong and durable allowing it to last for a long time
The fan control can adjust the pattern, which offers flexibility when doing various projects
Final Thoughts on Automotive Paint Guns for Beginners:
Not everyone is going to use an HVLP spray gun, and those who do may not use them very often. However, if you want a product that will last you a long time and will give you the best finishing touch on your paint project, K brand Trolley type electric low- pressure spray guns are all great options. Whatever you need, remember to consider the weight and ease of cleaning, because that will impact how long you can use it and how long the device will last.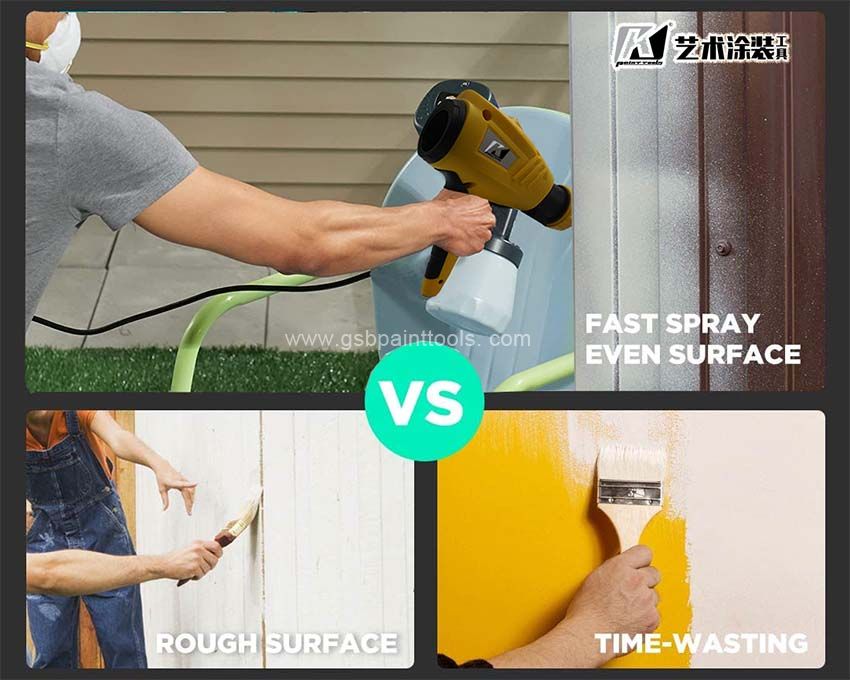 Thin Paint Before Spraying + HVLP Technology - this sprayer expels a higher volume airflow with lower pressure, finely atomizing paint and significantly reducing overspray, dripping, and paint residue.
"My tool shed had been neglected for so long to the point that I had to do some work before it falls apart", Alex Teng say. One of the areas it needed my immediate attention was painting. This sprayer gun seemed to be great for the small projects involved like doors, windows, cabinets, etc. Assembling was a breeze, and the actual painting with the sprayer took less time than masking works.
I only used latex paint and it seemed the paint mist/stream was fine and consistent. Paint did build up near the nozzle but seems not causing any issue on the quality of paint work - just wipe buildups off with paper towels. You may adjust the shape of the paint stream/mist, and also change nozzel size.
Cleaning is easy - just flush the tank with tap water, fill in clean water, keep spraying until the water stream coming out of the nozzel clears up. I could see that oil based paint would require some sort of solvents like mineral spirits. Overall, this is a well-built sprayer that is great for small home projects.
I used it to paint my entire house. It not over heated after many hours work. Easy to use, don't need to put out much paint even using largest nozzle. I also purchased extra batteries and kept other charged batteries handy so I wouldn't have to stop and refill as often.I bought this item to re paint the kitchen ceiling and wall, it is ten times faster than using the brush.
Tips:Hvlp paint sprayer needs to be cut down around 15% to 20% depending on the paint but not more than 25%.