Features:
Precision Defined Paint Roller Frame and Roller Cover Set with Plasitc Handle
What about the horror of wiggly brush fibers on that supposedly-smooth paint job? No more bubbles, no more cracking, no more streaking, and no more loose threads!
SUPREME QUALITY: Our paint roller frame offers you the best quality there is. Sleeve cover slipping and sliding around the roller frame is yesterday's news. Get the best roller cover for your project there is.
ANTI-FATIGUE GRIP: Hours and hours of rolling and painting will be enjoyable for once! Our anti-fatigue grip will definitely give you comfort you won't expect.
EXCELLENT PAINT PICK-UP FOR SMOOTH ROLLING: Designed to hold and release paint evenly and uniformly for that smooth and velvety finish we all love. Our roller frame ensures smooth rolling, allowing no room for streaking and unintentional textured pattern.
GREAT FOR MANY USES: Excellent for home touch-ups and home renovations, painting bathrooms, outdoor decks, nursery room, and even a game room!
Spins and Rolls smoothly to make paint faster, premium quality roller frame, best time saver. Fits paint roller sleeves snugly. Remove freely for replacement, easy to clean. Pressure self-lock design helps prevent rollers slipping off during painting application. Universal threaded roller handle can attach to any extension poles or even a broom handle for painting higher places or lower ground to save time and free your kneens and back. Based on the reviews this sounded like a great paint roller frame. It is a great paint roller frame. paint rollers can be inserted easily. they click to let you know the roller is in place. it rolls well. didn't stick once.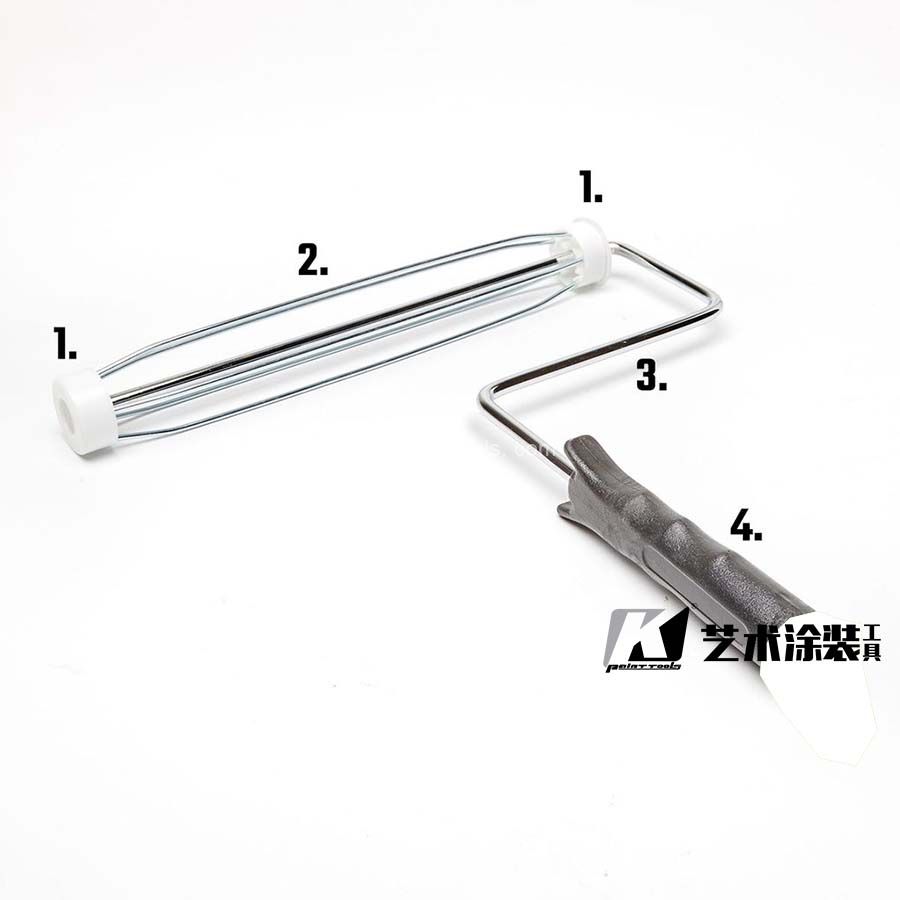 What is a paint roller frame?
A paint roller frame is a reusable paint application tool that resembles a ? They are most often used to quickly and evenly cover large areas with paint, stain or other finishes. Paint roller frames are designed to be used with a roller covers which fit over a cage that spins independently of the frame and handle. These are the parts of a paint roller frame:
1.End Caps
2.Roller Cage
3.Frame
4.Handle
How is a paint roller frame used?
The paint roller frame is fitted with a roller cover that is appropriate for the material being applied. The cover is then loaded with paint (or other product) by rolling it back and forth in a sloped paint roller tray. The paint is then spread by rolling the cover along the surface of the wall, ceiling, or project. When most of the paint has been transferred from the roller cover to the surface, the cover is re-loaded with paint in the tray and the process repeated. Most paint roller frames have a recess at the bottom of the handle in which an extension pole can be attached.
What are the different types of paint roller frames?
The most common roller frames accept a 9-in. cover, but there are frames that can accept covers from 2 inches. up to 18 inches. Most roller cages are made of metal, but some are made of plastic. Yoke roller frames are shaped more like the letter "Y." Yoke frames do not have a cage; instead, the covers are held in place by two end caps each attached to the frame itself.
What makes a good paint roller frame?
Sturdy Construction
Comfortable Grip
Internal bearing
How to Put a Paint Roller on a Frame?
Paint rollers are very valuable pieces of painting equipment that are necessary for completing large painting jobs. One task that is necessary when using paint rollers and frames is to remove the roller cover and replace it with a new one after painting sessions are completed.
It is a relatively easy task but a necessary one to ensure good painting results. At Pro Roller Company, Inc., we are your source for paint rollers, including Dripless – Lint Free paint rollers, solvent resistant paint roller options, and other painting accessories that get the job done right.
Paint rollers typically include a rod or spindle at the center that is connected to a handle. Regardless of the specific design of your roller, removing the roller and replacing it with a new one is a simple process. These rollers are offered in various styles and textures to match any painting effect you want to apply to a surface.
Soak and Clean the Roller
The first step is to soak and clean the roller by using warm water and paint remover in a large bucket. Give the roller time to dry. This should be done immediately after final use to prevent paint from leaking onto the roller frame. A dried-up roller, whether a solvent resistant paint roller or Dripless paint roller, will also make it more difficult to remove from the frame.
Remove the Old Roller Cover
Roller covers slide over the top of the cage. The cylinders are also removable. The process to remove the old roller cover involves prying away the cover from the cage by hand. It should take a small amount of effort to pull the cover away from the cage. If the old frame is worn out, you can change it along with a brand new cover.
Install the New Roller Cover
Open the new roller cover and slide it over the cage, making sure it fits snugly.
Top Tips: ROLLER COVER CONSIDERATIONS
Material: to match paint
Nap/ Pile height: to match surface
Style: to match roller frame ( American or European style)
ROLLER COVER MATERIAL
Synthetics:
Most widely used category of paint roller fabrics. Made with a single fiber type or blend of fibers. Common materials are polyester, nylon, rayon, and acrylic. In general they can be used with water or oil based coatings but work best with water based.
Shearing:
Wool that is still attached to it tanned skin, also called lambskin or sheepskin. It is the original paint roller fabric, naturally shed resistant with exceptional capacity and release. Best for oil based paint but also some of the most expensive roller fabric. Prolonged soaking can cause the cover to deteriorate. Ideal for use with semi-gloss and gloss sheens because they give you the smoothest finish. The only drawback to them is that they don't hold nearly as much paint as their knit counterparts. So expect to be dipping into your roller pan often.
Mohair:
Silky, Angora goat hair, always woven together with synthetic fibers. Creates a smooth, glass-like finish and resists matting. Expensive, but provides superior results on smooth surfaces.
50/50:
High performance blend of lambs wool and polyester fibers. The wool provides maximum capacity and a smooth finish while the polyester helps the cover to resist matting.
Knit Covers:
These covers work great when you're applying flat and satin/egg-shell finishes. Knit covers are available in both wool and polyester fabrics, however, the pure wool and 50/50 wool-polyester blend covers will hold more paint and shed less.
Woven covers usually require more time and effort to roll vs. non-woven varieties because woven covers typically use with much shorter naps vs. non-woven roller covers.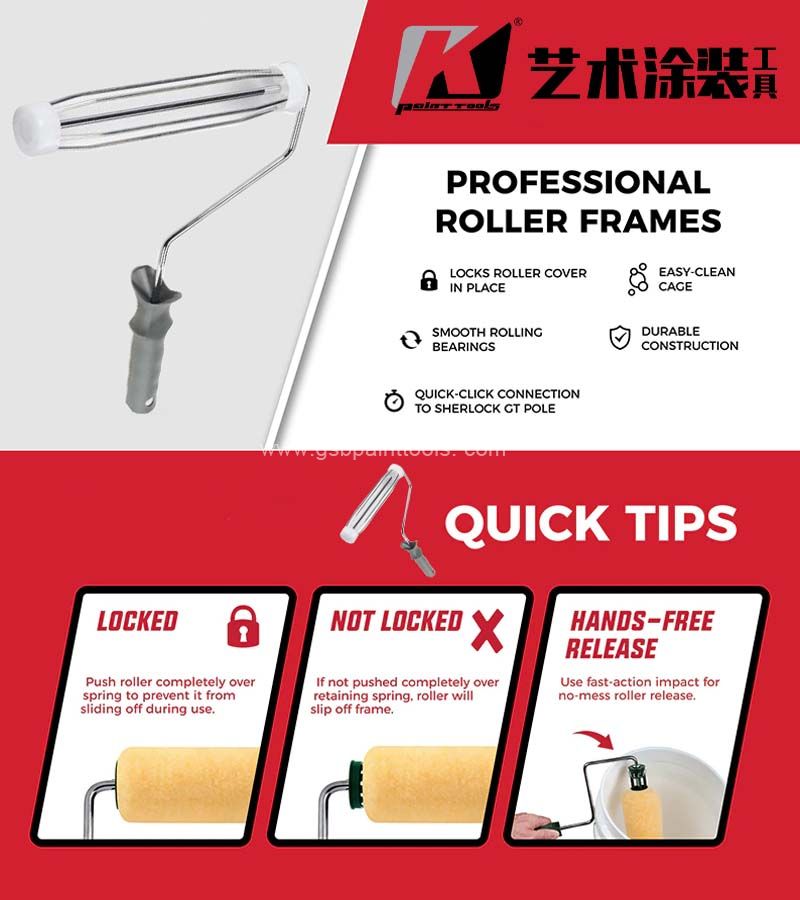 Our Roller Frame has a unique retaining spring that securely holds the roller cover to prevent it from slipping off. After painting, the roller cover removes quickly and easily with a single rap of the frame on the edge of a paint bucket or trash can. The solid cage allows even coverage of the surface being coated. The handle is threaded for attachment to all extension poles or can clip to poles.
Internal bearings for smoothest-rolling cage frame. Remove roller cover with a single rap of the frame on the edge of a paint bucket or trash can. Threaded handle for attachment to all extension poles. Easy clip-on/clip-off compatibility with poles. Sturdy, durable, easy-to-clean cage. Cover removes with a single rap of the frame on the edge of a paint bucket.
Paints are coating substances that color, protect, and provide texture to surfaces or objects. Paints may be brushed, sprayed, dabbed or dipped onto a surface to create a coating. Paint equipment and supplies are used to apply paints, coatings, and stains to surfaces and equipment to protect them and refresh their appearance.
Interior paints and stains are suitable for furniture, floors, walls, ceilings, and other indoor surfaces. Exterior paints and stains are designed for buildings, houses, decks, patios, driveways, or fences. Brushes, rollers, sprayers, trays, drop cloths, and other painting supplies help painters apply paints, stains, and coatings neatly and efficiently.
A paint roller is a paint application tool used for painting large flat surfaces rapidly and efficiently. The paint roller typically consists of two parts: a roller frame and a roller cover. The roller cover snaps onto the frame and absorbs the paint and transfers it to the painted surface.
Accessories with paint rollers include end caps (to hold the roller cover in place) and splatter guards. Paint roller poles attach to frames and allow users to reach areas otherwise unreachable and reduce the amount of ladder work needed on a job. Power rollers are electrically powered paint applicators that are designed to continually send paint to the roller cover helping to avoid bending and stretching to re-apply paint to a roller. Many of these products are sold in sets and combination kits.
Paint roller frames are reusable paint application tools that are angled into the shape of a question mark. These frames are designed to be used with roller covers that fit over the frame cage that spins independently of the frame and handle. When it comes to Paint Roller Frames, you can count on G.SB. Supplies and solutions for every paint industry.