Features:
Work on any smooth and semi-smooth surface - Skip the mess and have fun painting walls, ceiling, floor, fence, door, decks and furniture with the whole family. Use indoor and outdoor; Or just cover up scuff marks and stains in seconds.The Paint Running Roller Set can transform your entire home and raise it's value faster than you ever thought possible.
Save money & time - No prep time, No drop sheets. Just pour and paint to revitalize any wall or surface in just a few minutes. Without the process of dipping the traditional paint brush, rejected all the mess. Please Do not Pour the Paint too Full,or it will Drip out. we recommend that you fill it up to 2/3.
Structural upgrade - We have optimized the structure of the product, improved the assembly strength of the product, and it is not easy to fall off and damage. The plastic raw material of the product uses high-quality materials instead of secondary recycled plastics to ensure the strength of the product.
Easy to use - The capacity of the paint runner pro is 1L. You just fill it with paint before painting. It is so simple and easy to use even your kids can help give a professional paint job to nearly any surface.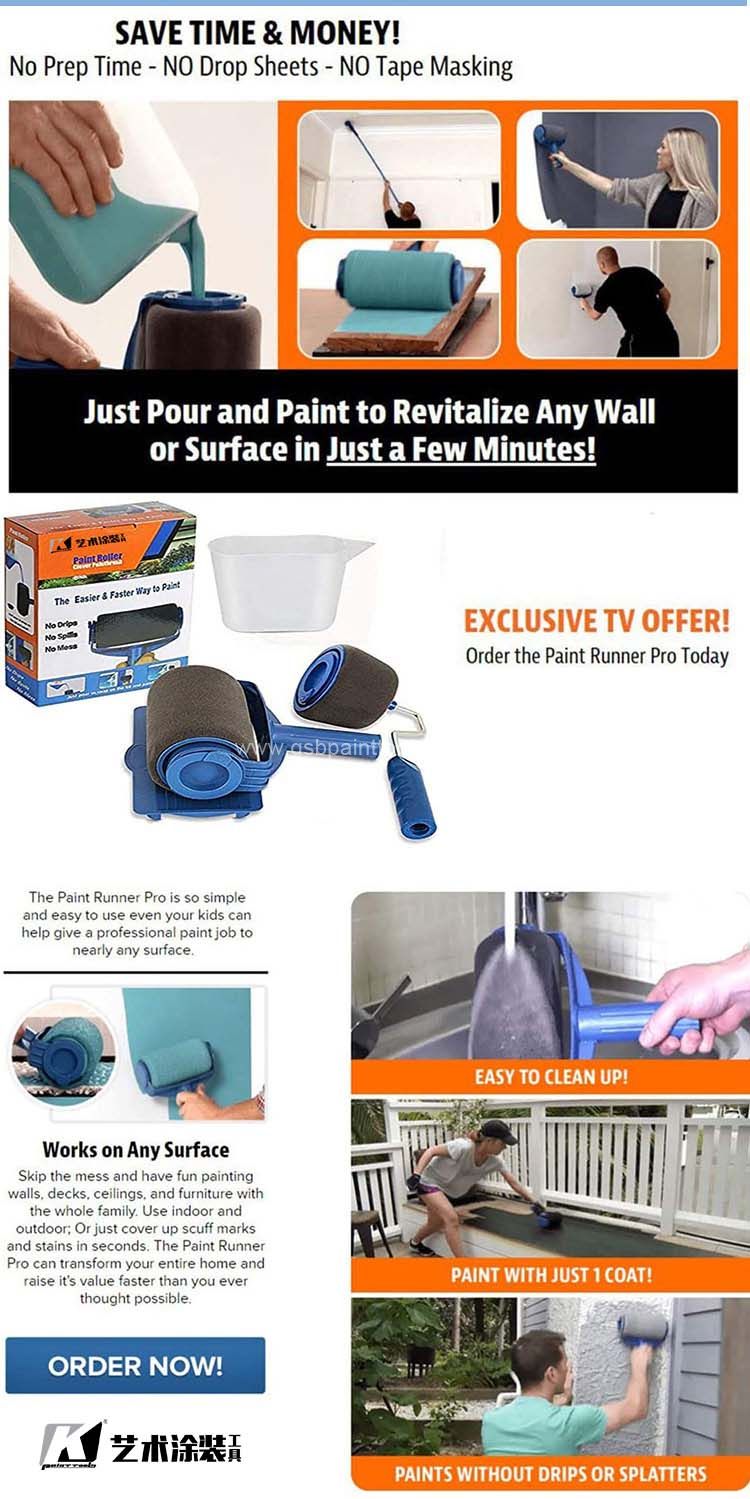 Note:
Please Do not Pour the Paint too Full,or it will Drip out.This kind of paint roller always drip a little if you do not use it properly. Please Turn the Open Cap first,then open the Cap Slowly and Gently.(Or it will destroy the Open Cap). Please make sure the lid is completely closed when you use it for the second time.
Feature:
Quickly painting tool, save time.No prep time, no dripping, no mess! Help you finish painting your room in one hour!
Easy to handle, even your kids can help give a professional paint job.
High quality and durable. Can be used many times. Just rinse under a tap to clean them after painting and Keep them in dry and cool place.
Color: Blue
Material: Plastic + polyester fiber
Fiber length: 8mm
Only quality possesses market and improvement gets progress
Tips: Do not fill too full. Fill 50%-70% full with paint every time is enough. (This kind of paint roller will leak a little if it's too full. And it may be too heavy for ladies and kids if fill 100% full. After our experiment, fill with 50% paint is perfect for using every time.) Our tenet is: client foremost, credit first, quality first. We improve our products quality seriously according to our client's feedback.