Features:
Description:
Comes in 3 different sizes
360mm x 120mm x 0.7mm
360mm x 110mm x 0.3mm
360mm x 110mm x 1mm
It is a trowel that solves a huge problem for professionals: the polishing of Venetian plaster, lime-based or synthetic products in light and white shades. The classic tools on the market easily leave dark streaks, thus damaging the work. This trowel does not happen because the blade is made of a type of steel with a particular alloy compared to that normally used: it is enriched with molybdenum and this makes it particularly resistant and suitable for use with the most difficult materials.
TOGETHER WITH YOU, UP TO A HIGHER LEVEL
Our trowel has got an unmistakable design, a comfortable grip, a stylish black fork. And it is also very lightweight to use because of the patterned poplar wood handle, in order to to relieve arm fatigue.
NO MORE BLACK STREAKS:
We've sourced a new type of steel that ideal for applying and polishing white and light colored materials without over-burnishing or causing unsightly dark marks on the finish
INNOVATIVE MATERIALS TO MEET YOUR NEEDS: Customers have asked for a trowel that solves this common but frustrating problem and and this new type of steel subjects materials to very low friction, which means it causes minimal damage to the finish, even when significant pressure is applied.
CREATE SEAMLESS WHITE WALLS: Architects and interior design professionals are calling for uniform or "monolithic" walls that compliment rather than compete with other design elements. Use this innovative tool to apply white plasters that have little to know "movement".
YOUR GO-TO FOR MICROCEMENTS, RESINS, AND POLISHING WHITE VENETIAN: You don't have to worry because some of the trickiest materials to apply can now be applied with greater ease. This tool is much more forgiving than conventional steel trowels so you don't have to worry about over-polishing. Apply the way that feels right to you.
IMPROVED GRIP AND DESIGN, FOR EASIER HANDLING: We know your clients care about the details and so do we. You'll notice our signature shape at the front of the fork, where you rest your thumb while holding the tool. We've also improved our lightweight poplar wood handle by adding an pattern that improves the grip.
When to Burnish
The ideal time to burnish is soon after the third coat of Venetian plaster has been applied. It should have lost it's tack but hasn't completely set. It should be starting to lighten in color but not completely lightened in color yet. It will also feel somewhat cold to the touch which tells you that there is still moisture that hasn't yet cured. Learning to look for these details is what separates the faux finishing masters so take pride in your work!
Preparation
For the highest quality results, produce a couple mock-up sample boards on solid prepared pieces of MDF or drywall before starting work on your final project. Make sure you are absolutely satisfied with your results from these samples before continuing to the next step in your project.
Don't forget to check with the manufacturer of your plaster for their specific application instructions as methods and drying times may vary between different brands. You'll want to download and read their technical data sheet (TDS) to become proficient with each material.
Trowel Care
For best results every time, clean your trowel between use and check that your blade is free from scratches that may have occurred during a previous application. Some professionals choose to reserve one trowel for polishing and use a different one for the application in order to keep their Stilmirror trowel in perfect condition. If necessary, it may be possible to repair or refresh used blades by polishing up to it's original ultra-smooth condition so that you may continue to get many years of use.
K Brand Microcement Trowel is an Exceptional tools first of its kind used as a superb Finishing Trowel and made with the secretly finest of Steel Components. Its composition ultra light weighting allow the finish to result free of black lines typical of white Venetian plaster and Microcement applications. The range branded trowel essential for polishing Venetian Plaster and Marmorino. Ideal applications are :Venetian Plaster, Microcement , Marmorino, and White set.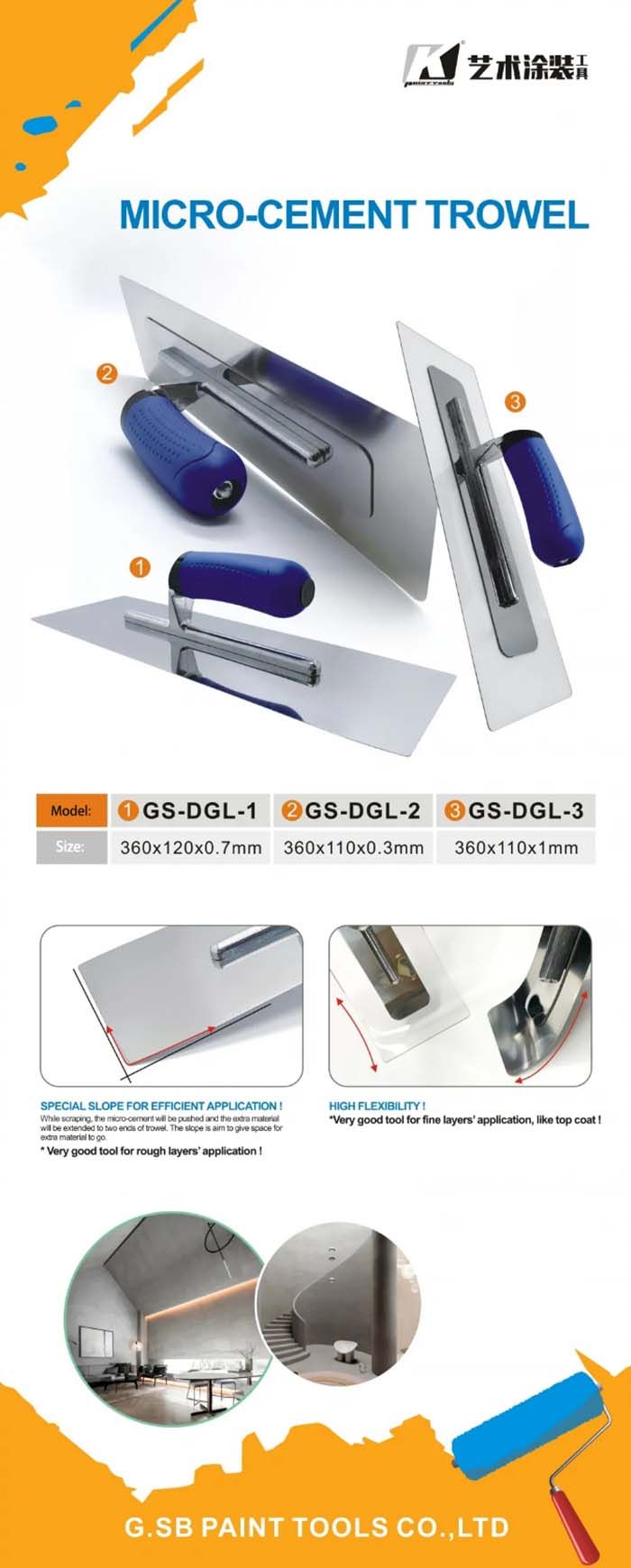 What is Microcement?
Microcement, also known as micro-screed, micro-concrete or micro-topping is a cement and polymer-based coating which is thinly applied to floors, walls and in some cases joinery in residential and commercial environments to create a concrete look.
Microcement allows architects, interior designers, builders, property managers and home owners the ability to create a concrete aesthetic where it would not normally be possible. The strong, polymer bonding power in microcement mixes allows the finish to be applied to almost any existing substrate including over existing concrete, compressed sheeting, yellow tongue, tiles, plasterboard, villaboard and MDF.
Benefits of Microcement:
There are many reasons why Microcement is becoming a popular choice in projects throughout worldwide.
Some of the benefits of our X-Bond Microcement include:
Applied at a minimal thickness (Thinly applied over an existing surface)

Ability to 'Remodel Without Removal' as the Microcement topping can be applied directly over an existing substrate
Achieves a seamless finish that's grout-free
Achieve a modern, industrial look and concrete aesthetic
Range of colours and finishes available
Can be applied over underfloor heating
High slip-rating
Can be applied internally and externally
High quality sealers available for residential and commercial uses
Easy to maintain
Warmer underfoot than concrete
Choosing the right microcement tools is an important factor that determines the final effect that we will achieve. High quality microcement tools and accessories can help you get the most from your microcement projects. Our trowels can do much more than just help improve your results. They can make the entire job easier, faster and ultimately, more satisfying.
What to apply decorative concrete plasters and microcement with? Can the same trowels be used for floors and walls? Which trowel to choose? The basic tool for microcement is a stainless steel trowel. We use it to form the microcement and give it the ultimate look. The microcement trowel is usually shorter than the smoothing float, thanks to which we can more easily create patterns with it. Basically, you can use the same trowel for walls and floors, although it all depends on the preferences and workshop of each contractor.
The microcement trowel we recommend ensures maximum comfort of applying microcement on horizontal and vertical surfaces, both in small and large spaces. The blade has round tips and a bevelled edge. The extremely smooth bottom of the working plate is made of very durable steel, which guarantees durability of the trowel and ensures its corrosion resistance. The handle is light, durable and ergonomic. Important: for the trowel to serve us for a long time, wash it thoroughly with water after each use.