Features:
Items Name: Ragging Roller & Tool
Items No.: SB-TM5
Brand: G.SB
Style:Iridescence Roller
Material: Yellow sheepskin cloth
Size: 7"
Core Materials: Plastic
Including Handle: NO
Range of Application: Illusion effect/shading effect
Applied Environment: Inside and outside the floor
Packing: Double Blister
We Are Ragging Roller Supplier,If You Are Interested In Our Products, Please Contact Us As Soon As Possible.
Our sample policy:
Sample order is acceptable. We can supply the sample if we have ready parts in stock, but the customers need to pay the sample cost and the courier cost.
Packaging & Delivery
Each piece packed in the double blister with color paper (we design a logo for a client to promote their brand name in the local market).
Port: RongQi
Lead Time:
| | | |
| --- | --- | --- |
| Quantity(Pieces) | 1 - 1000 | >1000 |
| Est. Time(days) | 40 | To be negotiated |
we are strict with the package and the quality, we promise the customer the best services.
Ragging Roller Payment terms:
1. The price above is EXW price. If the order value is over USD6000, it can be same as FOB price.
2. We will offer documents as: invoice, packing list, B/L, CO. If customer needs other certification, we need to charge customer the extra cost.
3. The delivery time will be 30-40 days after receiving deposit.
4. Payment term: 50% deposit, 50% paid upon copy of shipping documents.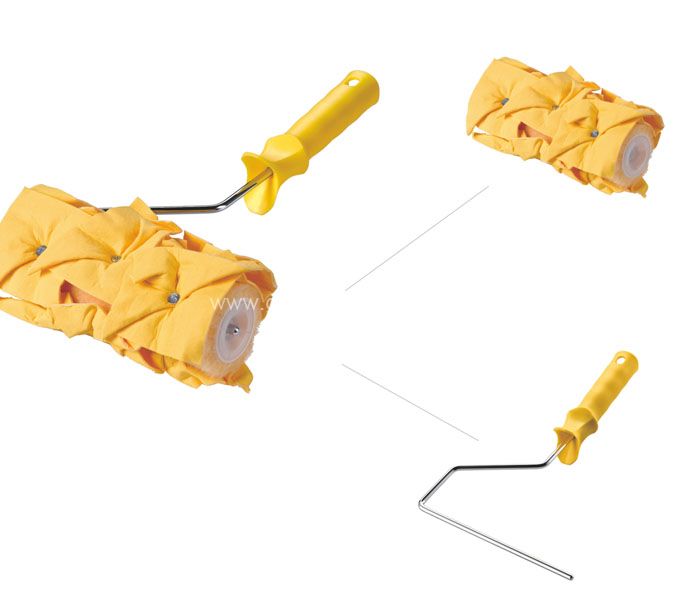 About this item:
*Ragging is a faux finish technique which allows your walls to be draped in soft fabric. It will transform the appearance of the entire room by adding old world charm to modern settings.
*Different types of special effects such as crinkle, dapple, weaving, canvas, spatula, colourwash, ragging, sponging, combing, and brushing can be created using a variety of tools.
*This product has been specifically formulated such that it is easy to apply, allows the tools to move smoothly without much effort, retaining the pattern left by the tool that created it.
*It has a soft sheen that lends elegance and style to a surface.
*It comes with a roller and a handle.
Rag rolling has been a popular technique for ages, but until fairly recently, achieving this unique texture has been a messy undertaking. These days, Ragging Roller & Tool SB-TM5 keep your hands free of paint and glaze, and allow you to produce good results very quickly.
The only drawback to using a specialized roller is reaching into corners. You'll still need to keep a few rags on hand for finishing touches in these tricky spots. This article on ragging on by hand will help you perfect your technique.
What Is A Rag Roller?
Purchased rag paint roller cover.
Rag roller covers are specifically designed to mimic the rag rolling technique. These covers are designed to fit on a standard 7″ paint roller.
The heavily textured surface varies by brand. In some cases, the cover is pleated or gathered fairly uniformly. In others, the fabric is randomly bunched on the cover. The material the roller is made of can vary, too. Leather and lint-free cotton are two commonly available types. Choose your rag roller by the effect you want.
What is homemade rag roller cover?
You can make your own rag roller by using a good quality nap roller with a plastic core. Try stapling squares or rectangles of chamois, felt, or cotton onto the roller. Position the staple in the center of each piece, leaving the edges free. Vary the position of each rag to create a more random texture. Space the rags close enough to each other that the staples aren't exposed. They can leave marks on the wall.
An alternative is the rap the roller cover with a rag, making pleats as you wrap. Fix the rag to the roller using rubber bands at both ends. You can also staple the ends.
Choosing Colors for Rag Rolling
Using a homemade rag roller to apply light color over dark.
With a rag roller, you will use the ragging on technique. This makes either subtle or dramatic results possible. It all depends on the colors you choose and how you apply the color.
For the most understated look, use hues in the same color family—two shades of blue for example. You can even use the same color. Just layer a glossy version of the paint over a flat base coat. Another option is to layer white, cream, or beige over a deeper shade. Try hunter green, mauve, or charcoal gray as the base coat.
Higher contrast provides a more striking effect. Try a yellow base coat and rag on red or green. Or, use a pale, cream colored base, then roll a deep, dark shade over the top. Try navy or chocolate brown.
Choosing Paints for Rag Rolling
While washes and glazes are the traditional choices in paint for rag rolling try experimenting with different types of paint. Metallics, textured paints, or pearlescent finishes can create interesting results.
Tips and Tricks:
It's important to make sure that your top coat is compatible with the layers underneath. It's not safe to apply a latex (water based) paint over an alkyd (oil based) one, but the other way around.
You should be absolutely sure that your base coat is dry before rolling on another shade of paint or glaze.
If it's wet, the colors will smear together instead of staying distinct and creating attractive textures.
Use two paint trays, one with the glaze or top finish in it, and a second just for rolling off the excess paint. Dip the roller in the paint and remove as much excess as you can in the first paint tray. Then give the roller a roll or two to blot it off in the second tray. This way you won't end up with excess paint or glaze on the wall.
Paint Royal Play Ragging Roller Effects living room design & Royale Play Texture Ragging Roller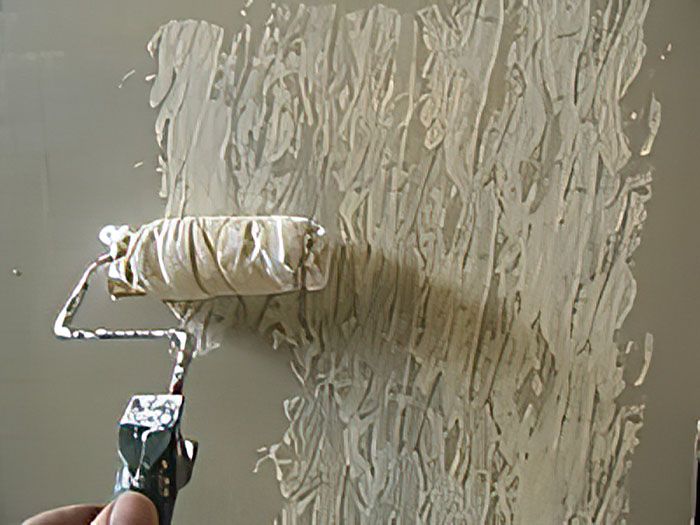 We bring forth superior quality painting tools in the form of Ragging Rollers with degsin, which are available in various widths and sizes. These ragging rollers give a textured finish to the walls. The textures thus created are very stunning and appealing to the eyes. We can also offer a customized range of ragging rollers as per client's requirements. Compact easy to replace roller sleeves soft handle easy to use.
We didn't invent Rag painting, but we sure made it easy. Ragging is one of the most widely used faux finish painting techniques due to it's crisp illusion of depth and texture. It creates a pleasing look and feel, adaptable to any decor. Result appear very subtle or distinct, depending upon your preference because you control the look by how much you blend.
Our ragging painting roller is so AMAZING that you'll be shocked! Beginners to Professionals. High-Performance and Durable Absorbant-Resistent Fabric For Use With All Paint Types
Holds it's shape all the way through your rag painting project. Doesn't get floppy or soggy.
Creates consistent and professional-looking Rag Faux Painting.Way faster and easier than traditional hand-held rags. Simply roll to your desired look whether it's a crisp and defined look OR a soft and muted look. If you're thinking about rag rolling, choose the DIY. Happy with the results!