Features:
Outside Corner Trowel Best Corner Drywall Tool Made of Stainless Steel with External Angled and Wooden Handle
--- Drywall Trowel for Finishing Outside Corners
Item No: GS -K004
Thickness: 0.3mm
About this item:
PREMIUM DURABILITY TOOL - The blade of corner trowel is made of highest quality solid, corrosion resistant top notch China stainless steel. Our tapered internal and external corner trowels stand out from the rest due to uncommon durability - the blade is made out of polished, tapered steel which is attached to the handle by forging. The other corner trowels are assembled by multi-spot welding.
PERFECT FOR CORNER FINISHING - Our premium quality internal and external corner trowels are perfectly used for shaping concrete around internal or external corners. Anti-slip wooden handle is located at the center of a 90-degree bend in the blade for balance and the ability to apply even pressure to both sides of a corner. Our corner trowel will help you finish the job faster, leaving better results in the end. It will also leave you with fewer aches and pains afterwards.
ANTI-SLIP WOODEN GRIPS - Ergonomic, anti-slip wooden grips provide exceptional comfort of use. We designed our internal and external corner trowels with taking special care to ergonomics of a grip. We wanted to make sure that your wrists are safe even if you work for a long time. Top quality materials of corner trowels with new comfortable grip ensures a long lasting usage. Each tool of G.SB is branded- this is our guarantee that every piece was carefully tested.
INNOVATIVE TECHNOLOGIES APPLIED - Our internal and external corner trowels are unbreakable. Forged connection between the handle and the blade makes us sure of the durability of our corner trowels. Due to constant investments in innovative manufacturing technologies we still increase our production effectiveness. During production process we went through all stages of production: designing, injecting plastic elements, cutting and bending metal parts, coating and assembly of final corner trowels.
SUITABLE FOR INTERNAL AND EXTERNAL CORNERS - Our angled corner trowels are irreplacebale in application of plaster on corners. Our corner trowels is an irreplacebale tool for creating a perfect 90 degree angle and perfect corners. Been having to do stress crack repairs in your house. Did some without this handy tool and some with. Omg. So much easier with. This corner tool is well made, the handle is comfortable, at a bit of a different angle than your larger one but once you found the best way to hold it, it was not a problem. - good quality, works great. no issues, good price. The trowel has a stainless steel blade that is corrosion-proof and long lasting. It has a soft grip handle which makes it more comfortable to use. The outside corner trowel has an offset handle for best results.
Made with flexible stainless steel that will adjust to provide smooth finish on inside corners.Heavy duty ergonomic wooden handle helps reduce fatigue when spreading spackle and paint compound. Our tools are built for reliable, daily use on the job site. Designed and built using nearly 20 years of input from professional finishers.
Outside corners tend to take a beating, so it is a good idea to reinforce them with a metal corner bead. This is nailed to the outside corner, and then joint compound is applied. Keep in mind that you should allow a day for drying for each coat of joint compound on corner joints.
Use this Outside Drywall Corner Trowel for professionally finishing outside corners. Its flexible stainless-steel blade provides a smooth, consistent finish. It also features an alloy-metal hammer end for improved blade protection and a lightweight wooden handle for slip-resistance and all-day comfort.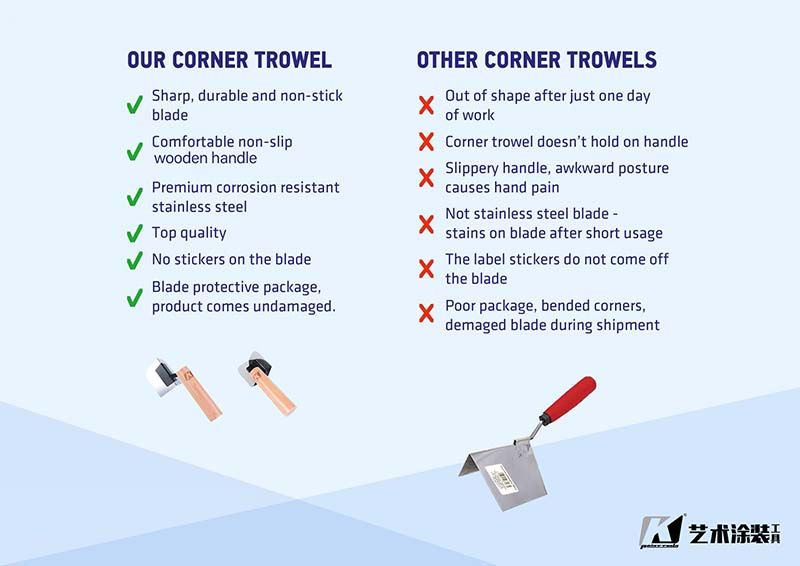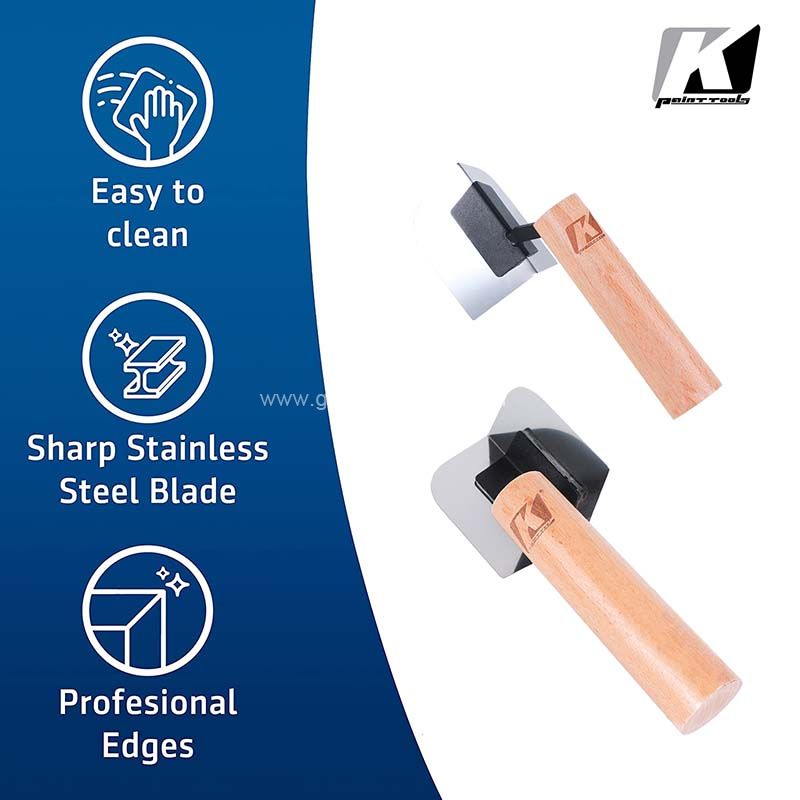 Features:
*100% brand new and high quality
*Made of high quality material, durable
*The body is made of high quality stainless steel, rustproof
*The surface of trowel is smooth without burr, which can let you have clean and smooth corner
*A useful addition to any gypsum tool kit
*The handle is designed by human body mechanics, with excellent hand feeling and more comfortable to hold
*Square and angle tools for display
*Application: it is suitable for wall corner molding, home DIY, etc
Specifications:
*Material: Stainless Steel
*Color: Red (As Pictures Show)
*Optional models: Internal / External (As Pictures Show)
*Quantity: 1
Package Contents:
1 * Angle Plastering Tool
Note:
1. The real color of the item may be slightly different from the pictures shown on website caused by many factors such as brightness of your monitor and light brightness.
2. Please allow slight manual measurement deviation for the data.
100% brand new and high cost performance.
Easy to use:a suitable size and shape.
Made of regular-material,more durable.
In order to achieve the best results, please keep it safe before and after use.
The real color of the item may be slightly different from the pictures shown on website caused by many factors such as brightness of your monitor and light brightness.
OVERVIEW:
This Outside Corner Trowel is designed for smoothly applying drywall compound and mud to outside corners for precision results. Its wooden handle offers all-day comfort and additional slip-resistance. It also features an alloy-metal hammer end for improved drop protection and resetting nails & screws.
DESIGN FEATURES:
High-quality, flexible stainless steel provides a smooth finish on corners.
Lightweight, double-riveted soft-grip handle ergonomically designed for all-day use.
Alloy metal hammer end for resetting nails and improved drop protection.
Large, accessible hang holes for easy drywall tool organization.
How do you use an outside corner trowel?
With moderate pressure you just run the trowel down the corner, from top to bottom, flattening the tape and removing any excess mud as you go. You can then smooth a layer of mud over the top using the trowel again.
What is a outside corner tool?
Drywall Outside Corner Tool with Wooden Handle is the ideal or the best outside corner drywall tool for finishing your drywall corners. Made of high grade stainless steel, this corner tool flexes for that perfect 90 degree finish. The wooden handle allows for more control and less hand fatigue.