Features:
Spiked Roller for Self Leveling Concrete Aeration Latex Screeding Compound Smooth Level Screed Surface Flooring
Product Description
High Quality Material - The screed spiked roller is made of polyester, plastic handle, and metal connecting rod, durable to use.
Easy to Install - The spiked roller simple to use and effective, with plastic handle desigened with a round hole, can use a same inside diameter extended cylindrical to match.
Application - Screed Spiked Roller is used to remove air bubbles when brushing paint, make the ground smooth and without air bubbles. Suitable for epoxy floor paint construction, better effect.
About US
All of the products we sell are strictly selected, we provide high quality, the most popular, affordable price products to worldwide.
Warmly Note:
1).The colors may have difference as the different display, please understand.
2).Please allow 1-2mm error due to manual measurement, please make sure you do not mind before you bid.
What is a spiked roller used for?
Spiked rollers are used for thick epoxy floor coats (at a minimum of 1mm (1/24 ") in thickness. In epoxy floors the spiked roller serves two main purposes. 1. The first purpose is to eliminate and burst bubbles, pinholes and other pockets of gas that may be present in the screed.
Do self Levelling compounds need a spiked roller?
A spiked roller must be used on the newly laid screed to release trapped air bubbles, preventing them from curing on the surface. If a spiked roller is not used, air bubbles will form on the surface and will ruin the finish of the smooth leveller, it may also cause lifting or cracking further down the line.
Coating work, wall and floor finishing and substrate preparation have never been so easy. What would a painter, a floor layer, a bricklayer or your renovation be without the right tools? The spiked roller, also known as the vent roller, nail roller or roller, wallpaper hedgehog or hedgehog roller, has become indispensable for manual work.
Their names are as varied as their areas of application. On the one hand, the auxiliary tool prevents air pockets and cratering when coating and levelling different types of floors and levelling compounds. On the other hand, wallpaper can be scratched, perforated and removed in no time at all.
Spiked rollers are available for floors and wallpaper. They are used for processing and levelling a wide variety of masses and substrates. Important purchase criteria are the dimensions, the material, additional items, cleaning and the intended use. The price of the spiked rollers depends mainly on the scope of delivery and the size of the roller.
Buying and evaluation criteria for spiked roller
To make your decision easier when buying a spiked roller, we have listed the most important buying criteria here. Based on these criteria, you can find out which spiked roller is best suited to you and your renovation work.
You should use these criteria when comparing the rollers:
1.Dimensions
2.Material
3.Additional items
You can find out why these criteria are important for your purchase decision in the following descriptions.
Dimensions
Do you want to work on smaller or larger wall or floor surfaces? Depending on the dimensions of your roller, you can complete your work faster. If you are working on a larger surface, a roller with a large width makes sense. It is important to pay attention to the width of the roller. In addition, the spike length determines the construction heights for which the roller is suitable.
Material
You should consider the material of your roller and especially its spikes. Do you prefer a product made of wood, aluminium, plastic or steel?
The texture will tell you something about the properties of your roller. Whether the roller is user-friendly, sustainable, stable and durable can be concluded from the properties of the material, such as weight, high quality and durability. It is also relevant whether the material has been tested. We recommend that you choose according to the surfaces you work with and ask yourself which properties are particularly important to you.
Additional items
When you are looking for a spiked roller, you will come across many options and accessories. If you don't have an extension pole, you can buy a spiked roller with an extendable telescopic handle. These make it easier for you to work on high walls, for example, and are more comfortable overall.
A splash guard is suitable for working on stains and dirt on surrounding surfaces. Reclosable protective caps for pointed nails on the rollers protect you from injuries.
You can also look for other extras such as a wallpaper scraper or nail shoes. It might be worth your while to buy a set?
Cleaning
Are durability and sustainability important to you? Make sure your product is easy to clean. The material is a decisive criterion, but you can also look for detachable handles. If you choose a product made of plastic, it should be solvent-resistant.
Handling
Working on floors and walls can be very tiring. Accordingly, you should pay attention to the handiness of the roller. The grip of the bar is an important criterion here. Extension rods contribute to easier handling. The previously mentioned criteria such as material, dimensions and additional items are also important for handling. In addition, you can look for anti-slip protection on the handle.
Intended use
Your purchase decision should be specific. Before you decide on a roller, you should think about the material it will be used on and the surface it will be used on. It is important to note that there are big differences between rollers for wallpaper or rollers for floors. The spiked rollers for wall treatment are generally smaller. Make sure that your product serves its purpose on the respective floor coating.
What is a spiked roller?
The spiked roller is a tool for craftsmen, painters, floor layers and for anyone who carries out a craft activity. Be it privately due to own renovation work or professionally. The roller is a roll covered with pointed spikes. It can be used for wallpapering and for working the floor. Results are achieved by rolling movements so that the spikes penetrate the material or the wallpaper.
When wallpapering, the roller ensures that stubborn, stuck wallpaper is easier to remove after perforating. Perforating cuts into the wallpaper at small intervals so that your wallpaper stripper, water or steam can be absorbed into the substrate more quickly and carefully.
When working on the floor, for example when applying levelling compounds before tiling, you can use your spiked roller to deaerate. The liquid compound can be better distributed and prevents air bubbles from forming. The surfaces can thus be smoothed.
What types of spiked rollers are there?
Basically, it is important to distinguish between spiked rollers for wallpaper and for floors and levelling compounds. These are available in a wide variety of versions. Most in demand are the rollers with spikes, made of various materials and in different sizes.
There are rollers with a normal handle or also extended. In addition, we distinguish between narrow and wide rollers depending on the size of the work surface. The spikes can be of different lengths and can also be made of different materials. The entire roller can be made of different materials, such as aluminium, plastic, wood, steel and metal.
However, rollers that are used in the agricultural sector or for horticulture are also in demand for aerating lawns, which is also called aerating. This is used to maintain the lawn, because by cultivating it or cutting it with the spikes, it gets air through the holes created. In addition, the spiked roller destroys weeds.
Alternatively, nail shoes are another type of spiked roller. They allow the soil to be walked on and aerated during cultivation and are sometimes used in addition to the spiked roller.
Another type of spiked roller is the dough aerator. Visually, this variant can be thought of as a miniature form of the manual hedgehog roller. It is used for perforating before baking and prevents bubbles or air pockets from forming in dough, for example.
Which floors can be treated with a spiked roller?
Different products and compounds are used to remove unevenness from floors and for their treatment. On the one hand, the roller can be used to work on self-levelling compounds or levelling compounds. On the other hand, the spiked roller is also suitable for screed floors or concrete.
When perforating wallpaper, you should make sure that the roller is handy and light so that you do not get tired during the work and achieve perfect results. With the hedgehog roller you can remove your old wallpaper in no time at all. Relevant evaluation criteria are the dimensions, the material, the additional items, the cleaning, the handling and the intended use. If you take these criteria into account, you will invest your money in a good quality and practical roller.
How to produce?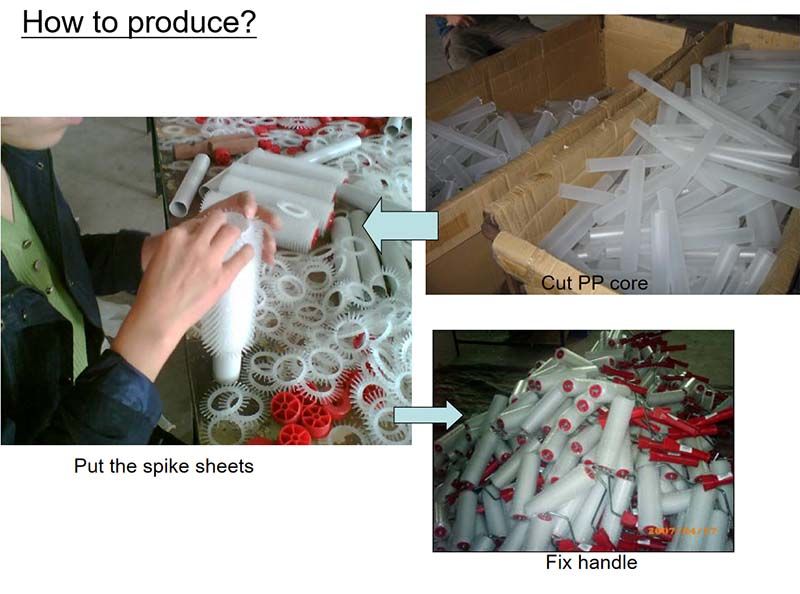 1.Put the spike sheets
2.Cut PP core
3.Fix handle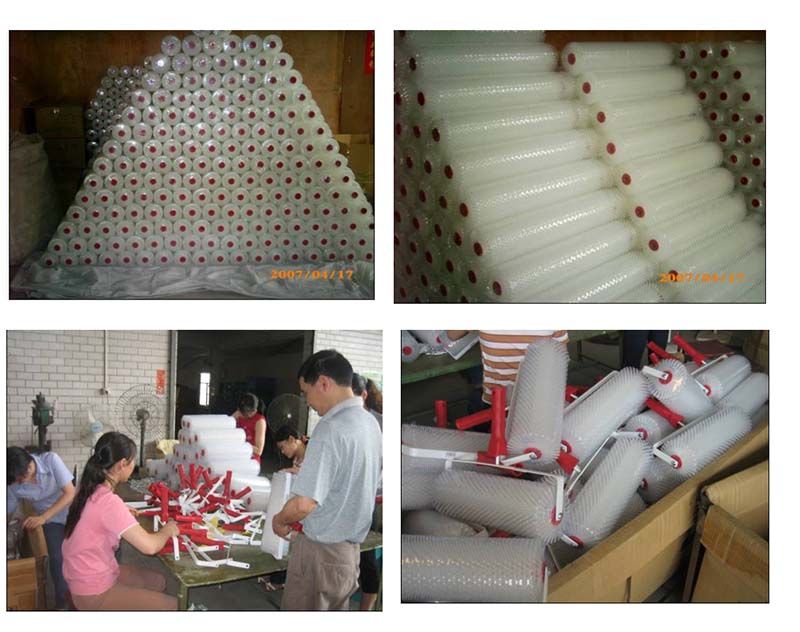 G.SB Paint Tools Co., Ltd. is a professional manufacturer of Spiked Roller - Paint Tool manufacturers & suppliers , having 18 years experience in researching Spiked Roller and developing different paint tools.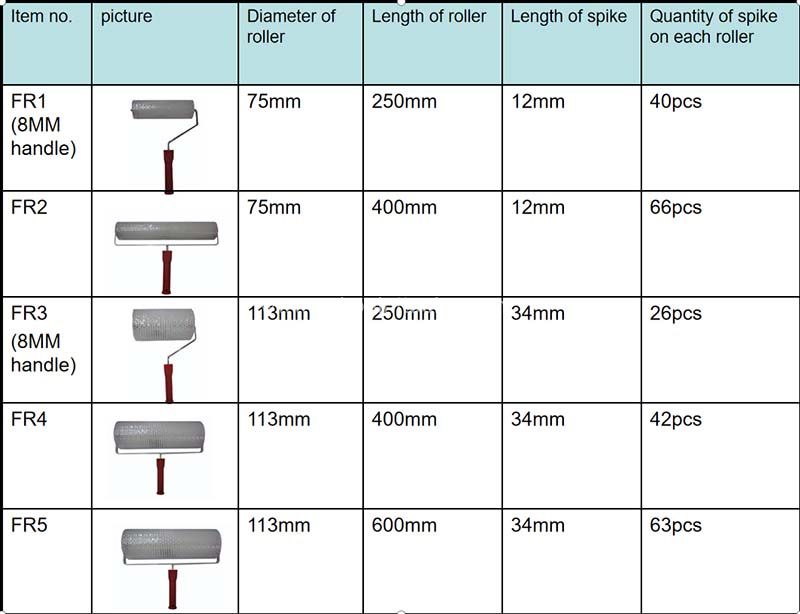 Features:
For floor paint construction,bring wonderful effect,can given an extensive finish.
Plastic handles is helpful to use the brush paint tool easily,help to reduce fatigue for your hand.
Squeegee roller is used to comfortably move the squeegee in any area while unfolding. At the same time, bubbles can be removed to make the surface smooth and flat.
Customer Service:
We are super confident in the quality and comfort of our product. Try our products and if you don't absolutely love them just let us know, we are at your service and will try our best to do it well for you. We are committed to bringing all of our customer an pleasant shopping experience.