Custom Soft Pattern Paint Roller with Design
Paint the Walls with a Pattern Paint Roller – Top or Flop?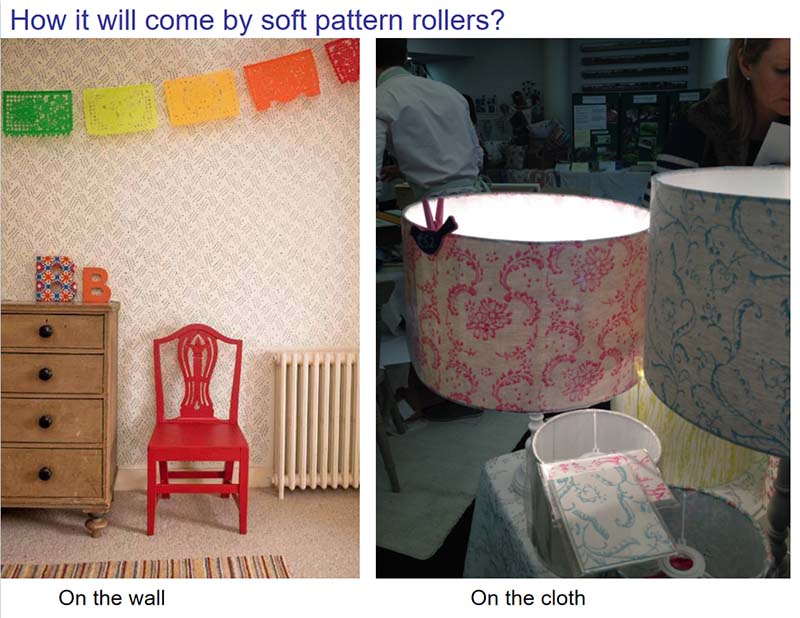 Pattern Paint Roller for Wall Decoration

Wallpaper, colorful walls, pictures. I'm a big fan of diversity, and under no circumstances should one wall be the same as the other. My redesign anger in relation to walls is perhaps simply due to the fact that we have woodchip wallpaper here and woodchip is really anything but sexy.
Inspired by a traditional art form, the wallpaper replicates the patina of a gracefully aged porcelain. The resulting pattern is full of beautiful tonal variations that will add depth and drama to any kitchen or bathroom setting. Each design is carefully tailored to today's decor trends and is perfect for renters and homeowners looking for an instant, DIY transformation to their interior space. The soft pattern textured roller with the same qualities and durability as permanent wallpaper, this product offers an easy, fresh alternative to decorating with very little commitment.
I have already painted our walls with bright colors, tested them with chalk paint or covered them with decorative wallpaper . What was still on my bucket list when it came to wall design: the paint roller with a pattern for design, also known as a textured roller.
Evolution of Roller Brush Product Design
There are two competing claims for the inventor of the roller paint brush. In one corner, an independent Canadian inventor Norman Breakey. In the other, Richard Adams, an American engineer for Sherwin Williams.
Both gentleman developed an idea for a cylindrical brush to apply paint in the early 1940's. However, their motivations were quite different. Breakey's goal was to streamline the painting process, while Adams was trying to overcome wartime shortages. The Japanese blockade of mainland China had cut off the supply of hog bristles which were the main material for paint brushes at the time.
Adam's original design called for a sponge rubber roller to absorb, hold on too, and deposit the paint. Breakey simply used a material recommended to him by his local fabric salesman. It was a green velour, traditionally used to cover the insides of rail coaches.
As an independent inventor, Breakey was unable to fund an initial production run. Unable to secure investors, he did not patent his invention. Other companies heard of the idea and produced their own variants, leaving Breakey far behind.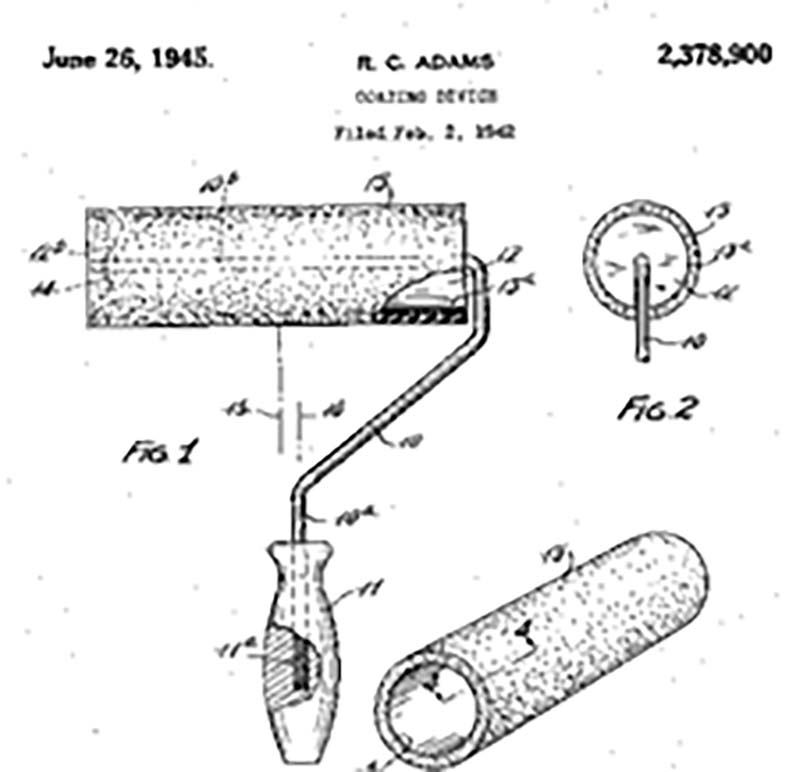 Adams, with Sherwin-William's backing, filed a patent on February 2, 1942. In June 1945, Patent US 2378900 A was approved and claimed an invention that: "…relates to a coating device or applicator of the roller type for applying paint or other coating materials to various surfaces, and aims to provide an improved and simplified construction for a device of this kind."
In the intervening 70 years, the form factor has remained essentially unchanged. The figure below shows the original patent sketch; it should be very familiar to anyone who's painted before. While the general form has remained the same, several variants have developed. These variants specialize the roller design to be better suited for certain tasks.
The most common brush is the traditional roller. These rollers can be mounted on long handles for ceiling painting and other hard to reach areas. A relatively new version is the "hot dog roller" (AkzoNobel, n.d.). It is a much smaller version of the traditional roller that allows painting in small areas and tight corners.
As efficient as they are for wide open walls, it can be difficult to paint around trim with the traditional roller. The pad roller was designed to bring roller efficiencies to trim and other detail painting. These brushes are made of a highly absorbent pad that rides along the wall on small wheels. The pad skims over the surface depositing the paint without having to worry about splatter.
The brushes themselves have also diversified. Depending on the task and the project, a painter can choose from a myriad of materials and roller styles. Some are designed to hold the most amount of paint while others can form textures or complex patterns.
Today you'll find everyone from personal homeowners to large painting and contracting companies using a paint roller. No matter the painting task it's easy to appreciate the roller's efficiency and quality.
A lot of people enjoy house painting, but cannot stand to do the trim work. We try and paint as much as we can with the roller. Inevitably I'll get to close to the ceiling or some other trim piece and get paint where it shouldn't be. Before this project we hadn't heard of pad rollers, and I'm not sure I'd spend the money for as little as I'd use it. We need a simple cheap tool to help me paint close to trim pieces with the paint roller I already have.
Somebody propose a foam "wheel" that they can stick to the edge of my roller with an adhesive pad. The foam will provide a buffer between the ceiling/trim and my roller. The width the of the foam will provide the minimum offset between the trim and brush. It could be offered in various widths, but I think ¾ inch would be a good starting point.
The ridge is very important as it is the dam between the trim and the paint coming off the roller. These wheels must be cheap as they are meant to be disposable. As soon as the wheel gets too much paint on it or the ridge allows paint through, tear it off and put a new one on.
Patterned paint rollers? Where can I get products from?
For a long time, many painter didn't even have these textured rollers on their radar, which you can use to paint patterns on walls. Because these paint rollers are still not available in some hardware stores. The painters first became aware of this creative design option through Pinterest or youtube.
The desire was awakened. So that, a lot of painters wanted to try these textured wall paint rollers! And many peopel found it! On G.SB website ! There they found G.SB website with paint rollers with patterns. And G.SB website has now become the most important professional manufacturer for trading in pattern paint roller supplies in china.
How do I get a pattern on my wall with the paint roller?
The principle behind the structured paint roller is very simple. Two color rollers sit on an applicator . A silicone roller with a pattern and a foam roller. The foam roller soaks up the paint and, when using the applicator, constantly releases paint onto the silicone roller positioned above it. The pattern paint roller with structure works like a rolling stamp. Furniture, paper, fabric everything can be "printed" with the roll. only the color needs to be adjusted. The system only works with liquid but not water-based paints.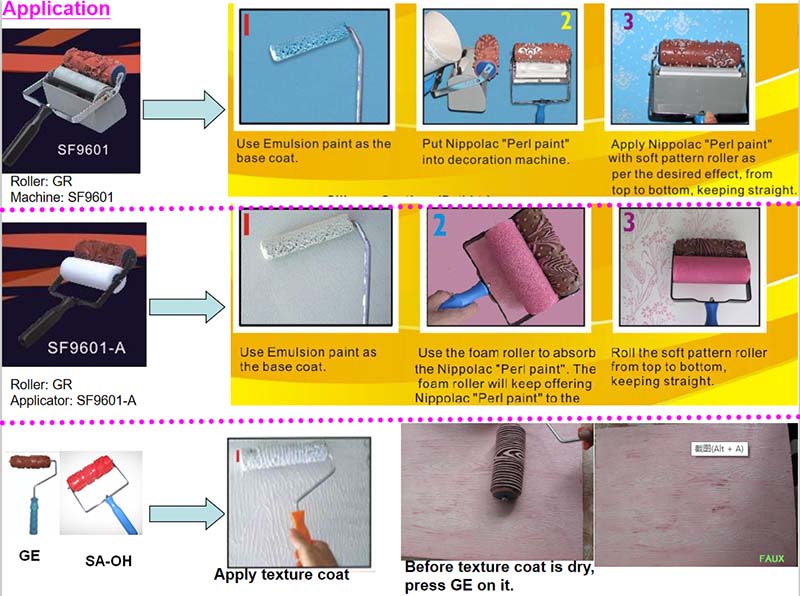 In 5 Step-by-Step to the Pattern on the Wall
1. Use masking tape to mask off any areas you do not want to paint on the wall. While this takes some time, it takes much longer to fix mistakes after painting, which inevitably happen without masking.
2. Mount the paint roller with pattern as indicated in the instructions: The foam roller should be placed below the silicone roller.
3. Put paint on the foam roller. I found it easiest to put some paint on a brush and brush it onto the foam roller. Alternatively, you can put some paint on a flat surface and roll over it with the foam roller until saturated with paint.
Don't apply too much color! As with a stamp, if there is too much ink, not only will the highlighted motif be printed on the wall, but also the rest of the roll.
4. Test the pattern on a piece of paper. I recommend rolling the textured roller over a piece of paper. This way you can check whether you have installed the silicone structure roller the right way around (many patterns have an up and down e.g. flowers, trees, animals) and you can see whether you have applied too much or too little paint to the foam roller .
5. Roll the whole construction over the wall. I found it much easier to acidify the pattern by rolling slowly across the wall rather than quickly. Then it was easier for me to stay on track.
Shit Happens...But even the Bugs Look Good!

You will really didn't know what to expect with the sample roller. You maybe haven't watched any YouTube videos or seen any other blogger using the paint roller. Therefore, a lot of painter ware not at all convinced beforehand that the textured roller would also deliver a good result. But it really has! Even though you maybe made some mistakes:
-the first strip was a little crooked.
-there are places where you painted twice over each other.
-because of our sloping roofs you had to turn the roller parallel to the sloping roof in order to print individual flowers in the corners.
-You are with the roller on the beam of the Half-timbering got stuck.
Nevertheless, everything looks great! Small mistakes simply disappear in the pattern. The only visible and slightly noticeable flaw is a spot where I over-painted twice and added a bit too much paint.
Woodchip & sample roll? A good idea?
With almost every creative wall design, the question arises: does that also work with woodchip?
In this case I think the result is successful. However, the pattern looks different than it would on a smooth wall. The pattern changes.
It is not printed evenly everywhere, giving it a vintage effect. You have to like it, but I like it a lot and 100 times better than just white woodchip wallpaper.
Please, please get rid of those terrible white woodchip wallpapers in rented apartments! This is really not a modern wall design anymore...!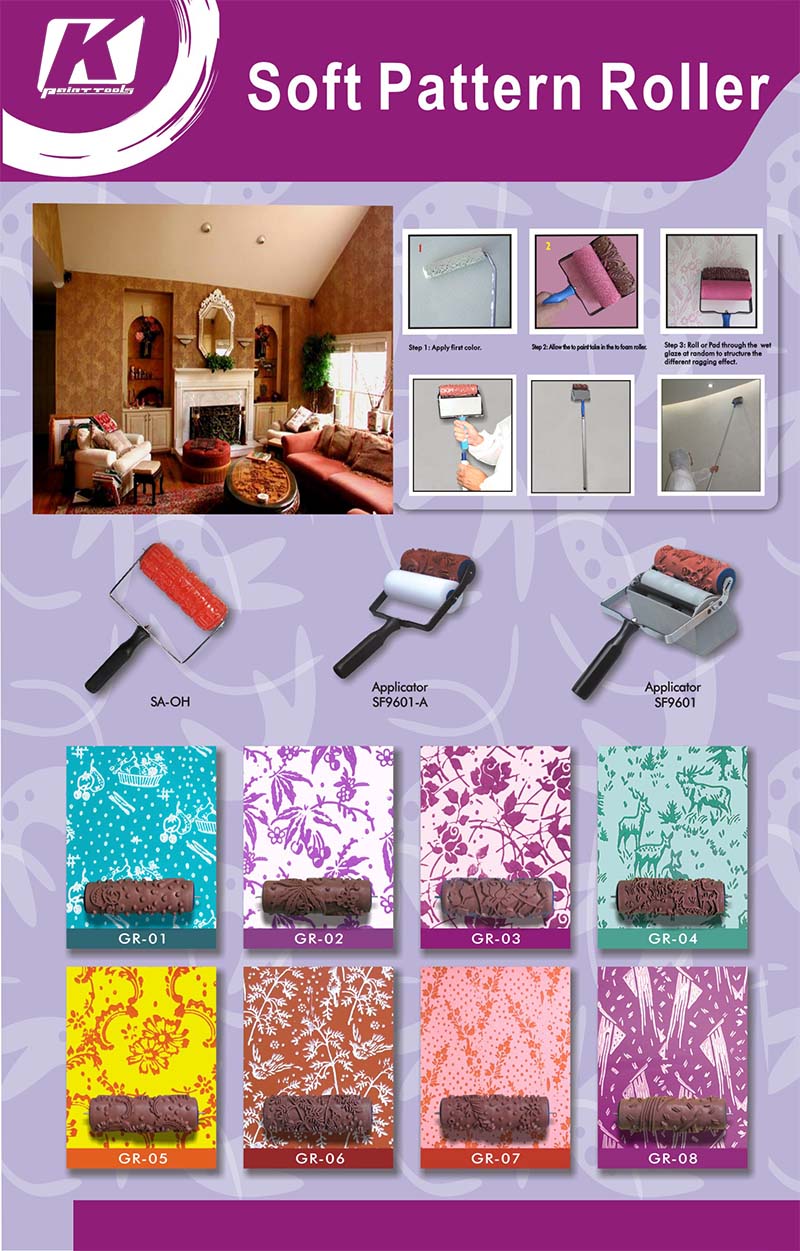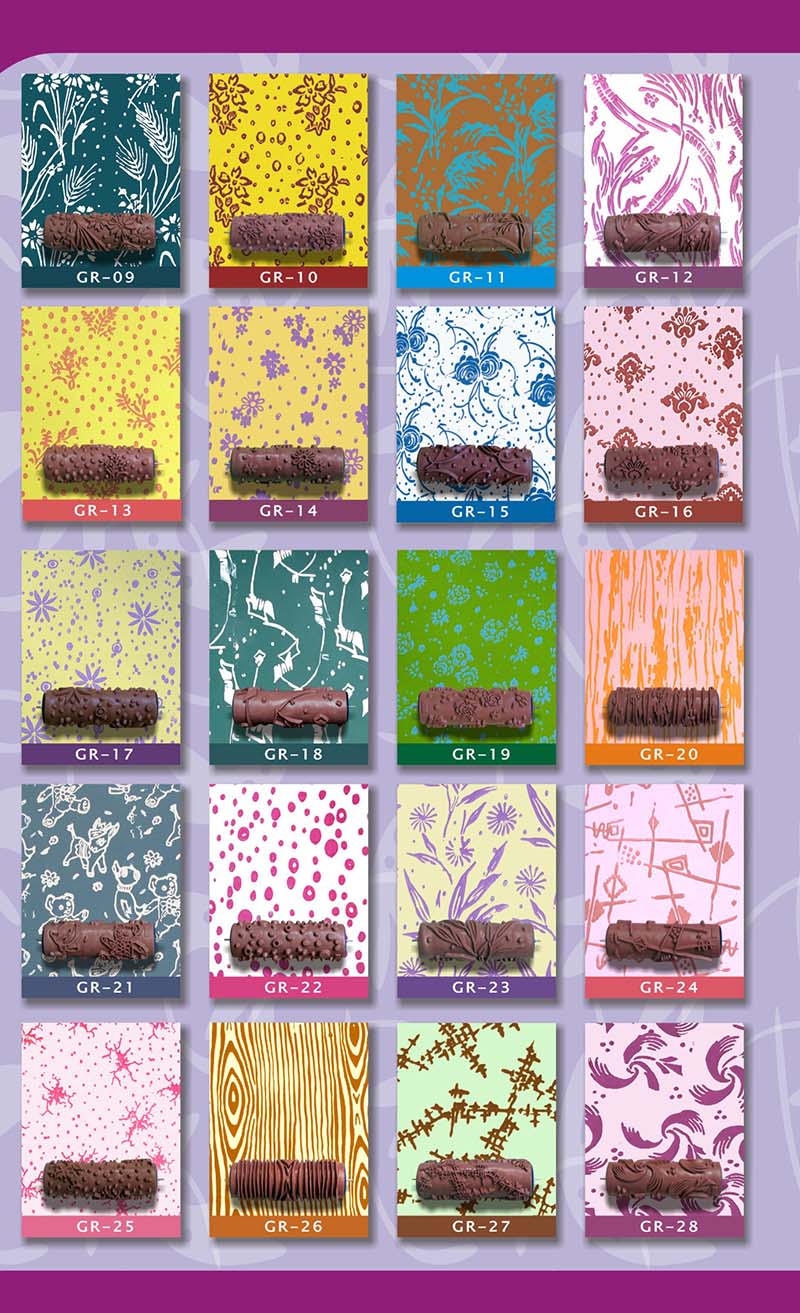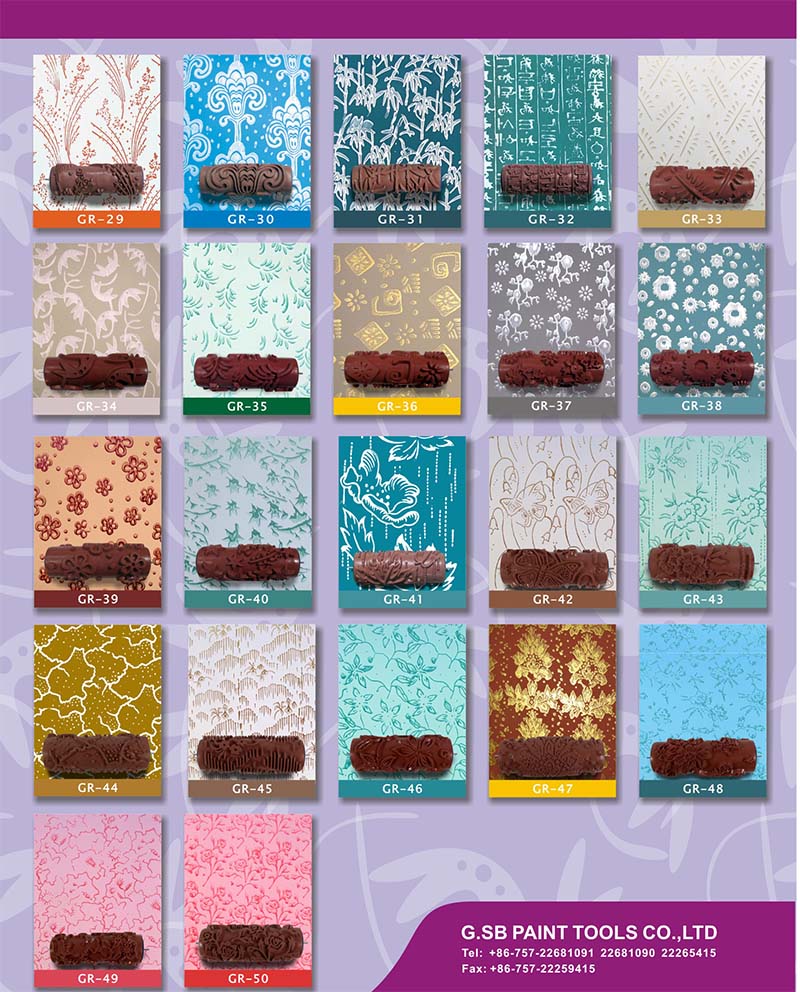 Remark:
All the soft pattern rollers can be changed color.
We can make other colors besides red.
Peter would like to repaint his study and is therefore looking for ideas and inspiration. A pattern would actually be a great idea! The roll looks very nice and he like the vintage effect! Many people is also a big fan of variety and variety. The idea of painting the wall with the paint roller is very good and also very successful. They would love to do that too, but they don't dare to do it alone.
Two weeks ago Peter had three rooms in his apartment repainted by a master painter and now he is considering whether he should do the wall design in the bathroom or guest toilet with a sample roller. He would have to watch some videos to gain confidence and cross it out on his own. That's why Peter just feel safer when I have an expert who can do it quickly and cleanly. Of course, with these bars it is much harder to cross out and mistakes can happen. Have fun crafting.
"I'd like to brighten up the walls of my apartment a bit, as I've seen plain white walls for too long", Peter says. Now Peter is looking for inspiration and I really like your example. He doesn't even know that there were special paint rollers with patterns. This is of course a really great idea and really enhances the walls. Peter will look around for a role that he like and then become a painter and let off steam on his walls.
Tips: Pattern roller helps against scribbles on the shop facade
Pattern roller helps: Again and again, untalented artists paint, spray and/or smear strange signs on the facade of my hairdresser's shop. My neighbors are also affected by this kind of unwelcome beautification.
Fact: I really don't enjoy removing those unsightly inconveniences with caustic paint thinners. It's also too time-consuming for me and leaves ugly visible paint residues on the porous surface even when used very carefully. - "My idea was to make these youthful 'substitute ejaculates' invisible simply by painting over them."
Wishful thinking: Instead, removing these unwanted smears should cause me as little effort as possible, cost nothing and even be fun.
Historical: My four pillars on the shop facade consist of old cladding panels that were usually available after the end of the war. Yes, the foundation of the house also consists largely of war debris.
That's the way it is: weather that has been acting on us for decades, hectoliters of caustic dog piss as a scent mark (probably a similar motivation to the graffiti scrapers: "I was here!") and visible decay of the joint material made it necessary to repair the facade anyway.
Perhaps these dull-cheeked scribble philistines were only given free gifts by the manufacturers of the felt-tip pens and paint spray cans because the use-by date has passed? Or is the consumable stolen goods that should be smeared across the board so that everyone can benefit from it? Or is it the sons of these manufacturers – confused by their sexual maturity, presumably comparatively neglected and therefore depressed – who are writing a message to the world outside?
Yes, which one please? Or is it just obedient, advertising-remote-controlled consumers of these products, which are suitable for quick, cowardly vandalism? — mixed mail! — That will probably never be clarified, because there is no recordable origin/address of the photo-shy author of the tasteless trash.
I opted for a gentle restoration (preservation of value), which I can also do quickly myself. Always spontaneously, always after one of those makeshift-funny doodle attacks, which I will use creatively from now on.
Screwing a plate in front of the façade columns or covering it with foil or painting it in one color didn't come to my mind. Passers-by can see that this is a house with a past.
I like it when my shop facade is clearly different from those of my neighbors. However, not through illegal wall graffiti, which in my example really has nothing to do with "art in construction". Potential customers scurried past the store in just a few metres/seconds and whoops. So that, something has to be impressive, something that even people staring at their cell phones sipping past the store will somehow notice.
This primitive optical vandalism can be counteracted very easily and creatively with the sample roll if you know how it works.
a: Preparing the surface: cleaning, filling the joints, removing stickers - Prepare the sample roll: assemble + paint + practice something on cardboard.
b: Repeated rolling for creative effects: The substrate should not be completely rolled over, but offset several times.
c: I always start from the bottom + roll up. This makes it less opaque at the top because there is less paint in the sponge roller when I get to the top.
This gradient leaves the top of the columns completely colorless. So with the original original underground.
This is the perfect method to "overpoint" later scribblings quickly/on the side. Little by little, a truly extraordinary work of art is created.
Trick: If the color of the scrawl is blue, for example, then I just roll additional blue dots over it. This will instantly make the comical scribble invisible. The color blue but to a colored accent.
When preparing my facade design, I also remembered that in old half-timbered houses, the walls, especially in the kitchen, were still whitewashed.
An advantage of this wall painting method is that the substrate (the plastered wall) can breathe.
Air humidity, which increases when cooking with pots (evaporation of water), can be absorbed by the wall and then slowly released back into the room air. For a great climate, don't forget to air the rooms.
In contrast to wall covering with wallpaper, there are no overlaps and/or butt-to-butt grooves in the wallpaper strips. Walls in old houses are never smooth + often have dents if the subsoil is clay.
Small blemishes make these walls unique and interesting. The eye can wander. Children suddenly see "monsters" when the light is dimmed or only a candle is the light or sunbeams (including reflections from smooth furniture surfaces) dance on the wall.
If the white monochromatic surface is too monotonous for you, you can decorate it with a sample roller. Only in certain places (also as a border) or a part of the wall surface or completely.
The background is also often tinted in color and the sample roll is often soaked with a much darker tone-in-tone color. Or vice versa: dark wall + light pattern on top.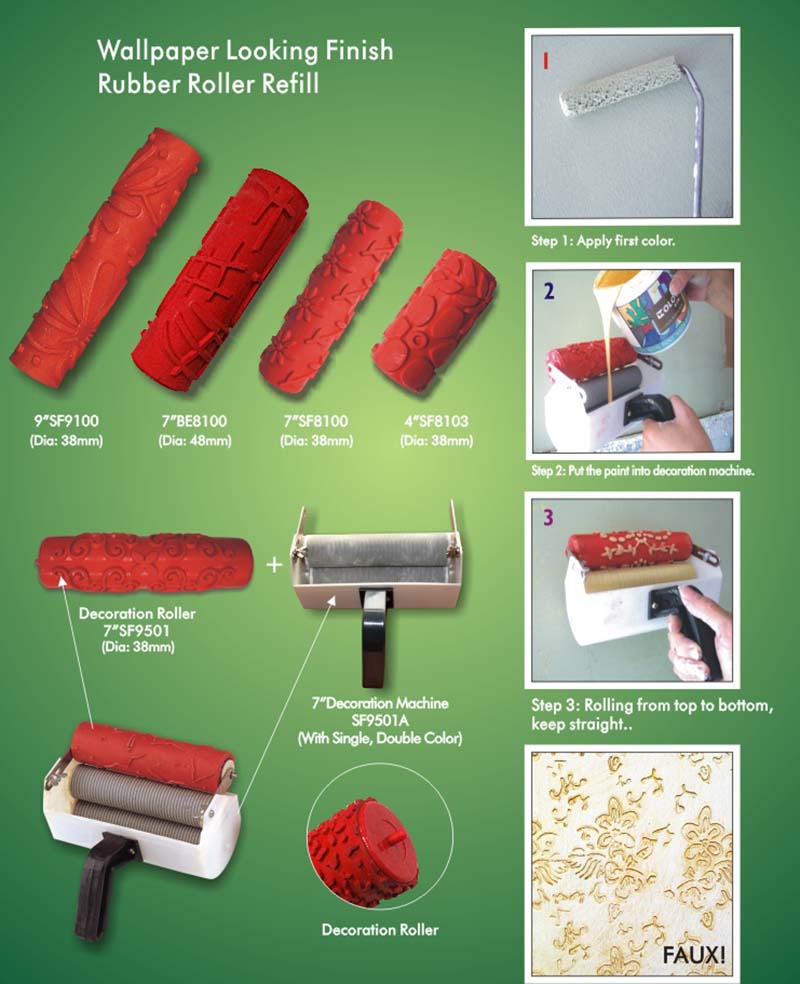 Classic painting tool with current cult status.
The pattern paint rollers from G.SB are manufacturedseamlessly.
Customers around the world value the quality.
Design Rollers for Painting | Paint Roller Design | Texture Paint Roller Design Pattern
Do you like patterns? I hope so, because it looks like we are going to have to say goodbye to plain white walls. The wallpapers and the walls with designs…etc. They are back in fashion! If you choose the pattern or design well, you can achieve a WOW result for any room.
Surely you have already seen more than one image or someone has told you about decorative rollers that, thanks to their design, create a pattern on the wall, leaving finishes similar to wallpaper. With these decorative rollers, we can do without wallpaper, either because it is more expensive, or difficult to put on, because we prefer paint or for whatever reason.
What are textured rollers?
They are a kind of "stamps" but adapted to the shape of the roller. They have a relief on their surface with which they are capable of capturing shapes when passing them through the wall.
They are designed so that the drawing pattern is continuous. This means that no matter which side of the roller you start on, the wall design will not show any jumps. You will have a continuous drawing along the entire length of the wall.
The case is that due to the great variety of designs available, and its low price. We can decorate the walls in many different ways. We are going to see some of the rollers available and learn more about them. There are different models, here we leave some designs available.
These decorative rollers(Paint Roller Design) - Design Rollers for Paint, in addition to decorating the walls, are also used to decorate other surfaces such as fabrics, curtains, cushions, and practically any paintable surface, apart from furniture of course.
Painting with these rollers is nothing new, this technique was already used by our grandmothers to decorate their houses, but these patterns are different, more current and modern. To decorate the walls with one of these rollers, simply stain it with paint and then pass it over the wall in the same direction to achieve a good finish.
In addition, to make it even easier, there is an applicator roller for sale that is used to avoid having to dip the decorating roller in paint. Although it is not essential, because only with any of the rollers it is enough to decorate the wall, if we have a large surface to paint, this supplement is appreciated.
Create a Stamping on any Surface Easily
The K Brand decorative rubber roller is amazing and I was crazy to tell you something else about this product. It is perfect for recreating decorative motifs, as if it were wallpaper, on any surface. Yes, not only on walls, you can also stamp furniture, textiles or... Whatever comes to mind!!!
How Texture Paint Roller Design Pattern Works
It is a special roller to create patterns that has a double roller system: a foam roller for painting and a rubber roller for the design. Once the foam roller has been soaked with paint, you just have to move the rubber roller across the surface. This roller is impregnated with paint and, in a jiffy, ready print and finished project.
Tricks for Using the Paint Roller with Design
1.Using this roller has some other mystery. For this reason, we are going to tell you some tips so that it is easy for you, your project turns out perfect and you cannot avoid repeating the experience.
2.Before you start: clean the surface you want to paint well. Outside grease and dust.
3.Do not load the roller with a lot of paint and drain it well. The more paint the roller has, the more likely you are to have bubbles appear on the surface (and that's not good).
4.The roller should never be pressed against the surface. Slide it gently!
5.You must always slide the roller in the following orientation: left-right or up-down.
6.When placing the roller, the design of the roller must face the front, otherwise the print will be upside down
7.The angle of the roller is very important, it should never be in a vertical orientation, but the roller should be placed horizontally to the wall.
8.To finish: clean the roller well. Give him love if you want to keep him for a long time.
9.What do you think of this new product? Would you like to try it? If yes, can you tell us what you would paint with the decorative rubber roller? I'm curious!
Textured Pattern Paint Rollers for Painting Walls
Decorative rollers are a fantastic solution for painting walls with textures. It is a quick way to get some original walls. There are many different patterns, from floral motifs to the imitation of bricks or stones. You will have to look for the one you like the most and decide the colors that you are going to want your wall to have.
Types of textured rollers
There will be two types of decorative rollers:
1. Simple rollers: you only have the roller with the drawing and you will have to dip it in paint after each pass.
2. Double rollers: they incorporate a second roller that soaks the embossed roller with paint.
You should keep in mind that you need to combine two colors. You should think about the background color (it will be the base color of the wall) and the color of the figures (the one that will capture the textured roller).
It is important that you think carefully about which wall you are going to use them on and with what colors. If they are used well that they will create wonders, but an uncontrolled use will make the wall very full of shapes and colors. That is why I recommend you see a few examples with which you can be inspired.
Examples of painted walls
Those that imitate the effect of brick are very striking. Or those that create a stone wall look. But the truth is that decorative rollers are true works of art. Here are a few rollers with amazing designs.
About Texture Roller
Paint rollers achieve unparalleled finishes on the wall of your house. Surely you already know those rollers that can help you add patterns and textures with very little effort : textured rollers.
These are an original and cheaper way to decorate the interior of your house since they allow you to capture a drawing or textures on any wall more quickly and easily, they have several advantages compared to templates.
They are also much cheaper and less cumbersome than wallpaper . These rollers have a series of particularities that you should consider when using them to paint the interior of your house.
But don't worry, we will give you some recommendations when using, cleaning and storing them. This will allow for a flawless, show-worthy finish to the interior of your home.
How are the textured rollers and Wall Painting Brush
The rollers measure approximately 10-15 cm and are very similar to ordinary rollers. The main difference is that its head has a relief design. This head is generally interchangeable to alternate the different designs. Each head is made of a plastic material that makes it easy to clean depending on the paint used.
Before starting to paint with the figured rollers, we recommend that you practice on another surface, such as on some paper. This will allow you to get used to the technique and force you need to use to get the pattern lined up correctly on the wall you are going to paint.
Make sure the roller is well coated with paint to cover the entire area with the pattern or texture before you roll the wall. It goes without saying that you must be fully sure of the method of use and the amount of paint to be used. Once the roller has passed, we will not be able to pass it a second time. There are no second chances. When painting the wall with the textured roller you should:
Do it from Left to Right
1. Pass only once vertically from top to bottom, always carefully and without tightening the roller too much;
2. In each pass of the roller you must be careful that the impression remains with the same color intensity;
3. Always apply the same amount of force and follow the markings on the pattern;
You should also keep in mind that a textured roller is much easier to roll over on very smooth surfaces. This avoids deformations in the drawings or textures. It is recommended that the wall be previously painted with a much lighter color compared to the paint that will be used.
Maintenance Recommendations of Texture Roller
Because textured rollers are usually made of plastic, they are easier to clean than regular rollers. Depending on the paint used, you can choose to clean your roller with solvents or with water and a little soap. The best way to do this is by submerging the roller heads for a few seconds, then gently wringing them out. Repeat the procedure as many times as necessary.
Never leave your rollers uncleaned, as the paint can affect the embossed motifs over time. After cleaning the figured roller heads, you should leave them in a ventilated place but not in direct sunlight. A few hours later, with the rollers already dry, you can wrap them in absorbent paper to store them in a bag or box to prevent them from getting dirty and are ready to be used for the next occasion.
Textured rollers are an innovative tool that allows you to beautify the interior of your home in a simple and unique way.Compared to wallpaper and templates, they are a much cheaper and easier to use option. They produce finishes just as charming and beautiful as other techniques while saving time.As you can see, textured rollers are a good alternative to create something different at home. Give yourself time to practice a little and enjoy the result.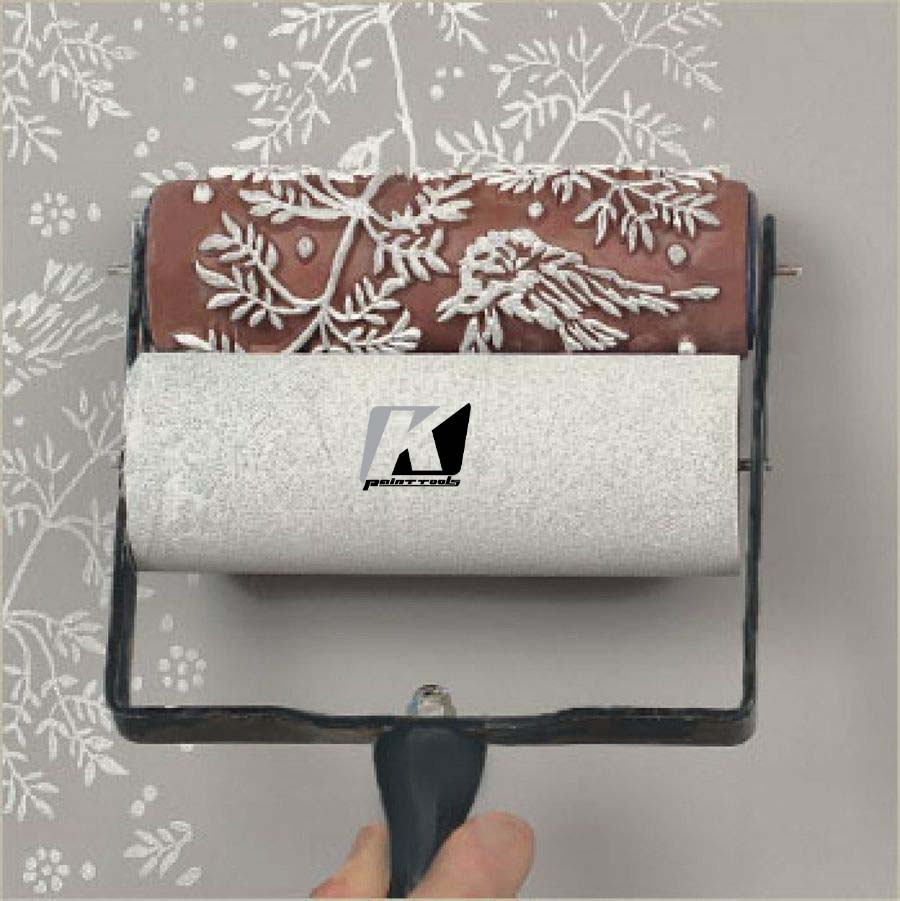 Easter is here and with it a few days off that we can take advantage of for pending tasks. Thus, I propose to renew the appearance of your walls completely using the textured rollers . Did you know them? It is a quick and easy option to capture a drawing on a wall or surface, much faster than templates. With the textured rollers you can create very original designs and decorate the rooms of your homes withdifferent and very striking styles . In addition, apart from drawings, we can find rollers that simulate textures such as marble, crackling...
These rollers are made up of a kind of tank in which the paint is introduced . Above this deposit the roller with the desired shape is placed and, before starting to paint, we must impregnate the roller well with the paint until we make sure that the entire area of the drawing is covered.
Once we have the device ready, we can start applying it to the wall. However, before making the final test, it is best to make a pass on some paper or cardboard , to make sure that the paint reaches the roller well and makes the complete drawing, since we will not be able to make two passes . Next, we begin to paint the wall from left to right , and with a single vertical pass from top to bottom , carefully, without pressing too hard. Previously we will have painted the wall with the base color , and we will have left to dry.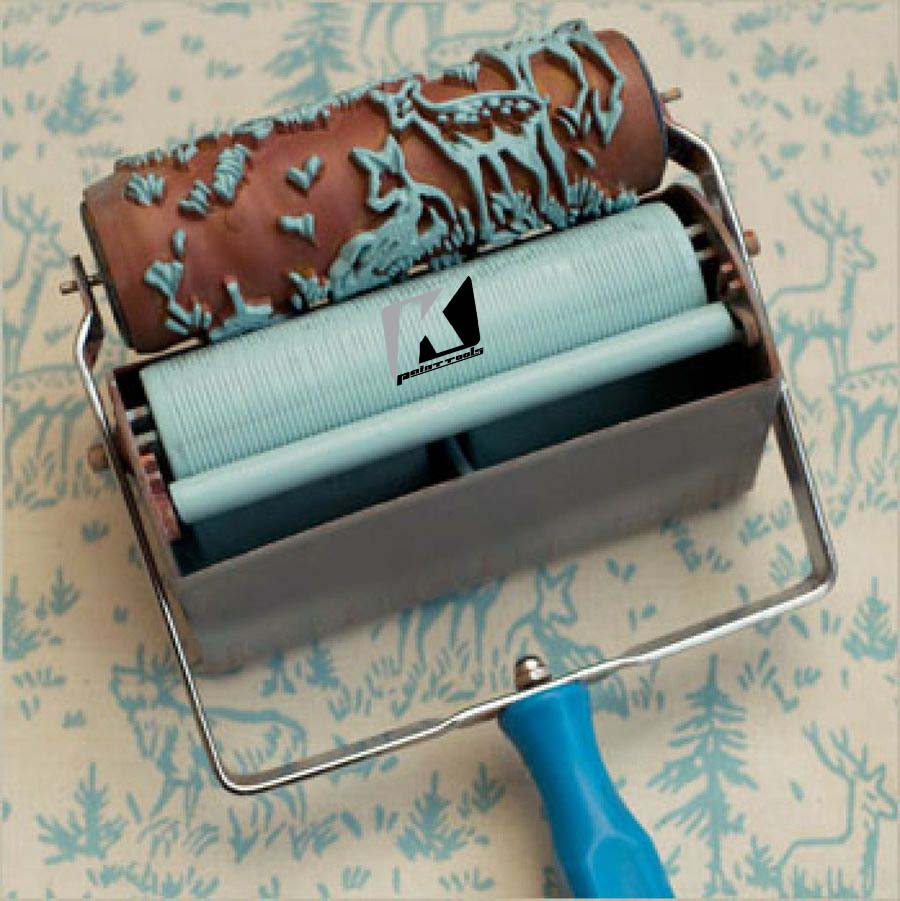 The textured finish of the surfaces is one of the possibilities to give individuality to the interior design. It is performed with special painting tools - textured and textured rollers, with which you can decorate the walls with artistic paint or create interesting decorative effects. The quality of this type of finish depends on the level of preparation of the foundation, the coating technology and the correct choice of the roller. Consider the types of relief painting tools and their uses.
Application Features:
There are two ways to use a roller to decorate surfaces.In the first case, it is used as a tool for stamping various patterns: from the simplest to the most complex, in fantasy, as when the wallpaper is pasted, fabrics are joined to each other to continue the pattern. The roller can be pressed with different force, which gives a more or less pronounced relief.
In the second case, with the help of a rough roller or a tool with a patterned fur coat on the wall, they imitate the texture of various materials: brick, wood, marble or stone, and also create a varnish - spectacular blurry spots. Be going to create a designer wall decoration, you can purchase a ready-made decorative roller. or build it yourself. So that you can better navigate the range of textured painting tools, let's dwell on their varieties.
Species
The standard roller design includes a metal bar holder with a cylinder and a handle. Cylinder bases can be metal, plastic, rubber. Structural specimens with an image provide a rotating cylinder,winning color composition, in combination with a rubber nozzle, on the surface of which an ornament is carved to create impressions. The main difference between paint rollers is in coating the cylinder.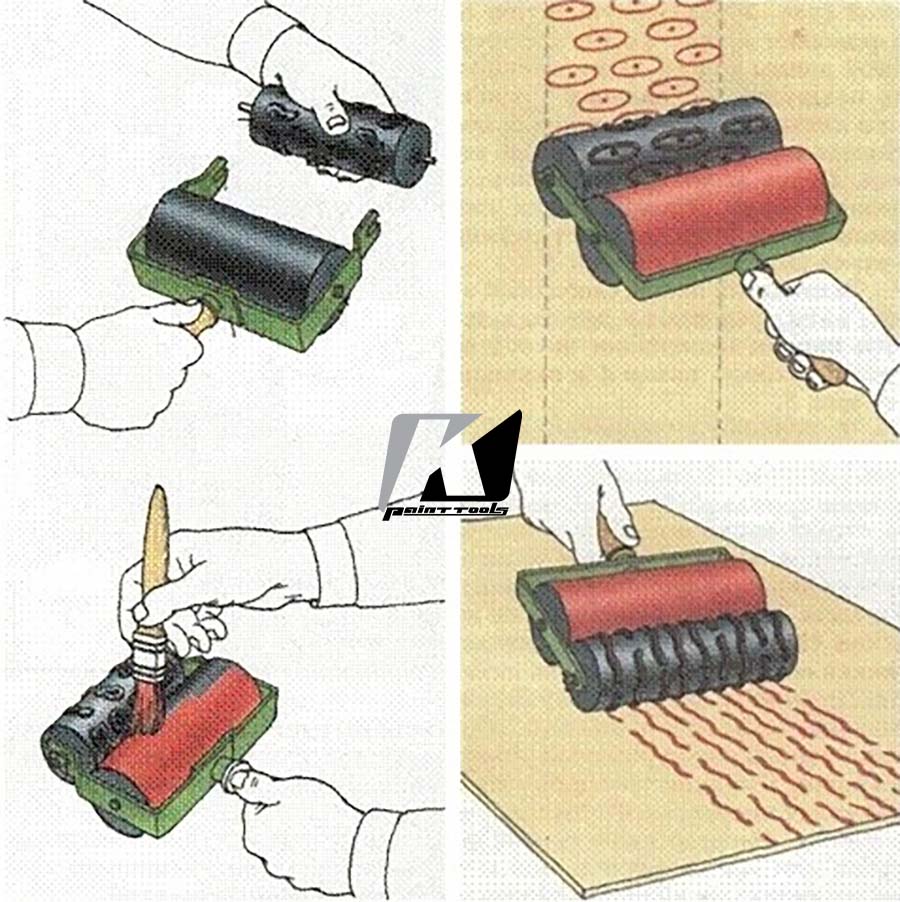 Materials of Texture Rollers
For the manufacture of liners for cylinders are different materials, depending on what it can be:
1. Rubber or silicone with a variety of grooves and protrusions of different sizes, due to which a variety of decorative effects are created, imitating brickwork or relief with a pattern.
2.Foam rubber which is convenient for working with water-dispersion paints and painting small areas. Its disadvantages include poor painting of the uneven plane, the formation of projections under intense pressure and brittleness.
3.Foam plastic - This is a cheap analogue of the rubber roller. Less foam - susceptibility to mechanical stress, so this tool in the process has to repeatedly change to a new one.
4.Leather - it can be used to achieve a very nice effect imitating a marble coating. Venetian plaster is best applied with a natural leather roller, as it perfectly solves the solution of this problem.
5.Wooden - since the tree is an environmentally friendly material, it is advisable to use such rollers for children's finishing. They allow you to get on the surface treated with paint a beautiful convex ornament.
6.Plastic - when using it, the decorative mixture will fall as it should on a perfectly smooth surface. Therefore, it is impossible to do without careful preparation of the base. Also, the plastic may crack due to prolonged use.
7.Shaggy (fur) - as a coating can be used both natural and artificial fur - polyacryl and polyamide, having different lengths of villi. The degree of roughness and the depth of the patches on the treated surface depend on the length of the threads.
The rolls of texture roller are distinguished by a variety of structures, thanks to which the final ornaments are obtained. The purpose of some tools is to imitate the texture of natural materials, and others - the simple creation of an arbitrary pattern.
According to the method of application, they are:
Textured products. For their manufacture used hard or soft rubber. When such a tool rolls over a wet plastered surface, it is dented. By using rollers with a different pattern or just a rough cylinder, you can achieve the texture of a variety of materials, from fur to wood, textiles, stone chips and even bamboo fiber. The fur coat provides the effect of multidirectional fibers: a roller with a rubber coating, in which a special loop pattern is cut, can imitate natural stone, and traces of bubbles remain after the sponge instrument.
Structural adaptations. With their help, a complex repeating ornament is applied to the plaster, for which the stencil roller is intended. A feature of use is the application of a finishing coating to an already finished surface, for example, a painted or exactly plastered wall. When decorating, proceed when the plane is completely dry. The most beautiful ornament turns out to be using the figured scroll with a certain pattern.

Previous: None