Brand Story - G.SB PAINT TOOLS CO.,LTD
A Letter from Ms Peng, President of G.SB
Welcome to Official website of G.SB, we are so grateful you found us! If you need help specifying decorative or paint tools for your next project, our team of knowledgeable for paint tools is ready and eager to assist you.
Since 2003 it has been our passion to provide great products and excellent customer service, connecting you with our high-quality paint tools and giving you the most personal experience possible. If you have comments, questions or suggestions on how we can better serve your needs, please reach out to us personally.
Applying meticulous attention to detail and premium quality raw materials and components in their construction, our products are made to the highest possible standards. We are continually updating and refining the manufacturing process to meet the demands that modern finishes require of traditional tools and we feel confident that professional Buyer and DIYer alike will appreciate the superior performance our products deliver.
Sincerely,
Tracy Peng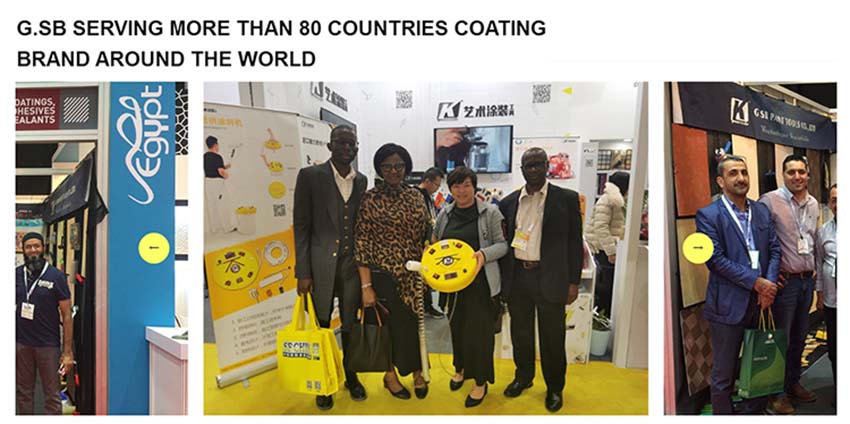 Tracy Peng, President of G.SB (Second From the Right)
Thanks to the strict quality control and implementation of innovative solutions, Tracy Peng the founder of our Company, has created a strong brand of paint tools - K Brand, she currently develops with G.SB management team.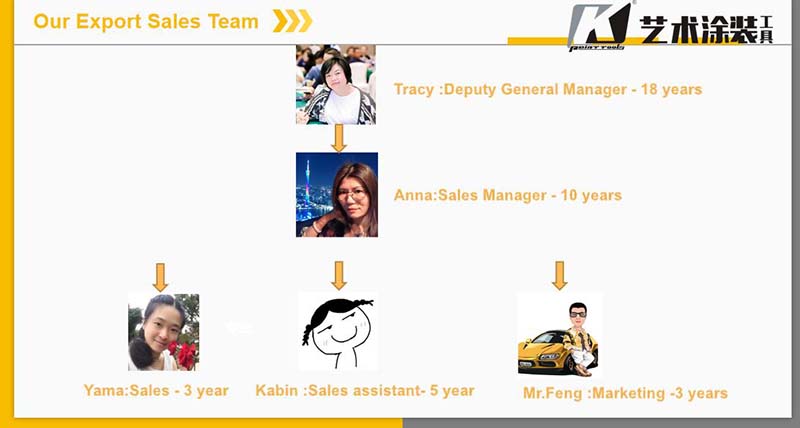 Main members of G.SB foreign trade department
History of Brands
Brands have long been used to set products apart over the course of history. The idea of branding may go as far back as 2000 B.C., where merchants used it to sell their wares in different markets. At that time, it was commonly used as a technique to denote ownership of a product or a piece of property.
Branding has been used throughout the ages. In the 13th century, Italians began putting watermarks on their paper as a form of branding. The term brand also refers to the unique marks burned into the hides of cattle to distinguish the animals of one owner from those of another.
But one of the most popular uses was in rural America. You've probably heard of the term branding, which was used by cattle ranchers, who used to brand their livestock as a form of identification. Brands started taking off after companies started packaging their goods in the 19th century to distinguish themselves from other companies.
Vision, work and passion have enabled G.SB to become a modern management company enjoying recognition and the top position as the industry leader. And High-quality and respect for work, tradition and brand, innovation and progress along with a leading position among manufacturers of hand building tools on the domestic and international market carries its principles.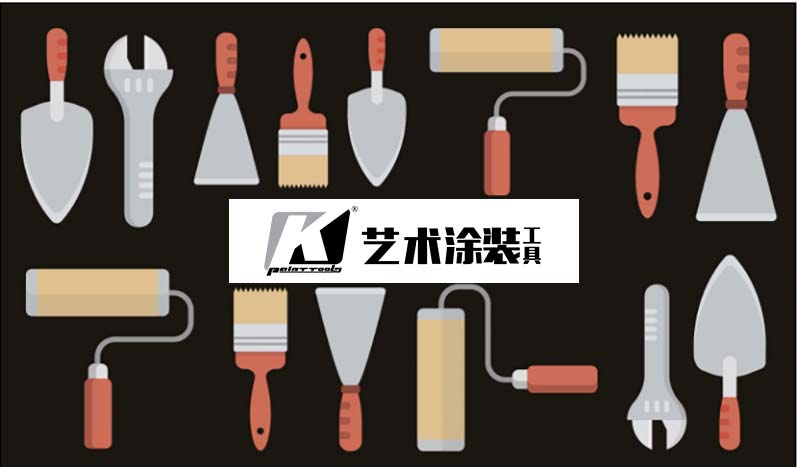 The modern production park, effective quality control system, production efficiency and focus on innovation and progress, combined all together allow us to dynamically react to the specialized requirements of our clients and market needs. The prestige of the K brand paint tools enjoy trust. Amlost 20 years,we have been recognized as the symbol of high quality and professionalism.
For years, we have been undertaking this challenge with unchanging satisfaction, and always with success. We are professionals and with that comes great knowledge of the market. The prestige of K brand paint tool is very recognizable. We continually aim to be even better.
Our Paint Tools Brand - K Brand, not only has deployed a complete industrial chain of art paint and coating auxiliary materials in the development of the past two years, but also will continue to optimize products and services for all application scenarios of craftsmen in the future, and create accompanying architectural paints. The kingdom of auxiliary materials for the "Full Life Cycle" of the packaging industry. When G.SB PAINT TOOLS CO.,LTD. settles on a brand -K Brand, to be its public image, it must first determine its brand identity, or how it wants to be viewed. For instance, a company logo often incorporates a company's message, slogan, or product. The goal is to make the brand memorable and appealing to the consumer.
Welcome to manufacturers and suppliers of quality painting and decorating products - G.SB PAINT TOOLS CO.,LTD. We provide expert solutions to the trade and retail industry. Our wide range of products allows both contractors and DIY enthusiasts to efficiently and cost-effectively accomplish their decorating projects.
Painting and Decorating Wholesale Supplies
As less people decide to move home and look to improve their current homes, expanding on your decorating product range offers a great opportunity to boost sales. DIY Decorating is on the rise and whether your customers are looking to paint their ceilings or wallpaper their bedrooms, we have the best products at the cheapest prices. Using the right tool for the right job will ensure a quality finish and that doesn't have to come at an expensive cost to the customer.
A great paint job starts with great paint tools supplies -wholesale. Choosing the right hand tools, grabbing a reliable extension pole, and knowing you've got the best paint rollers and paint brushes are all small individual steps that work together to accentuate the level of expertise that separates the Pros from the DIYers.
Beyond the great products in our paint tools supplies category, you'll need other key pieces to get the job done. Superior equipment at all levels makes the painting process both simpler and faster, so we put equal care and attention into choosing all our products, from the basics like paint buckets and towels to the more significant items like paint mixers, paint sprayer guns, paint trays and drywall tools...ect. We stock everything that's needed for a perfect paint job, including paint roller, paint brush and more.
Our brand - K Brand, have been designed to provide quality solutions for the full lifecycle of a decorating project, starting with the preparation stage right through to the finishing touches. Paint is the only product that we don't offer.
A successful brand accurately portrays the message or feeling the company wants to get across. This results in brand awareness, or the recognition of the brand's existence and what it offers. On the other hand, an ineffective brand often results from miscommunication. Once a brand has created positive sentiment among its target audience, the firm is said to have built brand equity. Some firms with brand equity and very recognizable product brands include Microsoft, Coca-Cola, Ferrari, Apple, and Meta (formerly Facebook).
If done right, a brand results in an increase in sales not just for the specific product being sold, but also for other products sold by the same company. A good brand engenders trust in the consumer, and, after having a good experience with one product, the consumer is more likely to try another product related to the same brand. As noted above, this phenomenon is often referred to as brand loyalty.
G.SB PAINT TOOLS CO.,LTD. began in 2003, increasing our understanding of the paint tool markets around the world more and more each year. So that, G.SB's history begins in 2003, when the current owner and his family established the company for the manufacture of accessories, objects and tools for home improvement. It started to manufacture products from supplied material and for a single customer.
Before long it became clear that the collaboration at that time – contract work for a single customer – had limited prospects, so we started to seek new partners and to purchase material directly from suppliers.This started a stage of intensive development of the company, identification of new markets and business partners. We also started to systematically expand our product line to suit our customers. All available financial assets were invested into the development of the manufacturing equipment, purchase of new tools and machinery, production technology, improvement of efficiency, production quality and expansion of the production.
G.SB Located in Shun de area where is the main paint produce location. We co-operate with a lot of distributors in domestic market and export to Mid-east, Australia , Asia , Europe Market from 2013. We get the export right in China government in June,2009. It's our great step to be globalize. With investments in our own production facilities we were able to create our brand "K Brand" in 2015. We have TECHNICAL TRAINING SOLUTIONS and OEM / ODM SERVICES.
All available financial assets were invested into the development of the manufacturing equipment, purchase of new tools and machinery, production technology, improvement of efficiency, production quality and expansion of the production. With the growth of the economic potential the Company focused on other activities as well, especially moulding of plastic and manufacture of moulds, tools and new machines in its in-house tool shop. This required improvement of the professional qualification of the employees. Today, the Company is successfully improving the manufacturing procedures, manufacturing technology, and it is building new production lines for all of the product lines.
The current production technologies are oriented towards the product quality, high work productivity and mass production.In almost 20 years, G.SB underwent rapid innovative development. We significantly expanded the original line of products, but also the network of business partners. The manufacturing methods and production quality also saw substantial changes. Today the company utilizes state-of-the-art technologies for production of painting rollers to achieve a high production quality, short lead times and, last but not least, attractive pricing.The attributes won a steady network of business partners, which expands each year and increases the production volume.
Each member has taken care to hand on the commitment and passion for crafting quality products. After all, it is our name and reputation on the can. We live and breathe our values of individuality, independence and integrity. It's why you can be sure we'll never treat you like a number, never take shortcuts with the quality of our products or our service. Now, G.SB is an established, reliable and proactive business partner, capable of delivering high-quality products in a design and within deadlines according to the customer's requirements. Thanks to its production quality and volume the Company ranks among the leading China paint tools manufacturers & suppliers.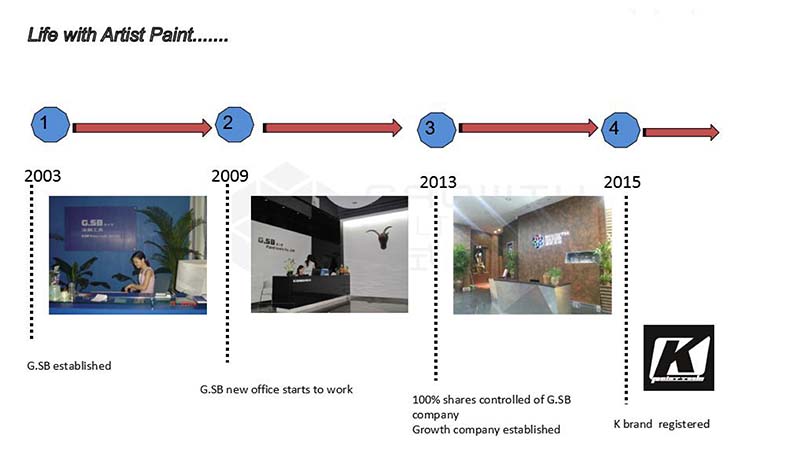 G.SB Brand Story
For fussy PRO and DIY painters, G.SB's Best Paint Pattern Rollers deliver a perfectly satisfying finish because the K brand paint tools are trusted by thousands of fussy painters and upcycles world-wide. And G.SB people realize innovative design is the principal factor of our development, so we keep offering the most revolution and technically advanced paint tools to the world market and gain a high reputation from our valuable clients. You can Join G.SB's Network.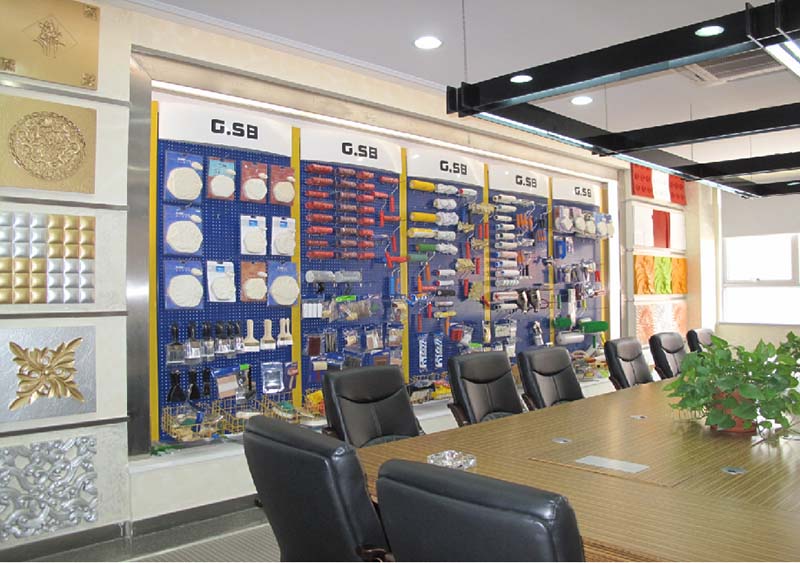 G.SB Show Room

Made for professionals, renovators and painting enthusiasts alike, G.SB are proud to bring you the best microfiber paint rollers and paint tools that are total game-changers to help you get a quality finish, no matter what job you're working on. With years of experience under our belt, we understand what professional painters look for in quality paint rollers and it's why we've established ourselves as one of the best providers and trusted by so many painters globally.
G.SB is not simply offering product , but also teach our clients how to use the paint tools by a professional team , video and sample board. In the past 18 years , we give great effect to introduce our special tools to world market.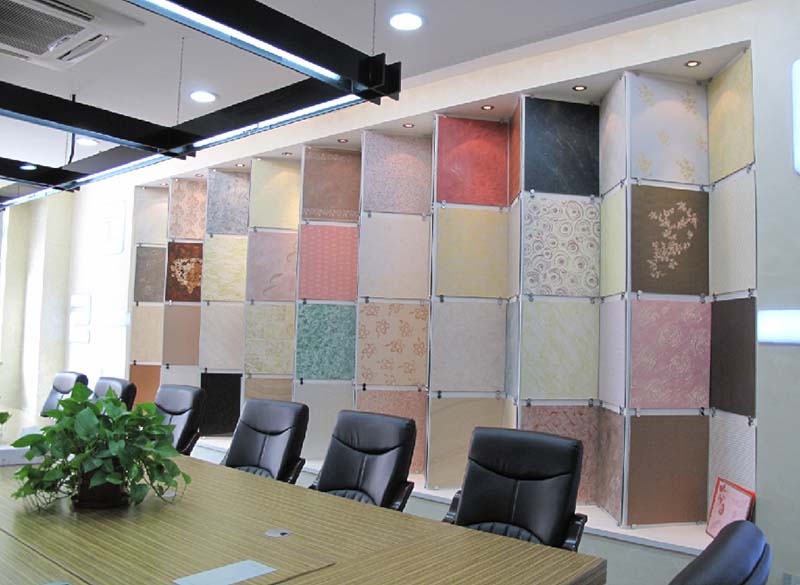 SAMPLE BOARD-LEADER OF FAUX FINISH
Made for professionals, renovators and painting enthusiasts alike, G.SB are proud to bring you the best microfiber paint rollers and paint tools that are total game-changers to help you get a quality finish, no matter what job you're working on. With years of experience under our belt, we understand what professional painters look for in quality paint rollers and it's why we've established ourselves as one of the best providers and trusted by so many painters globally.
Professional painting tools need to be made to a certain standard to ensure you get a superior finish, at greater speeds without having to clean up a huge mess afterwards! Our microfibre paint rollers are built to last and achieve all those attributes and more, using high-tech microfibre that works on almost all common surfaces and with most paints to get the job done. It's as easy as rinsing and rolling with our top-tier paint rollers without any splatter thanks to the fabric structure and innovative paint roller design.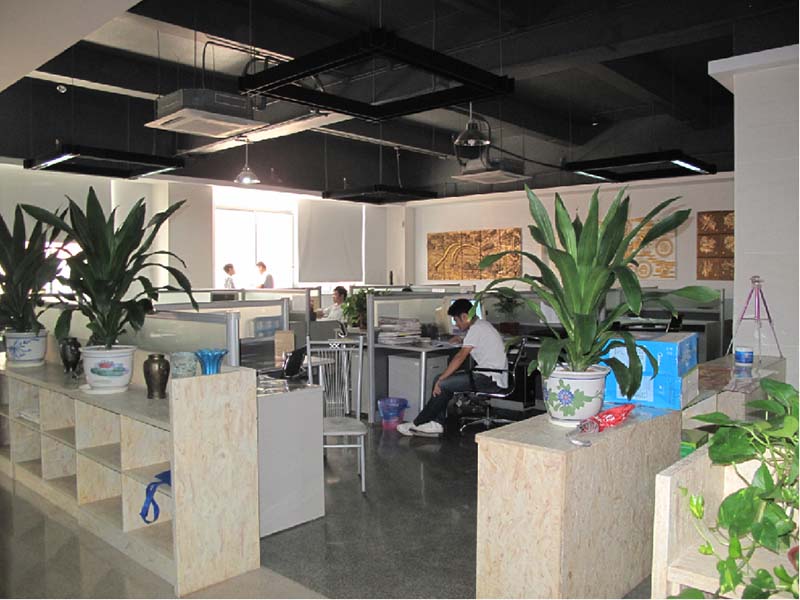 EMPLOYEE-OUR RARE TREATURE
We have about more than 30 sales working in domestic department & export department. And they are very professional & polite. Domestic department handles all the orders from our local customers. We also handle all the orders from our distributors and resellers. We export our products to different countries across the world. We know what to look for in great painting tools for all professionals, DIYers and more. We also pride ourselves on our sustainable business practices and packaging to do our bit for the environment while we ace at any paint jobs that come our way! If you're looking for superior coverage when working with difficult colours or painting wallboard sealers, look no further than our premium professional paint tools. We have our own financial ,purchase ,document and shipment department too.
Elf-awareness, motivation and company identification on the part of our employees are of the utmost importance to G.SB. We assign each individual responsibility, determine mutual goals and continuously monitor his or her sense of satisfaction. Regular interviews conducted for appraisals and to set objectives are as much a part of our program as measures for further training and the opportunity for self-development.
Each person who exercises management responsibility in our company orients and measures him or herself according to our written leadership principles and each of our staff has the right to make claim to these principles. Our topmost priority is achievement of maximum benefit for our different customers.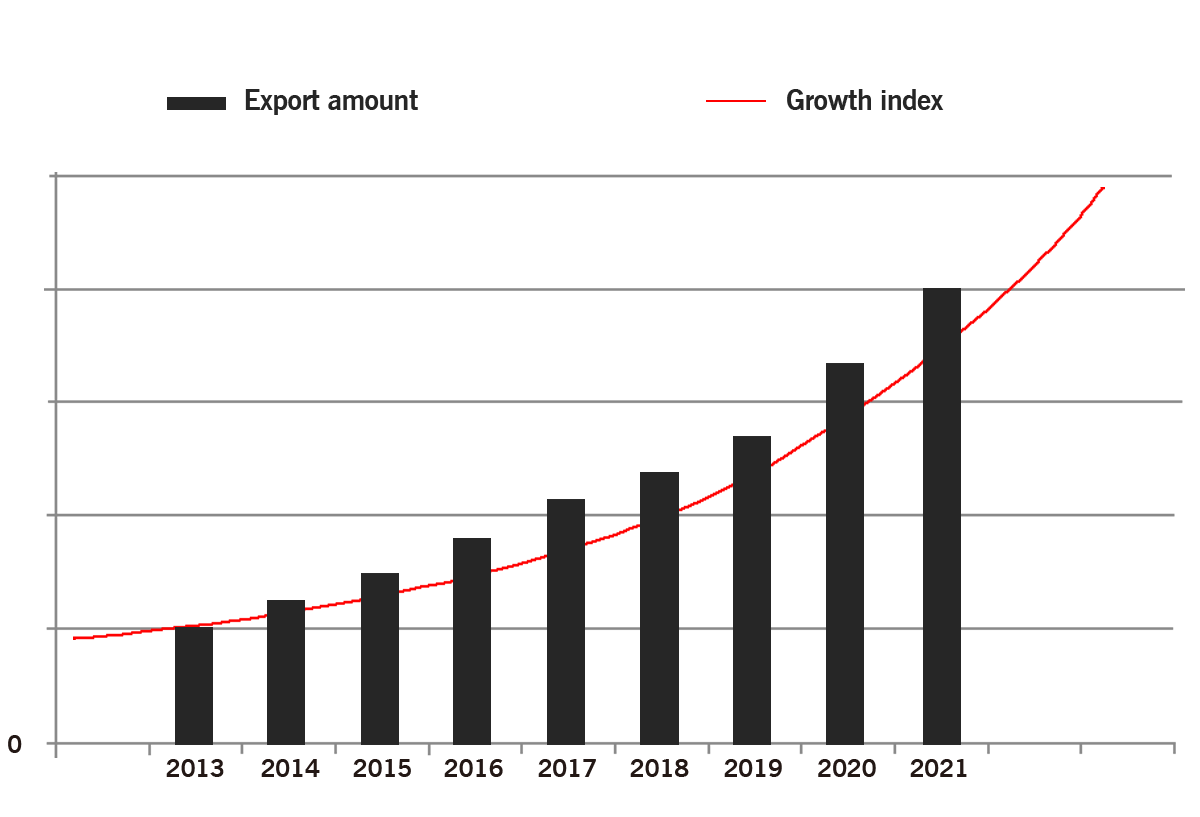 Since 2010 we have been following a plan of increased international growth of around .20-25% each year. Innovation, integrity, and adaptation are some of the core values that continue to guide G.SB's growth. With a focus on producing a variety of paint tools, G.SB in total has about more than 500 SKU's including tools for sanding, surface preparation, surface protection and related accessories, currently selling in more than 80 countries around the world.
Since the establishment, G.SB PAING TOOLS CO.,LTD. has become one of the main painting exporters in China with great efforts and hard exploration. We stay in the forefront by bringing the most innovative and technically advanced products in the paint industry and leading the faux finishing fashion of some countries.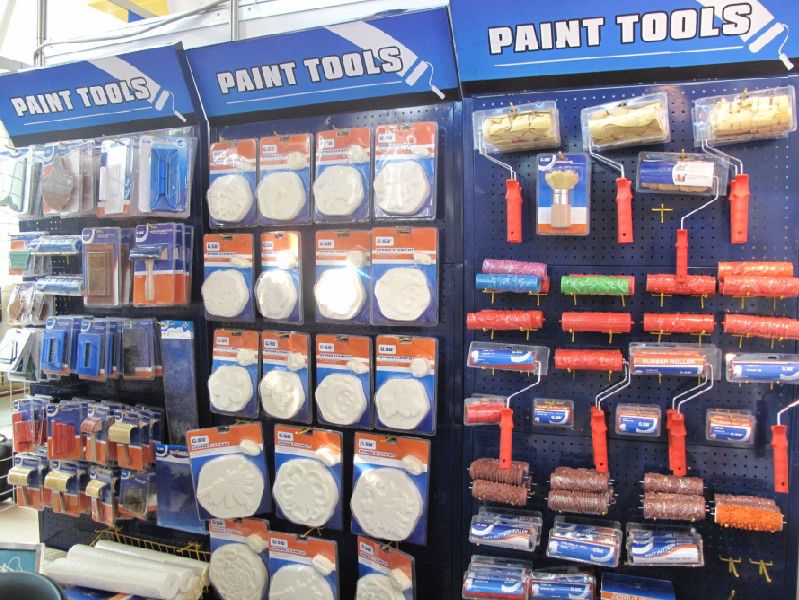 We are not simply paint tools manufacturer but also with great design capability , professional special decoration guider and a perfect system to fix and grow your brand.With sales increasing and the brand established, focus was shifted to producing tools.with our own patented innovative designs unique to G.SB.
In almost 20 year , we keep varying our DIY paint tools , they are Sponge Stamp Kit, Soft Pattern Roller, Rubber Roller, Stencil, Paint able Wallpaper, Wood graining Tools...ect. We have always insisted on the business principle of 'Quality and Efficiency, Practicality and Creativity' and have earned the trust of clients both at home and abroad. We are all about designing, manufacturing and supplying painting tools for professional craftsmen and DIYers. Our products and solutions help to make the projects of painters and decorators, plasterers and home improvement enthusiasts a success We are experts at that. Without dispute.
Our goal is always clearly sighted. Providing first-rate tools and accessories that our customers can use to achieve first-rate results. Personalised and innovative sales concepts generate considerable additional earnings. That is the case for different national markets, too. G.SB is international in outlook and meets the respective regional service and product line requirements.
Wide product range with best price-quality ratio ex-production. Almost 20 years history of tradition paired with our elaborate experience as a painting tools manufacturer and innovator enables us to produce the highest quality for our customers based on consumer requirements. Our exceptionally high standard production sites and the continued focus on quality improvements make the G.SB team synonymous with high quality and professional painting tools in China. Our fully automated facilities inChina make it possible to manufacture largevolume production with dependable quality.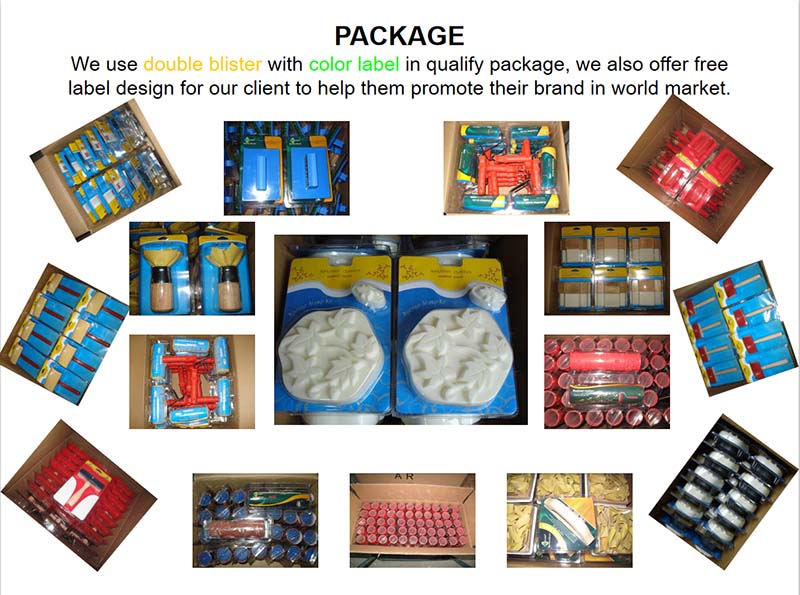 PACKAGE:
We use double blister with color label in qualify package, we also offer free label design for our client to help them promote their brand in world market.
G.SB has been working in decoration(faux) paint tools business for almost 20 years. We have two different markets, one is China local market, another is oversea market.
In China local market, we have more than 2500 distributors who can get free training courses and technology support from G.SB.
In oversea market, We have been developing more than 80 countries' markets all over the world. We supply decoration paint tools to more than 50 paint factories with their own logo all over the world. Also, we have more than hundred customers who are supermarket, distributors, wholesalers, etc.
We are supplying more than hundreds different decoration paint tools, and we can develop new items as customers' special request, too. So, your any idea is welcomed by us at any time. We locate in Shunde Foshan where is very near from Guangzhou. It takes about 1 hour from Guangzhou airport to our office by car. If you have time, I want to invite you to our factory and have a furthre discussion.
Why G.SB Invest in Paint Tools Manufacturing
For years in China, manufacturing jobs were considered low-paying, uninteresting, repetitive, and "dirty." Although this characterization has never been true, that has been the public's and our education system's overall perception.
In recent years that perception has changed. We are once again realizing the important role manufacturing plays in all facets of our society by providing worthwhile employment and interesting jobs critical not only to our well-being but to our national security. Manufacturing companies are being recognized as clean and bright, with a focus on manufacturing efficiencies, social responsibility, and environmental sustainability.
Our education system is now emphasizing STEM (science, technology, engineering, mathematics), and have initiatives in STEM with offerings in technical training. The message is clear: Manufacturing is important. Manufacturers create jobs that are challenging, team-oriented, and focused on many cool-precision technologies. Their development and growth are essential to our nation's security and success.
These jobs are often interesting and innovative, varying from robotics and machining to nanotechnology. They affect all phases of our current and future economy. Their development is necessary, as we compete in the global marketplace. Manufacturing transforms ideas into products for the present and future. It improves lives for everyone.
Most successful manufacturers use a sustainable business approach based on creating long-term customer and employee value.Manufacturing Employers, Employees Are Good for Communities - from caring about their employees to caring about the environment, manufacturing companies have a large, positive impact.
A lot Manufacturing companies ( Include: G.SB PAINT TOOLS CO.,LTD. ) are doing their part to make the world a better place through environmentally friendly policies and by thinking about every dimension of how the business operates in social, cultural, and economic environments.
They invest in their people, technology, infrastructure, and communities as they build their businesses. We are dedicated to improving processes like the elimination of waste by using clean and green strategies. Lean manufacturing processes are used to achieve lower levels of waste, water, and energy usage.
Everyone brings their own colour into play here
The diversity of our employees is key to our success: everyone is best when they can be themselves. In a cosmopolitan and appreciative environment, everyone can develop their personal strengths and contribute their individuality. This makes us successful together.
In the colourful world of G.SB, diversity connects. We bring together people of different ages, genders and cultural backgrounds. We believe the range of different beliefs, ways of thinking and interests enriches us and how we work together. That's why we promote dialogue and exchange because creative solutions are created by combining experiences and new things.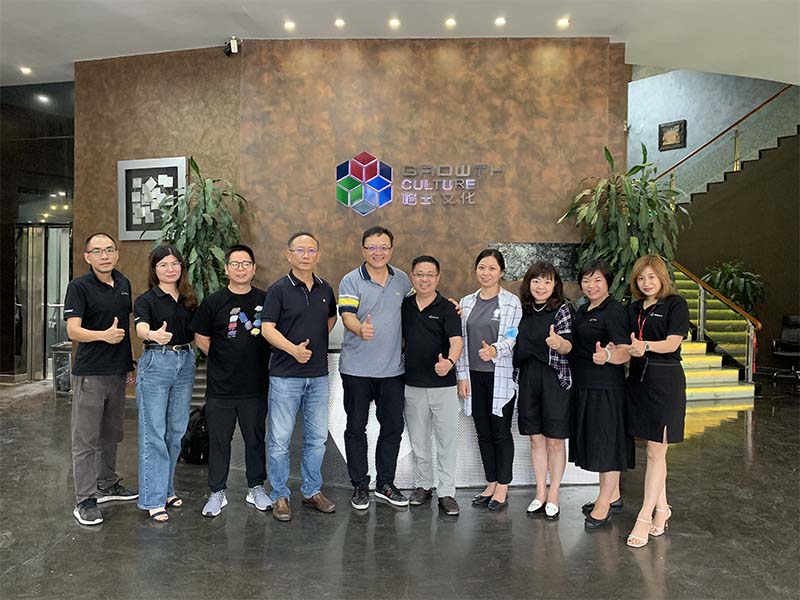 Shaping the future means having the courage to dare to take risks and see mistakes as part of success. That is why we live an open error culture, learn from each other and provide individual and independent freedom. Designers and future thinkers will find their personal space here to simply try out ideas and implement them in a team.
Curiosity is therefore an important part of G.SB's corporate culture. Curiosity that drives us all to leave the path we have left, even if it has been successful for a long time. We encourage each other to tread new paths and actively seek opportunities – in an environment that values and promotes openness to new things.
It is the goal of our work to inspire our customers with our products and solutions. And this enthusiasm runs through our entire company: we look for challenges, engage in dialogue, inspire and motivate each other. In a lively working atmosphere, our success is the product of shared will and passion. Our passion in everyday life – what makes us successful. Then you'll fit perfectly into G.SB team, which not only shapes successes together, but also celebrates them together. You can feel how good it feels every day – in the midst of different personalities that make us who we are.
G.SB's teamwork is respectful, open and personal – an open-space office building with modern meeting areas is the spatial equivalent of our corporate culture. Anyone who likes to work on an equal footing in a diverse team and is delighted with the successes achieved together is in the right place. Each of us knows how important our skills and perspectives are in achieving our goals.
Our teamwork stands for tradition and the future at the same time. We unite the values of our long history with a view to the future. Our openness to new things, to modern working methods and techniques have their roots in the quality standards and the history of a company that has remained true to itself, even though it has repeatedly reinvented itself. We don't just tell each other how we act – we also do what we say. This reliability creates a climate of trust that sets free strength and creates scope for independent decisions.
As a company, we know the world is changing. We're also involved in this process, but without losing our values. This mixture of openness and active continuity has made us so reliable and attractive as an employer that some of our colleagues have been part of our company for a long time. We want to create an environment where our employees feel comfortable and valued. Communication on an equal footing, an open feedback culture, design leeway and personal responsibility are key for us.
G.SB CULTURE
DELIVERING THE INDUSTRY'S HIGHEST QUALITY PRODUCTS AND SERVICES
G.SB employees take pride in their contributions and share our vision and commitment to delivering the highest quality products and services in the industry. We strive for continuous improvement, creating new and exciting products as efficiently as possible – both for cost improvement and for the environment – and we expect nothing less from our employees. Many long-term employees find they benefit from a global corporation with a small-company, collaborative culture.
We want employees who want to win. We have a robust metric system in place to measure performance, encouraging our employees to be team players but also individually accountable – and individually recognized – for their results. We foster a culture of high standards and expectations, and our employees come to work every day absolutely committed to providing A+ service to every customer, every time. Our nimble divisional business structure allows us to make quick decisions to meet the changing needs of our diverse, global customers. At the same time, our business units share information, best practices and technology to benefit the greater good of the company.
When our employees say they work at G.SB, they say it with pride. We are proud of our people, products and services. We are proud of our growth and success. We expect our employees to work hard – and to play hard, too. Our employees give their all to the G.SB mission, and when the day is done, they take time to do the same for themselves, their families and their communities.
G.SB PAINT TOOLS CO.,LTD Promotions
China Local Fairs:
A, March: Beijing International Building Material Fair
B, July: Guangzhou International Building Material Fair
C, September: Shanghai Hardware Fair
D, October: Guangzhou Canton Fair
E , November: Guangzhou/Shanghai China Coat
Oversea Fairs:
A, March: Germany Frankfurt Hardware Fair
B, May: USA Las Vegas Hardware Fair
C, May: Dubai Hardware Fair
D, July: Vietnam Building Material Fair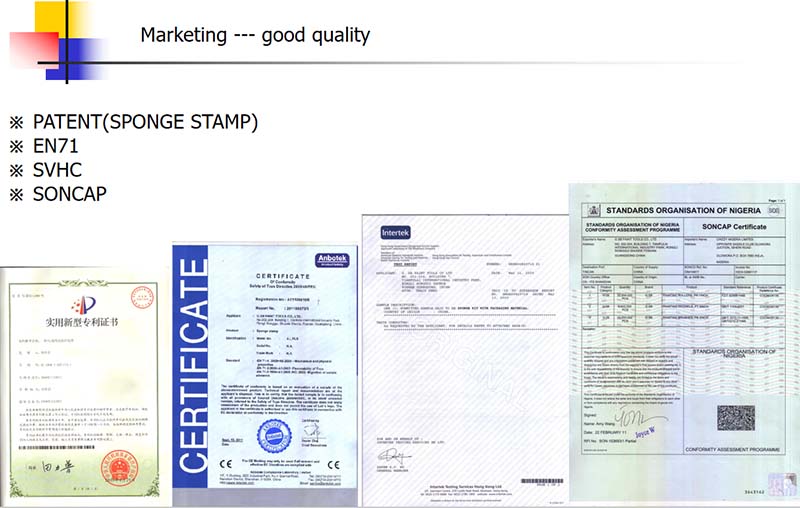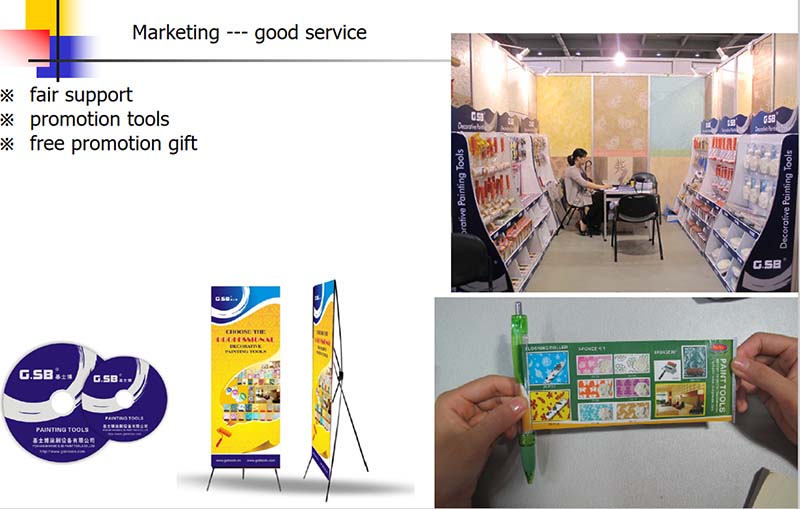 With your support, you will develop faster and faster ! Building WIN-WIN business is our target!
OUR FUTURE
QUALITY PRODUCTS, INNOVATION AND A+ CUSTOMER SERVICE: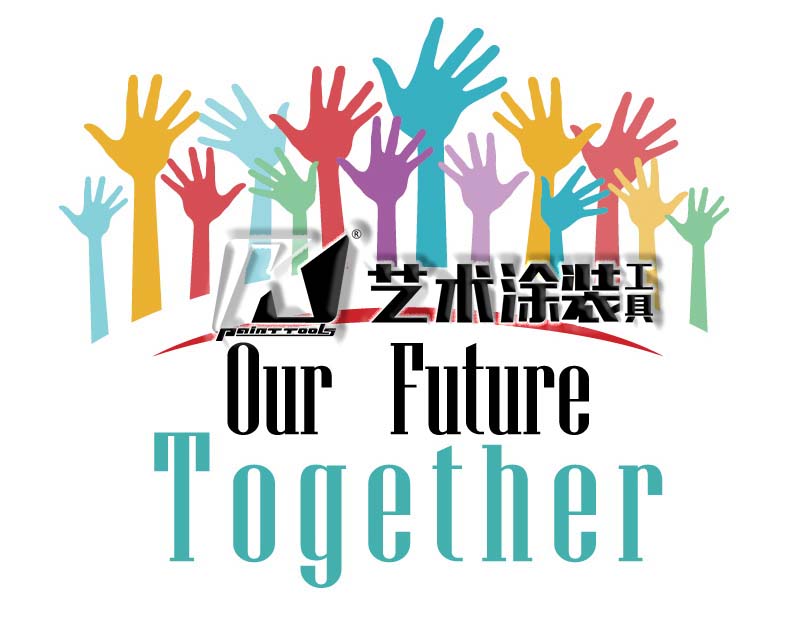 During the 2010s, G.SB had more products in development than at any time in our history —often referred to as the "New Frontier"—the 2010s was also an inflection point for G.SB as we experienced steady growth in global markets. The company acted quickly to create an infrastructure to manage worldwide growth, forming the export department.. We reorganized into operational divisions to more effectively focus on major market opportunities.
As G.SB entered the 2020s, we celebrated the company's 18th anniversary in 2021. From 2020 to 2035 we continued to thrive through well-defined goals and strategies that yielded top-quality products in every line of business. In addition to a steady stream of acquisitions, the company invested heavily in capacity. Under the direction of Tracy Peng (President of G.SB), we began its most aggressive drive to increase sales and profits.
Despite these challenges, the company continued to invest in product innovation, manufacturing excellence and growth into new markets. This investment laid a foundation for a period of sustained growth. Another key ingredient to success at G.SB is its people. Having engaged and talented employees allows us to deliver quality, innovation and A+ Service to our customers.
G.SB strives to be the industry's highest-quality manufacturer of fluid handling products - paint sprayer guns and paint tools cutting across several markets. In addition to quality, our focus on innovation results in products that lead with advanced features, pioneering design and high performance. All backed by a promise of exceptional customer service.
When asked about what she sees in the future, President and CEO Tracy Peng takes an optimistic tone: "We have a winning team of employees and distributors around the world that wake up every day and care about what they do for G.SB and our customers." Employees are committed to helping the company finish its first 100 years strong. G.SB designs and manufactures a lot of paint tool products and solutions for the industries we pursue around the world.
Quality authority W. Edward Deming once said: "Quality is everyone's responsibility." Coincidentally, that's also our mantra at G.SB. We're dedicated to delivering the highest quality products and services, so we make an intentional choice to excel at quality every day, and in everything we do. Simply put, it's who we are. In fact, all G.SB employees are personally responsible for the quality of their work.
And because most quality problems emerge from poor processes, our employee teams are continuously improving and creating more effective methods. At the same time, we carefully monitor standards, establish suitable metrics and build quality into every product we manufacture.
WHAT DOES IT MEAN FOR YOU? - when you choose G.SB, you're investing in high-quality products built to last for years of reliable service. Moreover, we partner with our customers to better understand how you're deploying our products in the field, then use your experiences to improve performance and durability. Our goal is to exceed your quality expectations for equipment longevity, reliability and performance every day. Experience G.SB Quality.
We understand the importance of having the right tool for the job. Our wide range of paint tools and unmatched service department keep G.SB on top of an ever-changing tool supply market. Our staff is the most knowledgeable in the industry and we guarantee a friendly customer service experience to get you the products you need, when you need them. We are committed to offering you the best service, best selection and best value.
COMMITTED TO SUPERIOR SERVICE
Our customers come first and we continue to commit to superior service with these three principal goals with EVERY shopping experience:
Deliver Superior Customer Service
Exceed Your Expectations
Explore Constant Improvement
Our firsthand experience and research ensures you receive the right tool at an excellent value. You can count on our best advice about the paint tools we sell. Contact us with questions about our prducts and brands, compatibility, innovations or simply need assistance locating the right tool for your specific needs.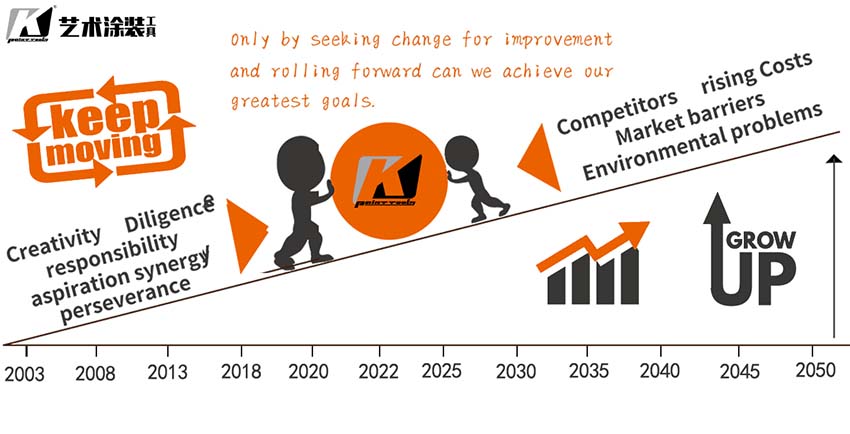 Only by seeking change for improvement and rolling forward can we achieve our greatest goals. History shows us that if you remain unchanged and cannot evolve rolling forward with time, you will eventually be eliminated. The spirit of our motto "keep moving" urges us to make continuous improvement of product quality, research and development, and service as our lifelong direction.

Next: BECOME A PARTNER