Features:
About This Item:
TOOL ORGANIZERS AND STORAGE: These paint tool-boxes both have removable trays and small-parts toolbox compartments located in the tool box lid; The perfect tool box organizer set for tool storage;
ULTRA PORTABLE ORGANIZATION: This lightweight small portable tool box set is designed to go anywhere and help you tackle the toughest jobs; Our portable tool boxes with compartments allow you carry all the tool box accessories you need;

THE FEATURES YOU NEED: This plastic tool box set is a highly configurable storage solution; The two largest small-parts organizers in the bigger tool storage box come with removable dividers; Removable tool tray provides additional flexibility:

STURDY DESIGN: Our organizer tool box set is made of rugged hard plastic that won't break during transit; Tool box set comes with a lock eyehole to create a lockable tool box set with a padlock; Larger box includes a metal tool box latch on each side:

VERSATILE TOOL ORGANIZERS: Each multi purpose tool box is so versatile that it can easily be used as a trailer tool box, mechanic tool box, car tool box, professional paint tools-box, and much more; Each small tool box is built for serious storage.
Toolbox Solid Construction: This tool box is made of high quality PP plastic,pass the extreme freezing test, it is still resistant to falling, smashing and not cracking.which ensures the tool box durable and sturdy. a good choice for carrying power tools, hand tools, and medium items.
Ample Storage Space: Features an interior organizer tray, provides ample storage space. Top storage box can store small parts, easy to find and avoid loss. Also it equipped with a bottom compartment, which can hold large, heavy items.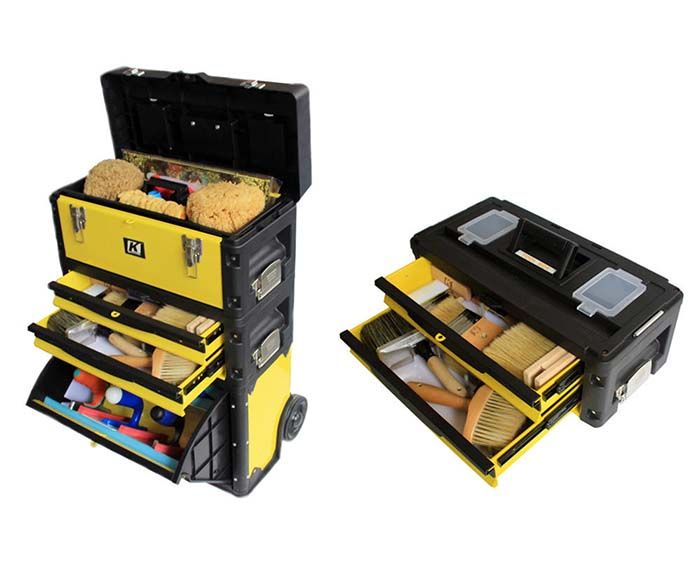 Product Description
Keep tools and small parts organized with the Tool Box Set. This organizer tool box set includes a big-inch tool box, small-inch tool box, and a removable tool tray. These versatile tool box sets make it simple to carry all the parts, tools, and hardware you need to get the job done. This paint tools-box organizer set is highly configurable, giving you the flexibility to store and organize parts and tools according to your needs. This 2-in-1 tool box set has small-parts organizers and removable dividers in the lid to help you stay organized. The removable tool tray provides additional customization, allowing for extra space inside the tool box for more tools and hardware. Our tool boxes for organization and storage feature a lightweight yet sturdy build for easy transport and durability. This portable tool box set comes with a lock eyehole, making this a lockable tool box set The large tool box in this set includes metal latches to keep your tools securely stored. We've also designed these sturdy tool boxes to be stackable for easy and convenient storage.
Keep your paint brushes and tools organized and secure at your shop or garage running smoothly with the Decorative Paint Toolsbox with Removable Tray with Stainless Steel Dual Lock Secured and Storage Box Handle ,Truly Strong and Durable GS-R3108. It's packed with features you've always wanted, from a creative piece of ingenuity that lets you lock your paint brushes so it doesn't get destroyed. With all of the knowledge we has harnessed from our years of experience in the paint tools industry we was able to solve one of the biggest problems in the DIY home industries. That solution became the Paint worker's ToolBox, the first two in one toolbox that preserves your paint brushes while giving you more than enough space to fit a whole project in.