Features:
Items Name: Italy HVLP Environmental Spray Gun
Items No.: GS-GMR-800
Brand: G.SB
Style: Spray gun
Material: Plastic/stainless steel
Size:
Range of Application: All water-based paint, latex paint
Applied Environment: Interiors&Exteriors Walls
Packing: Big Box
Our sample policy:
Sample order is acceptable. We can supply the sample if we have ready parts in stock, but the customers need to pay the sample cost and the courier cost.
Packaging & Delivery
Each piece packed in the double blister with color paper (we design a logo for a client to promote their brand name in the local market).
Port: RongQi
Lead Time:
| | | |
| --- | --- | --- |
| Quantity(Pieces) | 1 - 1000 | >1000 |
| Est. Time(days) | 40 | To be negotiated |
we are strict with the package and the quality, we promise the customer the best services.
Payment terms:
1. The price above is EXW price. If the order value is over USD6000, it can be same as FOB price.
2. We will offer documents as: invoice, packing list, B/L, CO. If customer needs other certification, we need to charge customer the extra cost.
3. The delivery time will be 30-40 days after receiving deposit.
4. Payment term: 50% deposit, 50% paid upon copy of shipping documents.
Many company benefits from GS-GMR-800 HVLP spray guns
This case study demonstrates that small, as well as large, companies can save money by changing to high volume low pressure (HVLP) spray guns.
Used properly, HVLP spray guns increase transfer efficiency, reduce paint consumption and produce a high-quality finish. Volatile organic compound (VOC) emissions are reduced as a result of the reduction in paint consumption.
UK VDB.Ltd ­ a small company with 82 employees ­ bought 35 HVLP spray guns and fully enclosed spray gun cleaning equipment to reduce its use of solvents and so meet the requirements of registration under Local Air Pollution Control. The change was accompanied by specialist training for all operators so that the benefits of using the new spray guns could be fully realised.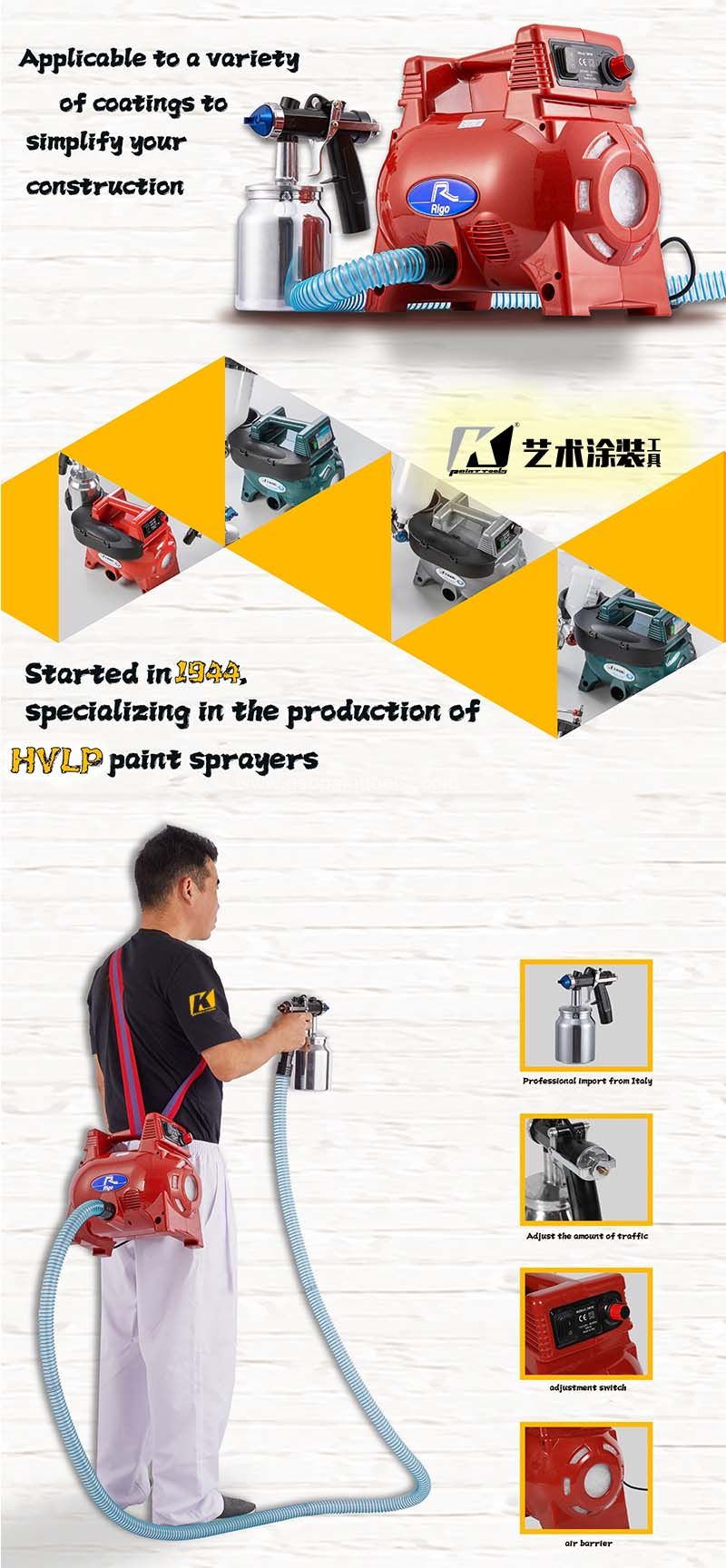 The benefits of the project include:
*An initial reduction in paint use of33 per cent;
*A payback period of four months;
*Continuing paint savings worth £53,500/year;
*Reduced environmental impact.
Background:
Over recent years, increasing numbers of companies that use paint spraying equipment have switched to high volume low pressure (HVLP) spray guns to reduce solvent use and meet the requirements of the Environmental Protection Act. These companies have also made substantial cost savings from reduced paint consumption because HVLP spray guns are potentially more efficient than conventional designs.
In general, smaller companies have not followed this trend. This has been mainly because their solvent use falls below the 10tonnes/year threshold for registration under Local Air Pollution Control , so they have not been required to change to HVLP spray guns. In addition, it has been unclear whether any cost savings would be sufficient to make the change worthwhile.
This case study focuses on the experience of UK VDB.Ltd ­ a small company that as part of a commitment to becoming "best in class". Although its solvent use fell below the threshold for compulsory registration, the company believed that registration would enhance its standing in the marketplace and lead to increased orders.
To improve the efficiency of its operations, the company bought 35 HVLP spray guns and installed a fully-enclosed spray gun cleaning station. Since buying the spray guns in Autumn 2015, UK VDB.Ltd has made significant cost savings, showing the benefits which can be achieved by any small company switching to HVLP guns.
HVLP spray guns:
Compared with conventional spray guns, GS-GMR-800 HVLP spray guns atomise paint using a higher volume of air at a lower pressure. Paint spray is therefore less likely to bounce off workpieces, and overspraying is reduced considerably. HVLP spray guns increase transfer efficiency, and ensure that more paint gets onto the pieces being sprayed.
Experience in many applications has shown that modern HVLP spray guns, when used properly, are as effective as conventional guns and will produce as good a finish.
Training:
When UK VDB.Ltd bought the new spray guns, all its operators received two days' training in the modified spraying technique required to produce a high-quality finish. A consultant provided theoretical and practical training, which covered all aspects of finishing, including paint and spray gun technology, and a practical demonstration of how to set up and use the spray gun. The training also provided hands-on experience, highlighted how to get the best out of the new system, gave general hints on spraying, and emphasised the need for care to prevent low-quality finishes and waste.
Although it was an extra expense, UK VDB.Ltd saw this training as an essential part of the project. It realised that misuse of the new equipment would result in low quality finishes. In fact, the training was so successful that operators are now reluctant to use traditional spray guns. The quality of finish achieved with the new equipment is at least as good as it was with the old.
Financial benefits:
Measurement of paint and solvent use in the six months following installation of the new spray guns has shown that there was a 31.2 per cent reduction in paint use (3,393kg of solvent used instead of the 3,037kg that would have been required for the conventional spray gun). This reduction is equivalent to 1894 litres of paint and represents a cost saving of £21,175 . The 20 spray guns
The required pressure of ow Pressure Spray Gun is 1.5 ~ 2 kgs. The spray gun provides higher transfer efficiency and saves paints. HVLP spray gun can be applied to many products such as automobiles, airplanes, aerospace technology, yachts, decoration, architecture, wood products, primer, high-viscosity paint, lacquer, etc.
What is the difference between HVLP spray gun or LVLP spray gun?
The major difference between the two is HVLP is complaint with 10 PSI at the air cap and offers the best transfer efficiency of the two. HVLP guns use more CFM and will require users to size their air compressor accordingly.On the other hand, LVLP atomizes better, sprays faster and lays down a better finish while using less CFM but high air pressure.
Why will you choose an LVLP or HVLP spray gun? LVLP spray system or HVLP spray system
The FPro HVLP and LVLP are both high end professional spray guns; choosing one over another will have to be decided upon the following comments - HVLP spray guns offer a good quality finish with minimal material waste. HVLP is complaint with 10 PSI at the air cap and offers the best transfer efficiency of all Airspray technologies.
LVLP spray guns feature great atomization which means superior finishes and sprays faster making them better suited for large objects and high production applications. LVLP guns are also great for higher viscosity and water borne coatings.