Features:
Synthetic fiber brush 2A PET sharp filament stainless steel cover 2/2.5/3/4inches wall paint angled tip brush
Items Name: Synthetic fiber brush with wood handle
Items No.: 2A
Brand: G.SB
Style: Synthetic fiber brush
Material: Synthetic fiber
Size: 1/2/3/4inches
Applied Environment: Interiors&Exteriors Walls
Packing: White box+sticker
PROFESSIONAL QUALITY: 100% Satisfaction Guaranteed, Trim Paint Brush is Premium; intended to be long lasting and easy to clean. Exceptional ability to get the job done quickly with a superior finish.
FIT FOR COMFORT: Treated wood handle brushes are lightweight and easy to hold. A comfort that last for long tedious jobs. Handle allows for the best quality control with exceptional results.
THICK FILAMENTS: These synthetic filaments are designed hold more paint to save you time and give you the finish you are looking for. Filaments are durable and long-lasting.
AFFORDABLE: Don't waste your money on a brush that will last you a hour. These high quality brushes are money savers. The value you get in these brushes are unbelievable for the price.
ANYONE CAN USE: It doesn't matter whether you are a professional or a beginner, this Paint Brush is great for any user.
These Wall Paint Brush Set This assortment of multifunctional paint brushes includes 1x 2.5 inch paint brush, 2x 1 inch paint brush, 3x 1 inch brush, and 4x 1 inch synthetic paint brushes) which can be used alongside any standard wall painting supplies and decorating tools. Each indoor and outdoor paintbrush in this Luigi's paintbrush set is ideal for household projects of any size. Our easy grip assorted paint brushes packs are even suitable for furniture restoration, crafts, art projects, and other recreational activities.
Use each adult painting brush in this kit as a deck paint brush, wood staining brush, primer brush, big radiator brush, paint brush for tight spots and touch ups, wide furniture paint brush, thick oil or varnish brush, small paint brush for walls and general brush or outdoor paint brush.
This 4-piece synthetic paint brush set for walls and other areas paints evenly and allows you to effortlessly complete any painting job to an extremely good standard. Strong and secure ferrules prevent shedding by retaining a firm and long-lasting hold on the bristles. This means you can say goodbye to the pain of removing loose bristles that is commonly experienced with inferior-quality painters' sets. Additionally, our gloss and emulsion paint brushes feature a dual texture handle which is contoured for maximum comfort and stability.
This allows you to easily keep a firm grip on the brush, helping to reduce hand cramping and making large painting jobs a breeze. Our household and trade paint brushes are also designed to be easily cleaned after use. Simply rinse them under running water, use additional cleaning products if necessary, and air dry before reusing for best results. For a superior-quality finish that will even stand up to close inspection, our paintbrushes are the ideal choice.
ynthetic bristles are often made from nylon, polyester, or a combination of both. Natural-bristle brushes are best for applying oil-based alkyd paints, and synthetic-bristle brushes are recommended for water-based latex paints.
Paint like a pro with help from this paint brush. Suitable for use with any type of paint, stain, or finish, the versatile brush works well for painting walls, ceilings, doors, fences, decks, siding, and other large surfaces.
Soft, yet firm and flexible with a tapered and tipped (flagged) design; holds an ample amount of paint for enhanced efficiency and provides a smoother stroke. Ideal for painting walls, ceilings, doors, fences, decks, siding, and other large surfaces; accommodates all types of paints, stains, and finishes. Offers a comfortable, steady hold; stainless-steel rustproof ferrule provides added support to the brush end of the wood handle.Simply remove excess paint with a brush comb, rinse thoroughly, and dry upright to allow water to drip away.
Synthetic brushes have bristles made from man-made materials such as nylon, polyester or other synthetic fibers. Because the synthetic bristles don't contain cuticles, they are less absorbent and won't soak up too much product.The fibers are also able to last through repeated cleanings and are less likely to shed. And synthetic brushes are also WAY easier to clean than natural brushes, and don't damage nearly as easily. They will take all of the heavy use you can throw at them. These types of brushes tend to work best with paint.
So that, Synthetic paint brushes – perfect for all water-based interior finishes. The smooth texture and springiness of the bristles make it easier to achieve an even finish and make 'cutting in' (creating the straight lines between different surfaces) really easy.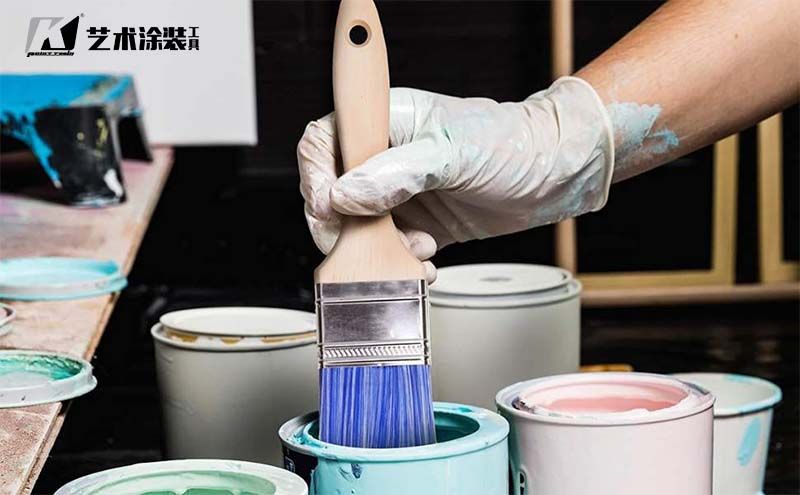 In an age where products are constantly enhancing, our paint brushes will continue to advance as well. Not because they aren't already superior, but because greatness is a process, and a process that G.SB will continue to strive for to give you the best paint brushes.
Are you Looking for a Durable Paint Brush?
This Paint Brush is great for any user. Its a Premium Quality and a must have tool in your home. It has a wooden handle, lightweight and easy to hold that gives you comfort to last a tedious job. These synthetic filaments are designed to hold more paint, to save time and give you the result you are looking for. Filaments are durable and long-lasting. Anyone can use it whether you are a professional or a beginner.
Painting with water-based paints
Water-based paints are paints whose base is water. To add water to dilute.
Tips for painting with water paints :
First.- Choose a brush quality. You can select following colors that identify the type of paint and the surface of which concerned. Not the same varnish to paint a wooden building a surface for painting with acrylic paint.
Second.- Prepare the surface before painting. Removes leftover paint, dust, stains and other debris that may remain on the surfaces you are going to paint.
Third.- Follow the manufacturer's instructions paint. Brush dipped in paint, appropriately diluted, until the 3/4 bristles. Do not immerse the ferrule ( metal part ). Take long strokes extending uniformly painting. For wooden surfaces, follow the direction of the grain of the wood.