Features:
While there are many products, including joint compound and spackle, that can be used to patch or smooth out different types of walls, wall putty is particularly useful on plaster or concrete walls. Wall putty can fill in small cracks and holes, and adding a couple thin layers over the wall will improve its appearance and help paint adhere better. Just make sure you prepare the wall and mix the putty properly, apply it in thin coats, and let it dry thoroughly before proceeding.
Professional roller for hand application of putty, decorative textures, rough materials, materials for roll-up, powder materials and decorative paints. On the walls and ceiling, on the joints of the GLC, and also for application in hard-to-reach places. The finish roller is a professional grade putty roller that is designed for easy application of gypsum finishing. With its high absorption of the material, the finish roller is the perfect tool for any project.
A perfect paint finish can be easily achieved with putty. It provides a solid base for paint by providing an even and smooth surface for tinting. Whether you've just moved into a new house or are planning to repaint your room, it will ensure your new paint lasts longer, keeping it looking its first day of the year.
Strictly speaking, putty is a fine powder made of white cement that is mixed with water and other additives to form a solution that is applied to the wall. If you use this solution correctly, it will fill in cracks, imperfections and crevices in your walls, creating an even base for your paint. The smooth mixture of wall putty and water adheres perfectly to any type of wall, creating a flawless finish inside or outside your home.
Generally, professional painters will apply two coats of indigo wall putty before painting any surface. The first coat fills in the defects and the second coat ensures that the coated surface and the wall are in line with each other.You can use putty on drywall. They can also be easily applied to plastered walls as they are applied to concrete walls. Their versatility makes them the best choice for painting any type of wall.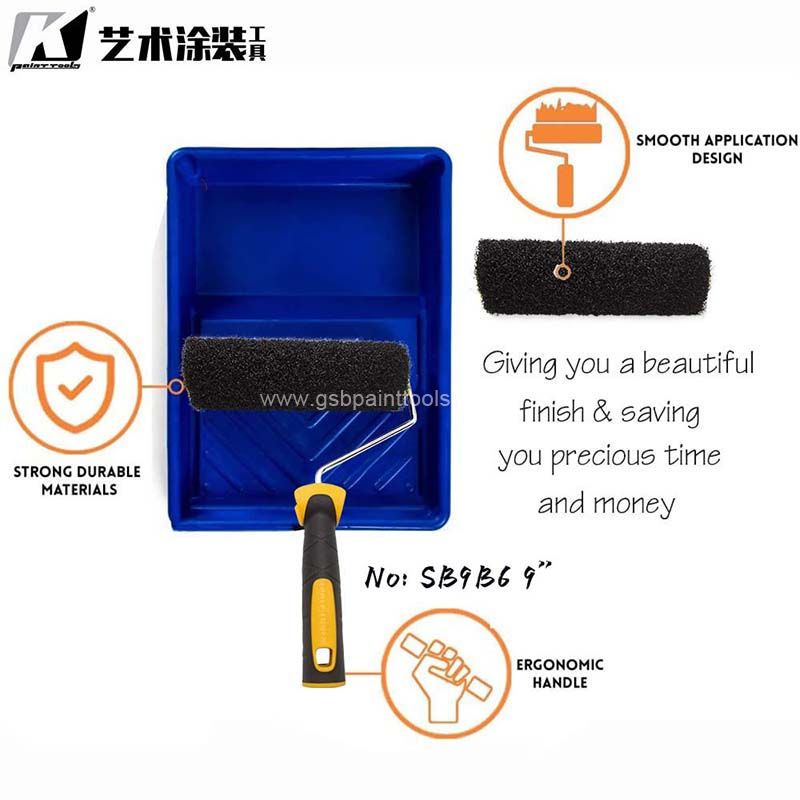 Specifications:
• First-class strength, braided polyamide
• Specially processed, stable bristle structure
• High absorption and allocation of material
• Very smooth surface, no abrasion and easy to clean
• Does not slip out of hands thanks to an ergonomic plastic handle
• Galvanized rod with clip mount perfect tool is not subject to corrosion
• Quality classification: premium, for demanding users
Features and Benefits:
High quality fibers
Precise and fast work
Description
Reduced number of refills: takes between 20% and 50% more than other rollers.
Easy to apply and smooth, burr-free. Constant thickness of the coating for fully flat finish.
The high resilience of the fiber holds the coating without flattening it and applies it evenly to the substrate. Easy to clean.
Technical Specs
Complete filler roller - Black nylon fibers 23 mm - High strength
Renders recommended: Ready-to-use paste coating, airless machine coating, roller applied coating. Can be used with some powder coatings, preferably dry and not set, and prepared in a rather fluid way.
80 mm: 1st pass - Fill between the thinned edged. 180 mm: 2nd pass - Fill either side. 230 mm: Coating large surface areas.
This roller allows you to quickly apply almost any coat at a constant thickness.
Roller for applying coatings to joint strips, walls, ceilings...
Greatly facilitates paint application and makes the stain accessible to all!
Allows deposition of constant thickness
Applies 3 times faster than a spatula (up to 40 sqm/hr with a 230mm sleeve)
After applying the coat with a roller, all you have to do is smooth
no projection
Can be placed on roller rods to suit heights and ceilings
easy to clean
Sold with its matching mount.
Sleeve width: 230mm
Fiber thickness: 27mm
Fiber Type: Nylon
Applicable product types:
Ready-to-use paste coating
Airless Machine Coatings
roller coating
powder coating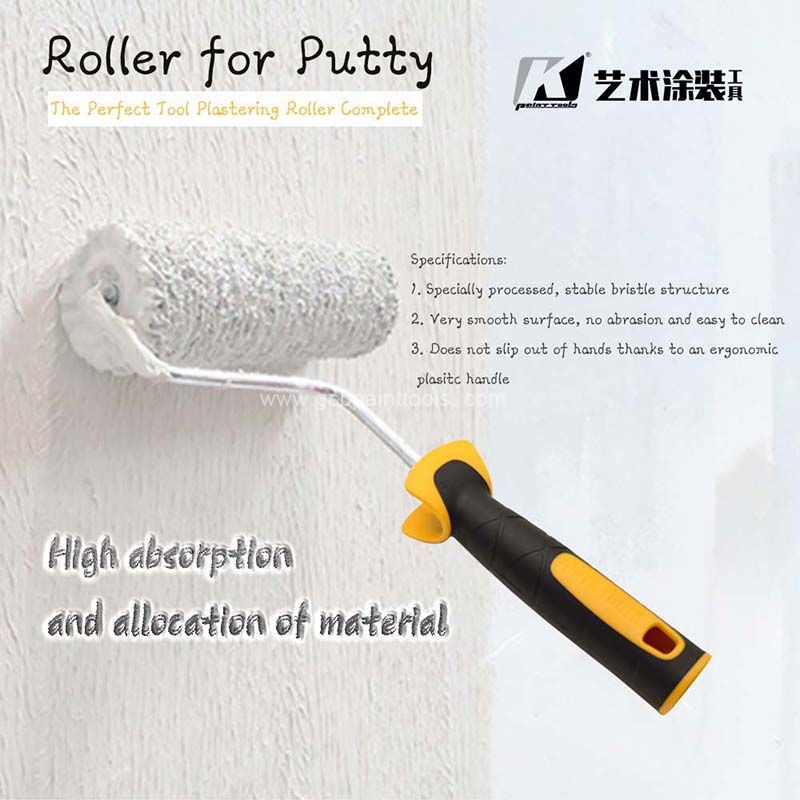 Load and unload fillers in less time than using traditional tools thanks to this roller's fibres.You can load and distribute the filler or plaster in one step. This is a good solution when you can't connect a professional spray machine and save time. If you want to cut down times and improve your finishes even further, we recommend using this tool in conjunction with the entire smoothing range.
Whether you are a professional or a beginner - our texture paint roller for high quality finishes and a satisfying outcome. If you're looking for a high-quality paint roller that will give you a satisfying outcome, look no further than the . Whether you are a professional or a beginner, this paint roller is perfect for you. The SB9B6 9'' paint roller is made with high-quality materials, so you can be sure that it will last. It's also easy to use, so you'll be able to get the job done quickly and efficiently.
So, if you're looking for a paint roller that will give you a high-quality finish, the SB9B6 9'' paint roller is the perfect choice for you. Our roller frames with ergonomic designed heavy duty plastic for long lasting and comfortable grip. High-density fabric that holds a lot of paint and evenly spread it, resulting in a smooth finish. The strong combination of the twothings, saves time and effort, is efficient and convenient, and brings you the best painting effect.
So what are you waiting for? Are you looking for a way to get a high-quality finish on your next painting project? Look no further than SB9B6 9'' paint roller - this roller is perfect for both professionals and beginners. It's easy to use and gives you a satisfying outcome every time. So what are you waiting for?
FAQ:
What is wall putty?
Wall putty is made from a white cement material that is mixed with water and admixtures or additives to form a solution that is easy to apply to walls. Putty helps fill gaps, cracks and imperfections in walls
Wall putty, also known as skim coat, is a decorative and functional smoothing material for interior or exterior wall construction. It is used to hide or remove blemishes or imperfections on the surface of the wall substrate, giving it a smooth appearance.
Wall putty/degreaser coating is one of the largest application areas for our MelaColl™ cellulose products: HPMC, HEC and MHEC. We have developed different grades with various properties to meet all customer needs. We also offer tailed formulations to give you the product best suited to specific raw materials and special local requirements.
What are the types of wall putty?
Cement based wall putty
Acrylic Wall Putty
What is the use of wall putty?
Use a good quality primer before putting putty on the surface, then use wall putty to fill in all gaps, cracks and imperfections in the walls.
For good results, apply at least two coats of wall putty to your surface to a thickness of at least 1.5mm. You should apply a second coat of wall putty at least 6 hours after the first, then allow the wall to dry for 12 to 24 hours until the surface is properly dry.
The next step is to lightly sand the surface, you can check that the surface is smooth and even.
Finally, you can apply the paint according to your choice.