Features: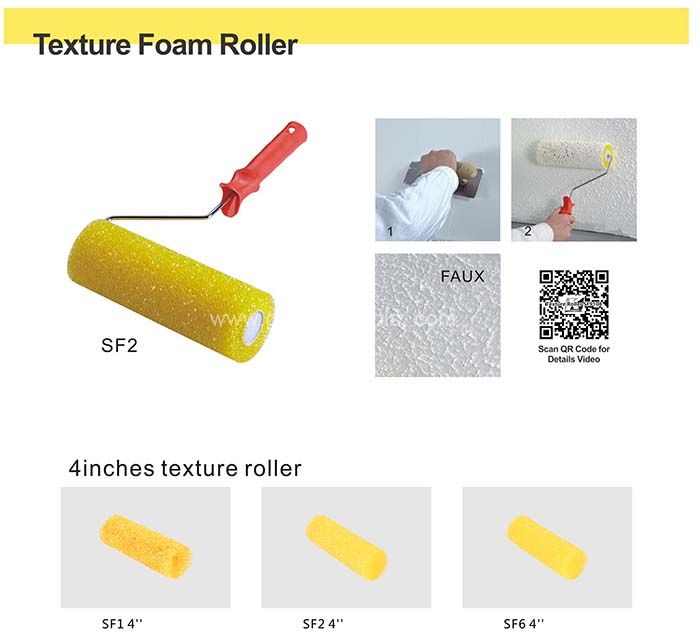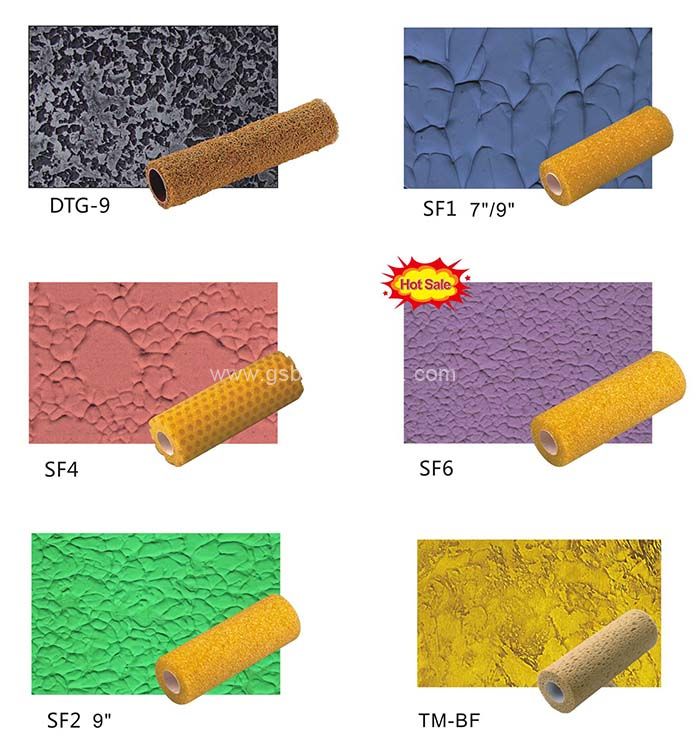 Product description
Each design roller is reusable and interchangeable, and can be used with either the fabric applicator or the wall & paper applicator. You can use them on walls, perk up old wooden furniture. Use our Textured Foam Roller to apply, which it is going to create a professional textured finish. This roller is also recommended to use when applying our anti-slip coatings because it enables the aggregate to be applied evenly over the surface allowing for an easy application. This roller is best to use for smaller areas and getting into tight spaces. It comes with a cigar frame handle included. These rollers are durable and easy to clean before the product dries so you can use them multiple times. Create a textured finish when applying with our textured roller. Fits our paint roller handle frames. Easily cleans with water while is wet.
IF YOU ARE PAINTING WITH some kind of roller. THIS IS THE ROLLER THAT YOU NEED! IN THEIR INFINITE WISDOM DISCONTINUED THIS ALMOST IDENTICAL ROLLER. THIS ROLLER IS ESPECIALLY NECISSARY IF YOU ARE USING ANY SAND IN YOUR PAINT. IT BROADCASTS THE SAND PERFECTLY. I WOULD ALSO USE IT FOR PAINTING FLOORS WITH SAND ADDITIVE. THIS ROLLER WILL SAVE YOU TIME, COATS, IS MUCH EASIER TO CLEAN, REUSEABLE MULTIPLE USESES. YOU WILL LOVE THIS THING!
I had some patching done on my walls and so the patches were noticeably all smooth while the surrounding walls had the little "sand" like grit texture on them. I used this and yes, it does the job! You have to cake the paint on pretty heavy on this roller so be aware of it splattering a little: cover your floors with old sheets. It really gives the wall a small bumpy, sand-like texture that blends in perfectly to old walls with texture. - Peter Liu
G.SB PAINT TOOLS CO.,LTD. was established in 2003 as a China manufacturer of foam paint rollers and brushes, brooms, and mops. We have since grown to become an international Chinese famous brand of high-quality foam paint rollers and accessories. We continuously bring innovation to the forefront of the Paint Industry and provide customers with quality products that help them get the job done faster and better.
Everything we sell is still made in our own factory with the higher quality raw materials and quality-control standards. This ensures timely deliveries of superior quality products on a consistent basis. As we complete our 20th year in business, we are very proud of the reputation we have earned in the industry.
What is the Best Textured Foam Paint Roller for Your Paint Project?
What is the difference between paint roller covers in the paint or home improvement store? Some are thick, some are thin, and they come in many colors, which It can be confusing. Most paint roller covers are made of woven materials and come in a variety of colors. There are different colors for each brand, but the majority of them are white, yellow, red, or blue.
Now that you have the right paint roller nap and size, here are a few other things to keep in mind when using a paint roller: To attach the roller cover to the paint roller frame, simply align the hole in the cover with the end of the frame and push it on. If needed, you can screw on a painting roller extension pole to each roller frame to reach high places. Use the rounded end of the foam roller cover when you don't want any roller edge lines to show up in your finish.
Don't use excessive pressure to apply paint—an even, light pressure is all that is needed.Remove your roller cover from the roller frame right after you are finished painting. Use soap and water to clean up after using latex paint. Hold the roller cover under running water and squeeze your hand over the roller to remove the paint. Repeat until all the paint is out of the roller, then let dry. Never leave the cover soaking in water.
Always buy the best rollers and covers that you can afford. They will last much longer and give you superb results. Bargain roller covers may break apart quickly and can leave lint in your paint finish. Make sure the handle of the paint roller feels good in your hand by trying various brands. You can prevent hand cramps by using a roller frame with a comfort grip if you do a lot of painting.