Features:
Round Sponge Foam Brush Set with Wooden Handle for Kids Painting Crafts
About this item

1. MATERIAL The Round Sponges Brush is made of wood handle and sponge, which is light weight and durable, safe for your kids.
2. They are widely used in school, art studio, birthday party and other situations when children need to make DIY crafts.
3. It's no harm to body and is a good product for kids to paint.
4. Different sizes in diameter, give children more choices to decide the size of their draws and give more opportunities to develop their imagination.
5. The activities also provide children opportunities to make decisions independently.
6. These sponge brushes can be used in many ways. They don't last long, but they don't have to.
Full of creativity: these round sponge brushes are ideal painting tools for children, which can help to develop their imagination; By using these paint sponge brushes, children can try to produce vivid and attractive bright colors, making them feel more confident in painting work.
Various application: paint foam sponge brushes are practical paint tools for various art and craft projects, which can be applied for decorating living room, bedroom wallpaper, clay miniature, staining or painting window, suitable for artist teens or paint lovers.
Reliable material: consisted of quality wood handle and sponge brush head, these sponge painting brushes are convenient to apply and comfortable to hold, ideal gift for children on Christmas, Thanksgiving, birthday, graduation and more.
Features:
Smooth handle:
Round sponge painting brushes with wood handle are comfortable for children to hold, which is smooth in surface and light in weight, kids won't feel burden on hands when painting, offering an easy using experience.
Wide range of usages:
Foam sponge brushes can be applied for various art and craft projects, which are suitable for decorating living room, bedroom wallpaper, clay miniature, staining or painting window, ideal painting tool for artist teens or paint lovers. Delightful deal gift for children on Christmas, Thanksgiving, birthday, graduation and more.
Note:
The colors may exist slight difference due to different monitors.
Please allow slight size error due to manual measurement.
High-quality materials: the yellow foam brusher made of high-quality wooden materials and sponge , strong oil absorption, easy to use, The sponge can be cleaned and reused. They are light, easy to carry, and easy to clean. Love these for painting my rocks. Especially when dealing with larger surfaces. Covers quickly. Also for children or adults with fine motor skill issues, when holding a brush is just a lil too much, these work great!!!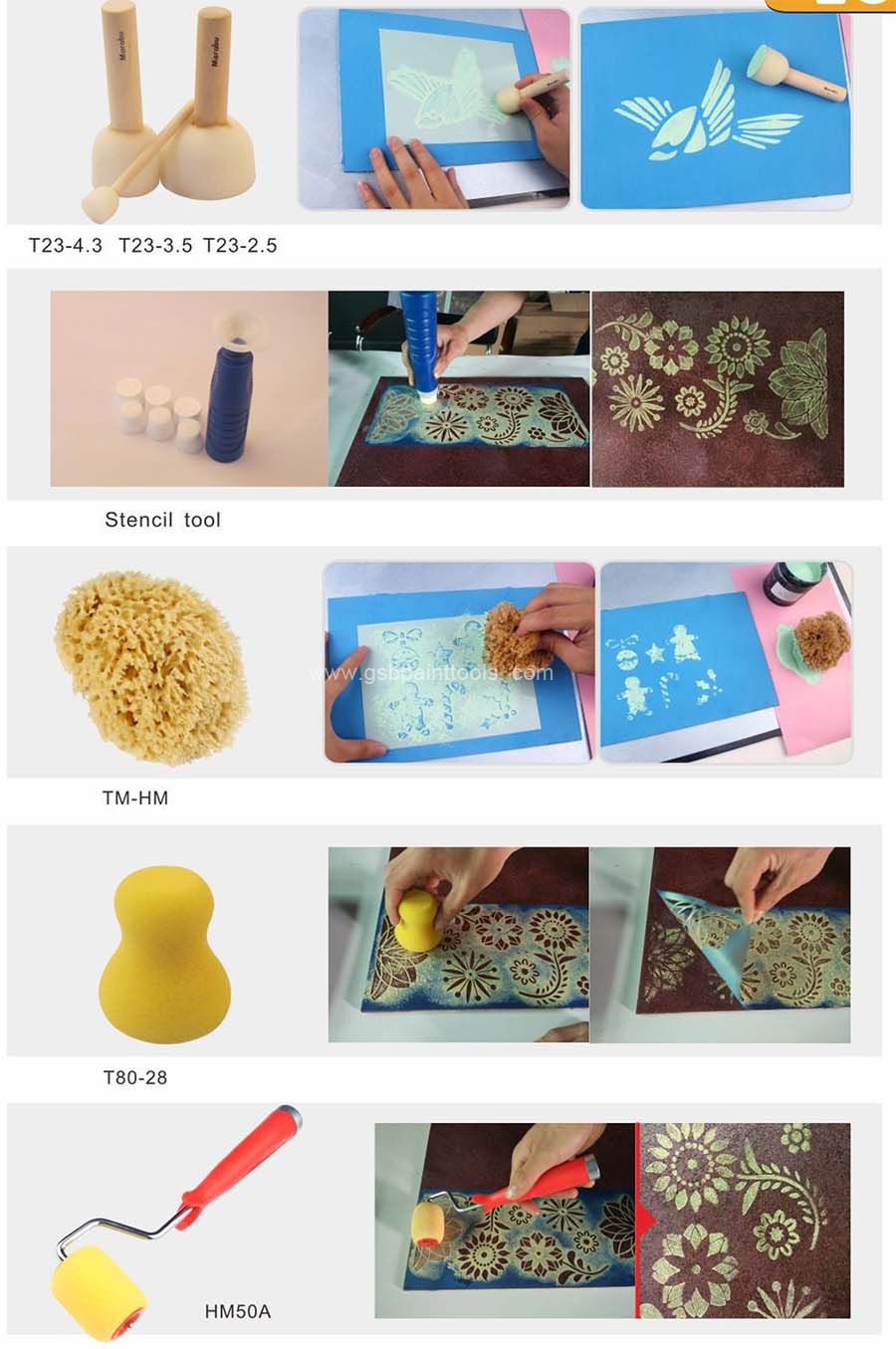 Stenciling is an inexpensive avocation that requires but a few important basic stencil tools and supplies to ensure a successful result.Good quality stencil brushes are the most important tools that you will need and use.

G.SB offers a complete line of Stencil Brushes made to our exacting specifications. These quality brushes are densely packed with long, soft, natural bristles. It is preferable to have a selection of brush sizes available for your project, and have a separate brush available for each color to be used. The size of brush to be used depends largely on the size of the areas that you are painting.
Large brushes, because they will hold more paint and will go farther, are used effectively for stenciling solid or allover patterns, and larger design elements such as pots and architectural features. Smaller brushes are necessary for stenciling in smaller areas, particularly when you are trying to control the application of paint in small areas for detailed shading.
When marking pencil lines, use a soft lead pencil with a very light touch. Don'­t make dark marks that will be almost impossible to fully erase. A good alternative is to use a watercolor pencil in a soft neutral gray color, which will be removable by simply wiping with a damp cloth.