Features:
Performance HVLP Paint Spray Gun with 4 Nozzles 1.8/2.6/3.0/3.5mm Nozzle
About this item
A paint sprayer is a product that makes it easy to apply emulsion paint, lacquer or stains smoothly over a large area. They apply evenly, giving the appearance of a smooth and unblemished surface.
Generally a paint sprayer gun has several great advantages over the well-known brush or roller. It can reach those hard toget at places very easily. Think of cornersand the transition from wall to ceiling. or behind heating pipes. or wicker baskets or chairs. canopies and shutters. cabinets or fittings. Not only can a paint sprayer save time, but it can also be more economical and can give a more even and professional finish.
Performance HVLP Paint Spray Gun: Professional HVLP spray gun set,which makes spraying more smooth and even, suitable for coatings surface spraying, such as car spraying, furniture spraying, handicraft spraying,base coating,wall painting and spraying projects.
Hvlp spray paint gun is made of high quality alminum alloy,lightweight and compact for easy to carry.HVLP technology helps to reduce the waste of residual material in the color cup.
The package includes:
1 x Spray Gun, 1 x 1.8mm Nozzle, 1 x 2.6mm Nozzle, 1 x 3.0mm Nozzle, 1 x 3.5mm Nozzle ,1 X 1500mm Cup, 1x Instruction Manual...ect.
Adjustable:
1.8/2.6/3.0/3.5mm - Four size nozzles, easier to control,Adjust the spray cap to control the nozzle direction 360° direction controllable.Hvlp spray gun 1.8mm tip with replaceable 2.6mm 3.0mm nozzle needle cap,wrenchr,nut,filter,connector and brush,which can fully meet your requirements.
Adjust the knob at different angles(horizontal, vertical,circular jet)to control the fan angle of the sprayed paint,so that the spraying is even and precise to meet a variety of spraying needs. And adjusting knob can adjust the flow rate (spraying paint)at will,more efficient and material-saving.
3.0mm and p3.5mm can spray thepopular silk color,velvet series,water-in-water,sand-in-water big color dot series;Compared with similar products,it has stronger texture and more three-dimensional effect.
Spraying Fluid Valve:
Depress the trigger and slowly open the fluid control knob on the back of the gun-this controls the amount of finish going through the gun. Performance HVLP Spray Guns are designed with a circular hook for safe placement of the gun and avoid contamination between the nozzle and the ground.
Our Advantages:
This spray gun makes the spraying softer easily controlled and less overspray.Ideal for spraying basecoats, clearcoats and other high viscosity coatings also suitable for domestic and industrial primer, topcoat and detailing for automotive industry, equipment and furniture paint applications. Hvlp paint sprayer gun GS-HVLP design and engineering to improve air and fluid management in a perfectly consistent spray pattern. Suitable for waterborne and solvent-based applications, it effectively atomizes professional high solid clear coats.The 360° swivel air inlet reduces drag and prevents tangling in the booth.
FEATURES
Power Supply Voltage:220~240V50Hz
Maximum Power:1600W
Spray Can:1500ML
Air Supply Tube Length:6m
Cable Length:5M
Net Weight of the Body:7KG
Air Pressure:0.10~33bar
Maximum Flow:1200ml/min
Nozzle caliber:中1.8/2.6/3.0/3.5mm
Filter:Check the approximate state of paint viscosity value.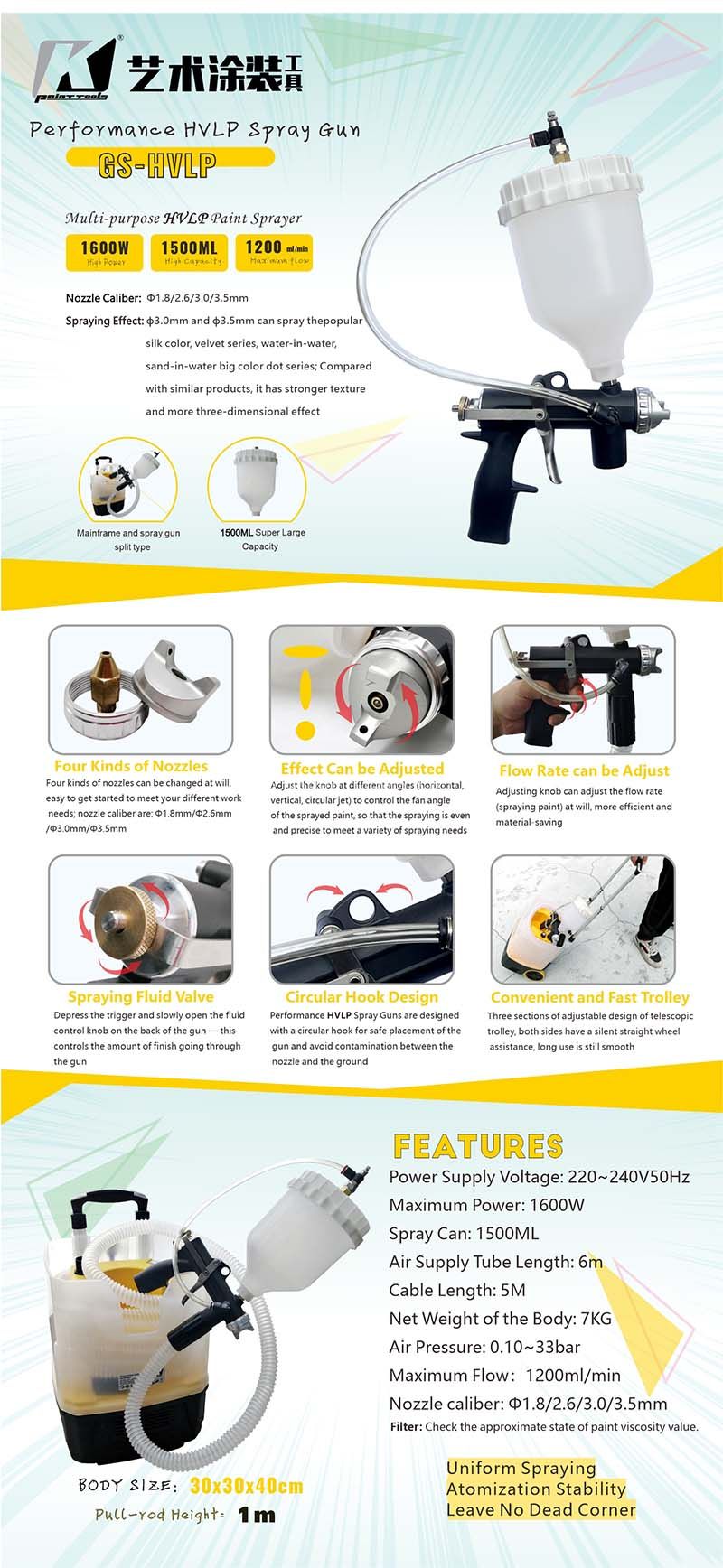 High Quality :
After special treatment, the sealing function is good and the service life is long. Slip resistant design,adjustable tightness.Flexible operation, good hand feel, gentle pulling force of trigger, comfortable use, long-term operation is not tired.

Suitable for water-soluble paint and variety of spray paints, dedicated to car repair industry, top quality furniture, and other precision equipment which need fine surface finishing. Composite construction for lightweight and comfortable for longtime operation even in winter time, HVLP (High Volume Low Pressure) to get superior finish and save paint. Allow you to have precise air control, helping you get the optimal atomization. The stainless steel needles and precision machined air caps, give you a fully atomized and consistent spray pattern for a smooth professional finish.
Our paint spray gun for sale is a composite gravity feed HVLP spray gun designed to spray all light to medium viscosity materials. Enamels, lacquers, polyurethane, urethane top coats (including basecoat/clearcoat) and all primers can be applied. This spray gun is supplied with a 50 oz. (1500 ml) gravity feed cup. This air regulator will allow you to have precise air control at the paint sprayer for best, consistent results. This paint gun comes in handy when working with small areas or those tight places that are hard to reach with a larger spray gun. It sprays anywhere from 20 - 53 PSI, a good general pressure to start spraying at is 35 PSI.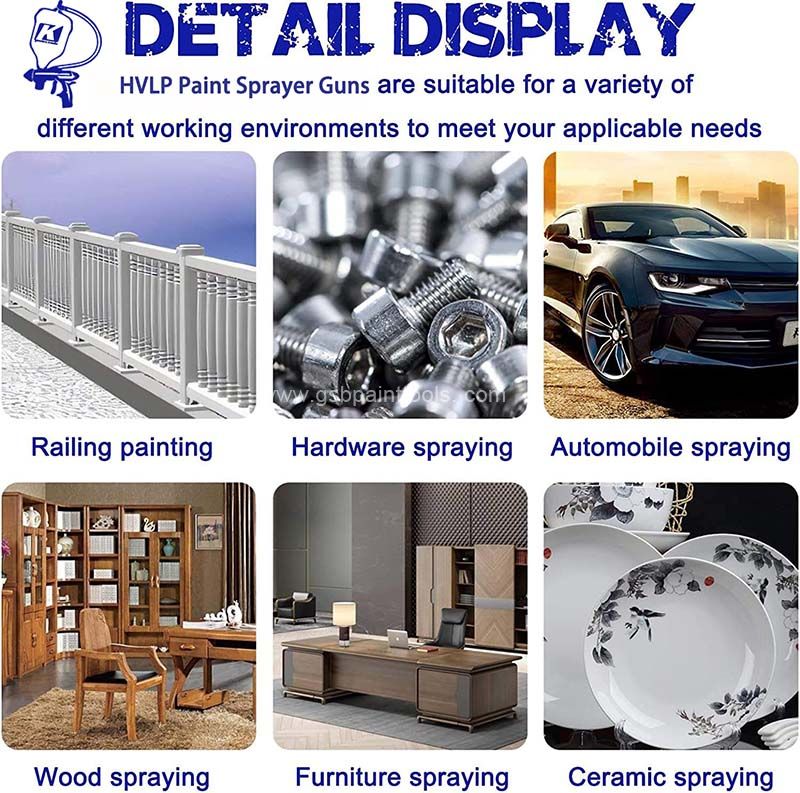 I must say this spray gun performs like it cost twice as much money. That said, it was not without a couple of issues. I put the air gauge on attached an air line to it, the fit wasn't the best so l wrapped a bit of thread tape on the fitting and tightened it down. It still has a slight air leak from the air gauge stem itself but not enough to worry about. I made a couple of adjustments with air flow, spray pattern and the trigger pull and I have ran sanding sealer and enough conversion varnish to spray 2 large slab wood tables and a large wood slab table base so far and the gun sprays very well. I use spray guns all the time for finishing furniture and this gun sprays like a champ at 22lbs of pressure at the full open spray - perfect. This is a really nice paint gun - Antastic gun for the money, painted my pontiac solstice, perfect. --- Peter Pan
What is HVLP spraying?
HVLP spray technology has been defined and applied by the SCAQMD (South California Air Quality Management District) in the 80's and has been adopted by most state's EPA in the US today. To meet HVLP compliance, the air pressure measured at the air cap must be between 0.1-10 PSI maximum or prove the application is at least 65% transfer efficient.
These requirements reduce overspray pollution and minimize material waste compared to a conventional Airspray gun. HVLP is an acronym for High Volume Low Pressure which means a high volume of air at a low air pressure. Atomization is achieved by the volume of air not by high air pressure which reduces the forward velocity, thus creating a softer spray.
The softer spray allows more material to stick to the part and not bounce off into the atmosphere reducing air pollution and material waste. To achieve this HVLP guns use designed with larger air passage and air caps with multiple or larger atomizing orifices around the fluid nozzle.
To meet HVLP guidelines Sames Kremlin has developed its own range of HVLP spray guns. The FPRO HVLP is the latest and is offered in Gravity feed gun or Pressure configurations to meet your equipment needs. The atomizing air on our professional spray guns are fed by compressed air while other HVLP systems such as HomeRight, Wagner, Fuji, Apollo and Graco to name a few use an electric turbine to produce atomizing air.
While these systems are transfer efficient, they are slower, noisier and require more maintenance then compressor fed guns. HVLP is one of the most efficient types of Airspray guns you can get. Less paint wasted in your process means money saved on paint consumption. Less waste also means a cleaner environment and time saved in cleanup of the booth and surrounding areas. Longer booth filter life reduces the amount of toxic waste disposal cost. The FPro HVLP guns can spray just about any coating in the wood, metal, and plastic markets.
What is LVLP spraying?
LVLP guns are a combination of conventional Airspray and HVLP Airspray. LVLP is an acronym for Low Volume Low pressure which means that it uses less air volume (5-18 CFM) then HVLP (10-25 CFM) and lower air pressure (10-30 PSI) than a typical conventional Airspray gun (35-60 PSI).
LVLP guns have large air passage like the HVLP guns but the air caps have slightly smaller holes. The smaller holes create more air pressure at the air cap which creates better atomization. LVLP guns are not limited to 10 PSI at the air cap but can still be compliant by delivering 65% or better transfer efficiency depending on your application.
The FPro LVLP spray gun technology atomizes difficult coatings, higher viscosities, water borne and higher flow rates better than HVLP guns. The LVLP guns applies coatings faster making them better suited for large objects and high production applications. Sames Kremlin offers the FPro LVLP gun in Gravity and Pressure configurations, both with a smooth trigger, to meet your applications needs.
What is the difference between HVLP or LVLP spray systems?
The major difference between the two is HVLP is complaint with 10 PSI at the air cap and offers the best transfer efficiency of the two. HVLP guns use more CFM and will require users to size their air compressor accordingly. On the other hand, LVLP atomizes better, sprays faster and lays down a better finish while using less CFM but high air pressure.
Our performance HVLP paint spray guns with four nozzles 1.8/2.6/3.0/3.5mm nozzle is the ideal gun for DIY'ers and professionals alike. Simple enough for beginners to master and built with the high quality features and materials that seasoned professionals prefer.
HVLP stands for High Volume Low Pressure meaning the gun uses a higher volume of air and lower air pressure to produce a fine spray pattern that can cover a larger area faster. Because it requires less air pressure but higher volume, the gun requires a larger air compressor compared to an LVLP spray gun to operate efficiently and with the best results.
Because it requires less air pressure, usually less than 10 PSI, the gun can operate with smaller air compressors that are budget-friendly and produce less output. The smaller nozzle size -1.8 and 2.6mm- works best with thin viscosity materials like basecoats, clearcoats, thin stains, lacquers, enamels, oil or water-based mediums, and more.
The larger nozzle size -3.0 and 3.5mm- works best with thinned latex, stains, base coats, clear coats, waterborne and polyester primers, finishing fillers, and other medium viscosity materials. Ideal tasks and jobs that work best with the HVLP gun include car parts, wood work such as cabinets and furniture, covering walls and other projects that require accuracy.
Along with accurate spraying, this gun boasts an exceptional transfer efficiency of up to 70 percent so that there is less overspray mist and wasted materials that can cause dangerous chemical pollution in the air. Three smooth turning adjuster knobs allow the user to control the air pressure, material flow rate, and spray pattern width, giving you complete control to take on any situation.
Spray Gun Cup, 1500ml Gravity Feed Air Spray Gun Cup Pot for Paint Spray Gun Tool
★High-quality Material: The spray cup pot is made of high quality plastic material which performs high corrosion resistance and strong strength, durable and has a long service life.
Strong wear resistance, high toughness, durable, and solvent-resistant while easy to clean.The pot is marked with scale. With its high light transmission, the amount of paint in the pot can be seen directly during the spraying process.
★ Easy to Use: This cup replacement design with external thread bayonet which makes it easier to install and posses well sealing performance.
★ 1500mL Large Capacity: This plastic paint cup design with 800ML for use. It's a good choice for an extra or replacement cup for your paint spray gun.
Top reviews from the UK
I needed this to paint some cabinets I was installing in my kitchen. Not the full cabinets but a few places that I ended up having to cut and trim and then to touch up some areas that didn't come from the factory finished. For the money this is hard to beat. This gun performed better than my higher price one.Do yourself a favor buy this gun u wont regret. Fine spray gun at a good-price.
The paint went on well and I'm fully confident that any areas that aren't great looking were totally my fault. It is a pain to clean after each use, but I think that's probably the case with any paint sprayer. I'd get something nicer if I was a pro, but if you need to do a few spray jobs or just use it every now and again it's a great purchase.
Great deal for the price. Have used it a couple of times and clean it thoroughly and immediately after each use. So far, so good. There's not much to it, so I imagine as long as I take good care of it, it will keep working. I'm not a pro, but I was able to get professional results with this sprayer, I'm very pleased and at a great price.Good guns I've had good luck out of them . Spray just as good as the big name brands.