Features:
K Brand Masking Tape Tools as Hand-Masker Pre---Assembled Masking Film & Tape Kit
About this item Best Used When: preparing for painting, ceiling texturing, exterior wall finishing or floor sanding saves time and applies painter's tape to masking film or paper in one continuous application.

Takes some practice to get used to it, but even with struggling at first it was still way faster than hand masking. Cutting plastic all in one swipe without the blade protector getting in the way is the hardest part. Many user like the modular design, can use paper, plastic different widths, and any width and kind of tape.
With proper understanding and practice this tool is actually a breeze to use and enjoyable when you compare it to the ordinary mess of willy nilly hanging plastic with tape and scissors (assuming you can even find a sharp pair). You can tape off a kitchen in 5-minutes and have texture, paint...whatever flying in minutes thereafter. The fold-down-to-draping sheets are wonderful and with the variety of sizes, you can't go wrong. Just make sure you have enough of everything including proper length.
Our sample policy:
Sample order is acceptable. We can supply the sample if we have ready parts in stock, but the customers need to pay the sample cost and the courier cost.
Packaging & Delivery
Each piece packed in the double blister with color paper (we design a logo for a client to promote their brand name in the local market).
Port: RongQi
Lead Time:
| | | |
| --- | --- | --- |
| Quantity(Pieces) | 1 - 1000 | >1000 |
| Est. Time(days) | 40 | To be negotiated |
we are strict with the package and the quality, we promise the customer the best services.
Payment terms:
1. The price above is EXW price. If the order value is over USD6000, it can be same as FOB price.
2. We will offer documents as: invoice, packing list, B/L, CO. If customer needs other certification, we need to charge customer the extra cost.
3. The delivery time will be 30-40 days after receiving deposit.
4. Payment term: 50% deposit, 50% paid upon copy of shipping documents.
About this item
3 to 4 times faster than paper/poly method
Saves time when preparing for painting, ceiling texturing, exterior wall finishing or floor sanding
Applies painter's tape to masking film or paper in one continuous application
Dispenser is compact and lightweight with an easy-grip handle
Ladder Hook Included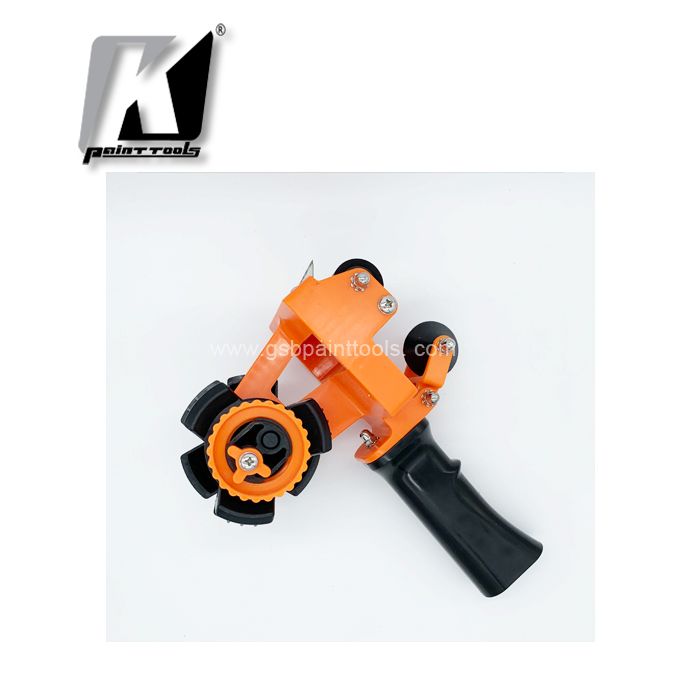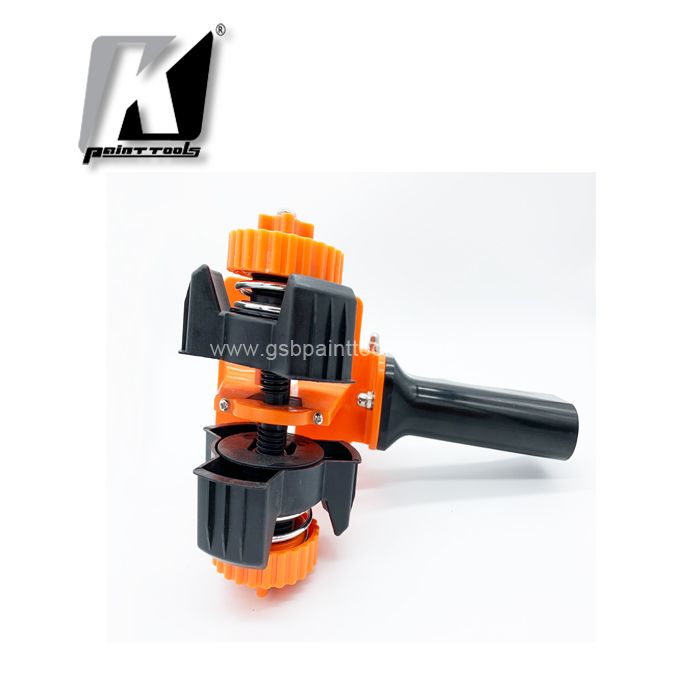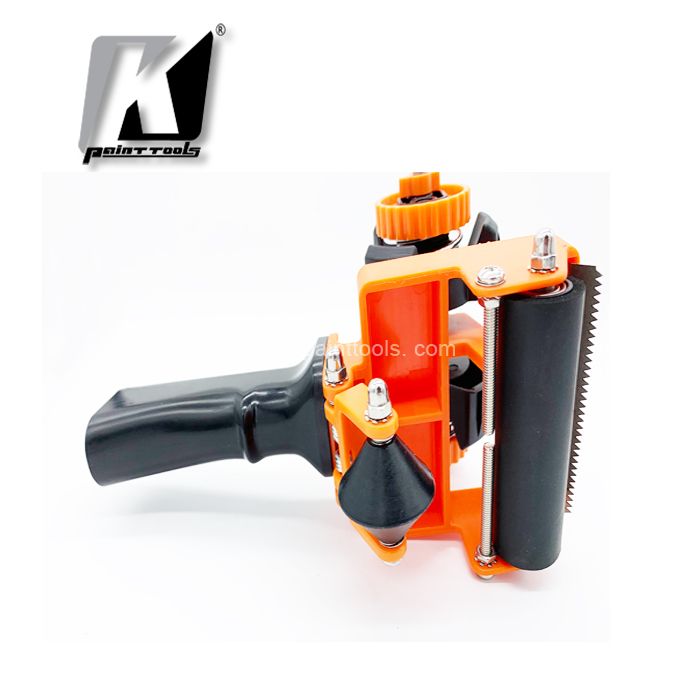 What is masking tape tool?
Masking tape, also known as "painter's tape",it is a type of pressure-sensitive tape made of a thin and easy-to-tear paper, and an easily released pressure-sensitive adhesive. It is available in a variety of widths. It is used mainly in painting, to mask off areas that should not be painted.
How do you use painters tape tool?
To apply painter's tape quickly and precisely, without any special tools, stick a few inches of tape to the molding and unroll about six more inches. While you hold the roll of tape tight against the wall, rotate it down to stick this section of tape and repeat the process.
Do professionals use painters tape?
Easy-to-remove painter's tape has become the paint edging device of choice for most do-it-yourselfers because of its predictability and low-stick qualities.
By contrast, painting without tape might seem difficult, unnecessary, and even a bit quaint. Painting alongside an edge without a protective border can indeed be a nerve-wracking experience.
Yet painting wall, ceiling, and trim edges without tape is more than just an artistic flourish. It is a common practice, particularly among time-starved professional painters. Do-it-yourselfers, too, can enjoy many of the benefits that cutting-in paint can offer.
Which method takes longer to do and which one produces the best results? Is it possible to learn how to freehand your paint edges, avoiding tape altogether, even if you think you are not a born artist? Yes, it is possible, but it does take some practice to get it perfect.
Painting With Painter's Tape
With this method, a special painter's tape ranging from 1-inch to 3 inches wide is applied to one side of two adjacent areas, where one side will be painted and the other side will not. The tape is applied to the non-painted area.
Low-tack painter's tape removes with no sticky residue and is the only kind of tape you should use. Paint lightly against the tape. Let this first coat dry, then paint a second coat. Remove the tape after the paint has thoroughly dried.
One aspect of using painter's tape that is rarely mentioned: Though cutting-in has a learning curve, applying painter's tape does, as well. Laying painter's tape at the junction between walls and ceilings can be difficult, more so when one of the surfaces is not straight. Painter's tape is not fool-proof, either. Failure to press down all sections of the tape will result in paint bleed-through.
The Pros of Masking Tape:
1: Best for amateur painters and others unsure of their painting abilities
2: Creates sharp lines
3: Fast (once the tape has been applied)
The Cons of Masking Tape:
1: Paint can bleed through under the tape
2: Difficult to apply on uneven surfaces
3: Painter's take is expensive
Painting professionally and while most people accept a hand painted edge, there are always a few who want the absolute perfection of a taped edge. Use K brand magic masking tape tools with double roller, the accutaper this is not only easy but We have found is faster than cutting in by hand.
Now many users tape everything and don't think twice about it. Even applying the 3M delicate tape within two hours of the paint drying (only burnishing the edge with a plastic putty knife) and have had very little paint pull off.
Wondering if there is some type of felt type material that could be glued to the surface of the magic masking tape tools that glides along the wall--it does seem to drag and can scratch newly painted surfaces unless you are careful. Clever gizmo, a good investment.
Different versions of the masking paper applicator have their scope of application. For example, the general curtain wall adhesive can use the double tape version of the masking paper applicator. The gaps in the curtain wall adhesive are too small or too large. A single tape version of the textured paper applicator is used, while the glass glue in the bus assembly workshop can be used in both versions. A reasonable combination of different versions of the textured paper applicator can greatly improve the quality of the paste.
Our Painter's Tape Applicator is your new go to tool for faster, easier prep. There's a new way to prep with precision in one continuous strip, with an easy to hold circular grip and a felt pad that gently glides across surfaces. Plastic rollers tightly seal the tape to a variety of surfaces. Great for use on trim, baseboards, windows and door frames. And the sharp blade provides a straight, precise cut.