Features:
18" Paint Roller Frame with Light Weight Aluminum Frame and Ergonomic Rubber Grip for Large Area Brushing Ceiling Wall Decorating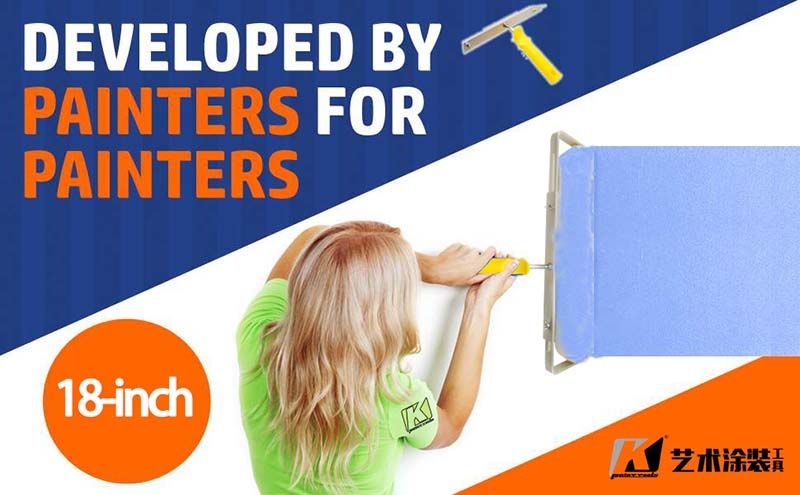 What is the feature of 18-inches paint roller?
More comfortable

K Brand's paint roller frame with durable robust rubber gripped handle has a comfortable ergonomic shape.
More lightweight
Made of aluminum, light in weight,and easy to use
More convenient
Paint faster and more efficiently with rollers sized any 18 inches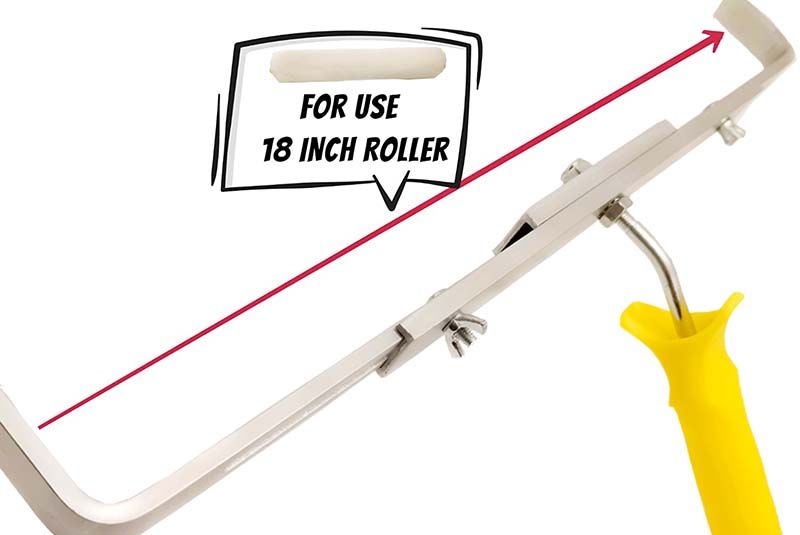 If you're looking for information, there are many sources – buying guides, product review websites, word-of-mouth recommendations, online forums, where users post their own experiences, and even YouTube channels. It is only through thorough research that you can find the very best products.
Offering one of the broadest assortments of quality paint applicators and accessories in the industry, G.SB has the right tool for your job. Whether you are a professional painting contractor, or an ambitious DIYers, G.SB produces outstanding paint rollers ann other products designed to make every project go smoothly.
Durable robust rubber gripped handle has a ergonomic shape,more comfortable to use. Really good quality roller. It is oversized so it can be a little bit tricky to clean but really made painting a lot quicker. Definitely would recommend using at the end of a STURDY paint dowel as it is sturdy itself and can weigh down on a cheap dowel. This roller was a time saver. A lot of painters epoxy painted their driveway in no time flat. Use this tool for the first time and it exceeded your expectations. Not to mention that it saves you so much time to paint two rooms because of the wide area it covered.
Painting a popcorn-textured ceiling is very difficult because most brushes and rollers can't manage the hills and valleys without skipping spots, overloading others, and smashing the texture in between. The Roller Cover, the best 18 Inch Paint Roller comes to the rescue, as it is specifically designed to evenly and swiftly spread paint over an acoustical ceiling, brickwork, highly textured walls, and stucco. And the roller cover is constructed of thick, multi-slit foam with a 18-inches nap to cover irregular textures without breaking the popcorn texture.
Lightweight and easy to hold the handle with a delicate curve design at the grip. The roller brush is durable and provides a comfortable grip for you to enjoy your paintings.We recommend that you use water-based paint and apply it on a smooth interior wall to make the brush more even and smooth.
With them, you won't need to spend more time and money to ask others to decorate your wall, you just need a bucket of paint and start DIY wall color painting, personal room painting design. If you receive any quality or other problems, please do not hesitate to contact us by email, we will be here for you and try our best efforts to help you solve the problem, thank you for your understanding and support.
Most Liking Features:
The 18 inch roller sleeve fits any standard roller frame and can resist water solvents and cracking.
Key Features:
Mint green roller with a thick polypropylene core
Easy to apply paint
Good quality with good value
Looking for a roller within the budget that works on difficult surfaces? Then, these 18-inches paint roller covers work can be the right choice. Fortunately, these are available in a variety of nap types, so they will almost certainly have something that will work for your next paint project. And the interlocking fibers in the dense, high-capacity fabric prevent shedding. There is no other roller that gives a smoother finish. It is made of the same high-quality white cloth with a golden pinstripe as it was when it was first released.
The dense, high-capacity fabric has interlocked fibers to prevent shedding. So that, no other roller produces a smoother finish. It features the same top-quality white fabric with the golden pinstripe as the day it was introduced, which it provides excellent results with the most demanding coatings: industrial enamels, epoxy floor finishes, moisture-cure or catalyzed urethanes. The coverage is flawless with all common paints and finishes.
These 18-inches paint rollers were very useful, and many painters completed the walls and ceiling painting. I've never painted before in my life but this will get me off to a good start.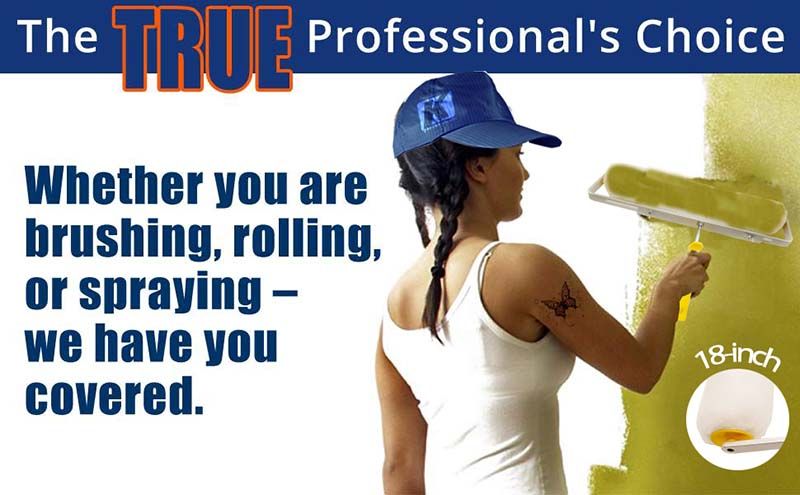 FAQs – Frequently Asked Questions & Answers
1. What is the best brand for roller covers?
It is hard to just mention one brand. Purdy, Wooster Brush, True Blue all of them provide the best 18 inch roller cover. But, K brand is a good chinese paint tools brand.
2. Is the bigger roller for paint better?
As a general rule, the larger the nap, the more paint it holds, resulting in a more stippled surface. A roller's nap or pile height determines its thickness. The most typical nap size is 1/2-inch, which is excellent for smooth interior walls.
3. How can I get a smoother finish using a roller?
Yes. Fill the reservoir at the end of the roller tray with paint. Dip the roller into the paint softly; the paint should cover less than half of the roller. Then, on the tray's ramp, roll it back and forth to properly distribute the paint on the roller cover.
4. What is the price of the roller?
The price is not the same for all the brands. It depends on the quality, brand value, durability etc.
5. Can I resume the paint?
A good roller should last at least 5 cycles before shedding. It may be reused without altering the quality of the paint application, and it will eventually pay for itself.
6. Why did you choose this model of 18 inch paint roller kit?
Due to the differences in size between 18 inch paint roller kit, knowing what will fit comfortably on to use it is important. A good 18 inch paint roller kit company will provide you with support of the highest quality. Although, you may decide that you don't need such a high standard.
7. Should I spend so much money on 18 inch paint roller kit?
An 18 inch paint roller kit should live with you for many years to come. Paying more will reward you with a better view, increased speed, and better quality accuracy every time you open the lid.
Professional grade quality, shedless, lint free. Our 18 Inch paint roller cover for faster and bigger coverage. End caps are pre-inserted and snug-fit for each roller cover for your convenience. No need to buy separately or worry about fitness. They are long lasting as long as you clean them out well. Save yourself sometime at the sink and simply soak them for a while after an initial rinse or two. Always 5 in 1 as much paint back into the gallon, or into a trash can - not down the drain!
18-inch Roller Frame with Paint Roller Cover Reviews from Alex:
A lot of painters really like the 18-inches paint roller frame. Alex in his late 50's and weigh about 115 lbs. so heavy frames wear him out. This from is light enough that he don't get tired after painting an entire room and it is sturdy enough that he don't need to push to get good coverage. It was very difficult to find this type of frame for a 18'' paint roller and the larger roller frames become too heavy for me after a short while. None of the top brands seem to carry one. This one was affordable and works great. So that, Alex highly suggest for the DIYer!
Alex decided to look for one that can hold a standard 18" roller cover - found this one. He had to say that his impressed with this roller frame. Alex used it on a small bathroom job, and it worked out well. So that, you get more even pressure on both sides of the roller for better paint distribution.
It gives good paint coverage per stroke. The materials are reasonably sturdy, and I had no problem with the rollers falling off as one might think. You can't get into the corners with this roller, so you'll have to still cut them in. Do yourself a favor and put a better roller cover on this guy before you use it, Alex says that.
Before using roller remove any loose pile. After use, remove as much residue as possible for water-based paints wash in warm soapy water for oil/solvent based paints and varnishes clean thoroughly with roller cleaner or white spirit.This roller sleeve will provide a good finish, paint hold and release capacity, and is an excellent all rounder. And this roller will lose a minimal amount of fibres meaning you can get on with your painting task made from medium pile for excellent paint pickup and release.