Features:
Paint Roller Covers with a long Pile Acrylic Sleeve Fabric for Emulsion and Masonry Paints
About It That:
1. Durable, trade quality woven synthetic fabric paint roller with excellent paint pick-up and release
2. Long pile ideal for heavy duty application on textured surfaces as well as significant emulsion colour changes
3. Suitable for emulsions (eg. matt, silk, eggshell) and masonry paint on rough and very rough surfaces
You'll feel confident of fast application and a great finish working on textured surfaces such as masonry, brickwork, and render. The long pile length even reaches into most textured walls and ceilings for a reliable coat. The durable Fabric has high paint loading capacity saving you time. You'll lightly wash and thoroughly dry the cover before use. Dip the fabric into the paint and roll on the textured Area of the tray. For an even of load you'll repeat, each time adding paint. Green Acrylic Sleeves have an extra long pile which provides excellent paint loading for excellent coverage. They have a long life and are suitable for use with masonry paints onto rough and very rough surfaces.
GETTING THE BEST FROM YOUR PAINT ROLLER
Here are some useful tips that professional decorators use that will save you time and ensure you get the very best result for your hard work.
1. Before the first use
Unless it is marketed as being lint-free, before its first use wash the roller in cold or tepid water to remove any loose fibres that would otherwise transfer onto the surface when painting: you'll save yourself time not having to pick out bits from the paint film. Remove excess water, stand the roller on its end and allow it to dry fully (ideally overnight) before using.
2. The first paint load
Allow the first paint load to soak down to the core by leaving it for 6-12 minutes. This will enable the roller to more quickly reach its paint holding capacity and maximise the amount you apply with each load, improving your painting efficiency.
3. Load the roller evenly
Load the roller with paint and use the roll-off area on your tray or scuttle to distribute paint evenly across and around the roller. This will give even application on the surface and save you time by not having to work out paint that would otherwise be dumped on.
4. Cleaning after use
Remove as much paint from the roller as you can so as little as possible is wasted or goes into drainage systems. Inexpensive tools specially designed for this are available, or you can use a paint scraper or similar tool. Wash emulsion paints and water-based gloss, satin and woodstains with warm (not hot) water, with a small amount of detergent if it helps. Wash solvent-based paints with white spirit - do not wash white spirit down sinks; use a container and appropriate gloves and dispose of the solvent carefully. Stand the roller on its end and allow it to dry fully (ideally overnight) before using again.
This high durability roller is ideal for textured surfaces such a masonry, or for a strong emulsion colour change, thanks to its excellent balance of performance and value for money. Giving a trade quality finish, it picks up plenty of paint without over-loading, enabling you to effortlessly power through large areas, with even paint application for efficiency and excellent coverage to minimise the number of coats required.

The fabric is machine woven, giving the fibres a double anchor with low lint and excellent durability, standing up to heavy duty use and washing out well after use, enabling the roller to be reused time after time. The long pile is suitable for masonry paints on rough and very rough surfaces such as brick, breeze block, cement and render, where the longer pile is effective at getting into the surface texture, as well as interior emulsion paints (eg. matt, silk, eggshell) on walls and ceilings (including medium to heavily textured plasters such as artex).
As it lays down plenty of paint it is suitable for colour changes both similar to the previous one and more substantial such as light to dark or vice-versa (the opacity/covering power of the paint is of course critical as well). This roller is ideal for walls and ceilings. For best results the roller should be washed in cold or tepid water before first use to remove any loose fibres. Stand the roller on its end and allow it to dry fully (ideally overnight) before using.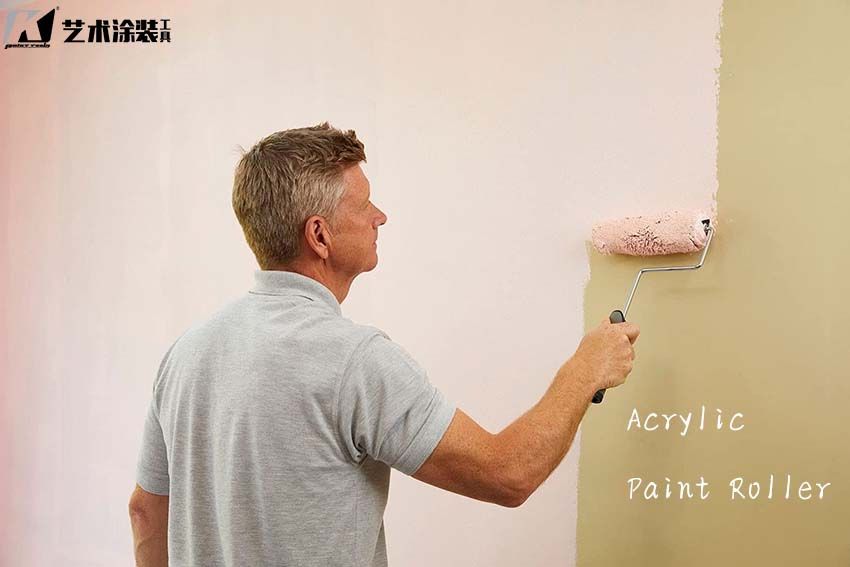 Ideal for beginners, do-it-yourselfers, and professional painters alike, the easy-to-use paint roller covers work best on smooth and semi-smooth surfaces, and they come in handy for painting walls, ceilings, the outside of a house, and more. Use the versatile paint roller covers with any kind of paint or stain.
PAINT ROLLER BRUSH COVERS: They ensure you'll not only have a smoother painting experience without dripping and messes, but also that your paint will look smoother in general. The durable paint roller covers can be washed and re-used for long-lasting performance, from one painting project to the next.
SMOOTH PAINT SURFACE: Paint roller covers are perforated and shed-resistant to ensure you'll be able to paint smoothly and clean up easily. Whether you're painting or staining, you'll want to have these painting roller covers on hand to get the most out of your paint and avoid damaging the floors or surrounding appliances.
USE WITH ALL TYPES OF PAINTS AND STAINS: The dense fibers reduce dripping and spatter, lint-free to facilitate an easy staining or painting experience. Light red in color, the covers allow you to paint walls and ceilings without damaging the surrounding floors.You can get more out of it but I think it looses its shape if you over do it.
How to get the best results from our acrylic paint roller
Taking a few easy roller-care steps before, during and after use will extend roller lifespan and ensure optimum performance. We've shared some useful tips to help you achieve impressive results every time.
Q: How should I prepare my paint roller before use?
A: Before first use, pre-wash the roller to remove any debris. For best results on every use, pre-wet with a suitable thinner and remove excess for a slightly damp, primed state that will accept the most paint. Avoid using water-based and solvent-based coatings with the same roller. Always refer to the coating manufacturer's recommendations before starting application.
Q: What surface preparation is needed before painting?
A: If needed, use a scraper or sandpaper to ensure all surfaces to be painted are free from loose or flaking paint. Fill any cracks or holes with a suitable filler or sealant and sand down before wiping the area clean. Before painting, ensure surfaces are free from dust and dirt; wiping or washing them with a little soap in water or a sugar soap works well.
Q: What application method will deliver the best results?
A: Dip the roller lightly into the paint; the paint should cover less than half of the roller, then roll backwards and forwards on the tray ramp to evenly distribute paint on the roller cover. Apply the paint to the surface with a large zigzag pattern, then fill in the space with criss-cross strokes.
Once covered, level the finish by laying-off with long, parallel strokes. PRO-TIP: Rolling demands a light touch. No matter what paint-roller cover you're using, always let the paint do the work. Keep the roller cover loaded with paint and use only enough pressure to release and spread the paint. Pushing on the roller to squeeze out the last drop of paint can result in 'tramlines', uneven coverage and finish and should be avoided.
Q: What's the best way to clean my paint roller after use?
A: First, remove excess paint from the tool, then wash with a suitable thinner. For water-based coatings, use water. For solvent-based coatings, use white spirit. Rinse thoroughly and dry with a clean towel. Never soak, use hot water, or apply direct heat to roller covers. Spin to shape, stand on end and dry naturally.