Features: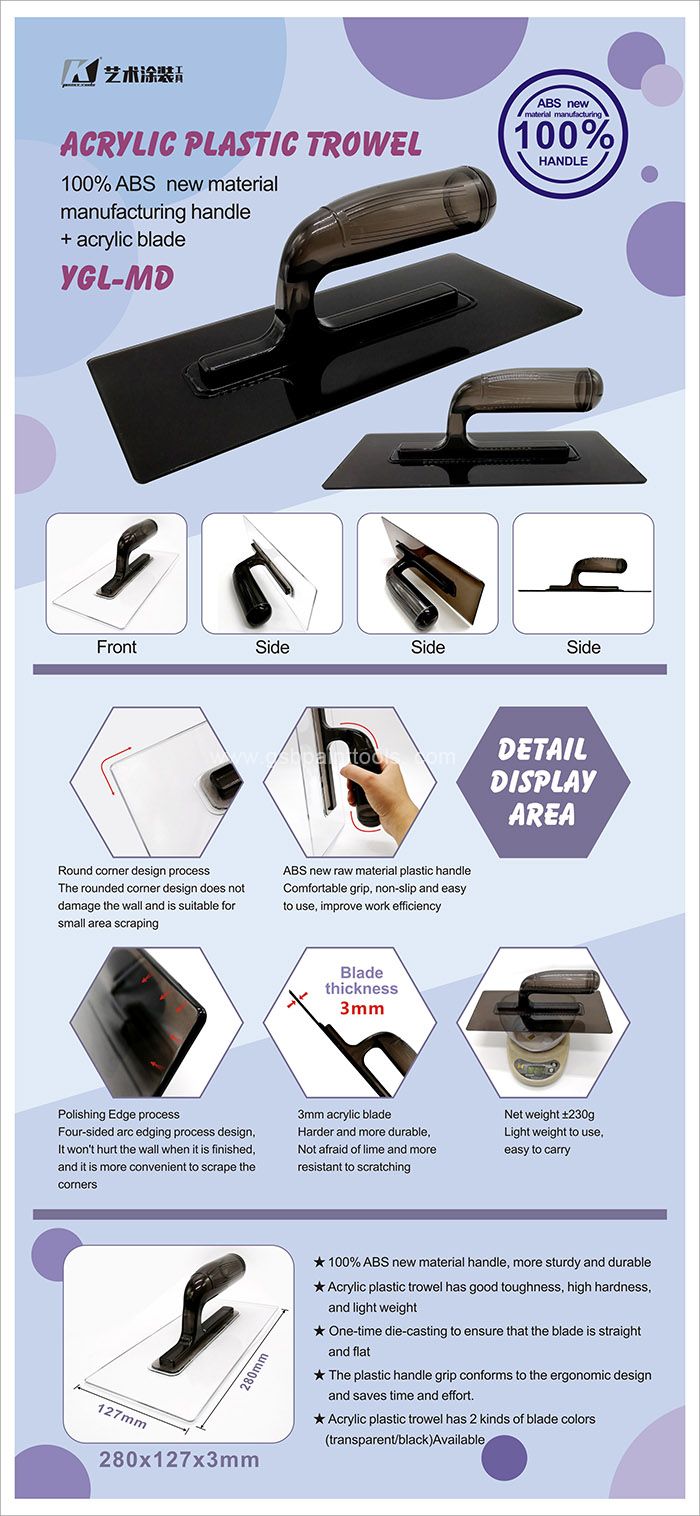 We have a wide range K brand plastering trowels. As experts in the field we know what works and are able to offer great value for money by picking the best plastering trowels on the market.Depending on your project and the type of job, there will be a plastering trowel that helps you work efficiently and ensures a perfectly smooth finish.
Our K brand plastering trowels are some of the best in the China paint tools industry and we only supply the highest quality products. Tools for the professional, we carry the entire K brand range for our customers, as they rely on our good quality paint tools.
K brand plastering trowels are often the professional's preference when it comes to quality tools. Manufactured in China to the highest standard, the ergonomic soft grip handles allow easy handling, making the plastering trowel much more enjoyable to use. The special stainless steel blade is made from good steel making K brand plastering trowels durable and ideal for a wide range of surfaces. Don't let your hard work be ruined with low quality tools, invest in one of our incredible plasting trowels. You'll find the job flies by with our range.
This trowel have made use of dual blade technology to improve the strength and flexibility of the trowel without compromising on blade thickness. At just 0.3 mm, it's about as thin as you can get but it's still strong enough for professional plastering jobs. This trowel have made use of a high performance grip. It's the ideal compromise between a soft grip and one that gives you ultimate control over the blade. The overall balance of this trowel is what makes it one of the best finishing trowels you can get.
The acrylic alloy handle is light but incredibly stable. It gives you all the strength and control you need without adding too much extra weight.The grip itself isn't replaceable, but it's got a decent finish on it that makes it easy to hang onto. It's got a decent girth as well, which helps fight arm fatigue. What makes this one of the best plastering trowels is the weight. It is ultra-light but still very capable.
What is the Best Trowel Size?
We recommend getting a few different sized plastering trowels, purely because the size you need will depend on the task at hand. Check out our huge range, we have a size for every job!