Features:
Professional Smoothing Blade
Our Professional Smoothing Blades include Good Quality Blade Technology for a superior finish & even blade wear with less fatigue on every job.K brand complete line of Professional Smoothing Blades are designed to deliver a fast, glass-like finish with minimal material waste or sanding for Drywall and Plaster finishing applications. Finish every surface job, no matter how big or small, with multiple sizes and an extendable extension poles.
The most durable blades on the market. These blades will change the way you look at smoothing blades. Made of solid billet aluminum, these bodies will last you for years and the ability to switch out the blades after wear will ensure you have the Tomahawk blades for a very long time. No plastic parts that crack under pressure.
Good Quality Blade Technology:
* Keeps the material on the work surface and off the blade
* minimizing waste and cleaning
* Rounded edges for perfect smoothing – without build-up
* Precision Stainless Steel Blade
* Delivers the smoothest finish – virtually eliminating sanding
* Flexes to provide more pressure and finishing area
* Up to 20X more contact area with the surface
* Precise Fulcrum Point
* Designed into the handle grip area
* Ergonomic Design
* Requires less effort than standard knives for less fatigue and greater productivity
* Composite Blade Handles
* Light weight composite for all-day comfort
* Delivers a lighter and warmer experience than other heavy/cold metal designs
* Hard Plastic Case Easy transport and protection of tools
Designed and built using nearly 15 years of input from professional finishers. Our tools are meant for reliable, daily use on the job site. Strong and lightweight extruded aluminum black back, high-quality stainless steel blades. Grip with the blade back or attach one of three extendable Skimming blade handles--whatever fits your finishing style. Our tools are built for reliable, daily use on the job site.Our finishing tools are developed by professionals for professionals and guaranteed to exceed your expectations.
Suggested Uses:
Available in more than eight lengths, there's a K brand skimming blade for every drywall finishing job: 7-inch, 10-inch or 14-Inch blades are often used for bedding and wiping down drywall tape after the tape has been applied by hand or using an automatic taper or banjo.
When finishing butt joints or slightly wider areas, 16-Inch, 24-Inch or 32-Inch skimming blades are ideal and will get the job faster vs. smaller trowels or finishing knife. 40-Inch or 48-Inch skimming blades are perfect for smoothing larger areas. Typical examples would include when you spray or roll on compound and smooth to a level 5 finish, or when you are covering up textured ceilings and walls.
1: Our Skimming Blade profile provides a comfortable, ergonomic grip. The design also allows for specialized skimming blade handles to be securely attached with a handle adapter.
2: The blade remains rigid and straight, even at lengths up to 4 feet (48 inches).The adjustment thumb screw enables the skimming blade to be easily adjusted to the optimal angle for any finishing job.
3: The skimming blade handle adapter is very light weight but offers excellent strength and impact resistance.The handle adapter quickly snaps over the blade housing for a secure connection. To release, simply lift the two quick release tabs.
4: Our Skimming Blade handle fits securely into the handle adapter, ensuring there is no wobble during use. The handle is secured using button snaps.
5: K Brand Skimming Blade handle is manufactured using lightweight but rigid and aluminum. An easy-to-use twist lock secures the handle at the desired length.
6: Skimming Blade inserts are easily replaced if damaged or worn (sold separately). They slide into the blade housing for a snug fit. This configuration is more cost-effective than replacing the entire skimming blade.
7: Composite end caps prevent drywall compound from accumulating (and drying) inside the skimming blade housing. This allows for easy cleanup!
Reviews from the United States:
Seriously, game changer, the amount of blade on the wall is 15 maybe 25 times more contact than standard mud knives, don't get me wrong, you still need mud knives for tapping or just to get the mud on the wall, but look out, get out of my way because I can come in behind you and move it where it needs to go faster than you can put it on.
I want to design a pump that can put the mud on the wall easier than a plunger, something I can use my Milwaukee batteries in with a handle that can get it where it needs and then use these, nothing would be faster, easier and lever 5 finished. Thank you G.SB for making my life easier, more professional and with a lot mire time on my hands.
Extra Reach with an Optional Handle Adapter and One of Three Handle Options Manufactured using premium fiberglass, aluminum, and high impact ABS composite, K Brand line of skimming blade handles are extremely lightweight yet robust and rigid - even when fully extended.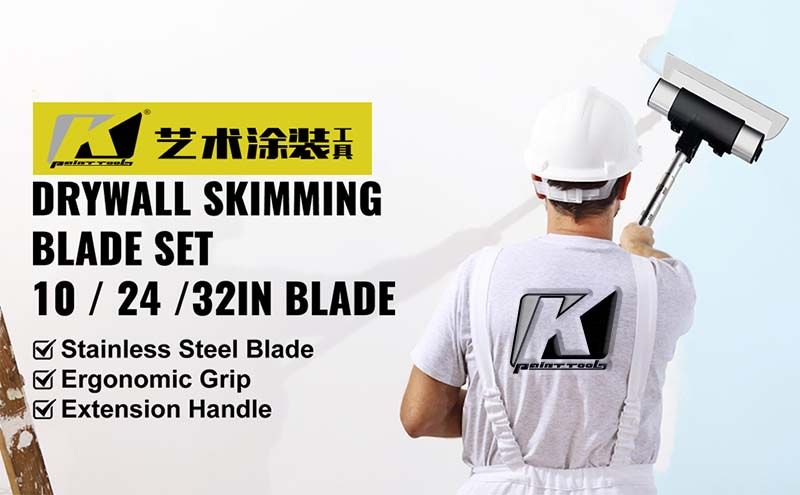 Drywall Skimmimg Blade Set
Ergonomic Extension Handle & Durable Shell & Portable Box
Our putty taping spatula knives are crafted with premium high-quality stainless steel. The aluminum surface ensures our taping blades remain perfectly straight and flexible. For all the efforts, these sharp blades help you get into tight seams and joints, creating a uniform surface that makes your project pop. Quality and reliability, in a blade with a name you can trust, G.SB.
Stainless Steel Blade Combo
Labor-Saving Design
Interchangeable Blades
Flexible Extension Handle
Suitable for Multiple Applications
Key Features:
a.High-quality stainless steel material is reliable, strong and lightweight enough for daily use, which means Resist Rust and Corrosion ,ensures a long-lasting tool that will withstand the elements and the test of time.; helps offer the perfect amount of flex for effortless skimming.
b.We analyzes the details of its ergonomic grip designs. A comfortable non-slip handle grip design will not cause hand cramps and ensures users won't be exhausted after a long working time.
c.Avoid drywall compound from accumulating and drying inside the skimming blade housing. Plastic material also allows for an easy cleanup.
d.Skim Blade inserts are easily replaced if damaged or worn (not included). Lightly slide into the blade housing for a snug fit. More cost-effective than replacing the entire drywall skimming blade.
e.Great for smoothing ceilings and other workshop surfaces. The Aluminum and plastic material are also easy to clean while working for long periods.
f.Our high-quality taping knives are designed to apply and smooth gypsum plaster over larger areas. Sharp and non-stick blade will give you easy to get straight lines, jointing, edges, and fixings. This works just as well and a lot painters are very happy with it.
Somebody went from never having done drywall to patching 100+ holes in their building. This tool helped they get smooth patches that nobody will ever notice now. Came slightly bent from shipping many painters believe and they also had to file some edges down but you can't beat the price and is pretty much the same thing as the big name brands. Still have to see how It actually works on skimming.
Customer questions & answers
Question: Is the drywall skimming blade made of stainless steel?
Answer: The skimming blade of the drywall finishing tools is made of stainless steel which provides excellent rust resistance, making it long last use.
Question: Is this drywall value for money?
Answer: Yeah. The skim blade is a high-quality and durable, which is just what we are looking for. This skimming blade is Inexpensive and made of stainless steel for resisting rust. Personally speaking, this skimming blade is sturdy and well made.
Question: The description says "smoothing/knockdown drywall knife". can this be used for taking off texture peaks, or is the terminology misleading?
Answer: It is great for skim coats and smoothing wider joints, and even putting mud on board but I would not use it for knockdown texture. Knockdown requires more flexibility - this product will save you so much time it's worth every penny. I'm going to skim my whole house because I hate the texture and I'm not afraid of the time commitment because this tool is amazing!