Features:


U-shape Spatula | Concrete Finishing Trowel Round Behind with Plastic Curved handle
Product Name: U-shape Spatula
Model Number: UF-CBE
Length: 215mm
Size of Head: 172.5×45mm
Material: 201 stainless steel
Handle Size: 120mm
Material: Plastic
Handle Color: Light gray + Dark gray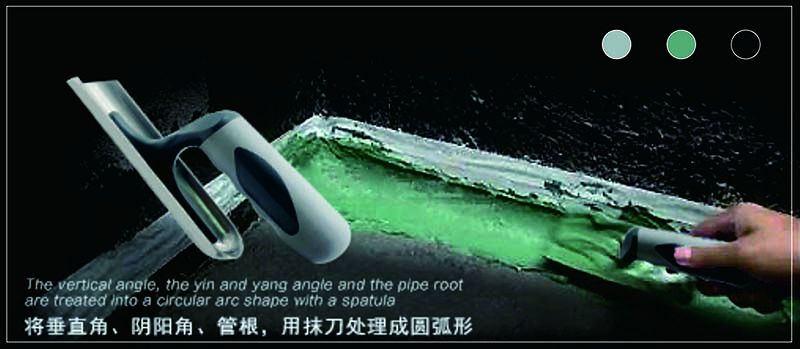 Product Description
1. The plastic handle grip is ergonomically designed to save time and effort.
2. The structure is simple and the operation is convenient. It is used for arc wiping blade for inner corners and pipe roots.
3. A construction tool specially used for construction and arc wiping process for multi-functional special-purpose construction such as shoveling, arc wiping, and shovel metering.
4. The tool size and radian can avoid the phenomenon of waterproof layer accumulation, cracking and shedding of the base layer in the inner corner and the root of the pipe.
5. In actual construction, the lack of special tools for root wiping arcs requires the use of several sets of tools to switch. This tool can easily solve these problems.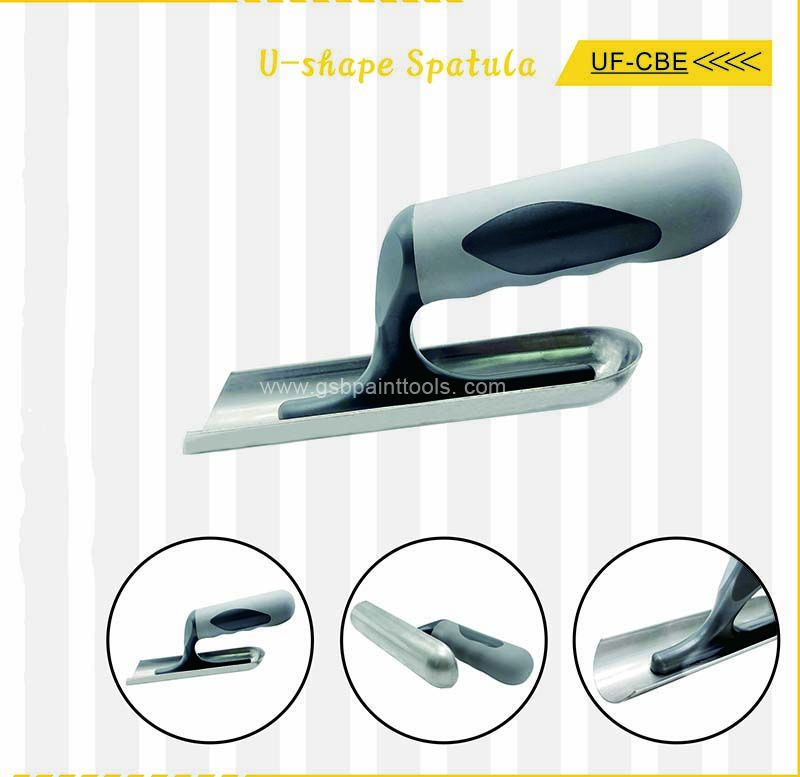 Non-slip plastic handle
Made of high-quality plastic with a non-slip handle, it is comfortable to hold and wear-resistant to imitate your hands.
Arc Design Process
The arc design does not hurt the wall and is easy to operate.
Pipe root waterproof construction operation
No need to switch between several sets of tools, this tool is easy to handle.
The u-shape spatula is lightweight but very strong. Designed with rounded ends to minimize lines, these trowels help create smooth, curved surfaces, which it's handle provides a comfortable grip (curved anti-slip rubber handle), reduces fatigue, and offers excellent durability - the verticat angle,the yin and yang angle and the pipe root are treated into a circular arc shape with a spatula.
Troweling produces a hard, smooth, dense surface and should be done immediately after floating. Troweling can be done by machine or by hand. If done by hand, the finisher will float and trowel and area before moving his knee-boards. Used the U-shape Spatula after floating to produce a smooth, hard, dense slab surface.
U-shape spatula attached to a bull-float handle. Putting handle on the trowel allows finishers to trowel the concrete without walking out onto the slab. But u-shape spatula do not, however, produce the same density or wear resistance that is produced by multiple hand trowelings where the finisher can apply greater pressure to densify the concrete.
More than one troweling can be done: as the concrete sets each successive troweling should be made with a smaller trowel tipped at a greater angle than the last troweling. This increases pressure on the surface producing maximum floor smoothness and hardness.
Concrete Finishing Steel Trowels are used to give the smooth finish on slabs and other flat surfaces after floating.Professional quality steel finishing trowel is precision balanced and ready-to-use. Each blade is cross ground to just the right dimension for that perfect feel. The rounded front of the blade prevents gouging of the surface, while the square back allows for finishing flush to the edges and corners. A high-strength, lightweight cast aluminum mounting stands up to the rigors of cement work.
An oversized toe rivet provides extra strength when applying pressure during finish work. Guaranteed handle design locks the handle to mounting. The contoured shape and enhanced texture ribbing of the handle reduces fatigue and provides a great grip even when wet. The black handle is easy to spot on a jobsite even after use.
Precision balanced, ready to use!
Stainless steel rivets
Guaranteed "no-turn" handle
Comfortable soft grip handle