Features:
Tile Trowel | Best Stainless Steel Square Notched Trowel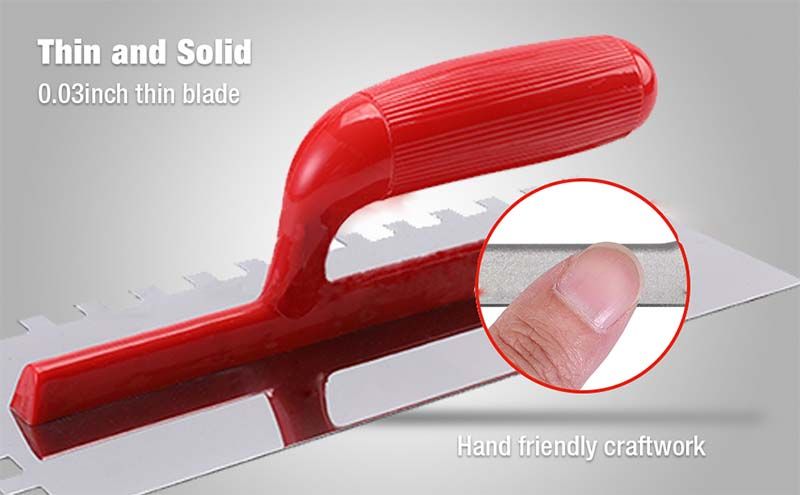 Product Details
Material:Stainless Steel
Brand:K Brand
Style: Plastering Notched Trowel (0.3 inch)
Grip Type: Ergonomic
RELIABLE DURABILITY - Notched plastering trowel blades are made of the highest quality strong, corrosion-resistant top Italian stainless steel. Our trowels stand out for their outstanding durability - the blades are made of polished tapered steel and are attached to the handle by forging rather than multi-spot welding.
GREAT TOOL - This well-made notched plastering trowel is sturdy, comfortable and easy to use. The non-slip handle is centered on the blade's 90-degree bend for balance and the ability to apply even pressure to both sides of the corner. Trowels are perfectly designed to easily and quickly apply adhesives and cured materials to a variety of surfaces. Plus, it cleans quickly and easily.
ERGONOMIC AND SAFE - The ergonomic non-slip rubber handle provides superior comfort of use. We paid special attention to the ergonomics of the grip when designing the trowel. We want to keep your wrist safe, even if you work long hours. Additionally, the ergonomic handle allows for much better application of tile adhesive than any other handle. Every HOGARD tool is branded - that's our guarantee that every piece has been carefully tested.
APPLY INNOVATIVE TECHNOLOGY - G.SB's V-groove trowel is unbreakable. We continually invest in innovative manufacturing technologies and productivity. Every production process is carefully monitored to prevent any failures. These products are tried and tested by industry professionals so we can provide the best performing tools. This notched plastering spatula has a non-stick base for smooth, quick application and durability.
SUITABLE FOR A VARIETY OF SURFACE - Thanks to the design of this stainless steel trowel, it can be used for wall and floor projects. It is ideal for a variety of different surfaces, from concrete, ceramic, stone, plaster, dry lining to stucco and pool coatings. You can achieve a good spread on walls and floors with this square notch trowel.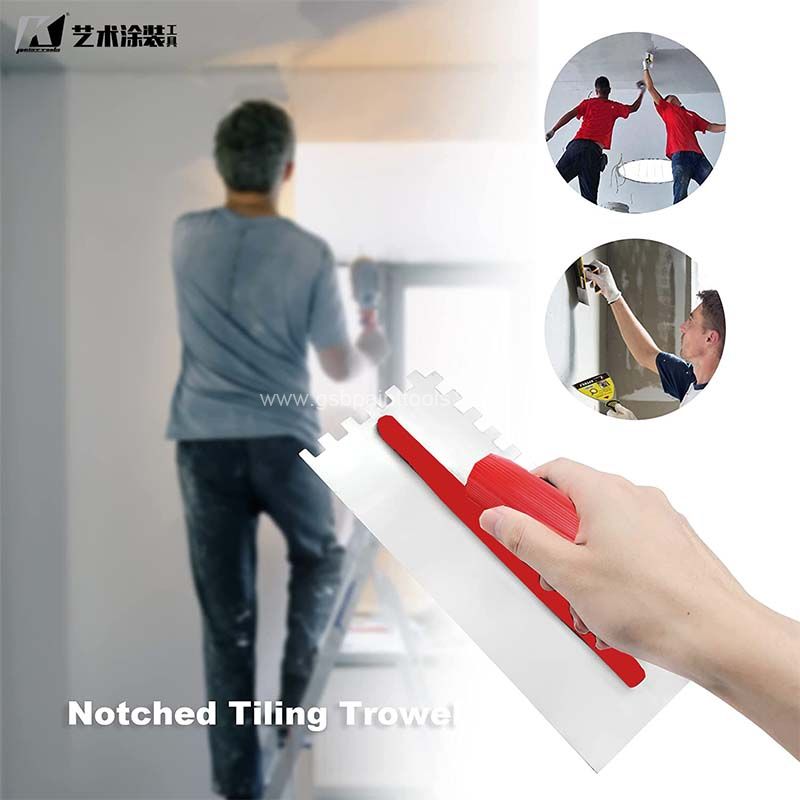 G.SB delivering high-quality paint tools, continuous innovation and client satisfaction since 2003. Our Professional Performance assures customers that they are getting the very best every day.Our commitment to quality, innovation, and client satisfaction have made G.SB one of the most respected tool names among tradesmen and homeowners alike.
How to choose the right trowel to install tile
DIY tile projects are both a fun and productive way to kill time, not to mention a great way to save on amazing home upgrades! We believe that laying tile is something almost everyone can do with great success, and we're here to provide the best tips to make sure your project is everything you hoped it would be!
Some of the most common mistakes when using tiles for the first time come down to preparation and tool selection. Fortunately, this is easy to fix, and we're here to help!
How to choose the right trowel for your tile project
One of the most important yet most overlooked items for a successful DIY tile project is the right trowel. It's not as simple as picking up an old trowel and expecting a neat and clean result! Of course, at the most basic level, you'll need a piece of metal with a handle for applying the adhesive to your tile, but choosing the right tool is critical to successfully bonding and extending the life of your tile.
Choosing the correct type and trowel size for the tile you are installing will set you up for success! If you're planning a DIY tile project, we highly recommend reading on to choose the right trowel for your next tile project!
What is a tile spatula?
Let's start with the basics! Basically, the purpose of the trowel is to apply tile adhesive to the substrate - that is, your floor, wall or ceiling - and to control how much adhesive you apply. It has a handle and a flat metal plate for scooping up and applying the adhesive, ensuring you apply the same amount of adhesive (mortar) every time to ensure a smooth tile finish.
Your trowel is not just a tool for applying mortar, it also creates a level surface with just the right amount of mortar to properly install tile. This is where choosing the right trowel makes a big difference, as it can help you apply the proper mortar coverage for the type of tile you choose!
Choose the right trowel size for your tile installation
In addition to the notch shape, the size of the trowel can make a big difference when applying adhesive. Keep in mind that using too little adhesive can cause the tile to crack or crack, while too much can be messy and a major pain in removal.
In order to apply the right amount of adhesive, your trowel size will depend on three factors;
Tile size:
1. How thick of adhesive do you need to get under the tile
2. Surface type (for example, floor or wall)
3. Once you have determined these factors, be sure to understand how the trowel measures.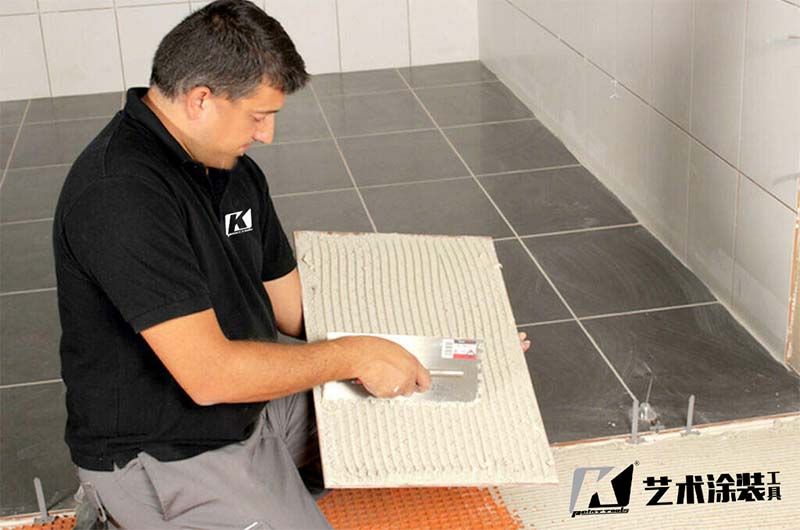 About the trowel with square notches:
They usually dispense more mortar than the other two, and their square or rectangular notches form mortar rows with flat spaces between them.
Proper thin mortar coverage means at least 85% total coverage under tile installed in dry areas (most floors, fireplaces, etc.) and 95% minimum total coverage in wet areas (showers, around tubs, etc.). There are more requirements, such as complete coverage of all four corners of the tile, but these are the basics.
To get proper coverage, you need to choose the right size trowel, which will give you the amount of coverage under the tile. Check this by installing the tile as usual, then pull the tile up and check the back. There should no longer be any trowel lines and you will see a thin layer on the back of the tile and on the substrate that is completely covered.
Personal preferences
In addition to using the correct method for proper coverage for a successful installation, your personal preference will help determine which specific tile trowel you use for different types of installations.
Generally, the bigger the tile, the bigger the trowel. It is always better to use a larger trowel than the installation requires. A little extra thin layer under the tile is totally acceptable, not enough thin layer under the tile is not acceptable.
U-notch versus square notch is a personal preference. While it is easier to achieve full coverage with a U-notch, you will also have to use a larger U-notch trowel to achieve the same bed thickness under the installed tile. Vertical mounting is sometimes difficult to do. Smaller square notches are easier to maintain ridges on the wall than larger U-shaped notches.
U-notch trowels make it easier to keep the sheet out of the grout line when embedding tile. There is more space between the half-moon ridges with U-shaped notches than with square notches. This makes it easier for the tiles to fall into the bed, with the edge on the open area between the ridges rather than the top of the erected ridges. Since the thin layer unfolds rather than folds first, it is less likely that the thin layer will fill the grout line when embedded in the tile.