Features:
Items Name: Artist stencil paint brush with wood handle
Items No.: SB- or B-
Brand: G.SB
Style: Bristle stencil brush
Material: Bristle
Size: 1/2/3/4inches
Applied Environment: Interiors&Exteriors Walls
Packing: White box+sticker

About this item:
Bristle paint brushes Head with Nickel Plated Ferrule and Birch Wood Handle. Our chalk paint brush set is Perfectly Design for furniture painting & waxing. Our professional paint brushes have Highest Paint Pick and Release, Long Lasting on Rough Surfaces, Achieve Quality Result. Gives your home decor furniture a new life. Premium Quality wood paint brushes with Natural Bristles & Easily gripped Wooden Handle, Delivers Quality Result on all Surfaces.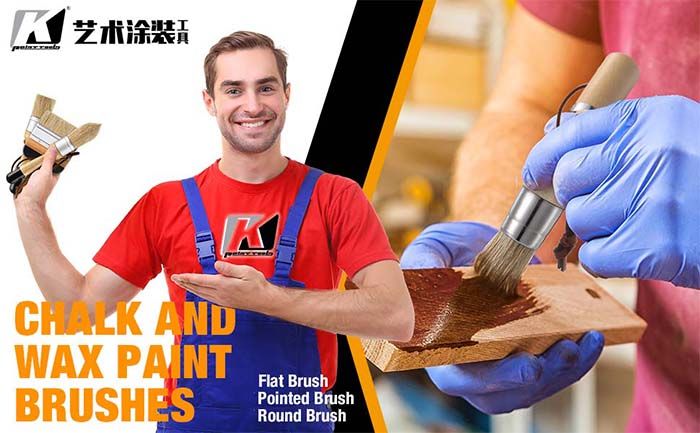 Different sizes: you will get a package of many pieces wooden stencil brushes in 6 sizes, please refer to the picture for detailed sizes, suitable for families, schools, art venues; Note that the brush head can be soaked into warm water before first time use. These Brushes are made of a High-Quality Wood Handle, Specially Designed in order to make your Hand feel relax while chalk painting furniture or other stencils etc. The round chalk brush is design to gives you the versatility to move toward any direction, applying an even layer of Paint or Wax without the requirement for circling your hands. The pointed small chalked paint brush for furniture is designed to cover the pointed areas of the project which is not achievable with straight brush or harder to apply.The flat chalked paint brush is designed for painting straight lines on the brush which is very easy to draw with these brushes for furniture.

Our brushes natural bristles leave remarkable textures that are impossible to achieve through nylon bristles brush and due to Its premium quality bristles, it lasts for long. This Brush functions admirably well all Shades of chalk Paints and Wax, on a wide range of Furniture. It is an exceptional brush at a Reasonable Cost. With our professional brush, painting furniture will be the most beautiful art. K brand professional Brushes are compatible with almost all the chalk paints like Annie Sloan chalk paint, Rustolium ,pixie,diy paint, Heirloom traditions paint , Amy howard chalk paint, chalk paint wax kit, Also Compatible with all waxs likes Annie sloan clear wax, acrylic painting Dark Wax, Soft wax for furniture.