K brand paint extension pole to be one of the critical interior painting tools
Many people all consider a paint extension pole to be one of the critical interior painting tools! It will make the job simpler, easier on your body, and help you produce a more consistent result.
Unless you are only planning to paint a very small space, the minimal cost of a k brand paint extension pole for your roller, flooring paint tooth scraper, or drywall smoothing spatula, is worth its price many times over.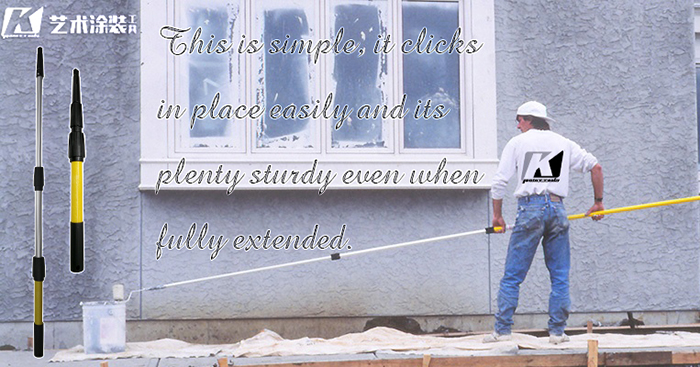 Paint Extension Pole Benefits
Paint workers paint day after day. Painting requires repetitive motions, crouching, climbing, reaching, and lots of other physical activity.
Envision painting with just a handheld paint roller. You cut in along the bottom and climb your ladder to cut in along the top edge of the wall.
Then you start rolling your paint onto the bulk of the wall. You climb back on your ladder to reach the top portion of the wall. You hunch over to get the lower half of the wall. You squat down to roll the bottom third.
Ouch! If that sounds like a lot of climbing and hunching and squatting, it is. More than our joints want to handle. With a paint extension pole, after cutting in the edges of the wall, I can step back away from the wall and paint the entire height of the wall without bending or reaching.
It keeps our body upright, our posture good, and the weight and motion of the roller is maintained within the core strength of our body. It's the difference between carrying a heavy box firmly against your body or trying to carry it at arm's length.
We can also maintain maximum control over the pressure I exert on the roller, minimizing paint drips and roller marks.
Whichever model or style you choose, I think you'll find K brand paint extension pole to be an invaluable tool for your interior painting project! It depends in part on the space you'll be painting. For example, if you're working in a narrow hallway, K brand paint extension pole makes more sense than a long telescoping rod. There just won't be the space to wield it without banging into adjacent walls.
K brand paint extension pole allows us to finish each section of wall with a single top to bottom roll to even out the coverage and eliminate any roller marks. It's faster, more energy efficient, and produces better results.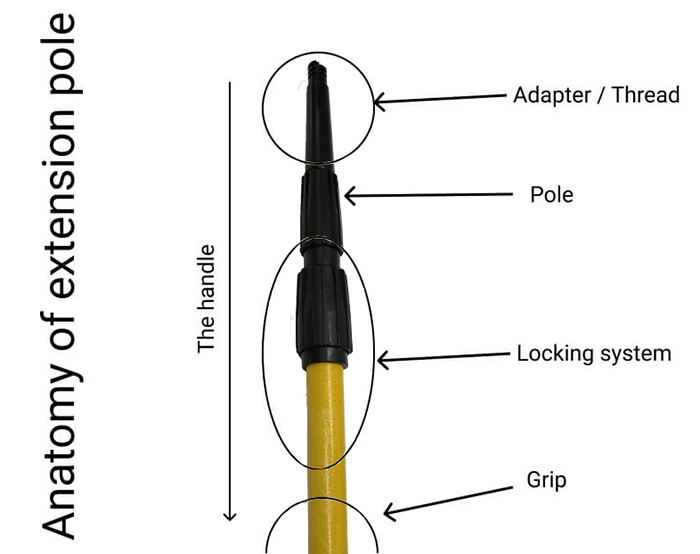 Anatomy of a paint roller extension pole
A paint roller extension pole is a very simple tool comprised of just a few parts, including:
1. The handle – usually, extension poles are available in a couple of different heights (2-4ft, for example), and the handles are pretty much always extendable.
2. Grips – many extension poles have foam or rubber grips that make them very comfortable to use all day long.
3. Locking system – locking system for the extendable handle. Some of these are plastic clamps, other are metal pin and hole systems.
4. Thread – the thread is on the top of the pole and is designed to fit almost all paint rollers on the market. Some rollers don't fit on poles, but we have some adaptors below to help with this.
K brand paint extension pole does have a very good, fixed locking system that works very well, which it is so easy to use and attach to my hand roller. So much quicker painting with this pole, can do my ceilings with ease.
The locking mechanism works really well too. The one-section of pole tube is glass fibre, two-section of pole and three-section of pole is aluminium alloy, and so it is nice and robust, yet lightweight too. Our paint extension pole works well, hasn't failed and has been a nice addition to our painting tools. You can always rely on the purdy brand for quality and reliability.
Tips: how to use a paint roller extension pole
Once you have firmly attached the paint roller to the pole, you can find a comfortable working height for you. Just adjust the pole and give it a try before you put any paint on the roller. Find that sweet spot where you can control the roller, easily re-apply paint and paint the walls or ceilings that you need to.
Once you have found the sweet spot, get some paint on the roller and start to paint the area slowly. It is worth taking your time if you're using a paint roller on an extension pole for the first time. Make the exact same motions as you would normally when using a paint roller, but use both hands on the pole as this makes it a lot more stable.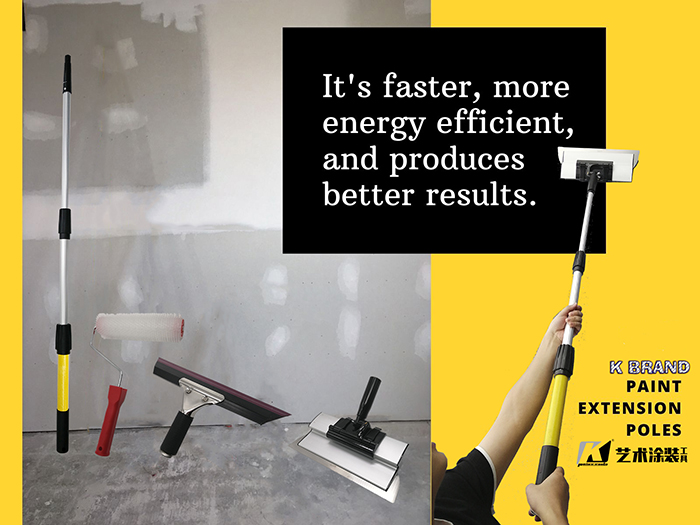 Painting with an extension pole can take a bit of practice, but in a few minutes, most people will get used to it and be able to paint with one nice and quickly. Also, be aware of your surroundings when using an extension pole as it is very easy to get paint somewhere you don't want it.
We hope this look at K brand paint roller extension poles a has been helpful. For more decoration paint tools, tips and tricks in the painting world, please explore our website further. We have all of the best tools and tricks to make any decoration painting or decorating job quick, easy and enjoyable.