Features:
4 Piece Putty Knife Scrapers GS410S, Stainless Steel Scraper Tool for Drywall Finishing, Plaster Scraping, Decals and Wallpaper
PACKAGE INCLUDES: 1-Inch Multifunctional Scraper Tool, 2-Inch Putty Knife, 3-Inch Putty Knife, 4-Inch Putty Knife;
Ergonomically comfortable handle: non-slip and wear-resistant , Using high-quality PP material, thickening the blade, and the tail can be hung design, easy to store and store;
Material: high-quality steel material, the blade adopts mirror polished coating design, rust-proof and easy to clean, this kind of carbon steel is strong and corrosion-resistant;
PUTTY KNIVES (4 PC): Premium Quality, Ideal For Home Improvement Projects: Applying Joint Compound, Puttying Windows, Scraping Paint, Removing Loose Putty, Removing Loose Paint, Removing Vinyl Or Paper Wall Covering, Patching Dents Cracks Holes In Plaster .
Multi-functional Scraper Tool: thicker material, durable, using mirror surface foaming technology, multiple polishing, strong corrosion resistance, high surface cleanliness, so that everyone can become a small craftsman in life.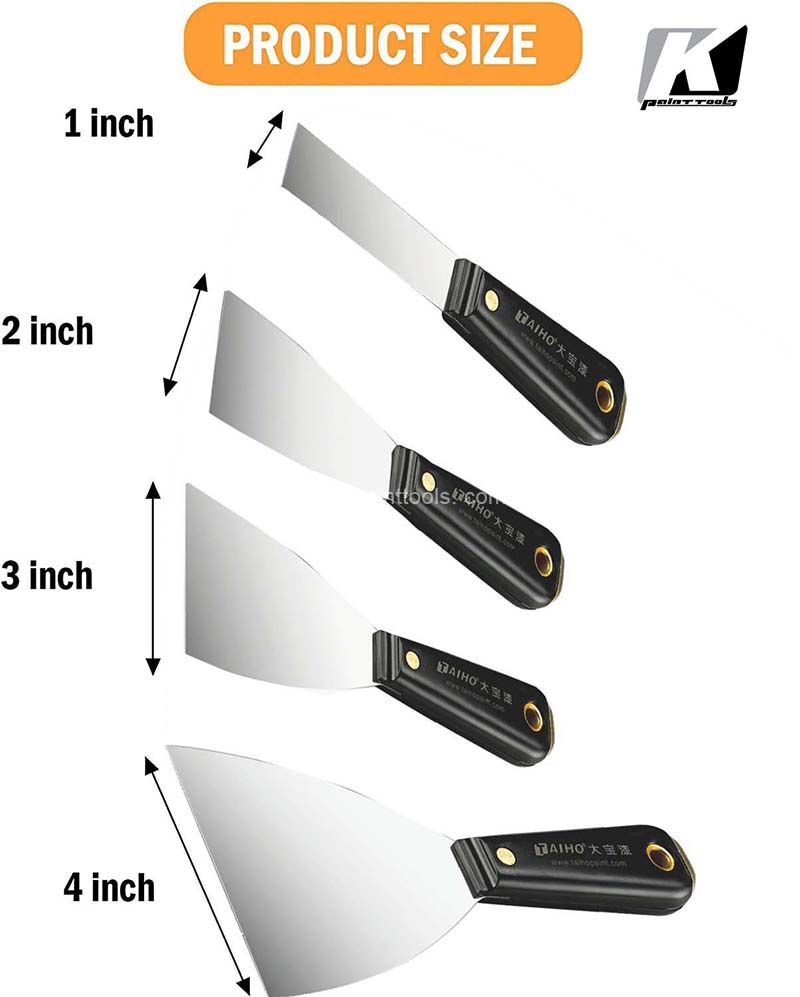 About G.SB
We take "Satisfaction, Enthusiasm, Hospitality, Optimism, Integrity" as our criteria to serve every customer. G.SB try the best to provide practical and economical putty knife - best drywall knife.
Why Choosing 4 Piece Putty Knife Scrapers GS410S?
The heat-treated putty knife blade has high hardness and is not easy to break under pressure. The handle has hanging holes at the end for easy storage. Lightweight and soft grip handle features impact resistant and wearable, anti-slip. Ergonomic handle is suitable for long-term use with minimal fatigue. With a smooth and flat surface, the drywall knife is easy to clean. The flat surface also allows the knife to plaster evenly. The paint scraper is designed for drywall joint taping, finishing, and patching. It is suitable for home improvement and construction projects.
Product Details:

Material: steel and plastic
Size: 1/2/3/4 inches
Blade thickness: 0.02 inch
Color: Black (Handle)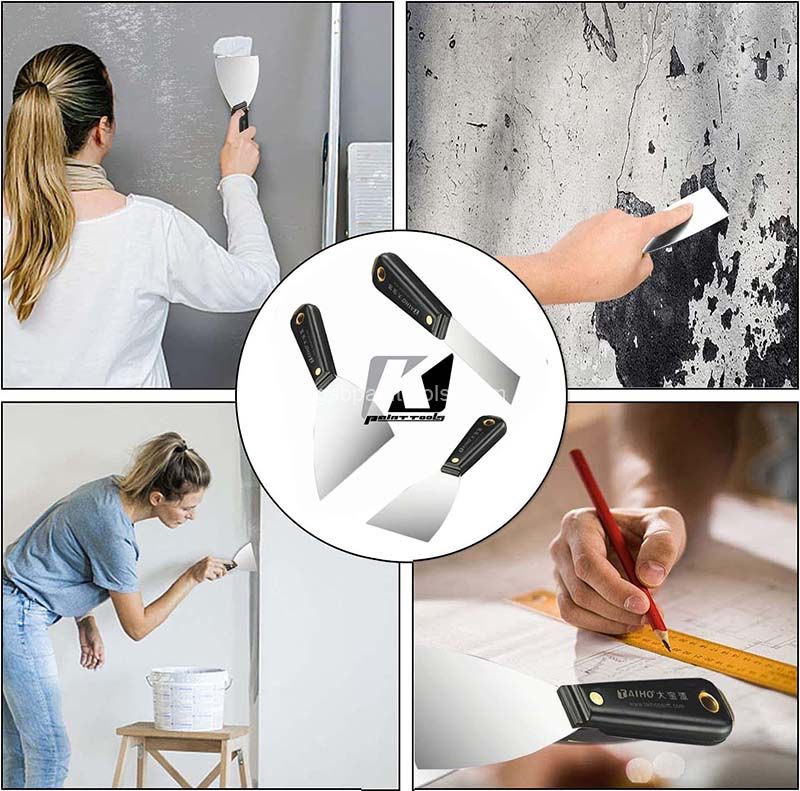 Rviews one:
That's a lucky hand I've been a drywall finisher for 30 yrs I've tried pretty much most knives out there. I used many that were once good at one point and then slowly decline over the years , quality that is . So I tried these knives on can't be any worse then what's out there . First , yes sticker peels right off handle that's a plus ...ect.
Also it has a nice grip and the hammer head is solid & has some weight to it . I like a little weight in the back end helps bang the screws in better and the blade for stainless has a little flex in it which is nice . The blade doesn't rattle after a month use like some blades out there Hyde being one of them . I've had my 8 since January, being dropped a few times and still going, this knife was designed by someone who understands the trade, well done.
Rviews two:
I'm really picky when it comes to 4 inch knives and this one is as good as any that I have used. I've been finishing drywall for over 15 years so I can say with some authority that this is a high quality, well made knife. The knive gets my stamp of approval!
Excellent drywall knife! I had no idea that there was any company out there putting out products that make everything else seem like you got it from a bargain bin. Everything about this knife is exactly how you want it to be to get first class results.
The polished blade with all the sharp edges just barely taken off, made this knife a pleasure to use, and clean. I will definitely be looking forward to replacing my other hand tools from this company. The high level of quality shows. You won't be disappointed.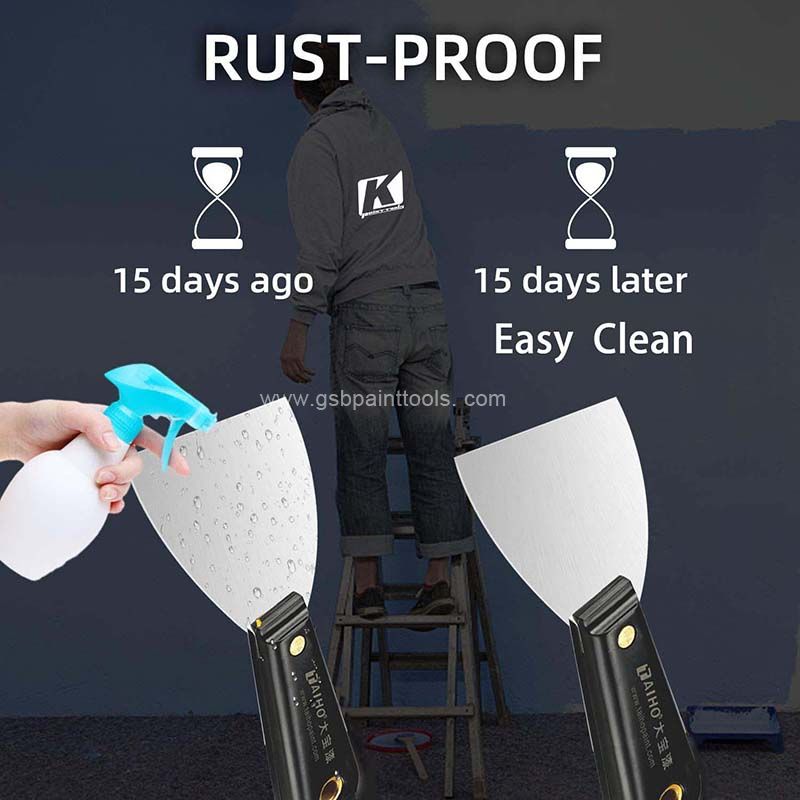 TROWELS
Some drywall professionals use knives, some use trowels. Trowels offer benefits such as a larger surface area blade (resulting in quick smoothing times) underneath an offset handle (no way to leave finger marks or indentations). On the other hand they can take more practice to use well (especially for feathering) and they aren't as well-suited to small areas, so you may find that a mix of trowels and knives is the best way to go.
Unlike knives, the best professional-grade trowels are typically available only in stainless steel as they don't need to be flexible the way knives do. You are still likely, however, to find the same handle options as on taping knives (wood, plastic, rubber).
OTHER CONSIDERATIONS
Some manufacturers make a distinction between joint knives and taping knives. Generally, joint knives are smaller (4" and below) while taping knives are larger (4" and above). As you can see (and as noted above), this marks the 4" knife as the most versatile size. Additionally, joint knives are generally shaped like putty knives (rounded, sloping sides from the edge to the handle), though they aren't sharpened the way that a putty knife is.
Taping knives, on the other hand, are typically more rectangular. While in some applications they are interchangeable, the shape difference originates from the need to have a knife that can work inside corners – the smaller size and rounded shape make it easier to work inside corners without gouging or damaging the surface (though nowadays, many people use a specially-designed corner trowel for this job).
Joint Knives (also known as "Putty Knives") are one of the most versatile and essential hand tools available. Whether you're a professional drywall finisher, commercial painter or simply doing small home repairs or renovations, everybody needs a selection of putty knives in their tool shed. So, how do our joint knives help improve your workflow? Simply put, they help you get a better finish, faster.
Although joint knives seem simple on the surface, G.SB has put years of cutting-edge innovation and design into the construction of our full range of drywall joint knives. Instead of using standard edges, we have implemented a much more effective mirror-polished edge that prevents lines in joint compounds. Our knives a robust, fail-proof structure, which they are perfectly balanced for precision and ergonomics and our blade prevents premature failure and provides more flex and feel.
Another key feature of our joint knives is the implementation of a full tang that goes from the blade all the way to the hang hole. What this does is provide an extreme level of durability thanks to its ability to evenly disperse stress across the length of the blade and up the tang. This feature alone will add years to your knife's lifespan.