Features:
Inside Corner Knife, 0.3 thickness | Pro-Grade | Metal Hammer End | Drywall Trowel for Finishing | GS-K005
- Drywall & Plastering Corner Trowel
Item No: GS -K005
Thickness: 0.3mm
Metal Type: Stainless Steel
Material: Stainless Steel
About this item:
PREMIUM DURABILITY TOOL - The blade of corner trowel is made of highest quality solid, corrosion resistant top notch China stainless steel. Our tapered internal and external corner trowels stand out from the rest due to uncommon durability - the blade is made out of polished, tapered steel which is attached to the handle by forging. The other corner trowels are assembled by multi-spot welding.
PERFECT FOR CORNER FINISHING - Our premium quality internal and external corner trowels are perfectly used for shaping concrete around internal or external corners. Anti-slip handle is located at the center of a 90-degree bend in the blade for balance and the ability to apply even pressure to both sides of a corner. K Brand corner trowel will help you finish the job faster, leaving better results in the end. It will also leave you with fewer aches and pains afterwards.
ANTI-SLIP WOODEN GRIPS - Ergonomic, anti-slip wooden grips provide exceptional comfort of use. We designed our internal and external corner trowels with taking special care to ergonomics of a grip. We wanted to make sure that your wrists are safe even if you work for a long time. Top quality materials of corner trowels with new comfortable grip ensures a long lasting usage. Each tool is branded- this is our guarantee that every piece was carefully tested.
INNOVATIVE TECHNOLOGIES APPLIED - Our internal and external corner trowels are unbreakable. Forged connection between the handle and the blade makes us sure of the durability of our corner trowels. Due to constant investments in innovative manufacturing technologies we still increase our production effectiveness. During production process we went through all stages of production: designing, injecting plastic elements, cutting and bending metal parts, coating and assembly of final corner trowels.
SUITABLE FOR INTERNAL AND EXTERNAL CORNERS - Our angled corner trowels are irreplacebale in application of plaster on corners. Our corner trowels is an irreplacebale tool for creating a perfect 90 degree angle and perfect corners.
It was packed well, but apparently a drop right on the corner put a slight bend in the blade. Other than that, this is a great tool. Nice rubberized handle is easier on the hands than the stiff, rigid plastic handles of some other products. The blades have just the right amount of flex, great taper and cut and are stain and rust free due to the use of quality stainless steel. The inside corner tool makes quick work of inside corners and enables the user to strike great lines with steady precision. Makes the work look highly professional.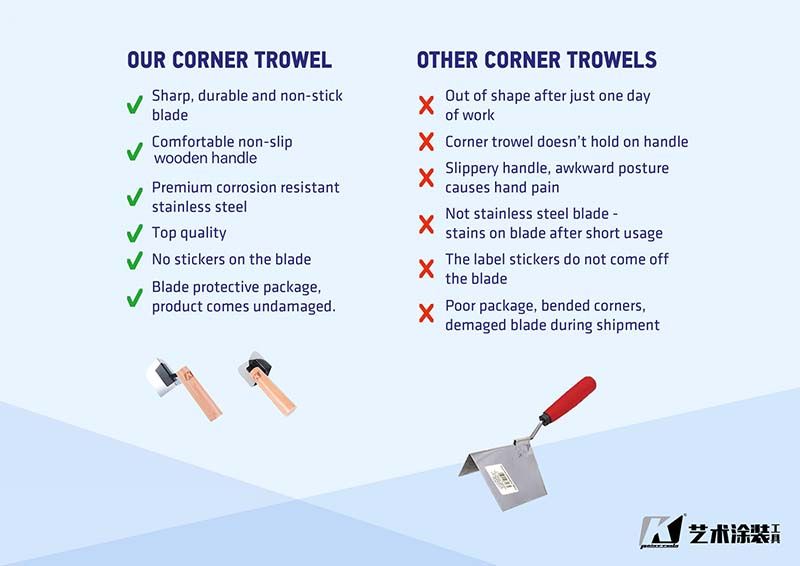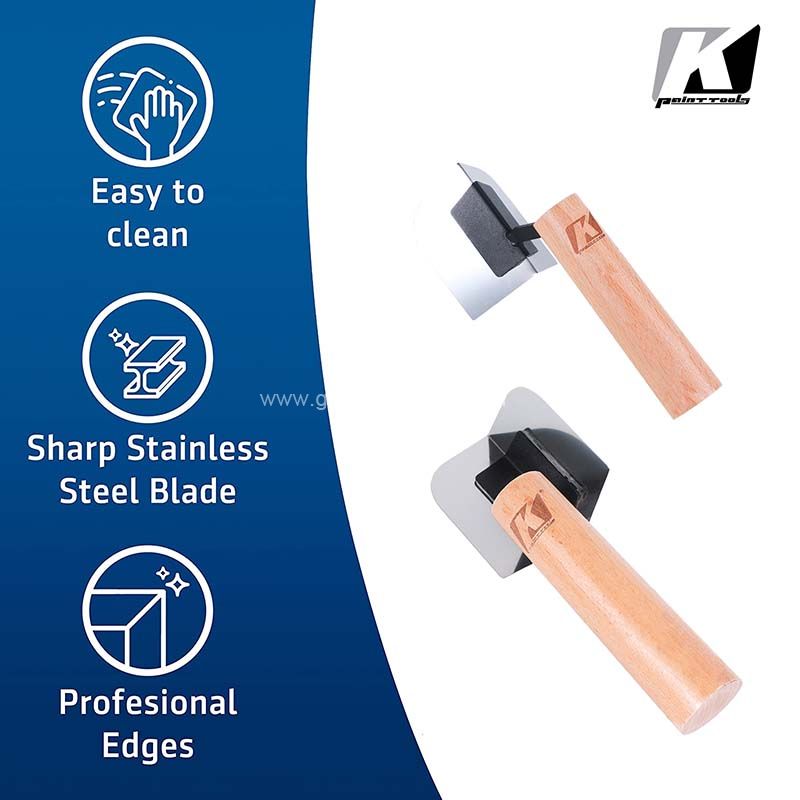 Product Description:
Drywall Corner tool is the best tool for finishing inside corners of drywall and will cut you corner sanding time in half. The stainless steel one piece designs flexes to create the perfect 90 degree angle and make for the perfect corner. The handle of this corner trowel is an ergonomic wooden design for increased comfort and grip.
FAQ:
Is that stuff good? does it have durability?
Answer: Excellent quality, good stuff very durable! Buy it!
Is this good for veener plaster ?
Answer: In my opinion I'd expect it to work well for finish coats. Aggregate basecoats will have some dependence on the aggregate size.
Are corner trowels worth it?
Answer: If used properly, with the correct amount of pressure applied, a corner trowel will help you finish the job faster, leaving better results in the end. It'll also leave you with fewer aches and pains afterwards because it's less of a struggle to get the corners right.