Features:
HVLP Spray Gun with 3 Nozzles 1.4mm 1.7mm 2.0mm, ideal for various surface spraying, suitable for car prime,automobile spraying, furniture spraying,cloth spraying,wall painting,base coatings and painting spraying.Save time and effort with a large spray pattern and enjoy a smooth spraying experience!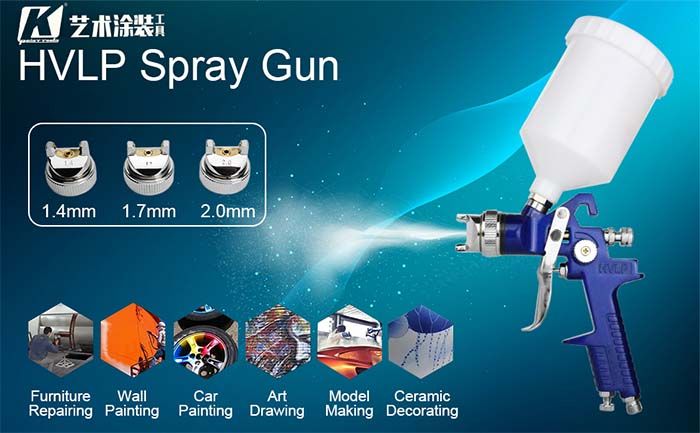 Multi-function Hvlp Spray Paint Gun

Good Helper for Paint Spraying
This is an excellent car paint spray gun, equipped with a 600cc cup, suitable for car primer, furniture surface painting, wall painting, art craft, car paint, cloth spraying and base coatings. HVLP technology helps to reduce the waste of residual material in the color cup, thereby helping you save costs and materials..Air sprayer gun is lightweight and easy to operate, suitable for beginners and professionals.
Cleaning brush and wrench for easy clean up.
Air cap prevents paint from splashing.
Mesh filter can filter dirt particles in paint
600cc PVC color cup is transparent to better check the paint level and save time.
Wide Application
| | | |
| --- | --- | --- |
| Air Spray Gun for Art Craft | HVLP Sprayer Gun for Wall Painting | Spray Paint Gun for Car Painting |

Description:
GAME CHANGING SPRAY GUN - Now it's easier to paint with a great finish at home with the High-Volume-Low-Pressure spray guns which utilizes low pressure to atomize the material while outputting high volume and offers supreme finish quality. It offers great material savings too!
SIMPLE PROCESS FOR BEGINNERS – Are you a beginner who is planning to paint but scared about the finish? Don't worry now! This HVLP Spray gun is created using high quality technology which makes it easy and fuss-free for the beginners. Now, create all you want without technical complications!
YOUR HEALTH IS OUR CONCERN – With HVLP paint gun, there is less overspray in the air which means no cloud of microscopic paint droplets is on the loose. Thus, breathing the same air or not wearing a mask while working is not harmful for a person's health. Amazing, isn't it?
QUALITY FINISH - The HVLP spray gun offers better finishing in less time. It does not require multiple layers of paint for quality finish. Rather, few focused sprays will also cover a large area with a quality finish at the end. Also, with DeVilbiss STARTINGLINE HVLP spray gun, the final coat could not need to be polished.
ONE GUN, MANY USES – These spray gun is the perfect tool which gives you the best finish for any base. From oil-based materials to water-based materials like - chalk type paint, milk paint, latex paints, enamels, primers, clear sealer, polyurethane, stain and varnish, which create wonders on any base with the perfect finishing touch!
Why choose our Hvlp spray gun?
Is your list of DIY furniture and cabinet makeover getting bigger? Are you a beginner who is not sure about the finishing touch? Giving colors to all your DIY and furniture craze, these HVLP spray gun is your go-to tool when you decide to paint. This lightweight spray gun uses supreme quality technology to give you the magic of the perfect finishing touch. LESS WASTE AND ECO-FRIENDLIER Created with the finest technology, the amount of overspray by DeVilbiss spray gun is comparatively less.This means that there are less paint particles in the air and a greater amount of paint reaches the surface you're painting which consequently, creates less pollution making it more environment friendly.
READY FOR AUTOREFINISH - Are you waiting for finding the perfect tool to paint that car of you? Well, wait no more. This HVLP spray gun will help you out to finish that project in no time and with great quality. No matter if your car or truck need a full paint job or just a few details are required, with this HVLP spray gun you are going to be able to make it in a breeze, with the best quality and paint saving. SAVE MORE Though paint gun is not the cheapest product but it is renowned for its supreme quality. Also, with the HVLP spray gun the cost of paint reduces because of the reduced overspray and vastly improved transfer efficiency.
This helps you make a noteworthy saving. FAST WORKING SPEED spray gun finishes your work faster than any other guns. Due to the great transfer efficiency of the gun, a greater amount of paint is delivered to the surface which finishes the work faster. SAFE AND SOUND The transfer efficiency of it is so high that the amount of spray wasted or dispersed in air is very less which makes it less harmful for you and for the professionals who use it for daily basis. Now painting or adding finishing touches is not harmful for the health.
G.SB Paint tools CO.,LTD. developed the HVLP Spray Gun to meet the rising demand for a spray gun that offers ultimate flexibility and control. The paint gun delivers an enhanced spray pattern for exceptional performance. The new sleek design is ergonomic and well balanced. Overall the paint gun is 20 percent lighter which allows for easy maneuvering and less fatigue on the operator.
The Spray Gun features an exclusive side-mounted Pattern Control Knob to adjust the size of the fan. This knob allows you to switch from small to large pattern or anywhere in between. Simply turn the knob counter-clockwise for a smaller pattern and clockwise for larger. This method provides full incremental adjustment of the fan size.This means that air passes through the spray gun only when the trigger is pulled. All newer Fuji Turbines are designed and built with a bleed-off inside the turbine to allow use of any Non-Bleed spray gun.