CHINA LEADERS IN PAINT TOOLS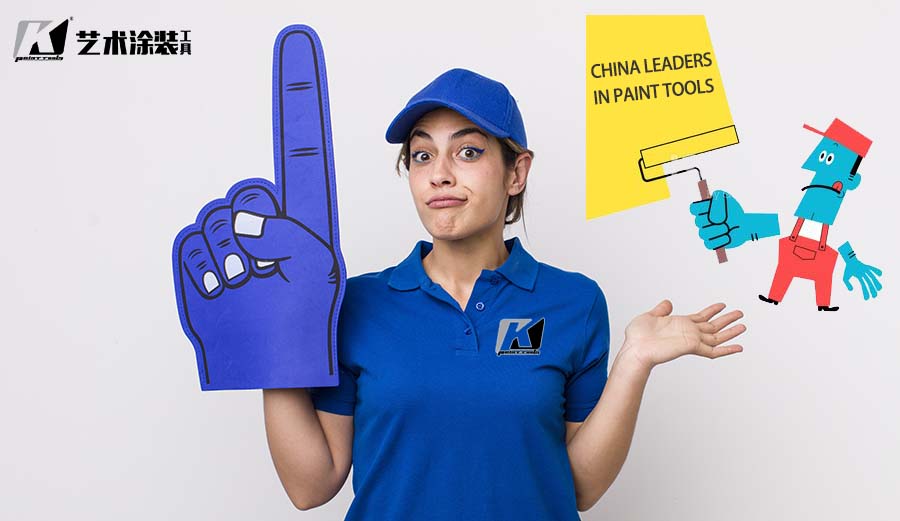 G.SB PAINT TOOLS CO.,LTD. supplies technology and expertise for the management of paint tools in both industrial and commercial applications. A recognized China paint tools leader in its specialties, G.SB serves customers around the world in the manufacturing, processing, construction and maintenance industries. The Company's products help customers solve difficult manufacturing problems, increase productivity, improve quality, conserve energy, save expensive material, control environmental emissions, and reduce labor costs.
We strive to advance sustainability initiatives – and it makes good business sense. We only have one world, and we need to take good care of it to sustain the future of our business. That is why we are committed to making our products and operations sustainable. Our environmental policy is straightforward: We strive to follow all applicable environmental laws and make improvements that make sense for the future of our business and the communities where we work. We are committed to being a good corporate citizen in all communities worldwide where we have business activities. As part of this commitment, we strive to manage our business in a way that conserves natural resources and protects the environment.
Committed to World-Class Manufacturing, Unparalleled Customer Service
We base our success on G.SB's unwavering commitment to technical excellence, world-class manufacturing and A+ customer service. To that end, we work closely with specialized distributors and offer products that set high-quality standards in paint tool applications. Additionally, G.SB's ongoing investments in paint tools product management and controls continue to provide innovative solutions to a diverse global market. We have our headquarters in Shunde, Foshan and employ approximately more than 300 people in China.
A High-Quality, Efficient and Engaged Workforce
Our sales, marketing, engineering and manufacturing teams work closely with our customers and use their feedback to improve our products and equipment continuously. Satisfied customers who are incredibly loyal to the G.SB's brand.
BENEFITING CUSTOMERS, COMMUNITIES AND EMPLOYEES
Our mission is to generate sustained profitable growth that benefits our customers, employees, shareholders and communities. We will be the world's leading supplier of fluid management products and packages in the markets where we participate. To accomplish this mission, G.SB's long-term growth strategies are as follows: Invest in New Products + Target New Markets + Expand Globally
OUR PROMISE TO YOU
Since 2003, innovation, quality and A+ Service have been at the center of G.SB.
G.SB's BRICK AND MORTAR VALUES
We've built and grown the company on a strong foundation of values that continue to define and guide everything we do for all of our stakeholders today. You could even say that these timeless values are the "brick and mortar" of G.SB. Each of us has a part to play in demonstrating these values every day.
G.SB's core values directly benefit our customers, employees, shareholders and communities:
Quality
Continuous Improvement
Fact-based Decision Making
Results Driven
Customer Focus
The result of these values is our promise to you, our customer: We are committed to delivering innovation, quality and A+ Service. Today, innovation is still a driving force at G.SB. The only thing that's changed is the speed and intensity at which innovation occurs.
Behind our obsession with innovation are the engineers and technical experts whose daily mission it is to investigate and fine-tune new ideas, techniques and technologies that systematically get designed into next-generation products, and the sales, marketing and service teams who gather customer insights to inform our continuous improvement efforts.
For G.SB's global customers, our focus on innovation results in products and equipment that lead the industry with technologically-advanced features, pioneering design, high performance and unparalleled reliability. In short, innovation is how you get better products.
BUILDING QUALITY INTO EVERY PAINT TOOL
We're dedicated to delivering the highest quality products and services, so we make an intentional choice to excel at quality every day, and in everything we do. Simply put, it's who we are. In fact, all G.SB employees are personally responsible for the quality of their work.
And because most quality problems emerge from poor processes, our employee teams are continuously improving and creating more effective methods. At the same time, we carefully monitor standards, establish suitable metrics and build quality into every product we manufacture.
When you choose G.SB, you're investing in high-quality paint tools products built to last for years of reliable service. Moreover, we partner with our customers to better understand how you're deploying our products in the field, then use your experiences to improve performance and durability. Our goal is to exceed your quality expectations for equipment longevity, reliability and performance every day - Experience GSB Quality.
G.SB's A+ Service philosophy is our promise to only deliver top-shelf (A+) service to every customer, every time. The A+ ideal grew from our founders' Midwestern work ethic and the company's belief that we're here to serve our customers first. A+ Service also represents a promise made by Graco employees that all of our interactions are guided by a mindset of integrity and a customer service view that's centered on collaboration and partnerships, not transactions.
You'll see A+ Service in action when you contact any of our support services options no matter where you are in the world. We'll listen to your situation and work methodically to resolve it as quickly as we can. A+ Service team member performance, in fact, is in part measured by how fast they can address customer issues. We strive for A+ Service to every customer, every time - Experience Graco A+ Service.
DELIVERING THE INDUSTRY'S HIGHEST QUALITY PRODUCTS AND SERVICES IN FUTURE
G.SB employees take pride in their contributions and share our vision and commitment to delivering the highest quality products and services in the industry. We strive for continuous improvement, creating new and exciting products as efficiently as possible – both for cost improvement and for the environment – and we expect nothing less from our employees. Many long-term employees find they benefit , global corporation with a small-company, collaborative culture.
We want employees who want to win. We have a robust metric system in place to measure performance, encouraging our employees to be team players but also individually accountable – and individually recognized – for their results. We foster a culture of high standards and expectations, and our employees come to work every day absolutely committed to providing A+ service to every customer, every time. Our nimble divisional business structure allows us to make quick decisions to meet the changing needs of our diverse, global customers. At the same time, our business units share information, best practices and technology to benefit the greater good of the company.
When our employees say they work at G.SB, they say it with pride. We are proud of our people, products and services. We are proud of our growth and success. We expect our employees to work hard – and to play hard, too. Our employees give their all to the G.SB mission, and when the day is done, they take time to do the same for themselves, their families and their communities.
Our goal is to help organizations grow their ability to serve community needs through grants focused on capital projects, specific programs and technology needs. We place a priority on organizations that have a proven track record of enabling people to become self-sufficient and more productive. We place emphasis on educational programs, especially STEM (science, technology, engineering and math) programs; human service programs promoting workforce development; and youth development programs.
Always distinguished by the attention to detail and the importance of the customers satisfaction. Customers can select their choice in a vast range of paint tools, the model that best suits your need - as the main importance of the policy of the company, It is the follow-up to a marketing strategy that involves the search for new production techniques, on the one hand already machined, along with a manual production in response to the warranty that we maintain a high quality in all our paint tools.
With this philosophy, We ensure continuity and precision in a market in constant evolution without losing the traditional range that characterizes us. This passion that G.SB is reaching ever more targets for demands of its policy, It is what gets our brand to go being recognized and demanded both at China and international level.
In continuous expansion
G.SB through its continuous market research, It collects data which then serve for a proper decision making to develop needs and find solutions by customer. This research helps to implant in areas of sale as specialty paint stores, hardware store, online paint tools stores, Tools stores, factory paint, hypermarkets of DIY, etc.
Services:
Marketing, assisted by heads of product, provides market knowledge, products and needs to better assess the range options. Attention customer makes our leaders to understand each customer's requirements to make your signature unique and mobilizes the company to respond in properly. We have a wide commercial network where what matters to us is the human and professional training that drives our customer to enter into a cordial relationship than a simple business contact.
Innovation is essential for the growth of our company, at G.SB. We are continuously innovating in services, We have a team that maintains relationship in various fields of our sector. Our design team makes a mark in keeping with our times, with a corporate image change whose impact is still very profitable as it conveys a modern enterprise, dynamic and full development.
We monitor the internal procedure and continuous monitoring of the customer's demands (orders, offers, delivery times, administration,…) Since our main objective is to provide a good service to reach our customer satisfaction level who seek and find in G.SB.