Why Choose Paint Runner Pro or Paint Roller Brush Painting Handle Tool for your job?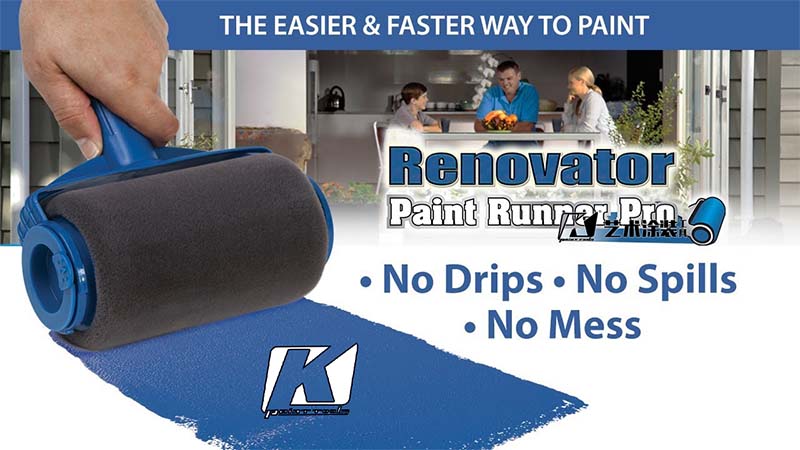 What is Paint Runner Pro
Paint Runner Pro is a good paint roller that you can use to paint walls, ceilings, fences and more without dripping or splattering paint and thereby diminishing the attractiveness of your paint job. This roller is safe to use on both indoor and outdoor surfaces, and you can switch between surfaces without having to clean the roller or add more paint to it. Another name of Paint Runner Pro is the Paint Roller Brush Painting Handle Tool.
Paint Runner Pro is a self-contained, non-drip paint roller system. By using this roller instead of another, you may be able to complete a household paint job in a time of 6 to 22 minutes. Paint Runner Pro is a paint system too, which is advertised as a way to make painting easier and faster. Does it actually work?
Now you can fulfill all your painting needs fast, and with professional quality results by using the Pain Runner Pro. The unique design allows for perfectly coated surfaces in just a few minutes, without the messy cleanup. The Paint Runner Pro requires no room prepping and causes no drips with this ingenious paint system that provides for an easier and faster way to paint.
It doesn't matter what your painting experience level is, the Paint Runner Pro will give you professional looking results no matter what. By simply pouring your paint into the paint runner and securing the lid, you now have the power to start painting with incredible no-drip precision. Skip laying down the painter's sheets, or moving heavy furniture. Finish all your paint jobs in as little as a half hour.
Imagine not needing to dip and re-dip your paintbrush after just a few strokes. With the Paint Runner, you now have more than enough paint with you at all times to finish an entire wall on just one fill-up. The secret is in the microfiber roller that absorbs the paint and transfers it efficiently to the surface, for evenly distributed paint strokes every time. You've never painted as easily as this.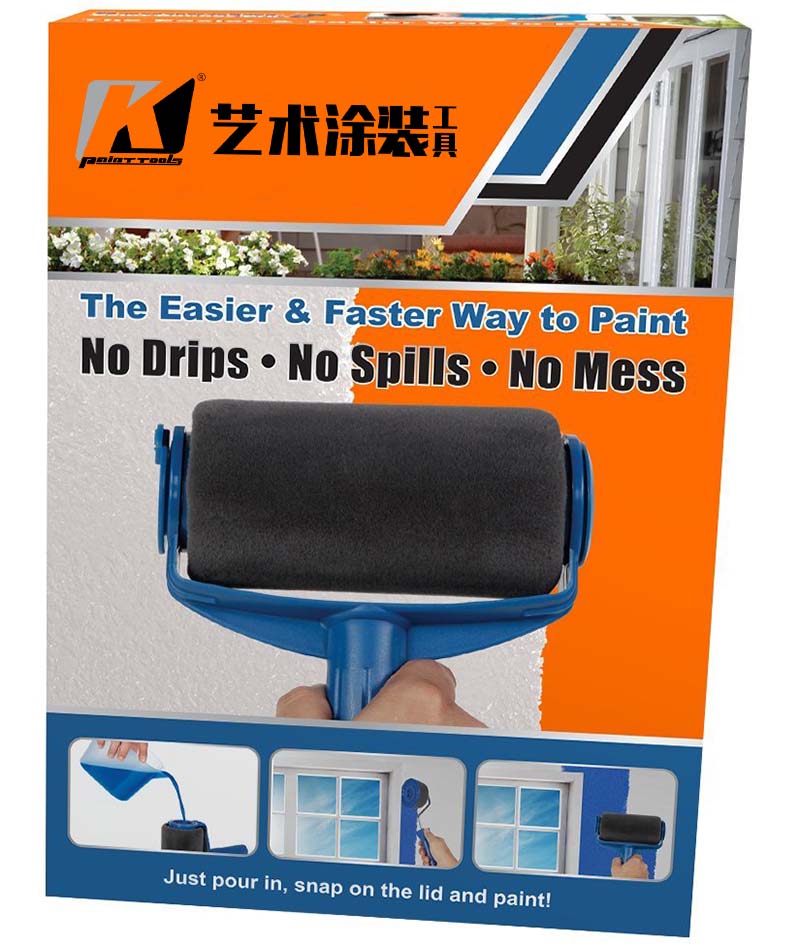 1. Simply pour the paint into the top
2. Close your lid
3. Start rolling your paint runner for easy painting. 1.Perfect distribution every time
4. Easy to learn and use
5. Paint with just one coat
6. No drips or splatters
7. Works on any surface
8. No prep: Just pour and paint
There's nothing better than a fresh coat of paint for your home in 2022. If you're planning a painting or touch-up project this new year, make your work go way easier with this splatter-free, drip-free paint roller. This superb microfibre paint roller works on almost every surface. Whether you plan to paint render, wood, textured rubber, and even over wallpaper or porous concrete, you can be done in a single coat with this roller.
To use, just open up the roller and fill it with paint. Then, start painting! It's as simple as that. Its secret? Since the roller holds all the paint you need, you won't need to waste time dipping your roller in your tray. No worries about spills or splatters – this innovative paint roller dispenses coatings evenly, making your paint job look like a professional's.
Choose how thick you want the paint to coat your surface by pressing harder for a thicker coating, softer for a thinner coating. A pole adapter allows you to reach tall ceilings and high walls easily. A flocked edger allows you to paint around windowsills, light switches, plug sockets, and skirting boards with ease, while the corner cutter tool makes painting corners a breeze.
And, when you've finished, no wasted paint at the bottom of the tray. Simply rinse your roller with warm water under the tap, and you're done. Don't procrastinate a moment longer. Get a professional-grade paint job on your own without all the mess with this convenient, easy-to-use paint roller.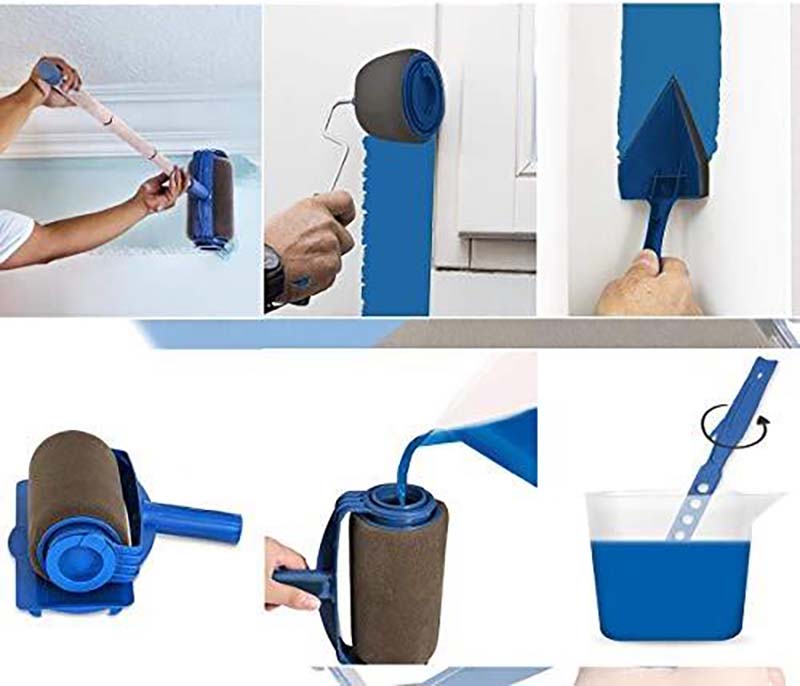 Fulfilling the dream of owning a home is becoming an increasingly difficult task for people with a low income. Fortunately, there is still a very effective solution for those who are unable to invest in a new property right now. Renovation remains one of the best tactics that most Brazilians use to make their house or apartment always more beautiful without having to buy a new property.

So that, you can do it without any difficulties with Paint Runner Pro, the quick and easy professional painting system that will help you transform your home walls in less time - forget about annoying drips and lumps, because Paint Runner Pro makes the most of the paint and practically doesn't stain. Ideal if you need to change the style of any environment in your home and want to do it in an easy, clean and fun way.
Paint Runner Pro, is a professional painting system capable of transforming the appearance of any wall, a shallow sky or a fence in just minutes, this innovative microfiber roller combined with the distribution system allows Paint Runner Pro to release the paint from a perfect way with a precision mechanical case, providing you with a professional covering, without spills, no drips, just pour the paint to have perfect covers both on the roughest and most delicate surfaces. Even thanks to its corner accessory, you can paint without problems even in the most difficult areas.
Animate the change and enjoy doing it with your own hands! The main problem at the time of painting is the spills and splashes of the traditional systems that only delay and complicate your work, ruining surfaces or generating extra time for cleaning. The intelligent roller has the ability to leave professional finishes on walls, ceilings, shallow floors, and much more. Without drips, without splashes.
Its novel design of refillable rollers allows you to store up to 1 liter of paint in your internal tank, avoiding the tedious task of going up and down the ladder in search of paint, leaving up to 8 square meters with a single refill. Its accessories will allow you to achieve precision endings on the edges of doors, windows, corners and corners.
And it's not just for this reason that you can think about home renovation. You may just not be experienced with your current environment and want to make some changes. The problem is that the more skilled the remodel-house or professionals you want to hire, the more expensive the service will be (which is perfectly normal). We return to the central problem of the previous paragraph: Not everyone can afford to pay dearly to change their environment.
Therefore, you need to carefully analyze the environment you live in and see what can be modified so that you can change the look of your home in the most economical way possible. And one of the best ways to do this is by painting the internal and exterior environments of the house. And why don't you do it yourself? And you don't have to be a real master builder to do a good home painting job.
Currently there is already some equipment and accessories that help us to paint places and surfaces as if it were a professional. One of the most successful products currently for this is Paint Runner. But, can the Paint Runner really help you?
How Paint Runner Pro Work?
Renovation work is not always necessarily easy. Wallpapering, painting the walls afterwards if necessary...etc. And all this is accompanied by prior masking and covering of the parts that you want to protect from contamination.
Because dabs of paint, splashes of paste and the like are difficult to remove afterwards. Wall paint in particular is an insufferable evil once it has penetrated the deeper fibers of the carpet - especially if you accidentally stepped on it as well.
The Paint Runner Pro not only makes painting walls easier, it's also clean and eliminates the need for prior masking and masking. In the following we have summarized and explained how it works, everything that goes with it and why this product is an enrichment for every household.
Who is Paint Runner Pro the Right Product for?

The product is perfect for anyone looking to do home renovations and need an easy-to-use renovator to help with the job. It doesn't matter how old you are or how fit you are. Because the products are a handy alternative for every tool that you can get in the hardware store at any age.
Renovating the apartment is therefore child's play. It is important that you deal with the handling in advance and read the operating instructions. In this way, the product can then be used by anyone who knows how to use it.
Paint Runner Pro Technical Details



The skeleton of the product is made of plastic, which is durable and also easy to clean. The roll itself is equipped with a microfiber cover that has been worked without a seam. It ensures seamless and clean work when painting and applies the paint evenly to the wall.
It is also easy to clean and can therefore be used several times. The edge roller has a similar structure and has a Microfibre cover. Only the corner wiper is equipped with a foam pad, which, however, has a microfiber surface. Thanks to this, it is easy to work with and cleaning is uncomplicated.
How to Use Paint Runner Pro Step-by-Step
1.Pour Paint in:
When you start using this roller, you'll notice that one end of it contains a lid. To pour paint in, you'll need to take off this lid and use the included measuring pitcher to measure the quantity of paint you require. Following that, you can pour the measured paint into the roller for use.
2.Close Lid:
Once you've poured paint into your roller, make sure that you've attached the lid you removed securely again, so no paint will be able to drip out.
3.Roll Paint on Surface:
After your roller's lid is closed, you'll be able to use the device to paint whatever surface you choose. While you're doing this, you'll be able to control how thickly it goes on by pressing harder for thicker paint and more lightly for a thinner coat. It's unlikely that you'll ever have to add more paint to your roller in order to finish a single job.
4.Clean Roller:
Following each painting session, your clean-up will involve simply rinsing your roller under your tap and then storing it until the next time you need it.
Simply open the paint runner pro roller and empty it up with 900ml of paint. All the paint is contained in the patented roller so there's no perpetual dipping in a roller tray. With the included pole-adapter you can use virtually any broom handle to decorate ceilings in a flash.
K Brand Paint Runner Pro's patented microfiber roller is perfect for virtually any surface. Delicate wood, render, wallpaper, textured rubber mats, and even porous concrete can all be covered in one coat with the Paint Runner Pro and clean-up is as easy as rinsing under a tap. But, do not fill too full. Fill 50%-70% full of paint every time is enough.
The Paint Roller Brush is for painting large surfaces, such as a wall, door, floor, ceiling, roof. Perfect finish on any surface, rough or smooth. The material of the brush is Super Fine Flocked, they are washable and reusable. Wash the roller after painting, dry it and store in cool dry places.
No wasting time bending down often to your paint tray to reload the roller. Just pour in, snap on the lid and Paint! After using, clean it, dry it and keep it for the next time. Painting filling and clean-up are quick and easy. No prep time, NO drop sheets, NO tape masking. Just Pour and Paint to revitalize any wall or surface in just a few minutes.
This allows you to continuously paint, with no dripping, and no stopping to put more paint on your roller. Because paint is delivered to the roller as you paint, you can press harder or lighter in order to apply more or less paint.
To use Paint Runner Pro, you merely open the roller's end cap and pour in your desired paint. You can then roll it as you would a standard roller, but there is no need to go back and forth to the tray to re-apply paint, as it is already supplied within the device.
The handle is compatible with a standard broom handle, allowing you to use the roller on ceilings or hard to reach places. Older models used to include a handle, but now they simply tell you to "use any old broom handle."
Paint Runner has been around for years, but it isn't clear what the current "Pro" version offers over previous models. There doesn't seem to be any discernible improvement of the roller, but perhaps the "pro" designation is meant to indicate the extras.
Consumer feedback of the various Paint Runner offerings over the years has been mixed to positive. A slight majority of users praise the product for cutting time off of their painting tasks, while reducing the amount of paint spills during the process.
Those who have been critical of Paint Runner have said that the roller is much heavier than a standard roller when it is filled with paint. Filling the roller has also proven problematic for some consumers, although the Pro model now includes an "Easy Flow Paint Pourer" designed to alleviate that concern.
Thickness of the paint itself may affect performance of Paint Runner Pro. Thinner paint will generally flow through the device more easily than thicker paint. The "one coat" types of paints, for example, probably won't fare as well with Paint Runner. Overall, Paint Runner Pro is an innovative product that saves most people time and frustration when painting. It's not for everyone, but a majority of people who have used it give it high marks.
When you use this paint roller as opposed to another, you won't have to spend time revisiting a paint tray, as you'll be able to complete virtually any paint job with just one coat. If you're using a ladder for your paint job, that means you won't have to go up and down it every few minutes, either, which will save you even more time.
It's best just to pour as much paint as you think you'll need into your roller before you start painting, but this amount can sometimes be difficult to pinpoint. If there's any paint left in your roller when you're done, be sure to close its lid before you rinse it off in the sink. Otherwise, you may waste paint by allowing it to mix with the water.
Alternatives
1.Standard Paint Roller:



Most standard paint rollers tend to drip and dribble everywhere, so when you finish a job with one of these, you may end up with paint in more places than you wanted it. Furthermore, since they don't have a built-in paint container like the Paint Runner Pro, these won't hold much paint at once, so you'll have to keep going back to your paint tray to get more.
2. Paint Brush:
Some people choose to complete household paint jobs with a paintbrush, but if the job is large, using one of these might result in the job taking you hours instead of minutes to finish. The main reason for this is that due to their size, paintbrushes hold even less paint at once than standard paint rollers.
3. Professional Painters
You could hire professional painters to paint your home, instead of using a device like the Paint Runner Pro, but you'll need certain financial resources in order to do so. You'll also have to either trust them in your home alone or make sure someone's there to supervise.
Tom and his wife are 68 years old pensioners and they decided that it was time to decorate their living room as it may be their last chance to do it. They had seen the advert for the Paint Runner Pro and decided it was worth giving it a try and boy am he glad he did.
This is absolutely phenomenal to use, the edging roller and the corner brush were perfect and the time saved was fantastic and tom manage to do the whole room which is 4.5 x 4.5m in about 2 hours which compared to last time was a time saving of about 4 hours.
Not having to keep refilling the roller was the biggest time saver and the quality of the product has made us even more enthusiastic about painting our hallway which is next on the agenda. Tom cannot praise this product enough and once again thank you for G.SB making their lives a lot easier.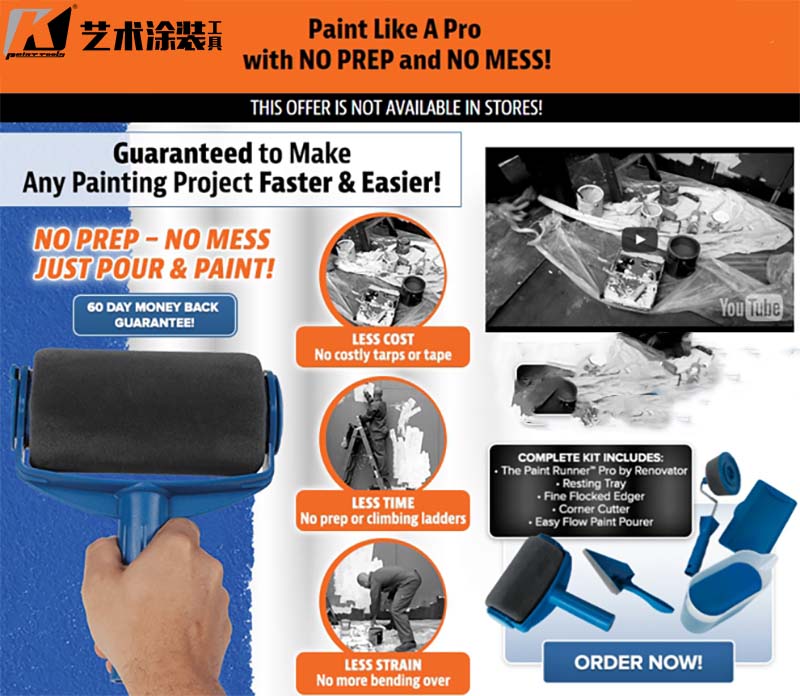 No Mess, No Fuss Painting?
Does the Paint Runner Pro help reduce drips and spatter? Yes. Does it cover more area faster and more evenly? No. Does it provide an excellent finish? No. It's not a better performer than a standard roller, as it leaves an unprofessional finish – but it may be suitable for a landlord who wants to do a quick touch-up though a flat, or for someone who wants to do a small job. You'll want to invest in a standard roller for a more professional finish or a larger job like an entire room.
Testing the Paint Runner Pro
Our client at Spanish enlisted a professional painter to serve as product tester and expert judge at a nearly finished new-build. After "priming" the runner as directed, they topped up the paint. They used a sealer for the first coat on a plasterboard wall - unfortunately the paint was difficult to get through the small microfibre holes in the pad.
The force required may make the device difficult to use in some circumstances, particularly if you suffer from arthritis. You can screw the Runner Paint Pro onto any broom handle to extend the reach but, of course, this means applying sufficient force is difficult. When they detached the Runner Paint Pro from the broom handle, it was much easier to use, though still required a deal of force to squeeze out the paint.
They were impressed at the lack of drips and splatter, so it does meet this claim. If it's full of paint, you can confidently carry the Paint Runner over uncovered carpet to another job without fear of spilling or spotting. They filled another roller with topcoat, but also found a decent amount of pressure was required for good coverage. Their professional painter reckoned the finish wasn't close to what they had get from a good standard roller. It had a textured and, in places, "bubbly" appearance.
Another issue is the Runner's narrowness. Standard rollers are usually twice as wide, which makes it easier to paint straight, even lines. They found the pad difficult to clean. Also included is a "flocked edger" for cutting-in around window frames, skirting and ceilings. This gave a slightly uneven, textured finish. It only holds a small amount of paint so it needs regular refilling.
The "Paint Runner Pro" in more depth:
The main advantage of this painting device lies in the symbiosis between the micro fibers of the roller and the paint reservoir thereof. Indeed, this system will allow you to forget the paint tray since the paint is placed directly inside the roller!
This will allow you to paint continuously, without going back and forth to the paint tray, thus avoiding the risk of dripping on the ground, not to mention that a paint tray can easily be knocked over! The ultra-absorbent micro-vibration roller will allow a perfect distribution of the paint without splashing and, since the paint is inside the roller, you can press more or less hard when painting in order to apply more or less paint.
You will notice a huge time saving since you will be painting continuously without having to continually dip your roller in a paint tray! And you will also notice more safety, such as when painting at height, because you will no longer have to climb up and down the ladder constantly and will no longer have a bin in your legs!
Do you like the ceiling, the fence walls, freshly painted? Don't you like to paint because from the traditional rollers the paint drips, splashes and drips? Do you waste more time going up and down the stairs to soak the roller with the paint than with the paint itself? We know what you need! The revolutionary Paint Runner Pro roller coaster has arrived!
Paint Runner Pro is a professional, fast roller, which in a few minutes will change the color of the wall, ceiling, or even the fence. No more dripping, dripping or spray paint, you don't have to waste precious time soaking the roller in the paint!
What is the secret of Paint Runner Pro?



The revolutionary new technology consists of the innovative Micro Fiber roller of the Paint Runner Pro roller, and the patented paint distribution system that during painting allows the roller to apply the paint with the precision of a car, for a perfect coverage everywhere.
You can save time and money!
Moreover, you do not have to spread the foil on the floor, which you then have to clean, because from Paint Runner Pro the paint does not drip, does not drip, does not splash, as it happens with traditional rollers. With Paint Runner Pro, painting becomes child's play, you get a perfect result even on the toughest surfaces.
How do you paint a wall or ceiling with Paint Runner Pro?
Just lay a broomstick on the Paint Runner Pro to paint a wall or ceiling. Thanks to this fixing, the paint roller will not run-on surfaces. Therefore, you will not need to prepare blankets (newspapers, sheets…) to cover your floor (tiles, parquet). With the Paint Runner Pro, you will benefit from saving time and money by avoiding unnecessary expenses.
Therefore, it is not necessary to have a paint tray. High technology, this system spreads the paint evenly over any surface for a satisfactory result. This roller makes it possible to cover any support with a layer of paint without any splashing! Very innovative, it allows you to paint any wall and ceiling with efficiency, neatness, speed and cleanliness. It is a product of great advanced and modern technology which corresponds to the expectations of consumers in the market.
With an innovative roller, the Paint Runner Pro makes it possible to paint any surface in a single coat. This system makes it easy to control the thickness of the paint layer in order to minimize splashing. This specificity makes it possible to have a completely uniform paint on the walls. By also controlling the thickness of the layer you need, it allows you to avoid paint dripping on the floor. So that, you won't need to prepare sheets or other blankets to protect all your household equipment.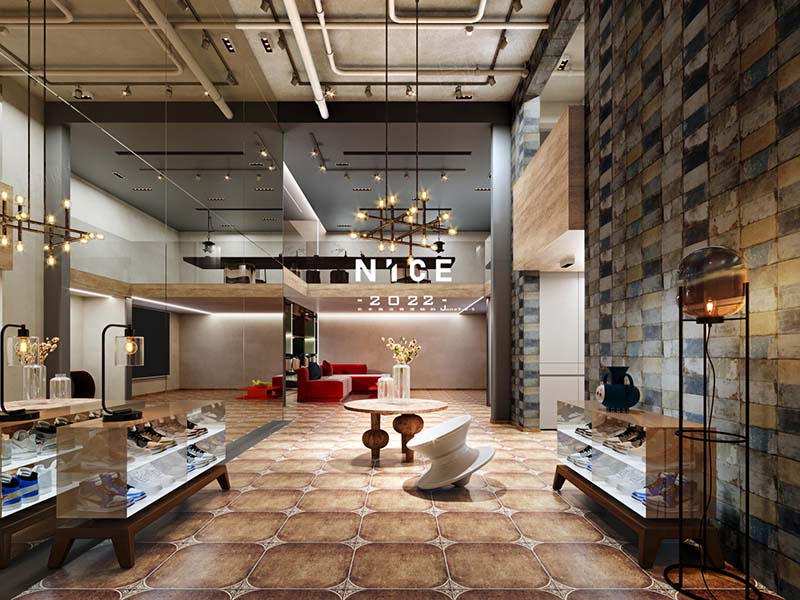 Most interesting is the fact that we repainted the part with a very even coat of paint, thanks to the effectiveness of the Paint Runner. Indeed, this pro painting device ensures the control of the thickness of each layer of paint on any surface. We also did not need to cover the floor of the room to protect it from splashes, thanks to the high precision of this system.
How to make beautiful white butterflies in the wall?
The use of stencils makes it possible to create magnificent white butterflies on the wall. Obviously, I had the opportunity to make some myself to do this work. Then, you have to apply the paint on it. Whatever the room (a living room, a kitchen, a child's room, a living room, a bathroom) the Paint Runner Pro allows you to repaint it without the slightest difficulty. All you have to do is try it out to form your own opinion on its strengths.
Consumer reviews on the internet
The notoriety of the Paint Runner is quite mixed on the internet. Consumer feedback is overwhelmingly positive due to time savings, reduced spatter, paint layer thickness control, ease of use, product convenience, innovative technology, and more. Of course, many Internet users believe that the Paint Runner is an excellent tool for repainting any surface (wall, door, ceiling) without any difficulty and as quickly as possible. It is an excellent piece of equipment that does not leak and whose paint is applied delicately and without any stains.
After testing this product, we believe it is among the best painting tools on the market today. Overall, we consider the Paint Runner to be a revolutionary and innovative tool. This device saves time and allows us to avoid certain constraints during painting work. It allows you to carry out an impeccable job by not running on the surfaces to be painted.
In our opinion, the Paint Runner is very popular with the majority of consumers. However, it is not unanimous among users. There are a number of people who are not convinced by its benefits. This is why it is necessary to take into account all the strengths and limitations before being tempted by this product. After many tests, I also think that this roller device has many more advantages than disadvantages. Finally, we find that this product adapts perfectly to the expectations of a large number of consumers on the market.
Should I to Buy a Paint Runner Pro?
A lot of consumers are wondering whether they should buy Paint Runner Pro. I think you have to consider the pros and cons to make an informed choice. That's why I took the time to list the various advantages and disadvantages of this product to encourage you to buy it.
Advantages of Paint Runner Pro
Obviously, the device is very modern and allows perfect paint distribution on any surface. That said, the thickness of the paint layer is carefully calculated so that it is evenly distributed on the surface.
The Paint Runner Pro paints fairly quickly and cleanly. Composed of two types of rollers (a large roller and a small roller) a paint tank, a microfiber roller…. This kit is very ultra complete. It allows users to have all the equipment they need to repaint all surfaces in optimal conditions. Thus, consumers save time to paint all surfaces, even the largest.
Since the composition of the Paint Runner kit (small roller for borders, paint pouring container, 1 paint tray, 1 large roller, etc.) is complete, it is much easier to use, even for amateurs in DIY. This roller is very practical, as it is suitable for any type of given surface. In addition, this roll does not require preparation. That is to say, you do not need a paint tray to mix the solution, since the paint can be poured directly into the integrated tank on the roller.
With the Paint Runner pro, you don't need to prepare blankets to protect your furniture or floors from paint splatters. Unlike the standard roller, the Paint Runner does not splatter; does not run and does not leave any drop of paint on the floor. You have the possibility of painting any surface while leaving the site very clean. This roller allows you to work like a true professional in the field.
Some users claim Paint Runner is a bad product. In fact, there are some leaks at the level of the small drum. Therefore, the floor must be covered to prevent these different paint leaks. Also, rollers soaked in paint are heavy for some people and don't work well. And according to many reviews, the handle of this paint roller is broken, not like described. Furthermore, in order to achieve satisfactory results, the rollers must be pressed very firmly. For some users, populating the volume can be very restrictive.
Contrary to popular misconceptions, the Paint Runner is not necessarily a high-quality, high-performance product. Indeed, the thickness of the paint can alter the performance of the Paint Runner as well as its maneuverability. However, it is possible to control the thickness of the paint layer in order to remedy this problem.
Conclusion
Basically, I can advise you to buy the Paint Runner to do all your DIY jobs around the house. It is a product with many benefits for consumers. However, the few limits should not be ended in order to avoid unpleasant surprises.
How do I use the Paint Runner Pro like a painter pro?



Freshly painted, everything looks better - be it walls, ceilings or fences. But painting can be very tiring sometimes. Are you familiar with the dripping cylinder? And then always going up and down the ladder…and that takes so much time.
We have the solution for you - Paint Runner Pro by G.SB is a sensation! Paint Runner Pro is a fast and professional painting system that changes the wall, ceiling or even the fence in a short time. There are practically no more drips, you don't have to make a pilgrimage to the paint tray every minute.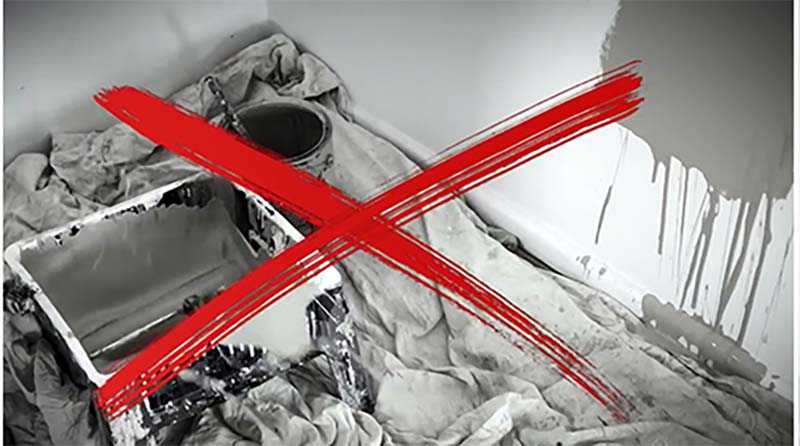 In order to use the product professionally and, above all, effectively, it is necessary to put the paint in the filling container and open the roller on the side. This is only closed with a plastic cap. Once this is removed, filling in the color is very easy. The tank holds up to one liter of paint, but it is recommended not to fill the tank to the brim. The tank is then closed again and you can start. The roller takes a few moments to transfer the paint from the inside to the surface, but then you can paint the walls seamlessly.
It is used as you are used to with other scooters. If the tank is empty, it only needs to be refilled to continue working. With the edge roller, the procedure is just as simple, but the tank is slightly smaller. Only with the corner wiper is it necessary to dip the surface of the pad into the paint and wipe it off lightly. It is then very easy to penetrate into the furthest corners. This is ensured by the smooth edge as well as the slightly longer tip.
Paint Runner Pro (including its accessories) is the perfect gadget you don't want to be missing in your home. It makes the job easier and makes painting walls easy and fast. The conclusion that 5 minutes for a wall, 20 minutes for an entire house proved true in our tests, and the experience of other users also shows that this is not an empty phrase. Overall, this product can be highly recommended.
Mainly because it can be used by anyone who wants to paint a room efficiently and quickly. In addition, there are good cost savings, which must be taken into account when covering and covering, for example. This makes things easier and guarantees no paint splatters and stains. Anyone who buys this product will have a good helper by their side and can cooperate very well.
The result of the Paint Runner is the artful painting of walls and surfaces. And look, this product isn't just for professionals, even the most lay person can paint walls and other places in a super-efficient and professional manner, maximizing paint and money savings. Not to mention a very professional finish and without all the dirt that other painting methods end up leaving in the environment.
Is it worth buying Paint Runner or Paint Roller Brush Painting Handle Tool?
Anyone who wants to paint their environment in a practical and efficient way can rely on Paint Runner. This product is a real help for those who want to paint the walls of their home but can't afford it. And it is more cost-effective, after all, the product has a very efficient ink saving system. Paint Runner is a product of excellent quality, well worth it for those who want to paint surfaces and objects with the utmost professionalism, even if they are not experts in the field.