Steps to Import Paint Tools from China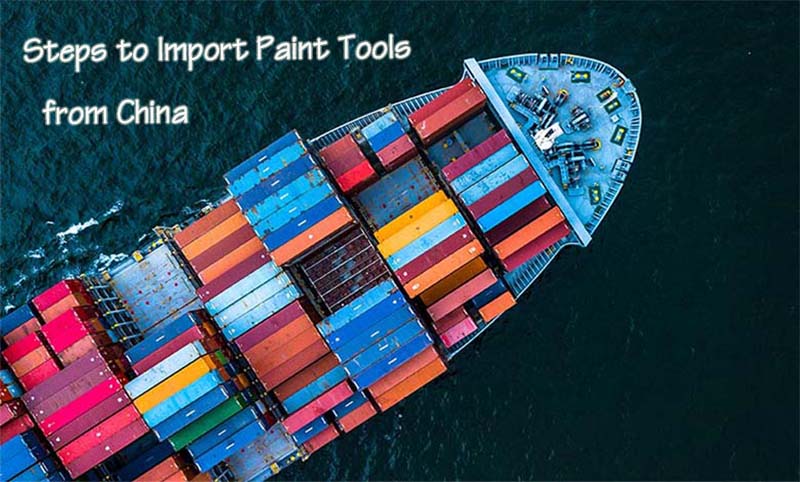 Steps to Import Paint Tools from China
Paint tool manufacturers all over the world, like G.SB, deliver a wide range of hand tools that might be appropriate for your business. You might be able to find lower-cost tools that offer you a competitive advantage.
Today, China is considered the "world's factory," and it's the second importer worldwide. There are a few import hand tools tips to bear in mind when it comes to importing tools. This could cover anything from long-distance partnerships with various manufacturers to overseas shipping and customs clearance. If you're thinking about buying paint tools from China or Chinese companies like G.SB, check out our top import paint tools tips.
6 Top Tips
1-Planning your Buying Goals:
It's a good idea to know what you're aiming to buy before you start. You may be looking for cheaper paint tool manufacturers to buy paint tools from and sell to your customers, or you might want to purchase paint tools that aren't yet available in your country.
Buying paint tools from manufacturers and importing them, on the other hand, should be integrated with your overall business strategy. G.SB PAINT TOOLS CO.,LTD offers competitive prices for all its products.
2-Finding a Reliable Paint Tool Supplier
Being aware of the top import paint tools tips is of great significance.
Verify that the hand tool manufacturer is reputable and capable of meeting your quality standards.
So that, you should determine the quality of the paint tools and ensure that your purchased tools are satisfying. You ought to know if the supplier cooperates with any subcontractor in its paint tool manufacturing process. When the manufacturer is found, you can comfortably make your purchase.
To develop a successful relationship with your suppliers, you'll also need to consider the Chinese market's culture. Mandarin (Chinese official language) is being used by suppliers more and more every day.
It is the most widely spoken language in the world, with over one billion speakers. Making an effort to learn a few simple phrases will help you to establish mutual trust easily.
3-Negotiating the Deal
One of the import paint tools tips to consider is understanding your strengths and weaknesses and the priorities of your paint tool manufacturer that will aid you in negotiating with manufacturers for the best tools price.
For example, if you have a good budget, you could promise to pay the supplier more quickly in exchange for a good price.The Chinese assume that prospective business partners should establish a relationship first, and then commercial deals will proceed if that relationship is successful.
The aim of creating a close relationship is to establish Guanxi (pronounced gwan shee), which are social or business ties based on mutual interests.
4-Reducing the Deal Risk with a Clear Contract
It's vital to have a detailed and clear contract that spells out the payment and delivery conditions you've agreed to; this is one of the significant import hand tools tips.
Using Incoterms (International Commercial Terms) that have been settled upon globally between an importer and the supplier tends to reduce the possibility of delivery problems or misunderstandings.
The contract should also specify when and in what currency payment is due and the payment system. G.SB is willing to set a clear contract with the potential customers to prevent further problems.
5-Choosing the Best Tools Transportation Method
When determining how you'll import, you have to decide whether you'll do logistics yourself or hire a freight forwarder to do so. Air and sea are the main options for importing from China. Shipping by sea could be a good option if you need to transport large volumes but isn't under any time limitations.
On the other hand, Shipping by air could be more suitable if you need your tools quickly and with a higher level of safety. Don't forget to implement this tip from the import hand tools tips list, at the beginning of your importation process.
6-Checking Out for Possibly Needed Licenses
Importing hand tools from China into your country can require a license. Trade tariffs apply to various products, including weapons, tools, food, textiles and paint tools, etc. In case you need more information, G.SB as the exporter, will shed light on the licenses and permits needed.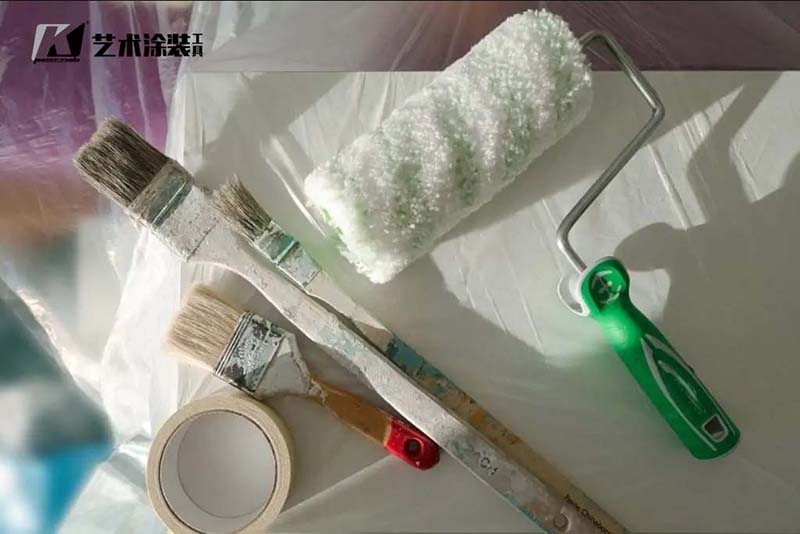 Step-by-Step to Import Paint Tools from China
China is rapidly establishing itself as a manufacturing superpower, producing a significant portion of the world's manufactured goods. For many companies, importing from China has proved to be a successful global sourcing strategy. As a buyer and reseller, this is an amazing opportunity.
It is, however, not a simple task, particularly for beginners. Importing can be a time-consuming, confusing, and expensive operation. Long transit times, rising or fluctuating delivery costs, regulatory fees, and sudden delays can all wipe out expected gains. Let's take a look at how to import paint tools from China and what you can do to help the operation go more smoothly.
Step 1: Find More About Your Import Rights
You become the importer as you purchase products from other countries. If your delivery is small and only for personal use, or the value is not very high, a courier such as DHL/UPS/FedEx can handle anything and deliver it to your house.
In this case, you'll save a lot of time and money. However, before you want to import paint tools from China into your country, whether as a company or a citizen, you must first determine whether you have import rights. Importing hand tools from China into your country can require an import license. Trade tariffs apply to various products, including weapons, paint tools, food, textiles, etc.
Step 2: Identify the Goods You Want to Import
Selling products is how a trading company makes profits. You'll waste time and money if you choose the wrong products. Anything you do is dependent on the goods you choose. Be sure you've accomplished your research and that the things you want to import have a market or niche.
To make a higher profit from selling your goods, you should have a general idea of how much it should cost. The rate of duty that will be added to your products will be determined by the tariff clarification number (HS Code). When the time comes, the details will be vital. There are many hand tool manufacturers in china that you can import paint tools from, like G.SB, etc.
Step3: Check to See If the Tools You Want to Import Are Permitted in Your Country
Importation of certain products is prohibited in different countries. Products that are banned in various countries are different. Often, check to see if the products you choose to purchase are subject to federal permits, limitations, or regulations.
To import paint tools from china, especially the dangerous ones, goods that do not follow health code standards, or goods that violate regulations will cost you a lot of money in fines and penalties. You can import paint tools from china; most paint tools are not banned or prohibited.
Step4 :Calculate the landed cost of the products and classify them
For each item or hand tool you're importing, look up the 10-digit tariff classification number. It's critical to obtain the landed expense as soon as possible; no one wants to lose consumers (due to overestimation of costs) or earnings (estimating costs too low)
To get an idea of how much you'll have to spend to import paint tools from china, get estimates from the firms you deal with and look at prices from recent shipments. Unexpected fees that may arise during delivery will cause changes in your overall landed cost, which is completely normal. The freight agent's delivery costs customs clearance, duties and fees, and land transport costs from the airport to your factory.
Step5 :Find your Chinese hand tool supplier and put an order
Place your order with the seller,exporter, and determine the shipping terms in order to import paint tools from china. Request a P/I (Proforma Invoice or Quote Sheet) for your upcoming orders, which should contain the harmonized system number, description, and value per item. The weight and packed dimensions must also be written on your P/I.
Step 6: Arrange the transportation of your cargo
Container fees, packing, terminal handling, and broker fees are just a few of the costs associated with transporting goods. Each of these considerations should be taken into account in order to get a full image of shipping costs.
Once you've approved the freight quote, you'll need to email us, as a paint tool supplier, or forwarder the contact information for your supplier. G.SB will stay in close contact with you and your provider to ensure that your order is delivered quickly and safely. Examine the specifics:
What are the top two topics to think about while shipping from China
Freight by sea
Freight by air
Courier service
Keep track of your order and prepare for its arrival.
It takes time to ship goods internationally. For example, it takes 14 days to import paint tools from china or generally goods transported from China to reach the West Coast of the United States, and 30 days to reach the East Coast.
The consignee is usually informed by the destination agent listed on the B/L by an arrival notice within five days or less of port arrival.The importer of record always has to plan for the paint tools or goods to be examined and released. If you need to fix a problem, you should be aware of the steps your products go.
Step7: Obtain your order
Make plans with the customs broker to receive the paint tools from customs as they arrive. You have the right to pick up your paint tools if everything goes well. You will simply wait for your package to arrive at your designated address if you want our to-door service.
If you've got your products and checked their quality, their packaging, labels, and instructions, you should inform your supplier by email that you have obtained your products but have not yet reviewed them. Tell them you'll get back to them after you've reviewed the paint tools, and, hopefully, you will place another order with them.
All in all, the best way to survive in a business is to put what you've learned into practice. If you follow these instructions and accomplish your research, you will reap the benefits of importing from China. A big step forward necessitates a lot of effort.
When you're first starting, it's possible to get completely overwhelmed by the prospect of planning the empire's entire future. The majority of people are focused on minor data. Instead, you must get up every day and take the next tiny step toward achieving your dream.
Make no apologies for making mistakes. Making mistakes teaches you how to avoid and prevent them in the future, enabling you to gain even more money. Entrepreneurship involves making mistakes. Benefit from others' mistakes as well as your own!