Industrial Floors | 2022 The Best Epoxy Flooring Solution





3 Types industrial floors and what characteristics each one has
Nothing better than knowing the different types of industrial floors, right? By knowing a little more, you can define which one is best for the industry to which your company belongs. We want to tell you about the different types of industrial floors that you can find in the market. Thus, you will know it is characteristics, advantages and spaces where they are usually used.


What is common floor or industrial floor?
In general, we can find common floors and industrial floors. For companies, the second option is recommended, however, some decide not to acquire them. This can bring unnecessary repair costs, since the surface will not be suitable for all industrial tasks.
These means that industrial floors will allow maintenance processes to be carried out without interrupting manufacturing activities. However, the floor is not the only factor. We can classify the floors according to the material from which they are made.
1.Concrete floors:
As the name implies, they are made of concrete, one of the most resistant materials in construction,which it is having a good presentation, high duration and a reduced maintenance cost.
The concrete floor can be classified according to its finish, therefore, depending on its final presentation. We can find it---Polished: it is one of the highest quality finishes. We can recognize it with the naked eye for being bright, giving the appearance of a common floor. Polished concrete has great strength and cleaning is easier; Floated: usually applied outdoors, and a uniform and level result are sought. It can be considered for entrances of warehouses or companies where vehicular traffic is heavy load.
There is another finish that is the ruled one and it is one where only the surplus of concrete is removed. Some companies use it. However, it is not designed for the demands of some industries, so it soon suffers from cracks and visible damage. The concrete floor in its industrial finishes is designed to withstand heavy-duty vehicular traffic. Therefore, we can find it in places such as factories, logistics centers, warehouses, parking lots, and other sites that use heavy machinery.
2. Polyurethane floors:
The floors are a type of polyurethane industrial flooring recognized as being of different colors and give a plastic appearance. Its application is based on the coating of a cement layer. This is type of industrial floor manages to extend to many scenarios.
Such as:
Industrial kitchens
Refrigeration rooms
Pharmaceutical industry
Chemical processing companies
Textile industry
Among others
In these types of scenarios, polyurethane floors stand out for being waterproof and aseptic. Thus, avoiding the accumulation of dirt and the formation of microorganisms. These floors Polyurethane are suitable for the transit of heavy machinery as it resists impacts. This means that they are ideal for responding to the needs of high-demand areas such as department stores, gyms, mechanical workshops and parking lots.
This type of industrial floor is usually applied indoors, however, it is not recommended to use it outdoors, as it will be more exposed to deterioration. Although, depending on the additives you can extend the life of this floor, as there are aggregates with UV protection and electrical charges.
3. Epoxy floors:
Although epoxy resins have applications in the artistic field, at the industrial level they have allowed the development of high-strength floors with optimum thickness and finish. Epoxy-floors are one of the types of industrial floor that have characteristics of surfaces such as concrete and polyurethane. It is more resistant, but with quartz aggregates, it is not affected by chemical agents, oils and abrasive substances.
This type of surfaces has the following characteristics:
Repellent, anti-corrosive and waterproof.
It can be used in aseptic spaces.
Being a resin, it is an electrical insulator.
It is waterproof just like polyurethane, so it can be applied in places with too much humidity or where tasks involving fluids will be performed.
They are very resistant, both to traction situations, and in moments of support of vehicles with large loads.
They can be requested with designs to match the corporate image.
They do not pollute and their environmental impact is minimal.
It is resistant to thermal events.
Now, depending on the needs of each company, there are 3 types of epoxy floors:
1: Non-Slip Multi-layers: especially for places of constant humidity and where liquids and fats are used.
2: Orange Skin: a thin layer is applied and is popular in dry environments such as laboratories and assembly factories that do not use oils or fatty fluids.
3: Self-leveling: designed especially for the traffic of personnel and aseptic spaces such as hospitals, clinical laboratories and textile factories.
Properly choose the industrial floor you need. Altering the company's current infrastructure to streamline processes and optimize maintenance tasks should be seen as an investment. It is necessary to define an adequate budget for the construction or reform of a floor that meets the needs and requirements of the physical plant of the company.
That is, to provide sufficient protection to perform all processes in a safe manner, without unforeseen events and complying with the requirements of the law. Not only do you have to consider the benefits of each of the types of industrial floor seen, you should also take into account whether in the short or medium term you will need to maintain the floor. We usually choose epoxy flooring.
7 Benefits of Epoxy Flooring
1: Epoxy coatings offer inexpensive, yet long-lasting protection for concrete floors, which reduces maintenance costs over time;
2: Epoxy floorings can be formulated to resist specific types of chemical spills, which is essential for businesses that work with chemicals on a frequent basis;
3: With anti-skid, impact- and fire-resistant options available, epoxy flooring is the coating of choice for a variety of industries;
4: Epoxy's attributes can improve productivity while reducing accidents and close calls at the workplace;
5: Delineate specific work zones within a single building using different colors of epoxy flooring, and this type of color coating can improve wayfinding and designate specific areas for specific purposes like storage, vehicle parking, foot traffic;
6: Epoxy coating is highly resistant to damage from long-term use, which positions your flooring and work environment for long-term success;
7: With different colors and patterning flecks available, epoxy coating is an asset in show rooms and stores where product display is critical to the success of the business.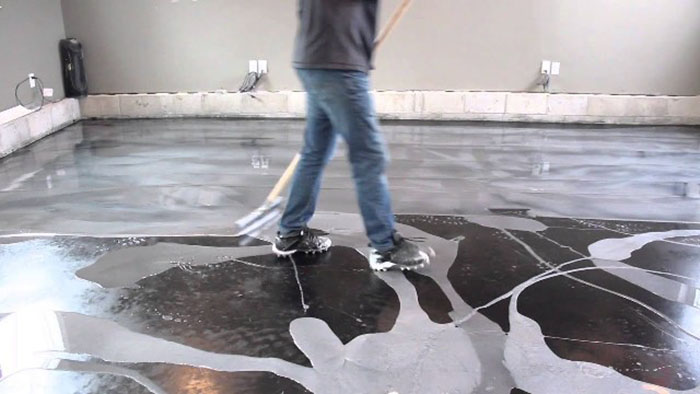 What is the Best Epoxy Flooring Solution in 2022?
Deciding on what type of flooring to use in your industrial facility can be a difficult task. There are many industrial facilities that come into play in determining what the best epoxy flooring for manufacturing is. This article addresses the reasons Epoxy Flooring is ideal for facilities that manufacture goods.
Your facility likely faces a daily attack of wear and tear, heavy equipment, foot traffic, chemicals, oils or other abuses. Epoxy floor coatings not only protect your flooring from wear and tear and damage, they also make your floors look beautiful.
How to determine what is the best epoxy flooring for your facilities:
1: Protect from Wear and Tear
2: Chemical Resistance
3: Low Maintenance
4: Enhanced Functionality
5: Protect from Wear and Tear
As is true of most facilities, constant wear and tear is the rule rather than the exception. Epoxy floor coatings are made to protect your floor from the damage that comes with the day-to-day operations of a working facility. Heavy duty industrial floor coatings provide a layer of protection between your cement and your equipment, people and chemicals, oils and debris that come in contact with your concrete floors on a daily basis.
Chemical Resistance:
Whether your facility is a business where chemicals are regularly present in the day-to -day operations or else they are simply part of the life of your facility whether they be from equipment vehicles present.
Maintenance:
It is critical that your flooring be easy to clean and maintain. Floors without epoxy coatings risk staining and can be difficult to clean. Epoxy floor coatings provide your cement floors an easy to clean and maintain surface which in turn ensures the safety of your facility while preserving it is beauty.
Enhanced Functionality:
Epoxy floor coatings allow you to design a flooring system that looks amazing, but also serves a purpose. Your floor can be designed in any number of ways whether you need line striping to create specific areas within your facility or you want to indicate some areas as off-limits or more dangerous than others, all of this is possible with epoxy floor coatings.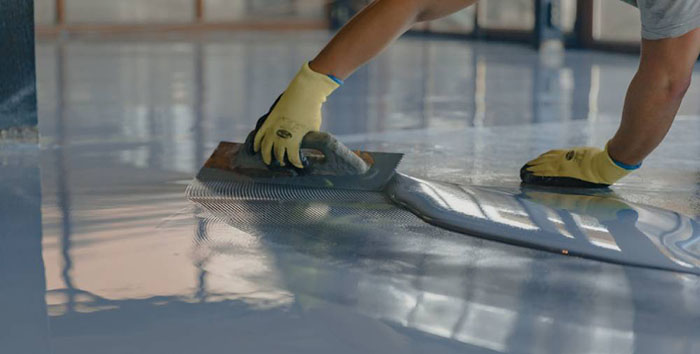 2022 The Best Epoxy Flooring Installation Checklist
Having epoxy flooring installed is a great way to ensure that your concrete floors look great since 2020, and serve your business well for years to come. Epoxy floor is sleek, stylish, and easy to maintain. A successful epoxy installation depends on careful preparation. We've prepared an easy-to-use epoxy flooring installation checklist to ensure the most efficient and high-quality installation on your concrete floors.
Step 1: Schedule the Installation
The first step in the epoxy flooring installation checklist is to schedule the installation. Once you have chosen a reputable contractor, you must choose an installation date that will work with your business's work schedule. Remember that you need to allow yourself adequate time to prepare the concrete floor for the epoxy coating, the installation itself, and time for the floor to cure before work can resume.
Step 2: Clean the Surface
To ensure a successful epoxy application, the concrete floor surface must be free of chemical, oil, and other residues. If the concrete has been previously painted, the paint should be completely removed.
Step 3: Repair Chips and Cracks
While an epoxy coating can cover small imperfections in the concrete, it is best to repair large chips and cracks prior to the application of the epoxy.
Step 4: Clear the Installation Surface Prior to Installation
Prior to the contractor's arrival, plan to clear the installation space of all equipment and personnel. This may require moving heavy equipment to another location or disrupting your employee's work schedules to be certain that the contractor has access to the space. A final sweep of the floor to remove grit and debris is important.
Step 5: Plan to Remain Available
The last step in the epoxy flooring installation checklist is one of the most important! While the installation is in progress, you should plan to be available to answer questions and provide direction.
Once on-site, your contractor will continue with professional preparation such as diamond grinding or hand grinding, which will ensure that the epoxy materials adhere to the concrete floors. Be sure to discuss maintenance of your new flooring with the contractor and plan to follow their recommendations to make certain your floor remains as beautiful as the day it is installed.
When it comes to industrial flooring, we know that you have many choices at your fingertips. From polished concrete to beautifully colored epoxy coatings, the right flooring choice can actually help improve your business.
Epoxy floors improve your business in 3 major ways:
1:Attractive Flooring Is Impressive
2:Epoxy Flooring Is Worry Free Flooring
3: Epoxy Flooring Offers Long Term Savings
Attractive Flooring Is Impressive:
When you think about the beauty of flooring and its overall attractiveness, industrial flooring is probably the last thing that comes to your mind. However, when you invite visitors and potential clients into your facility for a tour, they will certainly notice an old, unattractive, stained, chipped or poorly maintained floor right away. Manufacturing spaces are large and the flooring is very noticeable, especially to visitors. An attractive industrial choice such as an epoxy coated concrete is sure to catch your visitors' eyes, but in a good way.
Epoxy Flooring Is Worry Free Flooring:
When running a large manufacturing facility, you have a great to deal to worry about other than the condition of your flooring. Epoxy coated concrete is virtually worry free. When you don't have to worry about your floors, you can turn your attention to more important business matters.
You can count on an epoxy-coated floor to be: a safe option that leads to fewer accidents caused by slips or falls; an option that maintains its shine and beauty for years to come; easily maintained with regular and inexpensive sweeping and mopping.
Different areas of the facility can easily be sectioned off with colored epoxy flooring to signal the difference between safe walkways and dangerous, prohibited areas protecting employees from unwittingly wandering into harm's way.
Epoxy Flooring Offers Long Term Savings:
Epoxy coatings are easily installed on your new or existing concrete floors, saving you money in repairs over the long-term as they offer constant protection for the underlying floor. Epoxy floors can be expected to last for many years and as such, often save you a great deal in maintenance costs over time.
Investing in preventative maintenance is one of the best ways to save money in the long run. With routine maintenance, the various parts of your commercial building will be functional and appealing. There are certain parts of your commercial building, like the flooring, they will eventually have to be replaced.
When the time comes to replace the existing flooring in your commercial building, you need to work on finding the best replacement on the market. If your main goal is to have flooring that is both nice to look at and durable, then epoxy is a fantastic option.
Affordable Flooring Option:
Once it becomes evident that your existing flooring needs to be replaced, you need to start the search for the right flooring. While this may sound like an easy task, it is anything but. Modern business owners have more options than ever before when it comes to the type of flooring they can use. One of the main things you have to consider when researching your flooring options is the price.
Most business owners don't have an unlimited well of resources to pull from. This is why having a firm budget in place for this type of improvement project is imperative. Making sure the flooring you are getting is both affordable and long-lasting is smart. Epoxy flooring is an affordable option for any type of commercial building.
Easy to Maintain Flooring:
Trying to run a business and maintain a commercial building can get overwhelming at times. This is why you need to avoid investing in flooring that requires tons of maintenance. While wood flooring is beautiful, it is also hard to keep clean. If you are looking for flooring that is easy to clean and maintain, then epoxy is definitely a great option. All you have to do to keep this type of flooring clean is to run over it with a damp mop from time to time.
A Long-Term Commercial Flooring Solution:
Ideally, you want to invest in flooring that will last for years to come. The last thing any business owner wants is to replace the flooring in their building annually. When installed properly, epoxy will last for years to come.
Do you know Floor Flakes (Color Flakes for Floor Painting)? Decorative colored flakes (sometimes also known as floor chips or floor flecks) add color, texture, and visual appeal to your floor coating. Flakes come in all different shapes and sizes. Every epoxy application will differ slightly in install schedule but it's important to note that when applying epoxy-flakes they will always be applied to either a primer.
Flakes are specially formulated vinyl paint aggregates that can be used to enhance a floor coatings aesthetic and ergonomic quality. They are available in a wide variety of colors, sizes, and blends that can be customized to the customers liking making the options for end results limitless.
Epoxy colored flakes are used in epoxy and resinous floor coatings to give the floor an aesthetic appeal, texture, hide imperfections and help to build up the thickness of the coating applied. They also act as an additional aggregate to help prevent slips and falls. Many different levels of texture can be achieved through this unique product.
The benefits of using colored paint chips are truly endless. Colored paint chips are super durable and formulated from vinyl meaning they will not wear down when applied with commercial grade coatings. They also provide a truly unique aesthetic appeal as the color combination can be customized to a customer choice. Paints chips are safe as they give the floor more texture and increase non-slip resistance.
They also provide for a low sound barrier to help decrease the noise from foot and vehicle traffic. Decorative Flecks are normally topcoat with a clear urethane, UV-stabilized epoxy or poly-aspartic, to seal in the flecks to the floor and allow for easy cleaning since the clear topcoat fills in minor gaps/valleys created when the flecks overlap. Lastly colored paint chips are UV stable. As long as you apply in conjunction with one of our UV stable topcoats, the floor should continue to look great in outdoor applications.
Adding Color Flakes to Your Floor Epoxy, Please
Epoxy Color Flake is an ideal flooring product for use on concrete floors, interior and exterior, and areas like basements, workshops, and garages. Vinyl chips are blended with epoxy, creating a random design, and resulting in a permanent, seamless, coating solution that looks as beautiful as granite, marble, and quartz. One huge benefit of an epoxy color flake is that it doesn't peel or fade.
Decorative-vinyl, epoxy flake is frequently used because it is:
1: Economical and 100% Renewable;
2: Durable;
3: Easy to Maintain;
4: Improves Traction;
5: Increases Safety;
6: Creates a Granite Look;
7: Creates an Abstract Look - Depending on Selection.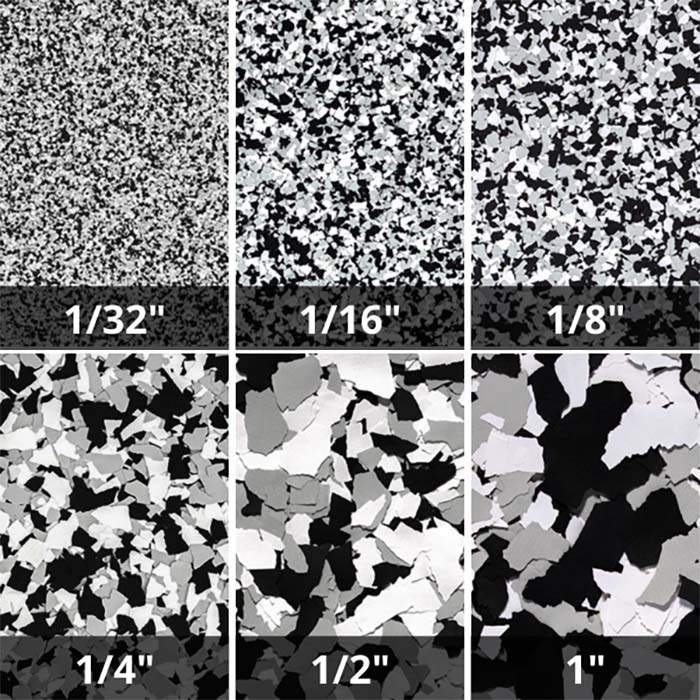 Other kinds of pre-engineered flooring can get expensive, and are just not as durable as these beautiful, flake, resin-coated floors. Flake provides unbeatable abrasion and chemical resistance, and it can also be custom colored. Maintenance is as simple as using soap and water for clean-up, and years down the road if you want to renew it, it only requires applying a new top coat to bring it back to full luster. The coating is also germ and moisture resistant. Epoxy color flake creates a sound-minimizing layer of insulation that other flooring can't beat.
Another benefit of flake flooring is that it's anti-slip, and functions great in a variety of circumstances. You can drive on it, enjoy garage projects, complete shop activities, and enjoy the way your new floor is genius at camouflaging damage and stains. An awesomely unique coating, flake color chips are a patented combination of resin, filler, and pigment. Random-shape gives each space customized texture and always results in a random, yet standard size blend that enhances a coated environment beautifully.
Put on K brand spike shoes (Spiked Shoes for Epoxy Floor Coating or Epoxy Shoes), walk around the floor, and shake the colored flakes onto it. Go slowly and apply in sections to ensure you are achieving the desired broadcast before moving onto the next section. There are no do overs! In closing remember to always be prepared and have a plan of action for how you are going to apply the flakes. G.SB is here to support you on your projects so please feel free to reach out to our support team and ask any questions you have when applying our products.(Nylon Nail Shoes 1 Pair suitable for up to Shoe size 10 Strong webbing with metal buckles to secure 40mm Nail protrudes 30mm from bottom of shoe Ideal for use in walking over flooring adhesive and Resin coatings.)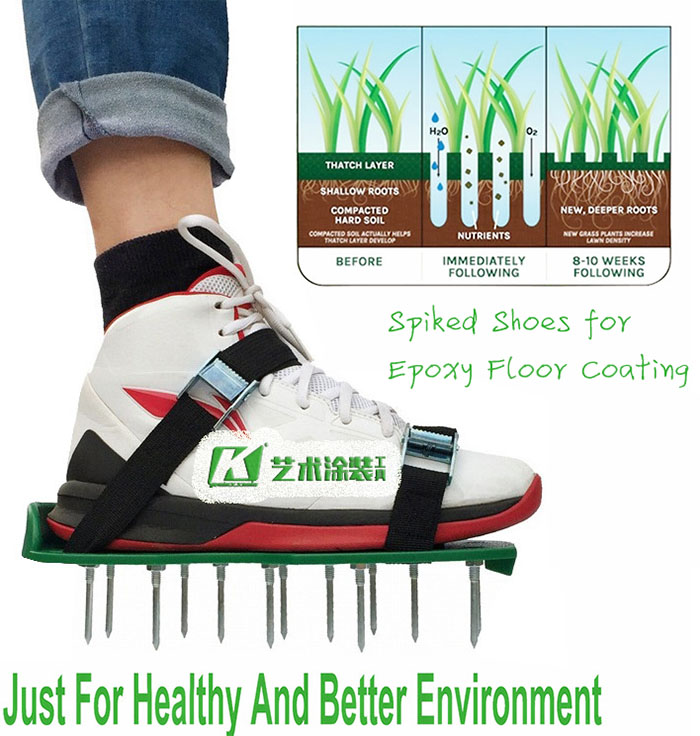 Why choose K brand spike shoes?
Our lawn aerator shoes are made of a strong plastic base with great heel support, which it's straps will allow you to easily wear and take off your spike shoes. Plus, the nonslip plastic buckle will ensure a comfy and tight fit. Our shoes with spikes can let air, water and nutrients reach deeper into your yard soil and add thickness to your grass. Green plastic is pretty thick and sturdy, I imagine they can handle quite a bit of use. The spikes are also thick and look to be able to handle some wear. Definitely a must have when working with epoxy floors!
Scientific knowledge:The Difference Between Epoxy Floor Coatings And Epoxy Paint
Whether you have a garage in your home that needs protection, or you have a commercial garage or warehouse that should look its best, you want something better than bare, plain concrete. The solution for these cases is epoxy floor paint. This gives a colourful, shiny look that makes you feel like you are standing in a showroom—not a garage or warehouse. This is especially beneficial in commercial environments when you want things to look their very best for the benefit of the customers.
In addition to looking good, epoxy also protects the floor. It resists oil stains, beads water and is easy to wipe clean. Quality epoxy resin floor paint will resist damage from acids and salts too. This means when you paint a surface with an epoxy paint, you can expect it to look great for years to come. You can use a dust mop for day to day cleaning and a broom and full mop with an epoxy cleaner to clean up larger spills.
Epoxy flooring is gaining more attention from both commercial, industrial and residential clients because of the creative designs it offers. It also provides durable, tough, versatile, slip-resistant and aesthetically appealing floors that lasts for many years. One difference between the two epoxies is that coatings cure, whereas paint dries.
Epoxy floor consists of two main parts: resin and hardener. You are required to mix the two parts together prior to application. After mixing you are limited by time and temperature as to how long you have to apply it. With colored epoxies it is the resin that is tinted to give the epoxy color. When these two are mixed together, they form a strong covalent bond to the surface.
Floor Painting Issues:
We have listed and explained the most common floor painting issues that we have come across over the years. These are industry-wide problems and so are issues that you may have with any floor that you may have painted with paint from any manufacturer….the problem is not always the paint!
My floor is not drying
We quality control and batch test all our products prior to decanting into cans and sending to our customers.
White patches on my floor
White marks on an epoxy floor are due to amine blush/blooming. These floor painting issues occur when moisture is in contact with the coating as it is being applied or before it is properly cured. This can be due to excessive humidity, condensation and/or applying the product too thickly. If your floor has white amine blush, it can usually be removed by mopping with a 50:50 solution of citric acid and warm water.
There are pinholes in the paint
Pinholes and bubbling on an epoxy floor paint coated floor appear as small blisters or bubbles. After the blisters pop, they leave a round crater and the pinhole can be seen in the finish of the paint. The causes of pinholes in an epoxy paint are usually caused by 'outgassing' – this is where air trapped in concrete voids reacts when fresh epoxy paint begins its curing or exothermal action. The chemical reaction creates heat. This releases moisture into the air pocket making the air within it expand. This naturally forces air to escape from the pore and towards the surface where it and becomes trapped in the coating and then either forms a blister or pops to leave a pinhole.
There are other floor painting issues which may cause pinholes to appear, Include:
1.Temperature/Humidity: If it is too hot or humid, it can result in rapid drying which causes air entrapment in the coating.
2. Air Movement: Air movement from fans, door or vents blowing directly on the surface may cause flash drying. This may cause bubbles which pop to leave pinholes.
3. Sunlight: Direct sunlight can cause the product to become tacky before necessary air release has occurred, which results in bubbles.
4. Mixing: Mixing at too high of a speed entraps air, resulting in bubbles.
5. Surface Preparation: Very extreme or aggressive shot-blasting opens the pores in the concrete causing air to be trapped when the coating is applied and this may result in bubbles.
6. Roller Sleeves: Not using the recommended floor roller-sleeves.
This has a minimum thickness of 2 millimeters of epoxy floor coat. This thickness is ideal for high traffic areas or floors that are always exposed to heavy impact, extreme temperature, and chemicals. There are several types of epoxy flooring, each of which is suitable for the kind of facility and the environment the facility is in. Note that every type is durable, tough and long-lasting.
In fact, a lot of epoxy flooring DIY Kits are available on the market that almost anyone can coat their floors with epoxy anytime they want to. However, preparation of the floor and priming will still need to be done to ensure maximum bonding of the epoxy and the concrete. While epoxy floor coating has lesser coat layers, it is still very durable, tough and long-lasting.
Both epoxy flooring and coatings come in an array of colors which will surely meet your aesthetic requirements. Epoxy coatings cure and do not dry like paint does. Unlike paint, the mixing of the two components starts a reactive process that creates cross-linking of the components while it cures. This cross-linking provides a very hard and durable surface that seals the concrete and is resistant to staining, abrasion, and chemicals. The amount of resistance and performance of the coating is usually determined by the quality and solids content of the epoxy.
Most people think that epoxy coating is paint since it also comes in different colors. This is just not the case. Paint is a latex acrylic product. Many of the well-known paint manufactures do offer paint with a small amount of epoxy in the mix and refer to them as 1-Part epoxy paint. This allows for better adhesion and durability than standard acrylic paint, but it is not an epoxy product.
Hence, never confuse epoxy coating from epoxy paint, because the latter is not epoxy. And in terms of durability, strength, longevity and chemical resistance, the former certainly tops the other by a hundred fold. When it comes to commercial, industrial and residential flooring, one of the top choices is epoxy flooring.
Whilst there have been many articles written on the subject of Epoxy Floor Paint few have really tackled the key reasons why Epoxy Floor Paint is such a versatile product for flooring. This is partially due to the wide variety of different types of epoxy resin floor paint available and with choice comes the decision press of what is best for which particular use or problem.
An Overview of Epoxy Chemistry
First it is worth spending a few moments to give an overview of the basic chemistry of these types of product as this helps to understand why they are so versatile. All Epoxies are based on a resin system containing epoxide reactive groups, the most common one in use today is one based on bisphenol A, although others based on hydrogenated bisphenol A, Bisphenol F or S and so called reactive diluents also exist.
This is the building block of the system and provides the key benefits we are looking for namely chemical resistance, strength, adhesion to a variety of different surface types (anything from steel and concrete to wood and composite decking on boats). This "building block" resin is then cured, usually in the familiar 2 component system with a second resin containing some form of amine functionality, an accelerator (a tertiaryamine or phenolic derivative for example),viscosity reducing components (to help the paint flow and level) and a variety pigments to add functional characteristics such as colour, wear resistance, crack bridging, toughness and anti-slip floor paint properties and by varying these constituents we can as expected adjust colour, gloss and other properties.
Applications of Epoxy
Epoxy paints lend themselves to a wide range of application types whether by brush, roller spray or pour and spread depending on the thickness the customer wants and the degree of levelling required. For most standard even floors a solvent or water thinned are quite acceptable and economic, but their limits tend to be around 150 – 200 microns wet due to the risk of solvent or water becoming trapped in the paint as it cures. Hence for thicker films and self-levelling of uneven or damaged services we tend to opt for a system which contains no solvent or water but a "reactive diluent" instead.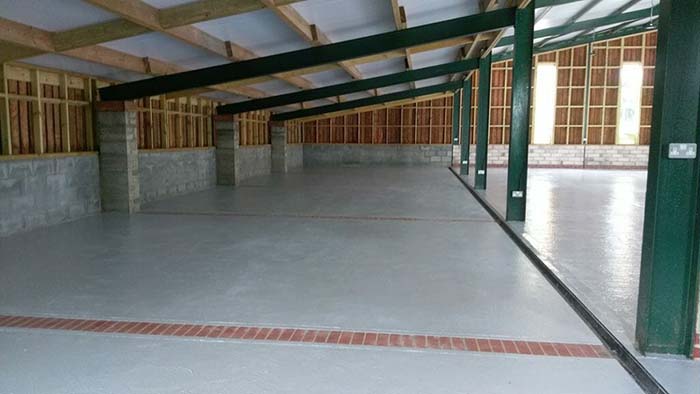 Painting a Large Storage Building with Grey Floor Paint We would like to thank our customer, peter, of UK for sending in these photos. As part of the upgrade work to this building, he needed a hardwearing and long-lasting finish for the concrete floor. After talking to his End client, peter decided on the two-pack epoxy floor system and K brand epoxy floor paint tools. The area was primed with two-pack epoxy floor sealer and overcoated with two-pack epoxy floor paint in light grey. I think you will agree that the team did a great job and not only does the floor look clean and professionally finished, it should also last for a long time (of course dependent on the level of use and professional epoxy floor paint tools).
"Hope you are all well and busy. Have been meaning to send these for ages and your email today reminded me so here they are! Many thanks for all your help and advice, and professional epoxy floor paint tools.We are really pleased with the result." -------- Peter
Useful information for applying Epoxy Floor Paint
Cold Weather Tips:
We are frequently asked about the best conditions to apply Epoxy Resin Floor Paint and whether cold weather has any effect on the success of using floor paint. When the temperatures start to fall and the nights start to draw in, it's a good time to for us to share with you some essential tips to bear in mind when picking the correct time to apply epoxy floor paint in cold weather. While there are certainly things you mist watch our for, the approach of Winter season is not automatically too late for your epoxy flooring project.
Review Epoxy TDS for Temperature Requirements
The first thing you need to do is to carefully review the Technical Data Sheet (TDS) for your Epoxy Resin Floor Paint. On there, you will be able to locate the information about temperature specifications for that floor paint. These considerations will apply both to suitable application temperatures as well as for the specifications about suitable humidity levels and dew points.
If you are in doubt about any of these issues, please contact us and we will be happy to discuss the project with you.In addition to the above, please note that if you are working with a multi-coat Epoxy Resin Floor Paint, you need to ensure that the temperature requirements of each different product within that you may be using is suitable.
Again, primer can have differing environmental requirements to a base coat. Top coat (e.g. polyurethane) can be different in its environmental sensitivities to base coat. Apart from temperature considerations, a general guideline is that you shouldn't apply Epoxy Resin Floor Paint if the humidity is greater than 85% or the temperature is less than 5°C. A concrete moisture meter is a good tool to determine these values.
If conditions are close to those limits that then it is really best to simply wait for more favourable conditions to ensure the best possible application. This is because most Epoxy Resin Floor Paints don't apply well in a damp environment and will have an adverse reaction to the water vapour in the air if you apply it in those conditions.
These diluents as well as reducing the viscosity can bring other properties to the epoxy paint, depending on type and quantity used. Low molecular weight types based on butanediol can give better water solubility and hence can give a system which can be "thinned" on site with water for the floor primer or sealer coat, these are particularly favoured currently due to this flexibility of application. Others contain diluents based on natural chemicals derived from palm oil and these are primarily used to improve mechanical properties and water resistance and of course the use of any natural raw material to replace a petrochemical one is better from a sustainability perspective.
Formulation Matters
Putting all of these together enables the skilled formulator to deliver a product suitable for almost all applications whether it is a car park in a multi-storey, a high traffic warehouse area or a domestic garage with an uneven floor. The system is generally capable of good results with a relatively basic set of tools, good quality roller, a power mixer is always recommended for best results and always follow the data sheet instructions. 99% of application problems are caused by not following the data sheet and applying in unsuitable weather conditions – too cold or wet before fully cured being the main risks of a problem – these usually manifest themselves in the form of "amine bloom" and this is particularly prevalent in cheaper epoxy systems which leave out to save cost the accelerators needed to reduce this – although this can usually be removed later with a dilute citric acid or vinegar wash after full cure for 1 week. Incorrect surface preparation is the second most common cause of a poor finish – you are unlikely to get the best finish if you paint over oil or grease or grit – so a good clean first makes a huge difference to the finish and durability of your floor.
To summarise, whether you are planning to use garage floor paint to hide those old oil stains, a car park to keep it clean and dust free or to give colour and safety to your floor project there really is nothing better with such a wide range of options than a good Epoxy Floor Paint applied by roller following the manufacturers instructions.
This is because in the cold weather a concrete floor is frequently colder than the surrounding air. There reasons for this are in the way that heat is conducted and the way it rises. The concrete floor is a good conductor of heat. The heat from the floor rises easily up form the concrete to warm the air above it and for that reason the measured air temperature will be higher.
Epoxy concrete floor coatings will instantly take on the temperature of the concrete floor once it is applied to and it is this temperature you need to be aware of, not just at the point of application but throughout the entire drying process. The best way to measure this is to use an infrared thermometer.
Please take additional care when doing this temperature measurement to ensure that the concrete floor slab temperature around your doorways, vents, and walls is within the acceptable range. The thermal properties of these areas can mean that these can be some of the coldest spots within a heated factory, warehouse or garage and, to ensure a successful project it is vital that these should be in the correct range before applying the Epoxy Resin Floor Paint.
In addition, you should always ensure test areas first before walking over them or applying a second epoxy coating. Your temperature worries are reduced significantly if your concrete floor has heated slab as this will mean that then your only concerns besides the correct slab temperature of course, would be humidity and dew point.
You can also look at heating the space where you are planning to apply the epoxy floor paint.
This can be very effective, but it is does depend on how cold it is. It can take several days for a concrete slab's temperature to rise to the ambient air temperature. If you were to decide to go down this route, you should avoid kerosene heaters as they can release contaminants into the air which will end up in your floor! A better alternative are propane heaters as these are much cleaner burning.
NOTE: You should keep your epoxy products inside a heated room prior to use. This allows for much better mixing and activation of the epoxy floor paint when you are ready to use it.