Do you Know Who Invented the Paint Roller?
The paint roller was invented by a man named Norman Blakey in Toronto in 1940. Before that, the paint job was done by a professional stucco brush.

Blakey was born in Pierson, Manitoba in 1891 and consulted Albert Hamilton textile expert Tom Hamilton. In a 1984 interview with Globe and Mail, Hamilton recalled the scene and said that Blakey asked him which fabrics might have bristles on the surface. He asked Blake what he wanted to do. Blakey said that makes paint rollers. He then explained his idea further using a "7" shaped handle and installed a hair roller on the beam.
"The best fabric I could think of at the time was to cover the green mohair velvet used on the railway passenger cars. So I sold him a bundle, told him how to cut, and suggested that he stick it on a roller with glue. Later he came back to thank My suggestion and gave me the paint roller and the blacksmith's tray, and no one at that time thought how important his invention was.
Even though Mr Blakey himself does not consider this a major invention, he may simply want to work more efficiently. He did not seek investment in mass production at the time. Until his death, he never thought of applying for an invention patent to improve his poverty.
As a Stainless Steel Pattern Roller Factory, share the differences between paint brushes and roller brushes:
First of all, the benefits of brushing your teeth: New homes need to be refurbished. Painting the walls is very important. It is usually better and more common to paint in the bedroom. Brush with a paint brush. The painting effect is very good. The key is to save on renovation costs. Moreover, the brush painting tool is simple and easy to construct, and it is relatively easy for the average owner to master the skill.
Disadvantages: However, there are disadvantages to brushing your teeth. Brushing is slow and labor intensive. Unskilled operation can result in uneven coatings.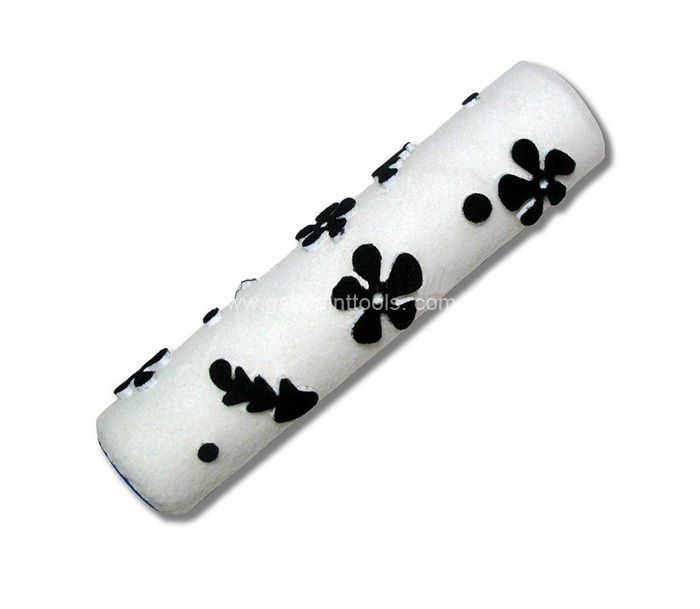 Ragging Roller
Second, the advantages of the Ragging Roller: The advantages of the Ragging Roller are that it has a large area for one-time painting, which improves painting efficiency compared with painting, reduces workload, and saves time and labor.
Disadvantages: However, because people are reluctant to use roller brushes, roller brushes waste paint and increase costs. Some people are not satisfied with the effect of the roller brush. Rolling walls are prone to pitting, so many people don't use this method too much.
Choose a paint brush and a mohair paint roller. Choosing a good tool requires understanding the advantages and disadvantages of various brushes. When brushing is not ideal, do not use the brush blindly.
Our company also has a Flocking Roller on sale, welcome to consult.
Was the paint roller invented by a Canadian?
Norman James Breakey
In Canada, Norman James Breakey invented a paint roller in 1940, had it patented in Canada,[1] and produced it in a home factory.[2] After WW II, he sold at least 50,000 of the paint rollers under the name Koton Kotor and it was also sold as the TECO roller by Eaton's.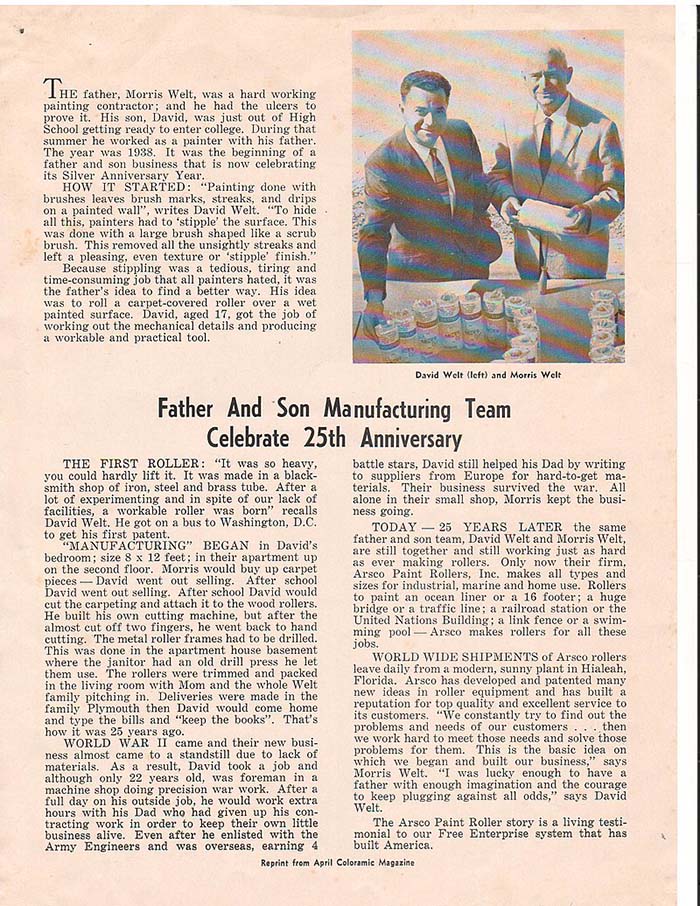 Richard Croxton Adams
In the United States, Richard Croxton Adams produced a paint roller in a basement workshop in 1940[3] and patented it in the United States. The patent application was filed in 1942.[4] However, a similar paint roller patent application was filed in the United States two years earlier in 1940 by inventor Fride E. Dahstrom.
American Roller Stippler Company
In 1938 Morris Welt was a painting contractor in New York City. His son, David Welt went to a print shop to have business cards made so he could promote his father's work. David saw the printer rolling ink on to metal type. This gave him the idea that paint could be rolled. In the basement of their apartment, David Welt created the first paint roller using bent steel for the frame and he glued some carpet on to a wooden dowel to make the roller cover.
The initial handmade rollers were not very good at applying paint but did a great job of "stippling" (covering brush strokes and surface imperfections). Morris and David named their company ARSCO which stood for American Roller Stippler Company. As they found better fabrics for the roller cores, the business grew and they began supplying Sherwin-Williams, Glidden Paints, and many others around the world.
In 1956 the small ARSCO Paint Roller factory moved from a small New York warehouse to a block long factory in Hialeah, Florida. April 1963 Colormatic Magazine honored the father and son team as Morris and David Welt celebrated their 25th Anniversary by publishing a full page editorial detailing the history of this invention in 1938. In 1974, David Welt's son joined Arsco. Glenn Welt purchased the paint roller business from his father, renamed the company to Arsco International and continued manufacturing paint rollers and accessories until 2017.
Toronto man developed the paint roller
Around 1940, Norman Breakey of Toronto developed the paint roller, a time-saving paint application tool consisting of a cylinder covered in fabric attached to a handle. The paint roller was a considerable improvement on the paint brush since it allowed the user to paint large flat surfaces quickly and efficiently.
Unfortunately, Breakey could not produce his invention in large enough numbers to profit from it before others "borrowed" his design and sold it as their own. SOURCE: Library and Archives Canada
When to use a paint roller vs. paint brush?
Most interior paints available on the market today can be applied by a paintbrush or a paint roller and we use both in our projects, depending on the wall texture and the effects we want to achieve.
However, if you're considering DIY paint job, it's important to know that a brush and a roller have two very different functions.
The paint brush and paint roller have two very different functions, which means that selecting the right tool for the job is very important. Here are a few facts to help you decide what paint tool to use for your project!
Paint Brush
The oldest and most popular tool to use for painting because it's small, precise, and flexible, which makes it perfect for painting details, edges, and areas that require more attention.
The brush is typically used to cut in and out of smaller and more detailed areas, including trims, corners, and edges, and to create a textured effect with brushstrokes.
There are various sizes and types of brushes to choose from: narrow brush to paint joints and alcoves, wide brush for edges and larger surfaces, and 'radiator brush' for corners; medium hardness brush is used to cover corners, while soft angle brush is best for details.
Also, depending on the type of paint, different brushes are used: nylon or polyester for latex (water-based) paints, and natural for oil-based paints, varnishes, and stains.
However, it's important to know that painting with brushes is not economical since you need more paint; so, we wouldn't recommend painting with the brush on large and smooth areas, as the incorrect use of a brush can cause streaks and traces.
1: Used to cut in and out of smaller and more detailed areas, including trims, corners, and edges
2: Brushes are small and flexible – they work well when controlling paint
3: Also used to create a textured effect with brushstrokes
4: Before using a brush verify the type of paint you are using as well
5: Nylon or polyester brushes are perfect for latex (water-based) paints
6: Natural brushes are good for oil-based paints, varnishes, and stains.
Paint Roller
Roller provides thin, uniform, and even coats, and is an ideal tool for painting large, smooth, and well-prepared walls, ceilings, and large furniture. The roller is more economical to use than the brush since its porous surface holds much more paint and distributes an even layer of paint much faster.
The smoother the wall, the shorter the filament length should be (approx. 10mm), but in general, it's better to take advantage of a roller with a longer filament. You can achieve different finishes with different rollers: smooth surface rollers for smooth finish, and thick or fluffy surface rollers for a more textured finish.
There are many available roller types: plastic ones are intended for water-based paints, natural fiber ones for solvent-based paints, and sponge rollers for oil-based paints.
The most efficient technique when painting with a roll is the 'V letter' – it allows you to cover large surfaces uniformly and quickly. To prevent unaesthetic streaks, do not press the roller too firmly against the surface.
1: Ideal for bigger ideas such as walls, ceilings, and large furniture
2: The porous surface of the roller holds much more paint than a brush and distributes an even layer of paint much faster
3: Rollers with a smooth surface will produce a smooth finish
4: Rollers with a thick or fluffy surface will create a more textured finish
Benefits of Using Both
The best painting results will be achieved by using the mixed technique – start with painting the corners, difficult-to-reach areas, and edges with the brush, and then cover larger surfaces with the roller. This method is more efficient and will save you time, plus you'll end up using less amount of paint.
Whichever painting tools you are using, it's necessary to wash them with water after completion of the project. You can use them again after they have dried.
Whether you need major remodeling or you want to revamp your walls, at Home One Service we are here to help enhance the look and feel, comfort, and safety of your home. Contact us now!