The Best Fence Sprayers We Recommend 2023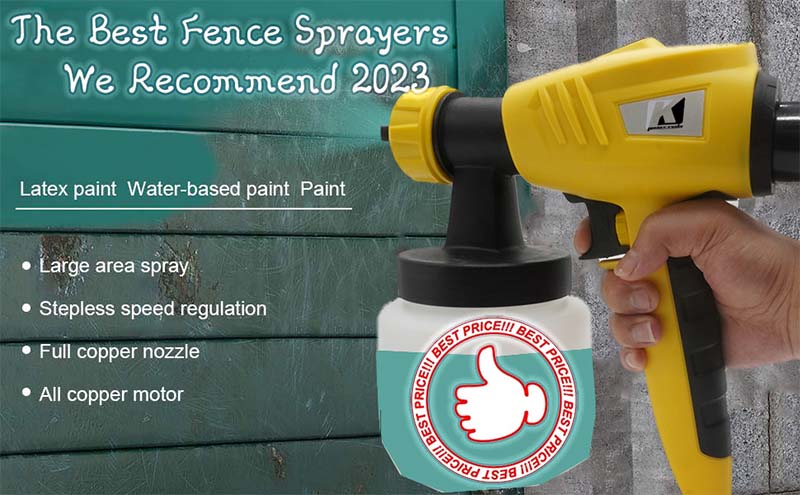 Many people have researched and tested the best fence sprayers comparing design, performance, ease of use & value for money. Staining a fence with a brush can be a daunting task. Save time and headaches on your next fence-staining project using an fence-sprayer. If you're looking for an HVLP unit to help you spray wood glazes, our selection of 'High Volume Low Pressure' units are perfect for the job. With a large air volume and low air pressure, these units can atomize the glaze, reducing the amount of spray mist for a cleaner, more efficient job.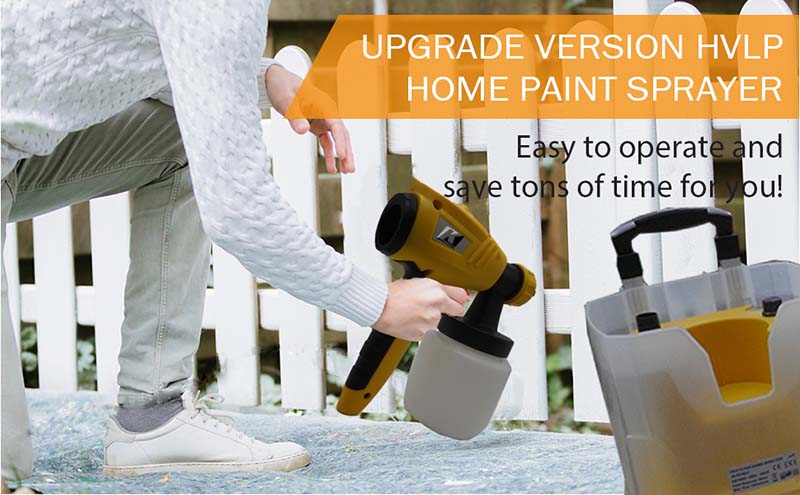 Here's what they discovered:The best fence sprayers 2023
There are a lot of people who want to do all their work on their own. Be it works like cooking or like painting your house, they want to do it all by themselves. So, people like them, there are a lot of products available that could actually make their lives easy. One such product is the fence sprayer.
Many People tested and reviewed the best Fence Sprayers on the market. Our top recommendation is the K Brand Fence Sprayer - 1600W HVLP Electric Spray Gun with 4 Nozzles 3 Spray Patterns, which is suitable for all Standard solvent or water-based fence paint, oil, stain, varnish, wood preservatives and treatment - no need for expert Spray able paint. Detachable gun to quickly and easily change attachment, the paint, refill or clean the gun.
Our trusty old fences can start to look a bit weather beaten over time so it is very important to keep them looking their best by repainting them annually. This is a job that many loathe to think about, as spending hours or even days on the end of a wooden roller or paint brush is not at the top of their bucket list.
Giving your fence a new coat of fence stain or fence paint doesn't have to be a labor-intensive task though, and by using the best fence sprayers, or electric fence sprayers, you can get the job done in a fraction of the time.
What's more, these days it is so easy to get your hands on one of the best fence sprayers for relatively little money, and have it delivered right to your door! And, if that wasn't enough, we have made it even easier by testing and reviewing the top fence sprayers for you.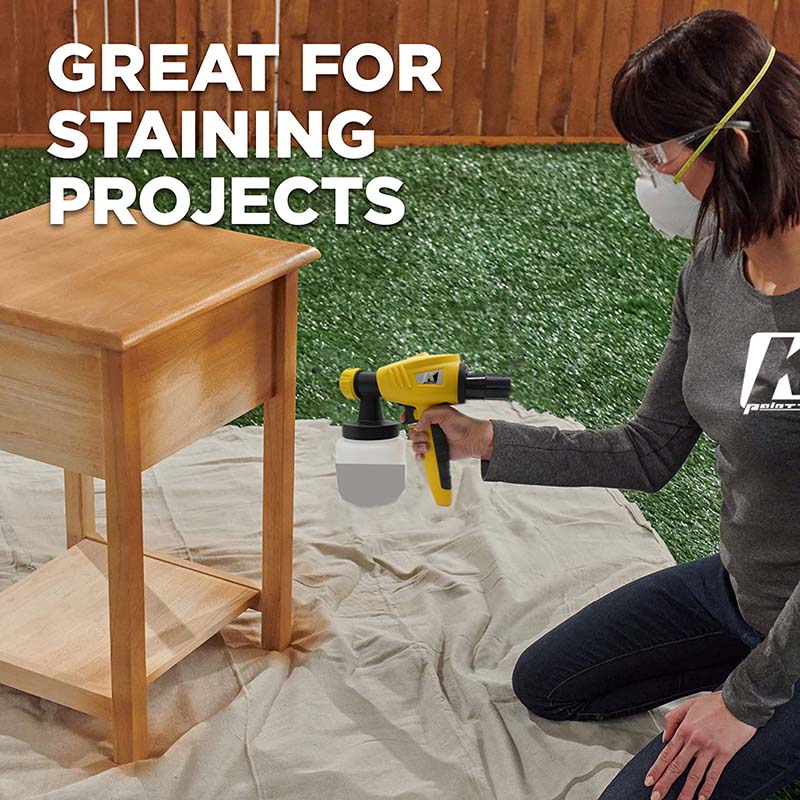 Fence & Decking Sprayer
Perfect for fences, sheds, decking or garden furniture
Compared to applying fence treatment with a brush or pump sprayer, the Fence & Decking Sprayer (K Brand 1600W HVLP Electric Spray Gun with 4 Nozzles 3 Spray Patterns) is the quickest, easiest way to coat fences, sheds, decking or garden furniture. With this sprayer you can spray a fence panel in under 2-5 minutes.
For solvent and water-based materials, fence paint, oil, stain, varnish, wood preservatives and treatment
Extra-fine atomisation for uniform coverage with a single coat
3-way adjustable paint jet can be adapted perfectly to the object to be painted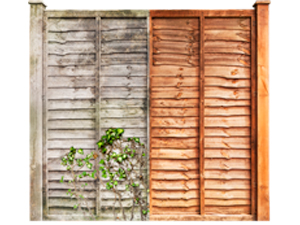 Fence
Whatever type of fences you have from traditional fences, featheredge boards, tongue & groove or picket fencing you can paint them fast.
Shed
A protective coating helps to maintain the natural wood, keep it looking good and help make it last for longer.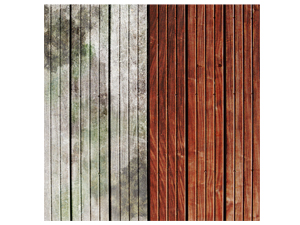 Decking
The fine spray jet reaches every edge and corner, providing all-round protection. Perfect for grooves in decking, fencing or trellis.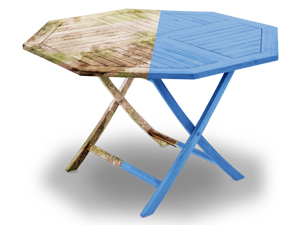 Furniture
Whatever type of garden furniture you have (metal, wood, wicker, rattan) you can transform it quickly and achieve a superior finish.
Some Fence Sprayer FAQs
Do I need to purchase a special sprayable stain to paint my fence?
The best electric fence sprayers work on standard stains and paints, which means there's no need to buy professional paint. Some fence sprayer manufacturers recommend diluting the product to ensure it is thin enough to use with the sprayer. Details of the dilution process will be included in the product brochure.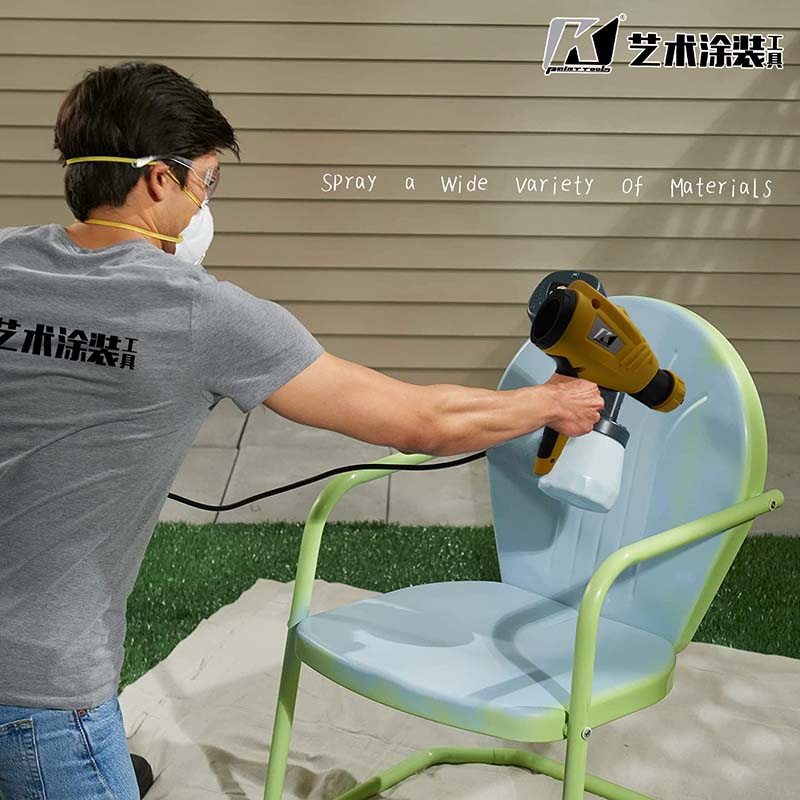 When is the best time to spray a fence?
When spraying the fence, the wood should be dry but not too hot. A sunny spring or summer morning is usually ideal. If the wood is too hot, it may affect the adhesion of the stain or paint. Also, you should make sure it's not windy - fine particles of fence paint can easily be blown off and land on nearby plants or surfaces.
What should I pay attention to when using a fence sprayer?
Wear a mask when using a fence sprayer to avoid inhaling fine particles. Gloves and goggles are also advisable. In addition, you should protect surrounding areas, such as patios and plants, as light jets can be blown a lot even with a breeze.
Be aware of any items that may be damaged by paint, such as cars, garden furniture and laundry - move them to a safe distance. If using a paint sprayer indoors, make sure the room is well ventilated and protect floors and furniture. Before starting spraying, keep children and pets away.
Staining or painting your fence will help preserve and protect it from the sun and weather while improving your home's overall curb appeal. Using an fence sprayer for staining or painting a fence will allow you to finish the project up to 10x faster than using brushes and rollers.
Safety Notice: Whenever operating spray equipment, take proper safety precautions, stay alert, and be mindful of potential hazards. Wear protective gear such as gloves, safety glasses/goggles, spray sock (hood), hat, proper footwear, dust masks and respirators. Make sure there is adequate ventilation. If you're painting in the vicinity of appliances, turn them off.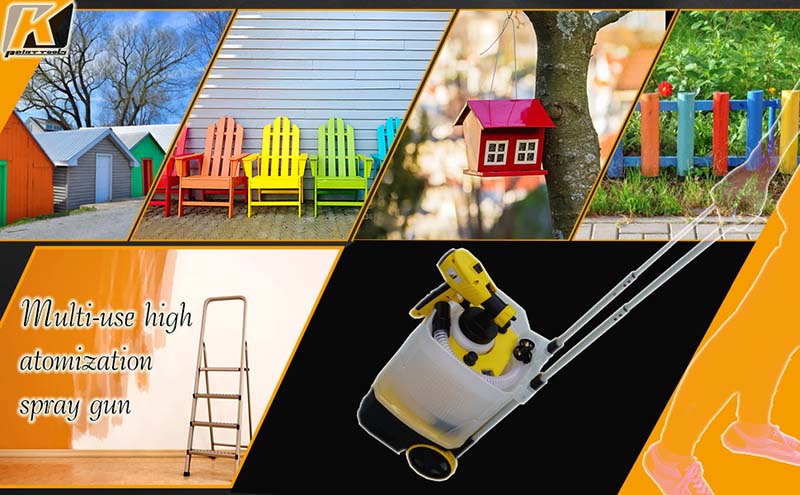 Tips for Buying a Fence Sprayer
The best fence sprayers will be compatible with a range of different products, including solvent-based and water-based paints. If you've wanted to use your sprayer for different jobs over the years, a paint sprayer with this versatility is worth a look.
If you're on a higher budget, you may find that your paint sprayer isn't as versatile, or that the paint needs to be thinned before use. If it still fits your needs, that's all good - just something to watch out for!
I recommend looking for a fence sprayer with a fairly large capacity of at least 800ml. You'll see that most of the sprayers featured below meet this specification. It's also worth looking for a light paint sprayer that weighs under 2kg - they get heavier when full! You may also want to consider a design with shoulder straps if you want to distribute your weight more evenly.
Adjustable flow is an invaluable feature. This will help reduce the frequency of refills and allow you to vary the flow rate based on the viscosity of the paint and the coverage desired. Different nozzles can also help increase the versatility of the sprayer in different jobs. Another very useful feature to note is whether the sprayer can be used vertically and horizontally. Spraying only vertically will limit the use of the sprayer.
The power of an electric fence sprayer is largely governed by the size of its motor. You can tell the power of the motor by how many watts it is. 400W motors are about the average size for most low-cost fence sprayers, but some models do offer more 'bang for your buck' so to speak.
Performance is also linked to a few other things, with the maximum output being one of the main ones. This is measured in ml/sec, and the higher the number, the faster the sprayer will do the job.
The maximum viscosity that a specific sprayer can handle is something you should be very aware of before you buy, as this will directly affect what materials you can use with that sprayer without having to water them down.
Watered down materials will require more coats to look good, so this will increase the time it takes to get the job done. Obviously, being able to use paints without watering them down is preferable. The maximum viscosity of a product is usually shown as DIN/sec.
Overall, many people choose the K brand fence sprayer as their first choice, especially because of its versatility and performance. Compatible with different paints, this sprayer can be used horizontally and vertically for even coverage.
When we developed the K Brand Fence and Decorative Paint Sprayer, we hit the nail on the head and provided an excellent product with very useful features at a very good price. We also know that our customers will love the ease with which they can use the product with ease.
For starters, we've actually considered one of the most annoying aspects of using a product like this, and that's how often you'll need to refill your paint container. The smaller the container, the more times you have to stop and refill.
This fence sprayer has an 800ml paint container, one of the largest on the market. With this, you'll have fewer refills and thus get the job done faster, which means to you as a user that you have access to a wider range of paints, and we're not just talking about paints designed for airbrushes.
Of course, this has many benefits, especially thicker coatings, wider color options, and less watering time. With fully adjustable paint flow, the ability to change the spray angle and ultra-fine atomization, whether you're using paint or stains, it's easy to get amazing results for your fence with our fence sprayers.
The ease with which you can clean this fence sprayer is another thing I love about it. The gun separates from the main unit and separates quickly and easily, allowing you to clean it well. This is a top-notch fence sprayer that's good value for money, just make sure you have a decent extension cord handy, as with so many products these days, the cord isn't the longest.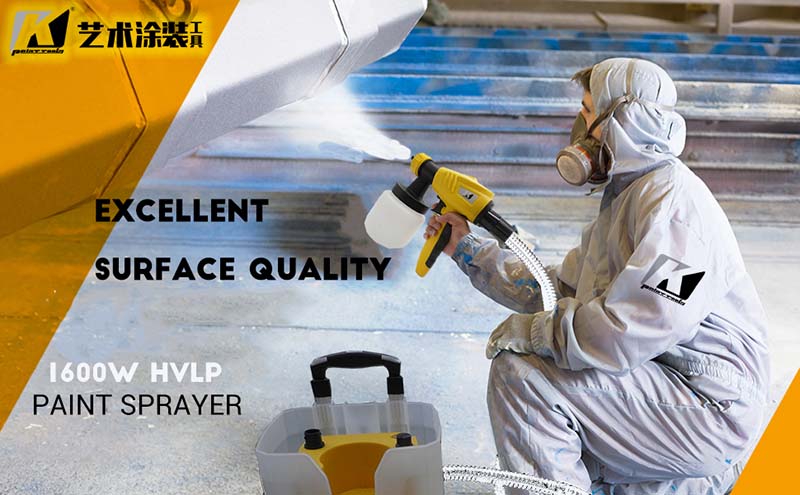 K Brand HVLP Paint Sprayer Review
Not all fence paints and treatments have the same viscosity, and finding a versatile fence sprayer that can handle a wide variety of different products results in having a useful tool time and time again. K brand 1600W HVLP electric spray gun with 4 nozzles 3 spray modes for water and solvent based paints for evenly spraying thicker and thinner liquids.
While some sprayers are limited to certain products, this model can be used on any standard stain, oil, varnish or paint. Plus, the speed at which it applies these is unprecedented - capable of covering six fence panels (front and back!) in 30 minutes, you're seeing an average application rate of one side every 3-5 minutes (allowing a little time refill the paint container).
In terms of capacity, the large 800ml paint container and 1600 watts are one of the biggest features here. As with all these sprayers, it goes through paint fairly quickly, but the reservoir is big enough to hold about 2.5 fence boards, which is about as good as you could hope for with these machines.
In terms of coverage, the unit can be used for vertical, horizontal treatment of wood, or more delicate work. It has an adjustable flow rate that can be changed based on paint type to ensure even application without dripping regardless of liquid viscosity.
It does take care to avoid going through the paint too quickly - there's some learning curve involved in figuring out how to use this sprayer most effectively. Adjusting the pressure on the trigger changes the application.
Overall, this is the best fence sprayer here because of its versatility and ability to handle different paints. It creates an even surface while also getting the job done quickly - an ideal scenario for using a fence sprayer! This is the best value fence sprayer that is versatile and can handle different paints. This fence sprayer is the best because it creates an even surface and gets the job done quickly.
The scope of application must be controlled when using a paint sprayer; this can be the difference between only being able to do large-scale jobs and being flexible with a fence sprayer for smaller tasks. Our HVLP paint sprayer comes with multiple attachments and settings that make it ideal for every situation; not only does it effectively spray fencing panels, it can also be used to paint cabinets, doors and other more precise items.
Four different sizes of interchangeable nozzles are provided for different spray patterns: 1.0 mm, 1.8 mm, 2.6 mm and 3.0 mm. They are made of hard-wearing bronze and can be used with a "blue air cap", which produces a wider spray pattern, or a "black air cap", which produces a narrower spray.
Blue covers make it easy and quick to cover larger areas like fences and decks, while black covers help paint furniture and cabinets and more. There is also a paint flow adjustment knob that can be toggled to allow more or less product to pass through. Whether you're dealing with fence board lines for your garden, or a new MDF cabinet unit for your shed, the spray can be adjusted appropriately to produce an even coverage without using too much paint.
This results in a versatile tool that allows for a lot of customization and control. Can be used in paints, oil-based primers, stains, enamels and airbrush coatings and can handle a wide range of viscosities. When using thicker paints, choosing a larger nozzle ensures that there are no clogging.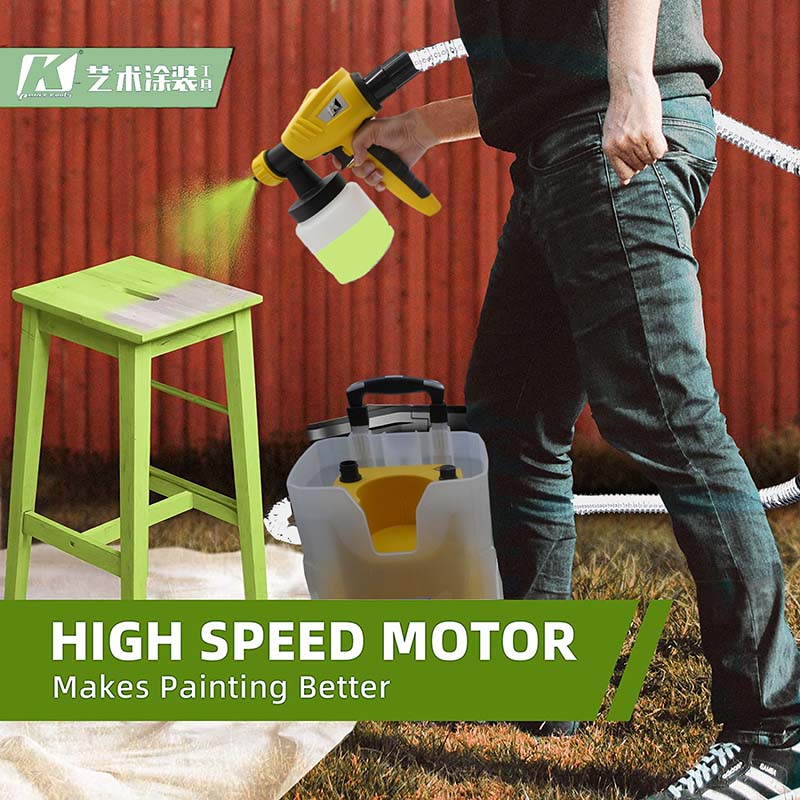 How to Choose the Best Fence Sprayer
Fence sprayers save time. fact. Gone are the days when you had to stand there and laboriously work with a paintbrush. Now you can simply fill up your electric paint sprayer, start it up, and get the job done in a fraction of the time.
Of course, it's hard to know exactly what to look for when shopping for one of these nifty gadgets. After all, you want to make sure you get the best fence sprayer to make the job as easy as possible.
The benefits of using a fence sprayer
So, why bother to buy an electric paint sprayer? Are they really worth the investment? Let me tell you without a doubt - yes! I didn't even know how many until I bought one.
Brushes make work slow. That's all we know. But it can also be a lot harder to apply paint evenly with a paintbrush. Additionally, they often leave noticeable brush marks and can even mask the pleasing aesthetic properties of the surface.
A fence sprayer will:
Spread paint evenly
Provides excellent coverage
Get rid of back pain from fence painting
Save you a lot of time
Type of Paint
Your choice of paint sprayer will depend somewhat on the type of paint you want to use. Some fence sprayers are quite specific about the type of paint they can be used with, and this can really limit you. Especially if you already have some paint that you're hoping to use.
For example, all of the fence sprayers in this list are suitable for use with a wide range of paints and stains, including solvent-based and water-based paints. This is something to keep an eye out for, as some fence sprayers won't be able to be used with solvent paints.
Your best bet is to ensure that the fence sprayer you're thinking about buying can be used with a lot of different paint types. These fence sprayers are unlikely to be much more expensive, and will be more versatile and useful to you in the long run. Some fence sprayers will require you to dilute paint before using it, you should check the manufacturer's instructions to see what to do in this case.
Size of Paint Reservoir
Electric fence sprayers range in how much paint they can hold. If you have a large area to paint, check that the paint sprayer you choose has a large paint reservoir. Otherwise, you will end up refilling the tank every five minutes.
It's easy to see that some fence sprayers will need refilling more often than others. That said, refilling isn't too time consuming and it will still be much faster than using a paintbrush. So, it's up to you how much importance you put on this factor - another thing to bear in mind, when considering reservoir size, is the flow speed of the sprayer.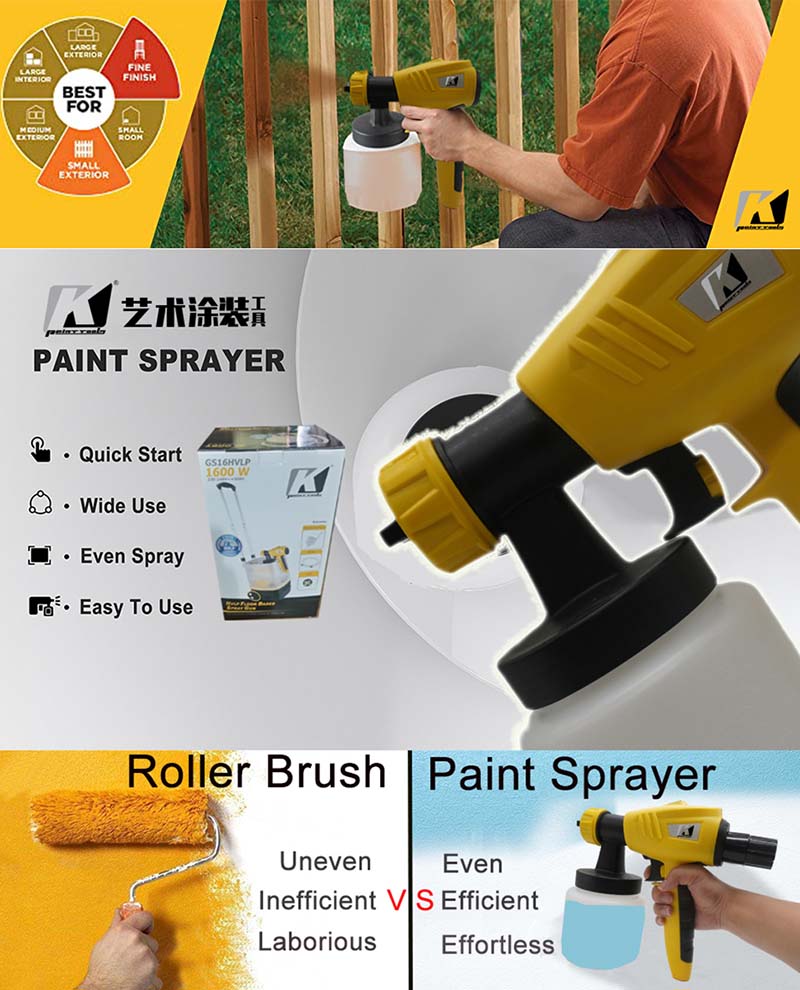 Adjustable Spray Settings
Most fence sprayers come with a range of spray settings. These different settings will make them suitable for vertical work such as fences and sheds as well as horizontal work such as decking and flooring. These are great to look out for because they really will make it a lot easier to complete these different jobs. You might find it a bit more awkward if you buy a paint sprayer without these options.
If you're looking for a fence sprayer that can give you the perfect coverage every time, look for one with an adjustable flow rate. This way, you can customize the flow to match the viscosity of the paint, and get the exact coverage you need.