The Best Paint Tools on the Market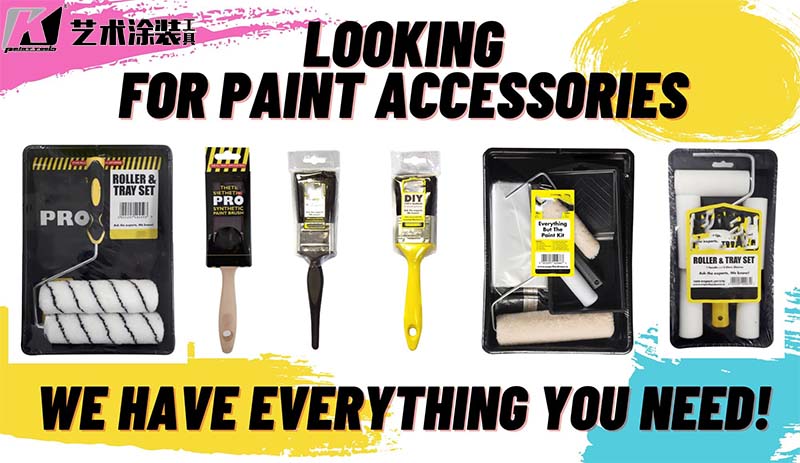 Since our founding in 2003, G.SB have been working to "improve and enhance society" and "advance the home color of the world by paint tools". We will continue to create value by confronting social issues head-on with the hope of creating an "wonderful ideal society" filled with both material and spiritual wealth.
The Best Paint Tools on the Market
By Cliff Gregory
Having good quality paint tools makes all the difference in decorating. I've been a professional painter for almost 30 years, and I'd struggle to achieve a good finish with cheap kit, particularly brushes, rollers, drywall skimming brades and paint sprayers. I thought I'd take a little bit of time to sit down and write about what I think are the three best paint rollers on the market. I really hope you find it useful.
I thought I'd start with the brand I've been using throughout my career. A lot of paint rollers of G.SB hold and distribute a ridiculous amount of paint over large areas. Perfect for masonry paint, mist coating or ceilings.
Paint Roller Fabric 2047 comes as a 9 inch, as you'll be able to use it anywhere. As mentioned above, Paint Roller Fabric 2047 spreads a huge amount of paint, so it is perfect for applying thick coats quickly and easily. It is one of the best out there, but there are a couple of disadvantages.
Firstly, this roller sleeve will leave a slight texture on your paint finish, so take care to lay off your wall or ceiling once you've applied the paint. The second disadvantage is the roller sleeve sheds little blue fibres on the first run out. It is fine from the second use onwards. I often wrap and unwrap a new roller with duct tape, which pulls any rogue fibres out.
I thought I'd mention the 2050, simply because they are the best value for money you'll ever come across when buying paint rollers. Manufactured by G.SB, these beauties are best in medium pile - 9'', 12mm. The pick-up and distribution of paint by these rollers is bang on. You can easily achieve a great finish in very little time. I love these paint rollers!!
These rollers offer excellent paint pickup for increased coverage between loadings and fewer trips to the paint tray. These durable tools and accessories can easily be cleaned and reused...again and again!The quality of your tools can make or break the finished look of your paint project.
This versatile, high-performing Paint Roller Kit will save you time and money on your next project! Comfortable to use paint roller handle. Anyone can use it: Whether you are a professional or a beginner, "paint roller", "tray", "fluff" and "brush" are very suitable for any user.
ou'll feel confident of fast application and a great finish working on textured surfaces such as masonry, brickwork, and render. The long pile length even reaches into most textured walls and ceilings for a reliable coat. The durable Fabric has high paint loading capacity saving you time. You'll lightly wash and thoroughly dry the cover before use.
Dip the fabric into the paint and roll on the textured Area of the tray. For an even of load you'll repeat, each time adding paint. Green Acrylic Sleeves have an extra long pile which provides excellent paint loading for excellent coverage. They have a long life and are suitable for use with masonry paints onto rough and very rough surfaces.
Paint pick-up and distribution are good, but the best attribute to these rollers is how flat and even the paint finish can be. There is barely any texture in the finish at all. I like using G.SB medium pile for any durable emulsion paints but tend to go for something that holds a bit more material when using cheaper vinyl, or contract matt.
For me, the best brand of paint roller is G.SB. This roller frame is manufactured from an aluminium composite which is both robust and very light. Just make sure you remove as much paint as possible at the end of every use or the nuts will jam.
Spins and Rolls smoothly to make paint faster, premium quality roller frame, best time saver. Fits paint roller sleeves snugly. Remove freely for replacement, easy to clean. Pressure self-lock design helps prevent rollers slipping off during painting application.
Universal threaded roller handle can attach to any extension poles or even a broom handle for painting higher places or lower ground to save time and free your kneens and back. Based on the reviews this sounded like a great paint roller frame. It is a great paint roller frame. paint rollers can be inserted easily. they click to let you know the roller is in place. it rolls well. didn't stick once.
Our design of paint tools philosophy is Future Craft. Our role is to continue to create the future of lifestyle and societies along with the stories that will connect to our customers. And "craft" means creating something with grace, consideration, care, elaboration, and to pass this on to future generations.This philosophy is shared throughout the different businesses and areas we are active in. We believe all the elements to "craft a better Being" will come from our users. We will design paint tools - closely with their insights in mind and find out what really matters in their lives.
G.SB Design
We understand just how important it is to choose the right products and colour for specific environments. This is why we have a full range of readymade schemes and expert advice to help you discover the right colour palette for your project.We're passionate about colour, it's at the heart of everything we do. We go that extra mile to ensure you have what you need and are confident about your product choice when looking at your home improvement needs!
At G.SB Design, we are committed to crafting a better Being. G.SB Design Shunde is the headquarters of the G.SB corporation, design division. In the heart of culturally-rich Shunde the facility undertakes development to generate new, optimal lifestyles centered on paint tools, where provides high value solutions for BtoB business and in close collaboration with customers in the paint industry, under its mission to create new value and boost design communication.